The botanical trend for fabrics, wallpapers and prints is still big this season, but it is a look steeped in history. During the Age of Exploration, from the 15th to the 17th centuries, the passion for recording and studying plants really took hold, as European seafaring adventurers set out on voyages of exploration to uncharted waters and returned with exotic new specimens from faraway lands.
This curiosity grew throughout the 18th and 19th centuries, which witnessed a Golden Age of botanical illustration, and has continued through to the present day. In fact, Kew Gardens still commissions over 100 illustrations a year.
When decorating a historical property, what could be more apt than looking to the rich visual archives of botanical history to welcome nature into the home in a nostalgic way?
From forest ferns, tropical palms and juicy succulents to climbing ivys, meadow grasses and sculptural seedpods, leafy prints in a broad verdant spectrum are guaranteed to bring timeless vitality to your home. Here are 16 of our favourite botanical wallpaper ideas for 2018.
1. Vintage mural
Bring the outside in with Little Greene's Asterid wallpaper in Lantern, from the Archive Trails II collection. A reinterpretation of a fine 20th-century illustrative painting, the design represents the high-society trend for handpainted murals, the precursor to commercial wallpapers, £205 per roll.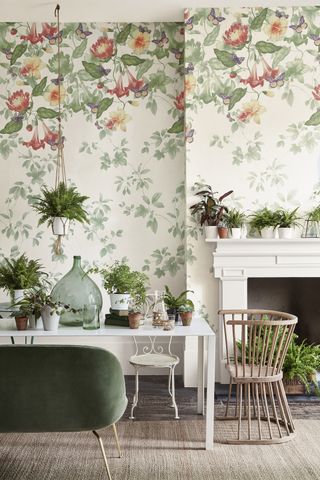 2. Royal fernery
... is the name of this beautiful wallpaper designed by Martyn Lawrence Bullard for Cole & Son. Inspired by the Majorelle Gardens in Marrakesh, it is pictured in Forest Green and costs £195 per roll.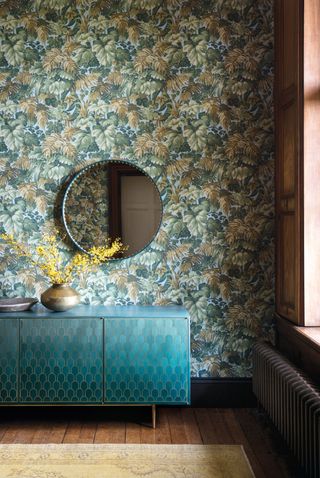 3. Scandi style
Our obsession with Scandinavian style shows no signs of abating as we enter 2018, but where wood and white once ruled, interiors are moving in a more decorative direction as companies embrace intricate patterns. The new Blomstermåla wallpaper collection from Galerie, launched in collaboration with Scandinavian designers Midbec, explores vintage, stylised stem and leaf forms, making walls a wonderful window into the Swedish wilderness. £54.95 per roll.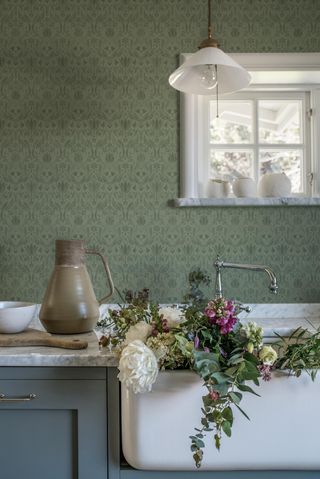 4. Add texture
A flocked wallpaper is a great way to bring texture to an interior scheme. Try this Verdi Green Bead wallpaper, £115 per roll from 1838 Wallcoverings.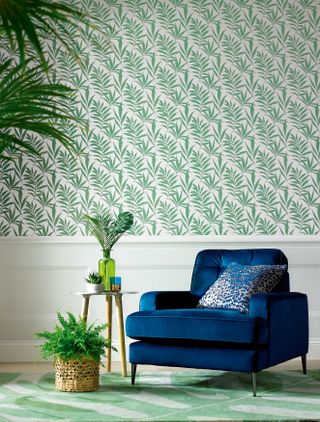 5. Leafy look
Evoke happy memories of sunny afternoons spent relaxing in the dappled shade of a tree reading a good book with Ella Doran's Sunlight Through Leaves wallpaper. With an immersive, photographic quality it's guaranteed to bring a fresh feel to any space, £150 per roll.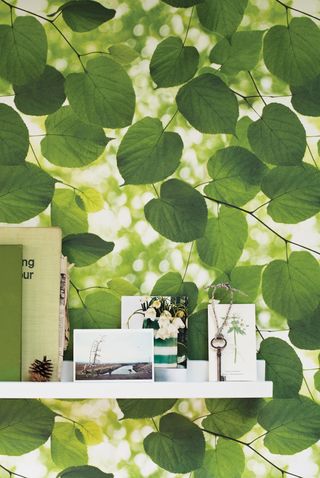 6. Bold and beautiful
Inject a cheery pop of colour and texture with the new Yasuni wallpaper from Harlequin's tropical Zapara range. Teaming inky drawings of stylised leaves in in jewel and zesty hues it's invigorating and fun.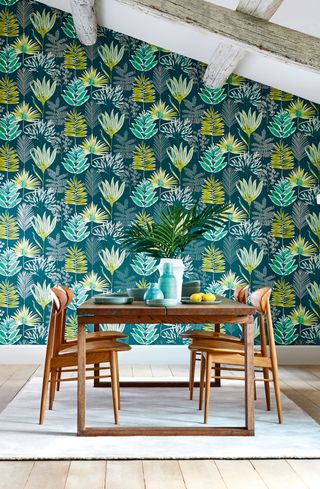 7. A gentle take
Botanicals needn't be blousy and bold or sculptural and striking, they can also be subtle and serene. This Honesty design from Clarke & Clarke is a delicate, stylised pattern based on a humble seedpod. With a slight metallic sheen, the paper cleverly captures the wafer-thin, silvery quality of the plant. Try it in a home office to help calm and focus the mind. Pictured in Mineral/Gold it costs £39 per roll.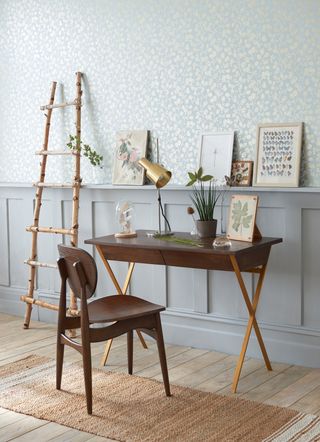 8. Jungle fever
One of the papers from its Tango collection, this Bamboo Garden wallpaper from Linwood teams emerald green with leafy palms, bamboo canes and tropical flowers. A statement design guaranteed to turn heads, use it to bring a playful touch of escapism to small spaces such as the downstairs cloakroom.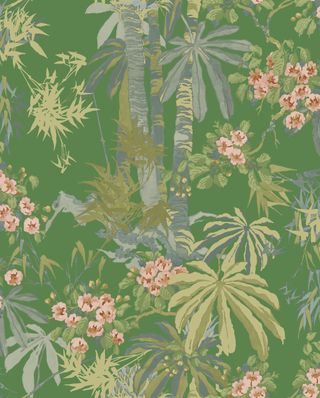 9. Petal power
The Emilie wallpaper from Designers Guild features a cornucopia of hand drawn summer blooms such as foxgloves and echinacea, set against a subtle geometric background. Available in seven colourways, try this refreshing aqua in a living room to bring the outside in.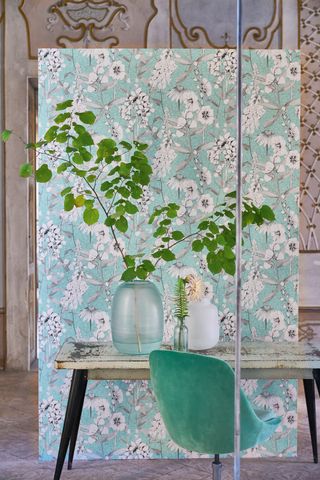 10. Delicate trails
For a calmer take on the botanical trend why not try this Chipchase Blossom wallpaper from Charlotte Gaisford? Pictured in soothing sage green this pretty repeat design would make a serene backdrop in a traditional bedroom. £85 per roll.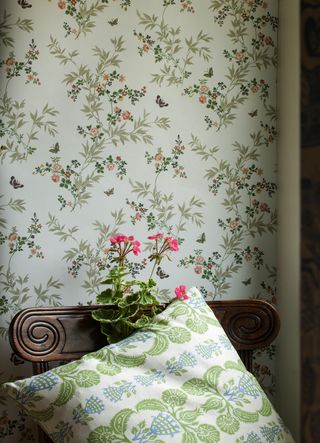 11. Striking succulents
Embrace the broad, sculptural leaves of your favourite houseplant with this Lush Succulents wallpaper, £150 per roll, Mind the Gap at Rose & Grey.
12. Monochrome inspiration
A simple ditsy design featuring meadow grasses and folksy Scandi feel, this Erin wallpaper from John Lewis' Croft Collection offers delicate, easy-to-live with pattern. Pictured in versatile Slate colourway it makes a versatile backdrop - team with tonal neutrals and natural wood for a calm look or try pops of vivid yellow or green for added zing. £25 per roll.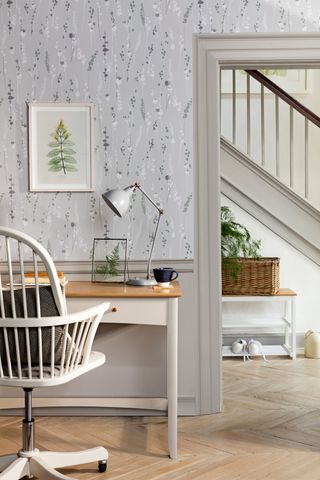 13. Poison ivy
Dare to go dark and moody with Barneby Gates' Ivy wallpaper in Deep Green. Imbued with fairytale mysticism, the design will leave dinner guests spellbound when used wall-to-wall in a showstopping dining room, £81 per roll
14. Trellis talk
Swedish for ivy, this 'Murgrona' wallpaper design combines the trend for both botanics and geometrics. A simple lattice design with a graphic Scandi feel it makes a versatile backdrop for everyday spaces. £76 per roll at Sandberg.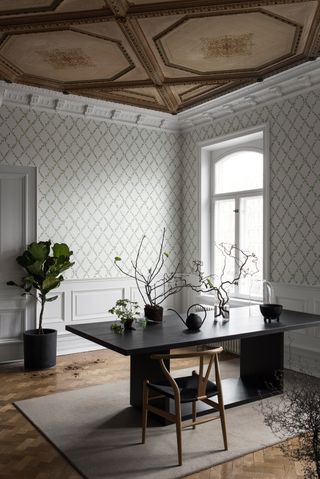 15. Exotic appeal
Taking its name from the South American desert, this Atacama wallpaper from Farrow & Ball brings together prickly cacti and exotic flowers but at a glance the intermingling of simple shapes and marks makes it almost appear like a work of abstract art. Pictured in Yeabridge Green it costs £89 per roll.
16. Branching out
Inspired by vintage illustrations of fruit trees, this Orchard wallpaper, £120 per roll from Debbie McKeegan, makes an ideal choice for a historic home.
Read more: