Are you looking for more storage ideas for shoes? If you find yourself regularly tripping over boots and shoes or struggling to find a matching pair then the answer is definitely, yes. Effective shoe storage is key to creating a clutter-free, organised home and our top picks are here to help.
From built-in shelving to budget-friendly boxes, we've found the best storage ideas for bedrooms, hallways, dressing rooms and even utility rooms.
1. Stow away shoes in a stylish chest
Stylish and practical, a bench with shoe storage is a great way to keep the clutter at bay. You're free to throw in boots and shoes, as well as bags, throws and other items without a home and no-one would be any wiser. A well chosen chest would make a great addition to a bedroom or living room, as well as making a great hallway shoe storage solution.
Find this Rustic Wooden Bench Box at Cox & Cox.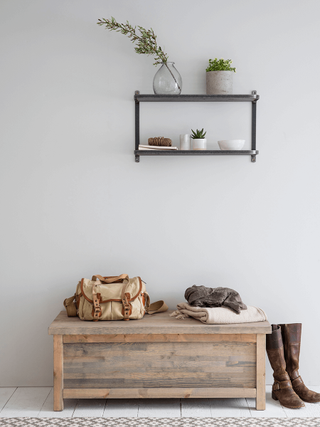 2. Maximise under-bed storage space
Running out of cupboard space? There's often plenty of unused shoe storage potential to be found under the bed. Make the most of it and stay organised with the addition of a handy under-bed storage draw.
We love the slimline Scandi-feel of this under-bed unit from Cuckooland.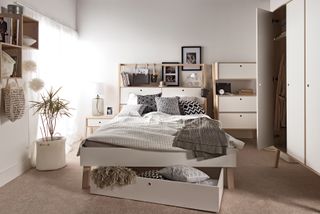 3. Opt for an mesh unit if your style is more industrial-inspired
If your style is more industrial-inspired, this on-trend wire shelving is a great option for storing and displaying shoes. Want a little variety? Add interest with books, accessories and house plants displayed with little uniformity.
Find these Mish-Mesh shelves at Loaf.
4. Make a statement with a stylish shoe storage solution
Looking for a storage ideas for shoes that fits with the aesthetic of your room? If space isn't at a premium, we love the idea of choosing a statement shoe storage cabinet to store and organise your more precious pairs of shoes while keeping them at hand for spontaneous occasions.
Find the Santiago Medium Storage Stand at The Design Hunter.
5. Try a fabric storage unit for an affordable and easily assembled solution
If you don't have space for bulky furniture in your bedroom, consider a fabric storage unit. In addition to being affordable and keeping shoes ordered and out of sight, they're a great addition to a space with a slightly more rustic feel.
Find this Shoerack Wardrobe at House of Bath.
6. Protect shoes in a fabric bag
If you plan to store shoes in a box under the bed but are worried about damage, drawstring shoe storage bags are a great solution. Their fabric finish means that little space is lost, while shoes remain clean and protected. Consider adding a tag describing the pair inside the bag so that they're easy to find in a rush.
Find this Dalmatian Spot Shoe Bag at The Contemporary Home.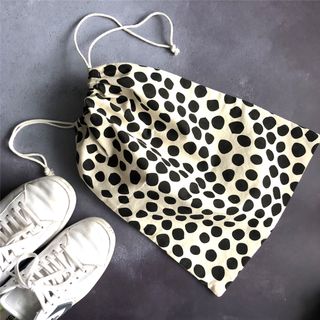 7. Choose open shelving for a minimalist feel
If you like being able to see your entire wardrobe at once (and trust yourself to keep it tidy) a customisable open-style storage unit could be for you. Build a unit that meets your needs, with space for storing heeled shoes, storage draws for everyday flats and boxes to stow away footwear that's out of season. This set up has the feel of a walk-in wardrobe without the space requirements.
We love the adaptability of the Algot Shoe Storage Unit from Ikea.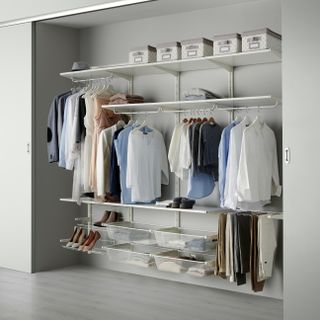 8. Maximise vertical space with a slimline shoe storage solution
Maximising vertical space is a must if your room is on the small side. Opt for tall, narrow designs to ensure that you keep as much floor space free as possible. If you don't want your storage solution to act as a feature within a space, choose a finish that blends in with the rest of the room's scheme.
The Daxton shoe storage cabinet, available at Habitat, comes with five shelves or three shelves dependent on your needs.
9. Make the most of unused, overlooked space
Often overlooked and unused, the back of a wardrobe door is a great spot for storing shoes with the addition of a handy shoe storage hanger. Got pockets left over? Fill them with umbrellas, scarves, gloves and other bits and bobs.
Find the neatfreak! Twill over the door shoe organiser at John Lewis.
10. Pick stylish shoe storage boxes if you're looking for an affordable option
Looking for an affordable storage solution for shoes? It doesn't get much more straight-forward than a shoe storage box. If you've maxed out cupboard or under-the-bed storage, opt for a style that's attractive and complements the rest of your scheme.
We love the funky finish of these Tjena Storage Boxes from Ikea.
Read more