Want to turn your kid's room into a space they'll love to spend time in? One of the easiest ways to give any room an instant injection of colour and pattern is with a feature wallpaper. Bold colours and fun characters are great way to inspire young minds, while older kids will jump at the chance to express their creativity with a striking design of their own choice.
Don't be put off by a bold design either as you don't need to paper the entire room. You could try papering just one or two walls, or perhaps make a feature of a desk area with a wallpaper as the backdrop to that part of the room.
Whatever option you choose, let their imaginations run wild with one of these statement designs.
1. Mr Roboto
Who doesn't love a fun robot design? Available with a blue, green or neutral backdrop, this Reggie Robot wallpaper by Harlequin features rows of mini robots to create the effect of a striped wall. You can complete the look with a matching range of accessories too. Around £38 per roll.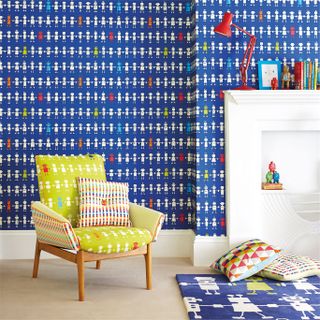 2. Nordic woodland
Inspired by scenes of a Norwegian woodland, this Liora design from Scion is available in three different colourways, but this pretty combination of blue, pink and orange has instantly grabbed our attention. Around £41 per roll.
3. Quirky birds
Featuring images of brightly coloured cockatoos by celebrated illustrator Quentin Blake, this Cockatoos design is guaranteed to add a sense of fun to any bedroom space. £48 per roll from Wallpaper Direct.
4. Head in the clouds
Every child will have their head in the clouds with the on-trend ice-cream shades of the Marshmallow Clouds design from Graham & Brown, £20 per roll.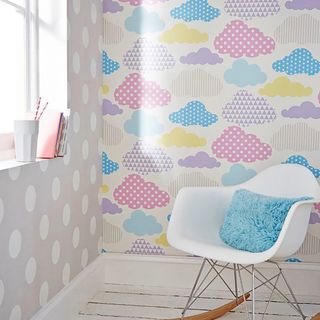 5. Street style
Ideal for a feature wall in a teenager's bedroom, this Arthouse Graffiti pattern photo mural wallpaper has a collage pattern of graffiti tags on brick and stone walls. £12.99 per roll from I Want Wallpaper.
6. Teepee time
Bring outdoor play inside with this stylish Teepees wallpaper from Hibou Home. It's also a paste-the-wall design, which means it's even easier to hang. £59.95 per roll.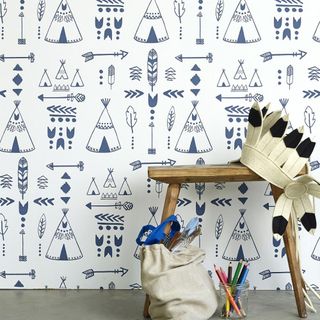 7. Flutter by, butterfly
With its eye-catching butterfly shapes and elegant colour combination, this Butterflies and Dragonflies wallpaper from Cole & Son is a timeless choice. Available in a choice of six colours, around £78 per roll.
8. Mechanic-animal
Calling all budding engineers! This X-ray-inspired How It Works wallpaper from Paperboy Wallpaper is a quirky take on the inner mechanics of children's favourite animals. Comes in a choice of four colours, £60 per roll.
9. Dino display
Guaranteed to be a roaring success in any space, Laura Ashley's Dinosaur wallpaper is ideal for a younger child's room scheme. £20 per roll.
10. Simple statement
Add some sparkle to a feature wall with this Terrazzo wallpaper. Priced at £65 per roll from Nubie, it's perfect for creating a modern, on-trend look.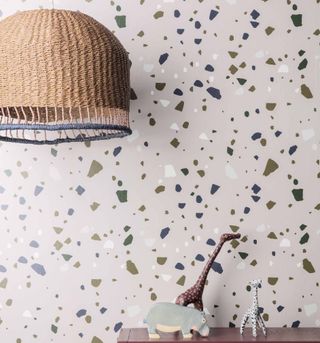 11. Rogue's gallery
Create their very own game of Guess Who on their bedroom wall with this quirky Hello Dolly design from Scion, around £30 per roll. Team it with the matching accessories for a fun scheme.
12. Flamingo-a-go-go
Pink will always be a favourite for children's bedrooms, but for a fun take on this popular colour scheme look no further than the wonderfully named Felicity Flamingo wallpaper from Scion. £30 per roll from Wallpaper Direct.