Shoes are just another item that seem to multiply over time and so good shoe storage is a must, especially if you have a family.
By the front door is the usual dumping ground for everyone's discarded pumps, boots and heels, but there are plenty of great shoe storage solutions that could sort and even enhance the look of your hall or entryway. Our favourites include good, sturdy wooden designs that offer space for both shoes and wellies, and a place to sit.
There are some ingenious ideas about; from ladder styles to clever cupboards that look like they store something completely different. Whatever size hallway you have, we have some fantastic options for you below.
1. Shoe storage unit
The advantage of this Tromso shoe storage unit is that it neatly closes up and looks rather like a console table. It has two pull-out drawers that each hold up to six pairs of shoes. The white painted contemporary style is smart and it's finished with a solid oak top that can be used for a table lamp and for placing your keys on at the end of the day.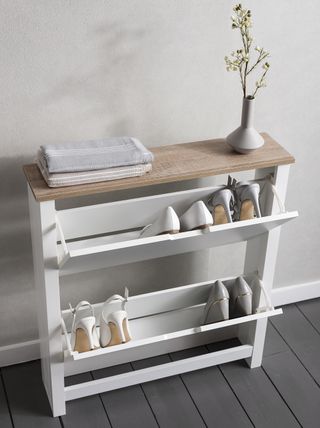 2. Shoe cabinet
This super slimline Hemnes unit is ideal for narrow hallways. Each compartment has double rows so it holds plenty of shoes – enough space for all the family! Another handy feature is that it only comes with front legs meaning it can be placed close up to the wall and above the skirting board.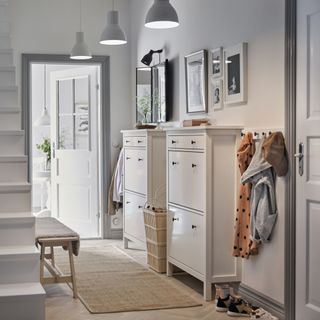 3. Ladder shoe rack
Ladder style units are becoming increasingly popular – for use in bathrooms, living rooms, or bedrooms – and this tall shoe rack from Store is perfect for the hallway. It makes the most of vertical space by neatly leaning up against a wall, and it can hold up to seven pairs of shoes. Another clever feature is that each pair rests on two pieces of wood, ensuring that as little dirt as possible is left behind.
4. Baskets
Lidded baskets are a great alternative to the more conventional shoe storage solutions. The Kubu rattan box from The White Company is crafted in Indonesia and built to last. Keep it in the hallway on its own or under a console like shown here. The lid isn't hinged so can be left 'open' if that suits you or closed to hide those muddy trainers and dirty wellies!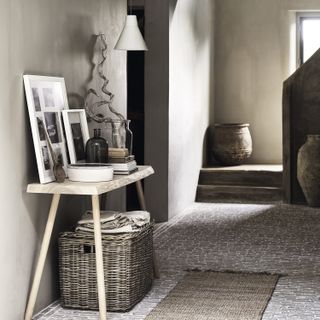 5. Stackable rack
With growing families comes rather a large numbert of shoes in various different sizes, so we often need more storage than we originally thought. This is where Lakeland's clever extendable and stackable steel shoe rack comes in. It has super strong steel bars and holds up to 10 pairs of shoes. You can extend it to fit your space or stack them if space is tight.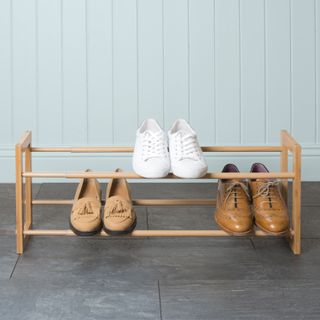 6. Shoe cupboard
This Signature show storage cupboard comes with three slanted rows and one larger shelf at the bottom. The space holds up to 12 pairs of shoes and four pairs of wellies underneath. It has a lovely country style distressed lime top that's ideal for a lamp or vase of flowers and the two doors means that everything can be hidden from view.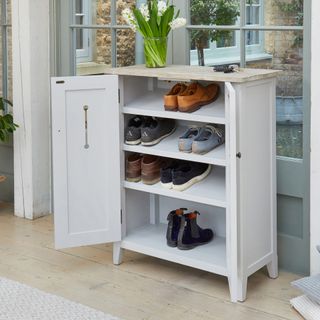 7. Welly locker
Due to their height wellies can obviously be a tricky thing to store, but Garden Trading's Latchmere welly locker in carbon has been designed specially as the perfect shoe storage solution! It has two welly sections and four shoe sections and the wood has been treated, dipped and stained for longevity.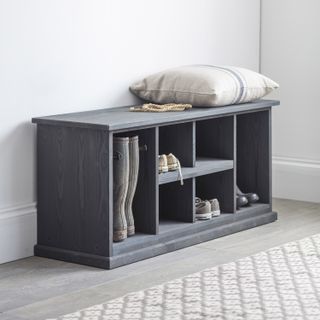 8. Cubby hole unit
With us all having different sized hallways and shoe storage needs, this clever idea from Indigo Furniture might be for you. It's called the Flour Plank cubbyhole storage unit and each section comes with three storage options; open, cupboard door or as a drawer. Each one is made from solid Quebec pine and an additional vintage leather seat pad can be bought.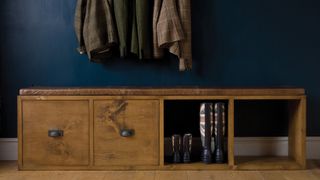 9. Metal cabinet
Sometimes it can be worth buying a storage solution that offers more than one option, like this Corinda corrugated metal cabinet from Out There Interiors. It has several compartments including handy shoe storage and a hanging rail for coats and umbrellas. Plus, the industrial-style design is right on trend.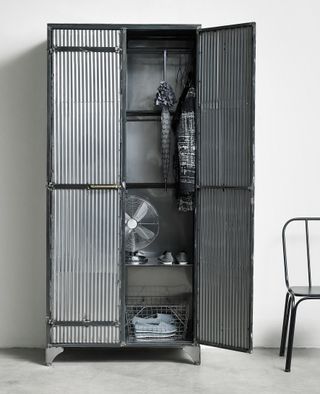 10. Open compartment storage
If one can be neat and tidy then a open plan style solution could be for you. The 20 pair shoe storage cabinet by Symple Stuff seen here, is also great if you have a modern scheme. Not only does it hold enough shoes for all the family, but there's also plenty of room for bags, brollies and wellies.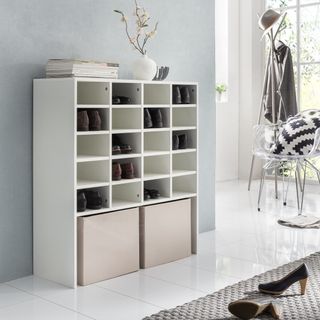 See more in our idea galleries and expert buying guides