It was a case of second time lucky for Simon and Joanna Craddock who first tried to buy their Victorian home six years ago and narrowly missed out. When it went back on the market four years later nothing was going to stand in their way, and without even looking inside they knew it was the family home they wanted.
Read on to find out what gave this home instant kerb appeal, and to find out how Simon and Joanna made it their own. For more period home inspiration browse real home transformations...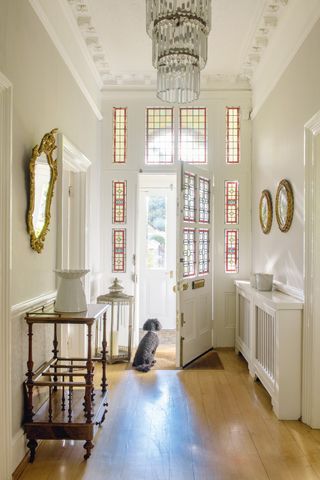 THE STORY
Owners: Joanna Craddock, an interior design consultant, and husband Simon, founder and CEO of a London film and television post-production company, live here with their daughter Georgie,13, son Sam, 10, and dog Rocky
Property: A six-bedroom, Victorian detached house in Teddington, London, built in 1860, with an extension and veranda-covered terrace added to the back in 1890
Essential repairs: The property was rewired, the windows, veranda and conservatory were repainted, and the original fireplaces that had been bricked up or hidden by plasterboard, have been revealed and restored
The handsome double-fronted property is on a quiet road near one of London's Royal parks, with a traditional black and white tiled path to the front door. The inner door's original stained glass panels filter light into the wide hall, while the generously proportioned reception rooms with high ceilings give a sense of space.
It took 11 months for the purchase of the house to go through, but Joanna was able to make a start with renovations. 'Although we loved the the large rooms, and the fact that it had not been "knocked through", the decoration was dreadful with peach and green paintwork and matching carpets throughout the entire upstairs and much of the ground floor.'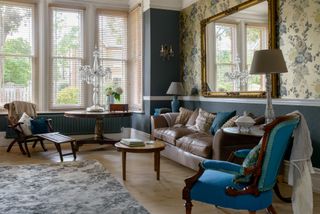 The house was full of built-in cupboards and wardrobes, added in the 1950s, and the decorating was dreadful so Joanna ripped it all out, along with the carpets. Fortunately, the floorboards, woodwork and striking tiled path were all in good condition.
The couple took most of the rooms back to bare plaster and had the floorboards stripped and polished, before an army of decorators spent three weeks painting the rooms from the top of the house downwards.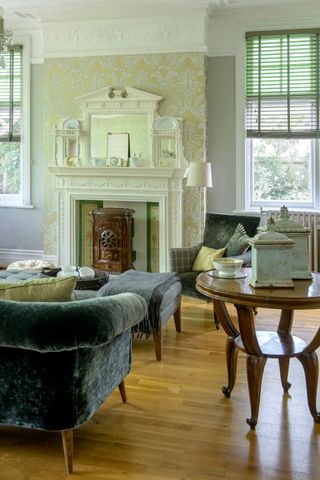 'We also put in new radiators throughout,' adds Joanna. 'And we had the house rewired which gave me a chance to have original Victorian gas lights still in the house fitted with electric light bulbs and to have more sockets and wall and ceiling lights fitted.'
One of Joanna's passions is collecting Victorian and vintage furniture, lighting and glassware and once the plumbing and electrics had been sorted, she couldn't wait to find the perfect place for all her treasures. 'This is the ideal house to display them,' she says. 'And they are complemented by the original fireplaces, ceiling architraves and plasterwork.'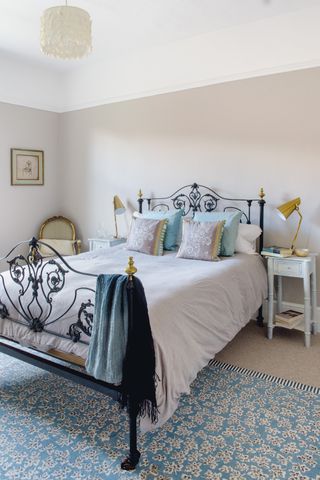 'I also love old mirrors, both Victorian and elaborate old French designs. We spend the long school holidays in the south of France, between Gras and Valbonne, an area well known for antiques, and we have found some lovely things there. I love antiques. My mother collected and I grew up with antiques so I am confident when buying.'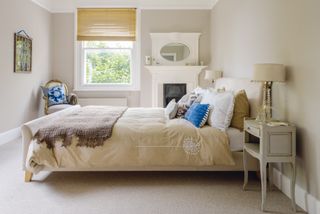 Before moving to the house Joanna had amassed a collection of Victorian glass wall lights and vintage and occasional furniture bought from junk shops and antique shops. 'I have several Victorian chandeliers and wall lights and once found a wonderful reconstruction candelabra made from an original 1950s Murano Venetian glass upstand and Marie Therese drops and finding the right spot for them here has been really fun.'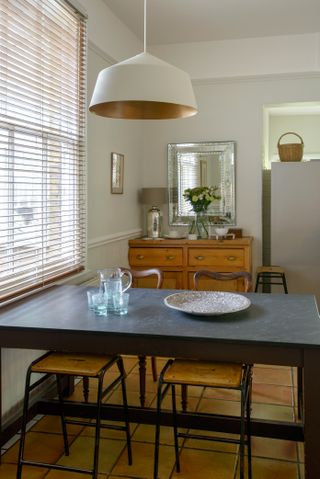 Because the fabric of the house was in good condition the main task for Joanna was its interior design. As a former manager of boutiques in Bristol and Bath, before spending seven years in management with Harrods' fashion floors, she approaches interior design and decorating with considerable flair.
'Fashion and design are closely related. Interior design was a natural progression for me,' explains Joanna. 'I've completed a number of interior design projects for friends and acquaintances, all by word of mouth, and I have a wonderful team of painters, decorators, electricians and plumbers to call on, who continue to do a great job on this house as it evolves.'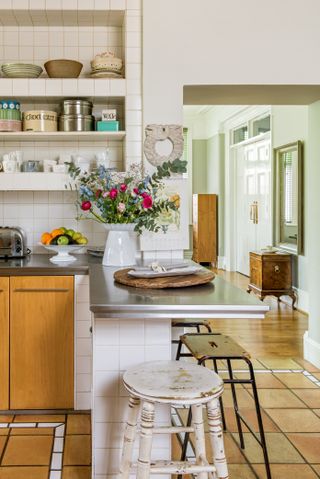 As the family all lead busy energetic lives Joanna's aim was to make the house an oasis of calm using a palette of blue, beige and neutral colours with natural fabrics and splashes of relaxing green and gold.' A perfect example is the front sitting room. 'This room is our quiet room for chatting and reading, and I've given it a modern twist on a Victorian library mood,' says Joanna. 'We have had the caramel leather Heal's sofa for 14 years and its lived-in feel suits the room.' Cushions and throws add to the relaxing atmosphere.
More from Period Living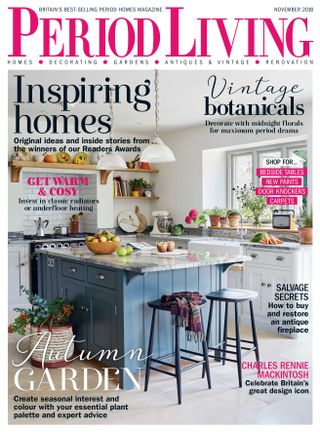 Get the best period home inspiration, ideas and advice straight to your door every month with a subscription to Period Living magazine
'I love to mix old and new,' says Joanna and throughout the house she has successfully juxtaposed modern furniture with antiques. 'One way to do this is by upholstering old and new in the same room with the same fabric,' explains Joanna. 'For example, at the dining table – made for us by Heal's for our last house – is an antique Asian oval back chair that belonged to my grandmother. My grandfather was accountant for the port authority in Burma, where my mother was born.'
The oval back chair isn't the only family treasure on display in the dining room. 'The square antique walnut chest with brass handles also once belonged to my grandmother and I love it. It has a lid that lifts to reveals compartments and was used for storing documents,' says Joanna. It looks quite at home alongside Joanna's vintage dinnerware, Astier de Villatte, handmade in Paris.
'It combines durability with a design that is earthy yet elegant. It looks sophisticated on the modern formal dining table and takes on an almost rustic appearance when used in the conservatory. It's also tough enough for everyday use at the kitchen table or breakfast bar,' says Joanna.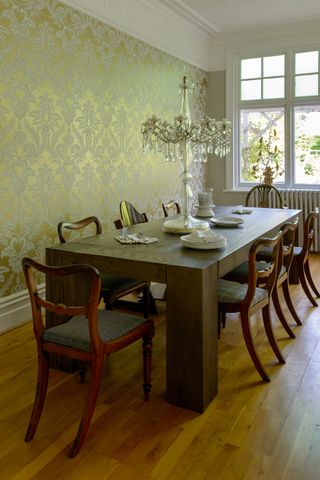 Joanna loves to cook and spends a lot of her time either in front of the Aga ensuring her family are well fed, or sitting at the kitchen table planning her interior design schemes. She says they may eventually update the units and worktops, but have no plans for any major modernisation in the rest of the house.
'We won't be building a large glass extension on the back of the house or knocking rooms through to make one large living space,' she adds. 'That would spoil the proportions and elegance of the rooms and the whole house. We love the fact it retains many original features and we want to keep it that way.'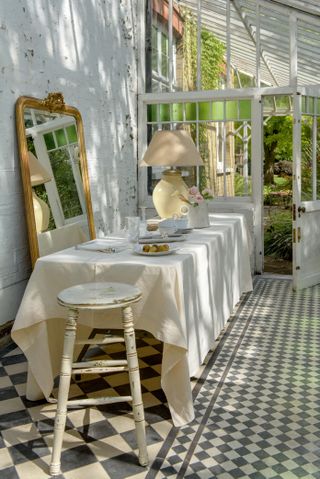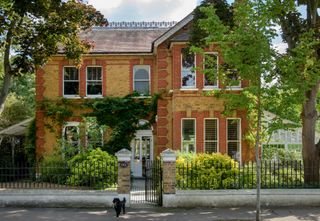 MORE PERIOD HOME RENOVATIONS