Our first attempts at home design start in childhood. We practise room layouts in doll's houses, DIY on hidden dens and rudimentary structural engineering building houses in the trees. But we seldom get the chance to translate those early lessons to our adult homes in the way Cathy Fagg and her husband, Andrew, have.
The complexities of trying to double the size of the kitchen at the top of a split-level house built on a slope so steep it looks like a bungalow at the front and two-storey house to the rear, led to an inspired architectural solution. The new second-storey extension is a wood-clad, thoroughly grown up 'treehouse', with glazing in the walls and roof that immerses you in the outdoors. Inside the natural neutrals and greens of the sleek kitchen reflect the colours outside. Cathy reveals how they created a room in the clouds that has put them at the heart of nature.
If you want create your own dream extension, we have lots of ideas and advice on how to extend a house. For more completed projects, head to our hub page.
Profile
The owners Cathy and Andrew Fagg, who both work in finance, their son, Thomas, and cat Daisy
The property A split-level 1960s-built five-bedroom house in Winchester, Hampshire
Project cost £300,000 (whole house renovation, including the kitchen extension)
'We knew we wanted to make changes to the house when we bought it, but Thomas' arrival meant it was 10 years before we did anything about it. When we did, we had the advantage of having lived in the house so knew exactly what we wanted to change. It needed a kitchen that made the most of that top corner of the house and made you feel like you were outside.
'Then we had the issue of how do you access the garden from the kitchen? The old way, to eat outside, you had to carry food down through the house and out the back door. And because the living room was upstairs, there was no just spilling outside. We needed to come up with something that not only logistically fitted the space, but wasn't just a box of an extension.'
'I spoke to a couple of architects, but I had a conversation with Lesley (Hally) and immediately felt she would listen to what I said and would do the things that we'd value. It just clicked. And by the suggestions she was making, it was obvious that she was getting it.
'What was nice was she also tested us, she pushed us design-wise. She'd say "There's no way you'd have done this without me", and we wouldn't, we'd have been too scared. It would've been out of our comfort zone. Once it was done, we'd think "Of course! It's fabulous".
'Occasionally there were times when it was a little bit much for us, but those were very few. And we could always turn around and say: "Actually, that's not worth it for us" and she'd completely respect our decision.'
'The architect always said, with the woods all around us, it was very much a treehouse. The setting was definitely an influence. Because we're up on this first floor, you get a view of wildlife and birds, squirrels chasing each other, and at night there are bats and owls. There are houses lower down behind us in the cul-de-sac. When the kids walk home from school, up in the trees is our kitchen with the lights in the window.
'The idea of using wood cladding was there from the start. I showed the architect examples of things we'd seen. We did investigate what else we could use when we went through the cost of the wood, and the practicalities of how to get it fixed, make it watertight and maintain it, but other materials would have been too stark or a bit dull.'
'The logistics of the build led to some fun and games. When he first saw the site, the builder groaned and shook his head. We knew there'd be challenges with the access and that pushed the cost up. We couldn't get a crane down the drive, so they either had to walk it in from the road or use smaller vehicles.
'We lived in the house during the project. On paper only half of the house was going to be impacted and we were sure we could manage that, and money wise, we couldn't really justify moving out. The builders were great, though by the end they said in future they'd try and insist people move out because it added challenges for them. There were advantages of being on site as you're closer to what's going on. If there's a problem, you can tackle it immediately.'
'One of the reasons we waited so long was we knew we were going to have to do a two-storey extension, so it was going to cost more. We also needed an overhaul maintenance-wise of the rest of the house. We've ended up with more space downstairs, a lovely master suite, another bathroom, a utility and a study – all because we needed a new kitchen.'
'The kitchen is the heart of the house without physically being in the centre. Everything happens here. My son races his remote-controlled cars round the island. I'll work in here. When we have friends round we push the table to the corner and there's loads of space. Through the skylights you can see blue skies and trees, it's just lovely. It took its toll in lots of ways, but it was definitely worth it for what we got in the end.'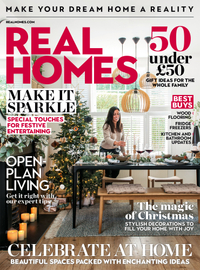 Subscribe to Real Homes magazine
Want even more great ideas for your home from the expert team at Real Homes magazine? Subscribe to Real Homes magazine and get great content delivered straight to your door. From inspiring completed projects to the latest decorating trends and expert advice, you'll find everything you need to create your dream home inside each issue.
More reading: