We've all inherited a dated an untouched hallway at some point in our lives either as renters or homeowners. And, both hallway and stairway makeovers usually come last on the list for home reno jobs, when in fact they set the tone for the entire house so do actually deserve your time and attention.
As part of our Real Costs series this week, where we ask avid DIYers and home renovators how much they spend on their individual home improvement projects, we spoke with Sophie Ayris from Milton Keynes who took on a drab hallway that was in serious need of some paint and personality. If you though you were short of hallway ideas, think again.
'We had a dull dark hallway that hadn't been touched in years. It was super dated and not very pleasant. I thought we needed a downstairs loo and it all needed vamping up, so we added a tiny basin and toilet under the stairs, installed new mosaic tiles and did an awful lot of painting and stripping on the stairs. To finish, we added a little doghouse, which our dog absolutely loves!'
The hallway before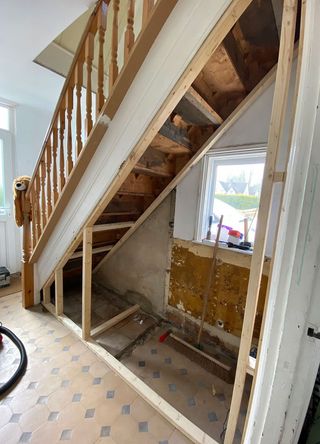 'We Bought this house nearly two years ago and it was the first time this house had ever been on the market, since it was built over 125 years ago. It had always been in the same family. It needed so much work, but wanted the challenge. During lockdown we were given extra time as staying home meant more time to paint and prime.'
Under the staircase: before and after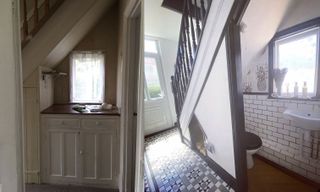 Adding a downstairs toilet which makes functional use of what's often dead storage space. And, it provided another opportunity for Sophie to add more personality to her home and likely some value to the property... The white metro tiling and simple design with some personable accessories helps open up the space even though it's naturally on the small side. Plus, Sophie kept costs down here by using leftover tiles from her master bathroom.
And, if you've got a pooch, take a leaf out of Sophie's book and carve them the perfect nook under the stairs.
'We started by knocking the old storage from under the stairs out. Then my other half who has done most of the work in the whole house, made frames from wood, to build structure into the new room and the dog house. He then used plasterboard, to separate the room from the hallway.'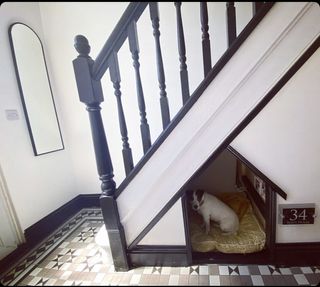 Painting the staircase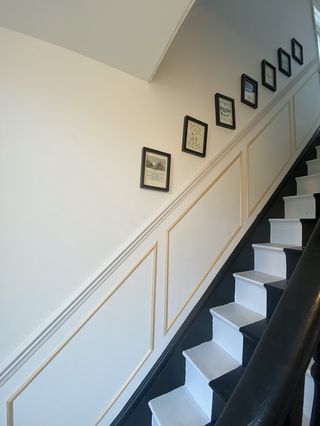 Sophie cleverly mixed DIY with bringing experts in to get the professional finish she and her partner had in mind. 'We had to sand down all of the stairs and woodwork, which took days and then to prime all the woodwork, ready to paint. Painting did take the longest, as it needed a few coats too. We then used screed on top of the old floor tiles to give us a level surface and could lay the new tiles. We then panelled up the stairs and again more painting. The cloakroom had to be fitted and tiled.'
Take a look at our guide to how to paint a staircase if you want to go full DIY.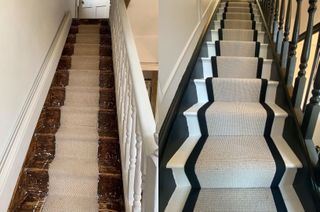 'And then we did get someone in to come lay the stair runner, as we wanted that to be perfect and to last a long time, which finished it all off perfectly.'
A clean neutral colour palette combined with modern decor accents, DIY know-how and careful planning of materials made this hallway and stairway makeover a true success. It's no surprise Sophie of @challengeon34 won a national competition to find the best home projects completed during lockdown, run by sofa and carpet specialist, ScS.
Real Cost: a breakdown of materials
Dorset grey tiles with grout and screed – £298 from Yourtiles.com
Black paint | Zinsser black satin finish paint 2.5 litres – £40
White paint Crown matte white walls – £8.00
White paint for stairs and wood, Wickes satinwood – £6.00
Bathroom tiles were leftovers from our bathroom
Wall hung basin – £60.00 Screwfix
Toilet – £50.00 Screwfix
Pineapple wallpaper – £10 a roll from World of Wallpaper
Plasterboard – £20.00
Wooden trim for panelling – £50 Wickes
Panelling Grey paint – Chic Shadow matt Dulux easy care range £16.00
Carpet stair runner and fitting - £700
Dog house sign – £8 eBay
Radiator – £340 Mrcentralheating.co.uk
Total cost = £1700