Renovating a home is not for the fainthearted. It takes a certain gritty determination, patience and a lot of imagination to see it through, and even emerge with the enthusiasm to do it all over again.
Mary and Paul Walker-Harrod have the true grit of the born renovators. They'd already tackled their own home makeovers when they met, and after they married, they moved to Epping where they found a house to do up together. Four years later, in 2006, they moved back to the town where Mary grew up.
'The main reason was so the children could go to the school that I went to as it's a really good school and my mum taught there. And I wanted us to be nearer my family; my brother lives just down the road,' says Mary.
Profile
The owners Mary Walker-Harrod (@my_renovating_diary), a business manager for a media company, and her husband, Paul, a project manager for a law firm, their daughters, Matilda and Emma, show cocker spaniel Stanley and rescue cats Willow and Bluebell
The property A 1930s four-bedroom extended semi in Woodford Green, London
Project cost Around £180,000
Inevitably, the home they bought there was livable in, but packed with the potential for improvement in the future: 'The couple who owned it had done it up quite nicely, extending out to the side. They had permission to extend out the back but hadn't – so it had a tiny kitchen with a double-sized living room,' Mary recalls. 'We really loved the garden, which had been professionally landscaped.'
Rather than starting work immediately, Mary and Paul waited for 16 years before beginning a top-to-bottom transformation. 'We didn't have the money to do it before,' she says. 'And I don't think we could have done what we did with little children.' Finally, in 2019, they consulted an architect and drew up plans for a loft conversion to create a new master bedroom, and a three-metre rear extension for a large open-plan kitchen-dining-snug room. They also raised the garage floor to make a suitable space for a downstairs toilet and utility.
Their application for a hip-to-gable loft extension was rejected as not being in keeping with the rest of the estate; they compromised with a dormer and Mary regretfully lost her dream dressing area in the master suite. 'The builder did the loft first – it took about two to three months. We were able to live up there while the rest of the work went on.'
The builders were with them from April to October, but Mary and Paul realised the contractor was a little out of his depth with the complexities of a large project. 'He was okay, but he quoted too low. He hadn't included splitting a bathroom into two, so our daughters had one each. And he made mistakes we had to correct, like getting the floor height right.'
Fortunately, Paul's DIY skills came to the fore, and when the builders left, the couple were able to complete a lot of the renovation work themselves. 'We got the finish we wanted through our own efforts,' says Mary. 'We kind of preferred that. I've always had that passion for home styling, and when we decided to do this, all the things I'd been dreaming and thinking about came to the forefront.'
The project took two years to complete, with 2021 dedicated to installing the kitchen, doing the garden and decorating. 'It was an organic process, and because it's been a big investment financially and in our lives, it took time for us to make the right decisions,' says Mary.
One of the great successes of the build has been the increased connection with the garden from the kitchen, with slide and pivot windows opening up completely to the outside. Inspired by images she'd seen on instagram, Mary designed a pergola for Paul to build to cover their outdoor lounge area. 'We have flats at the back and it was about trying to create privacy in that section. People ask if it takes away light from the kitchen, but it teems in through the rooflights.
It is a renovation cliche, but the new open-plan kitchen space, and particularly the island, has helped to bring them all together as a family. 'As teenagers, the girls lived very much in their rooms,' says Mary. 'Since we've had the kitchen, they've come out and it's very much more sociable and easier to get that family time.'
All their hard work and financial sacrifice has been worth it to create a home they love and which works for how they live now. However, Mary admits she'd like to do it again! 'When the girls are at uni it might be too big for us. Doing houses brings Paul and I together; we work well as a team. I said "are we getting too old for this?", because things do start to hurt. But he said "I think we've got another one in us.".'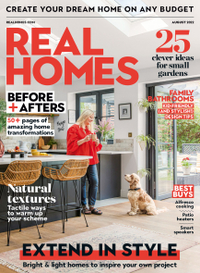 Subscribe to Real Homes magazine Want even more great ideas for your home from the expert team at Real Homes magazine? Subscribe to Real Homes magazine and get great content delivered straight to your door. From inspiring completed projects to the latest decorating trends and expert advice, you'll find everything you need to create your dream home inside each issue.