When you're into DIY and have a whole house, ripe for reno work, it's all too easy to focus on every other space or project, leaving the bathroom until last! But as one of the most used places in the home, it's worth giving it an upgrade.
If you're in the market for a bathroom remodel, there is a lot of inspiration out there. But as someone who loves to be hands-on with all of my home improvements, I think taking your own approach to your design is a total must.
As you've probably come to realize if you've read my previous articles or follow my social media accounts, I can't get enough wallpaper….in all areas of my home! When we bought our farmhouse and began renovating, I knew that I wanted it to have a traditional, slightly cottage feel. I wanted all of the bathrooms and small spaces to feel like a 'jewel box' where you walk in and discover a new color or playful pattern that is entirely unique. But first, here is where we started with this out-of-date bathroom.
The dated bathroom before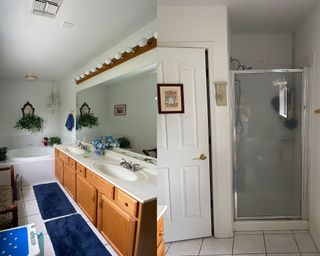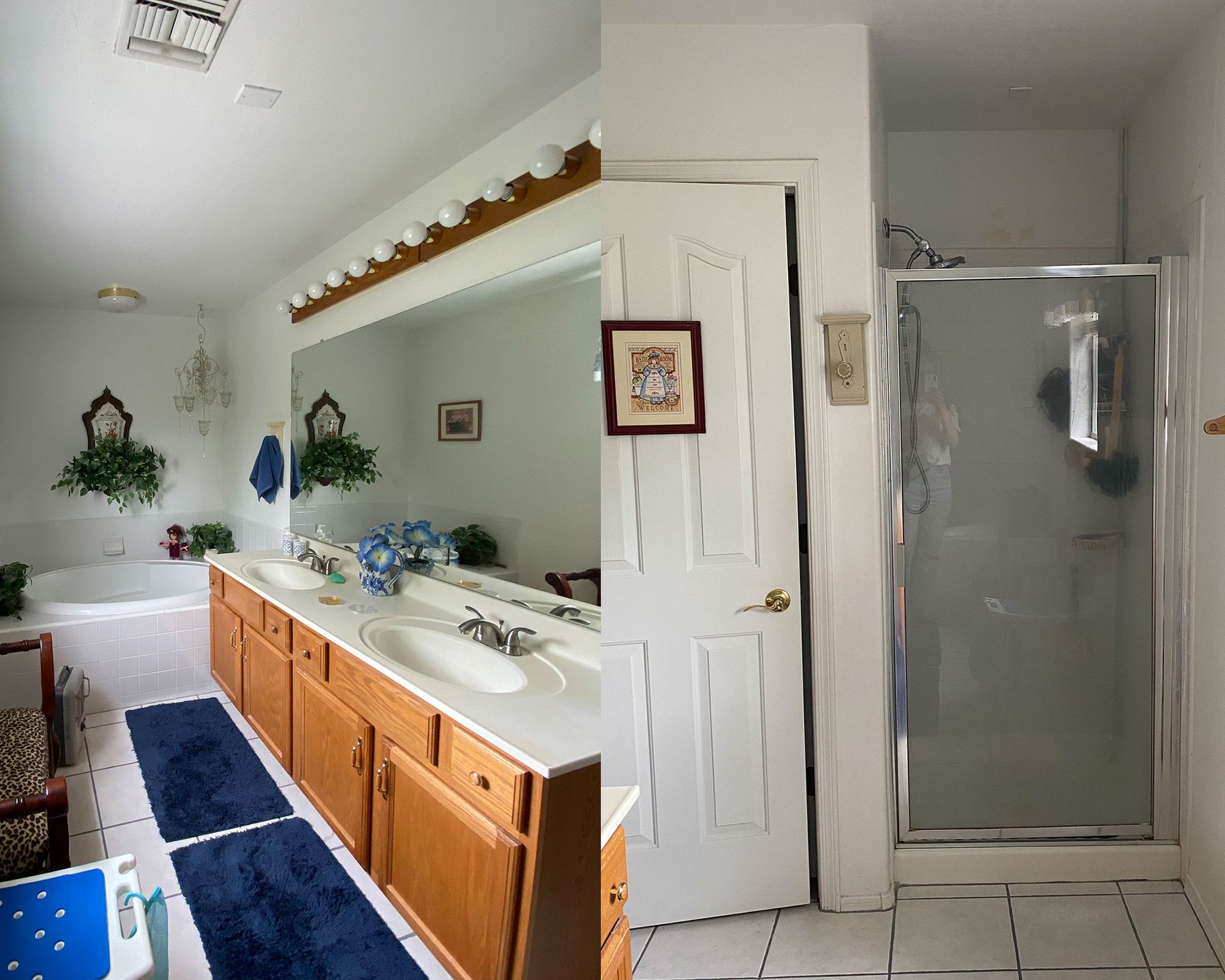 Before we get to the wallpaper, much time and planning went into this now, luxury master bathroom space. This is what we did.
Half and half DIY
We gutted the entire room, tearing out the tiled built-in bathtub, shower, and vanity, and tile flooring. Roughly half of the space was DIY'ed including the renovation. The areas we hired out included plumbing and tile work. We had a contractor tile the shower in a herringbone pattern using this beautiful cerulean blue Zelige tile from Floor & Decor. We repeated the herringbone pattern on the flooring with a marble tile. Our plumber installed the shower fixtures, the free-standing soaking tub, and faucets for the vanity. We had a glass shower door measured and installed by a local glass company.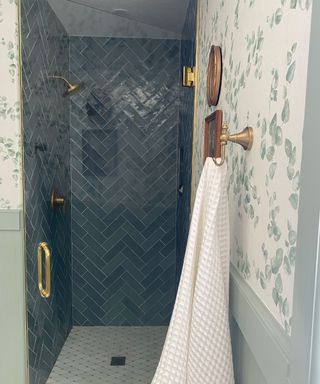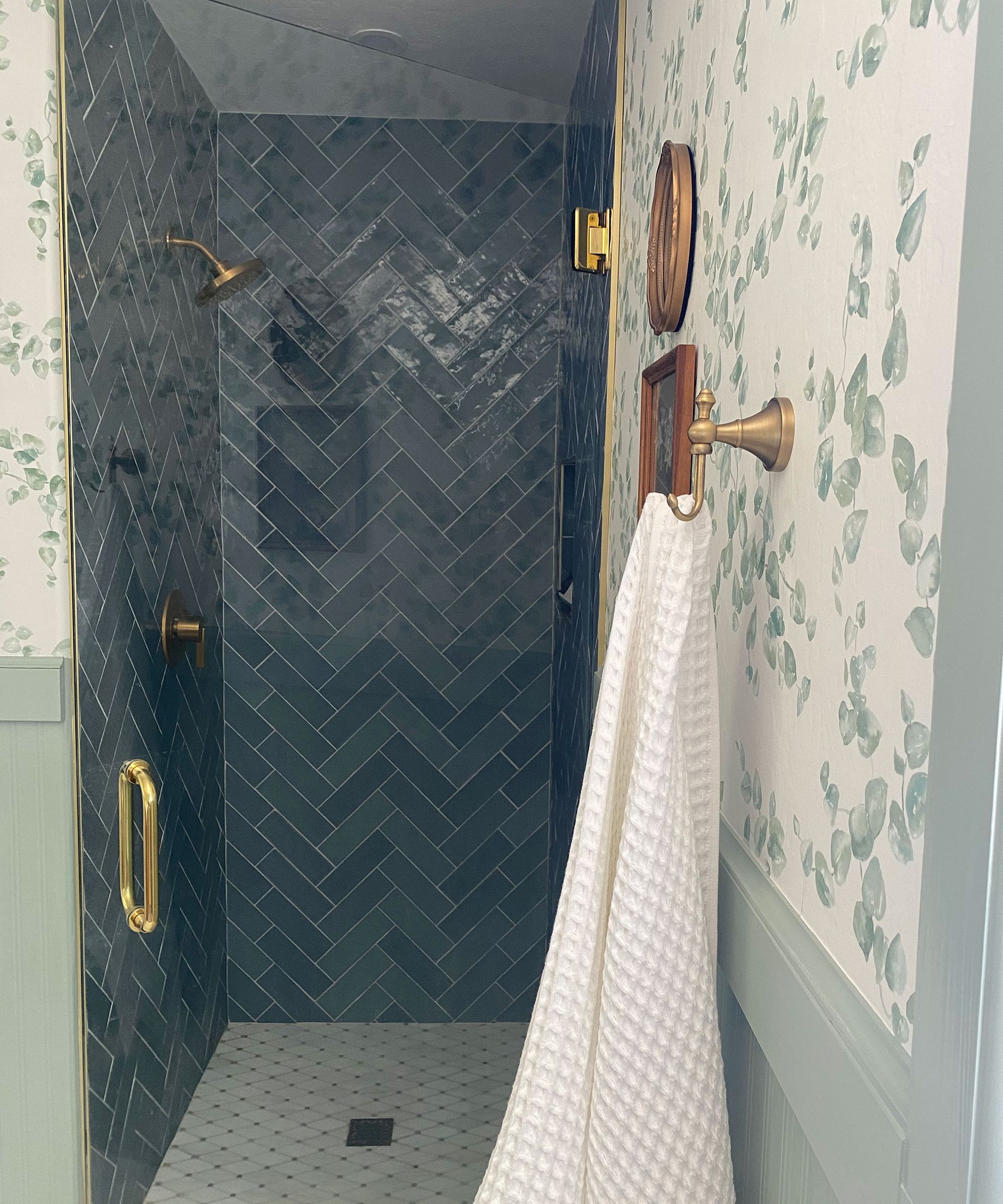 Working with what we had
If you remember a couple months ago, I wrote a piece on how I upcycled a vintage dresser into a vanity unit and it turned out better than I could have hoped! The vanity is unique as we are able to functionally use all the drawers from the dresser except two as we had to make space for the undermount sinks.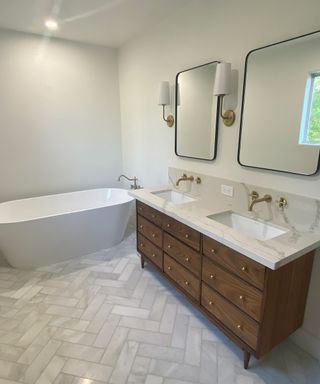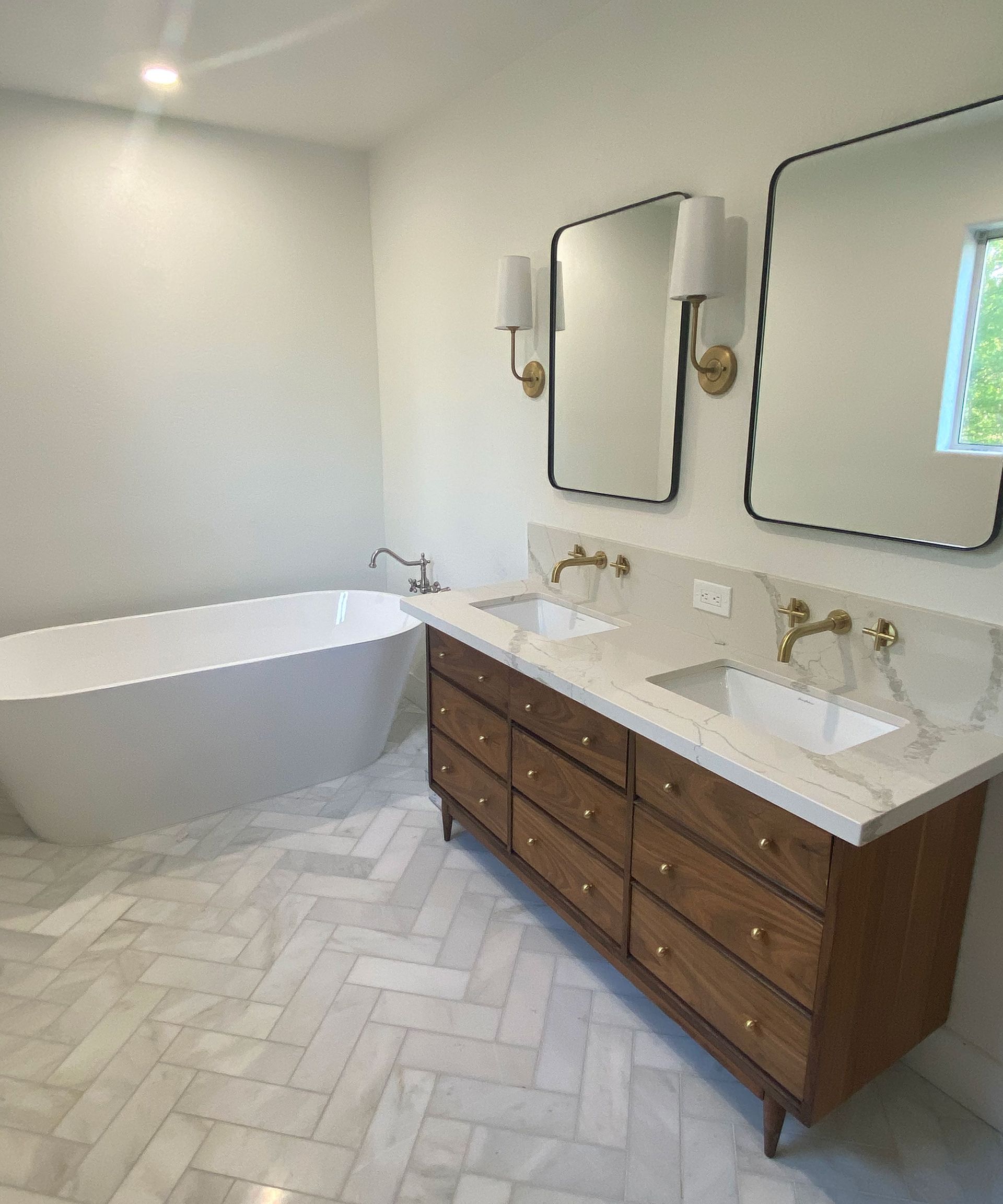 We were able to fabricate a piece of remnant quartz left over from our kitchen renovation for the new vanity top. To maximize space around the vanity, I installed brass hooks on each side of the vanity to hang hand towels.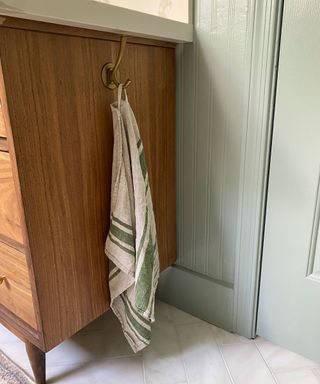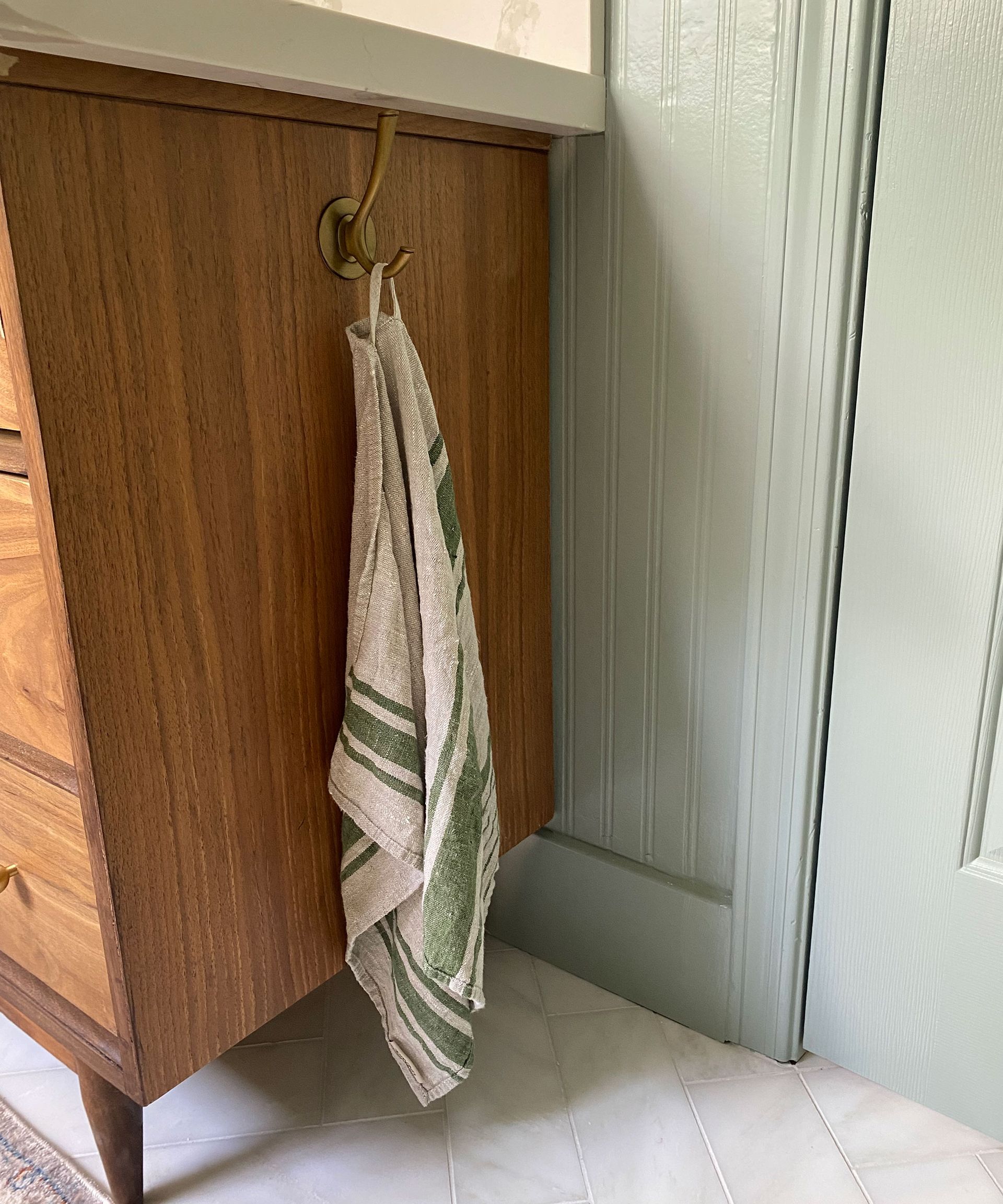 Being clever with lighting
As a rule of thumb, bathrooms should have two sources of light. This small bathroom does have a tiny window which lets in much-needed natural light. We also installed recessed can lights and these stylish Linea di Liara Forma Gold Wall Sconces with white fabric that I found on Amazon, on either side of the wall mirrors that I also found online. The attached water closet has a flush-mounted ceiling fixture I actually found at Overstock and that helped perfect the bathroom lighting scheme.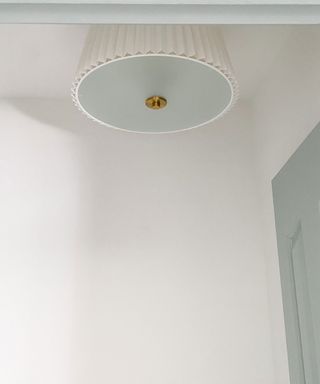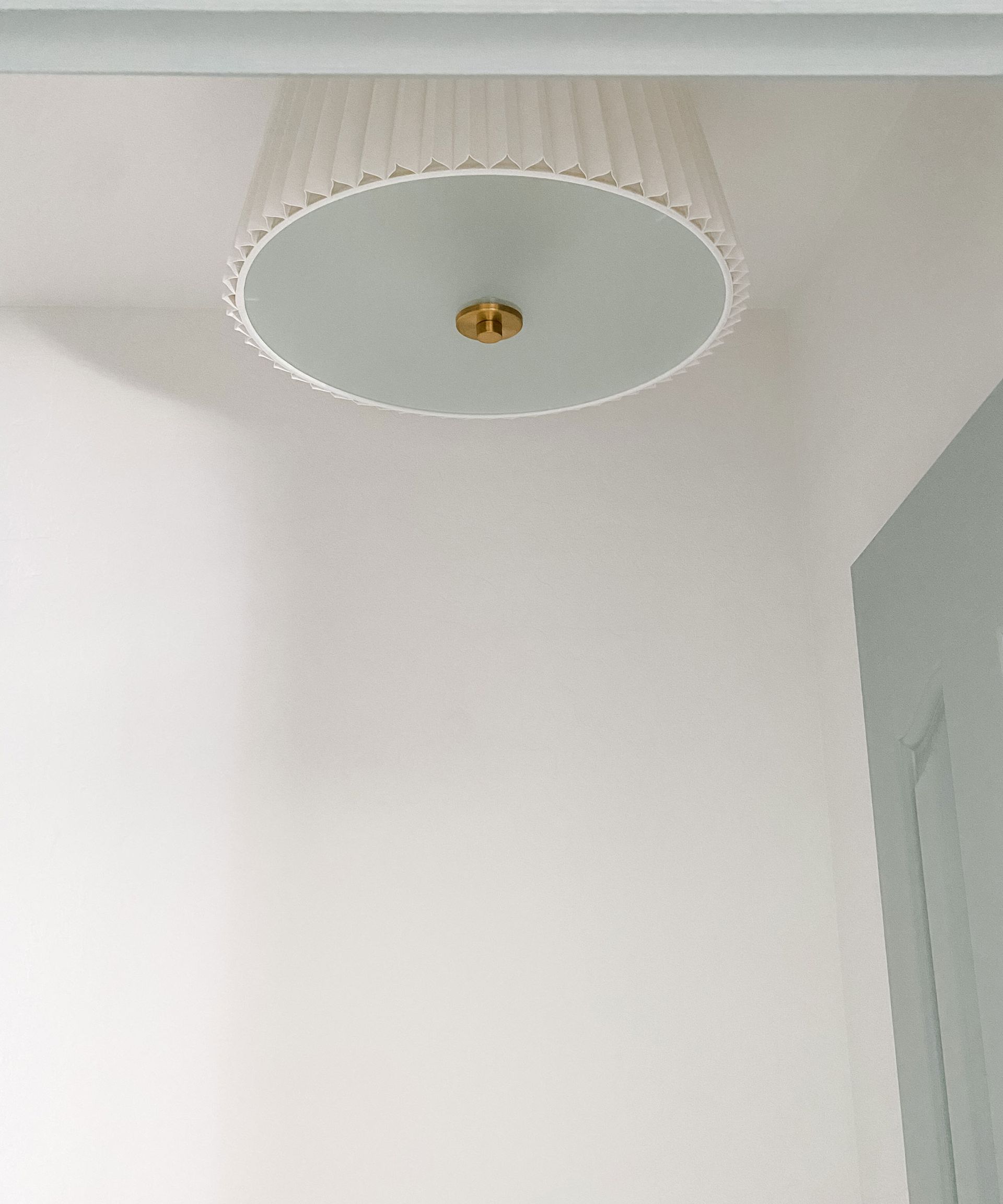 Achieving a bespoke look
To achieve my desired 'jewel box' look I really wanted to play with color in this space. The shower tiles add so much character already but I wanted to bring in a complementing color for the walls and find a way to use wallpaper again. I ended up using two types of bathroom wallpaper for the walls.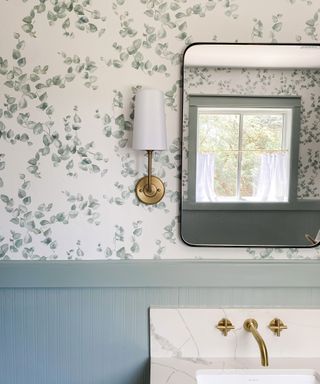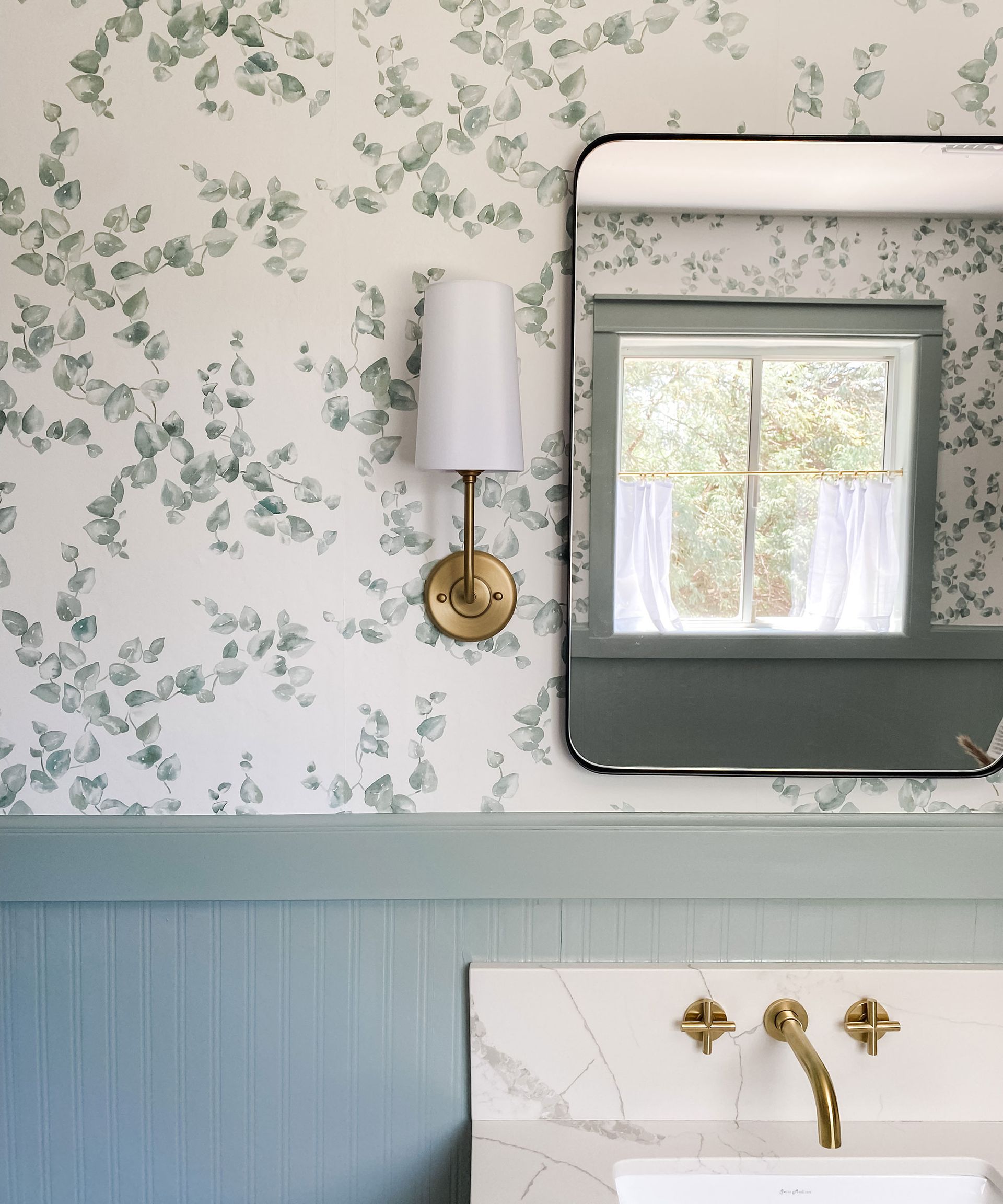 I wanted a beadboard look for the bottom half of the walls without using mdf beadboard panels. First, medium-density fiberboard (mdf) should not be used in areas that are likely to have moisture. The wood swells and bows if it gets wet and can lead to mold developing. Second, beadboard panels would have been very difficult to install in this tiny space, going around a bathtub and vanity. (I have installed beadboard panels in my laundry room behind the washer and dryer but used smaller vinyl panels to avoid using mdf.)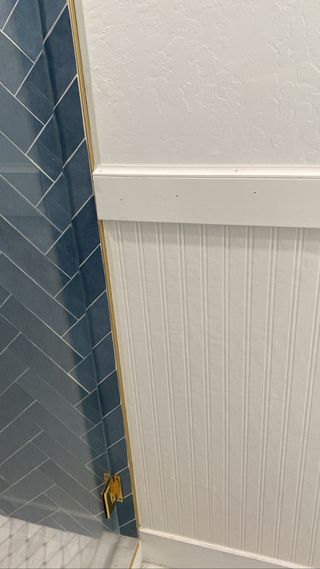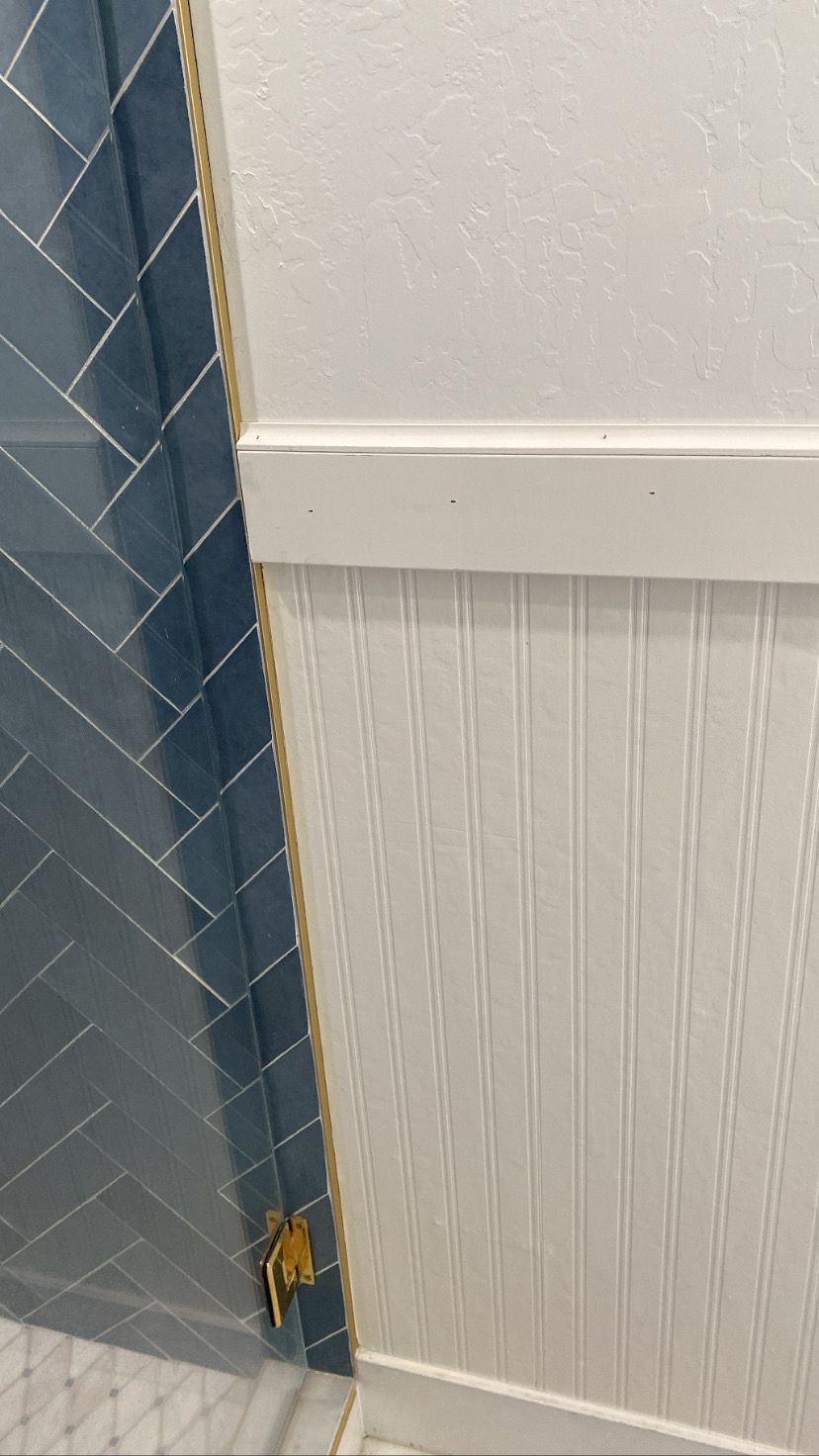 This beadboard wallpaper I bought on Amazon was just the ticket! Looks exactly like beadboard but comes in rolls like wallpaper. The texture feels almost like a foam product. I have to say in all my experience installing wallpaper, this was by far the easiest product to use. I simply cut panels to my wall size (no need to line up a drop pattern here) and dipped the panels in water for a few seconds to activate the glue on the back of the paper. Once on the wall, it was easily repositionable. The only setback was having the paper rip once or twice, but I learned to be a little more gentle. All the same tools for wallpaper installation were used here. Such a win-win! A beadboard look without the effort of installing beadboard.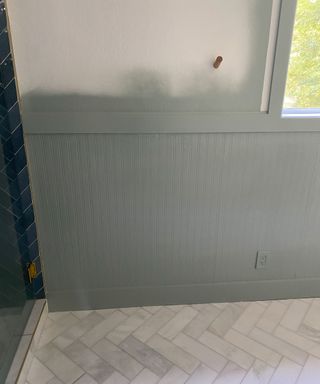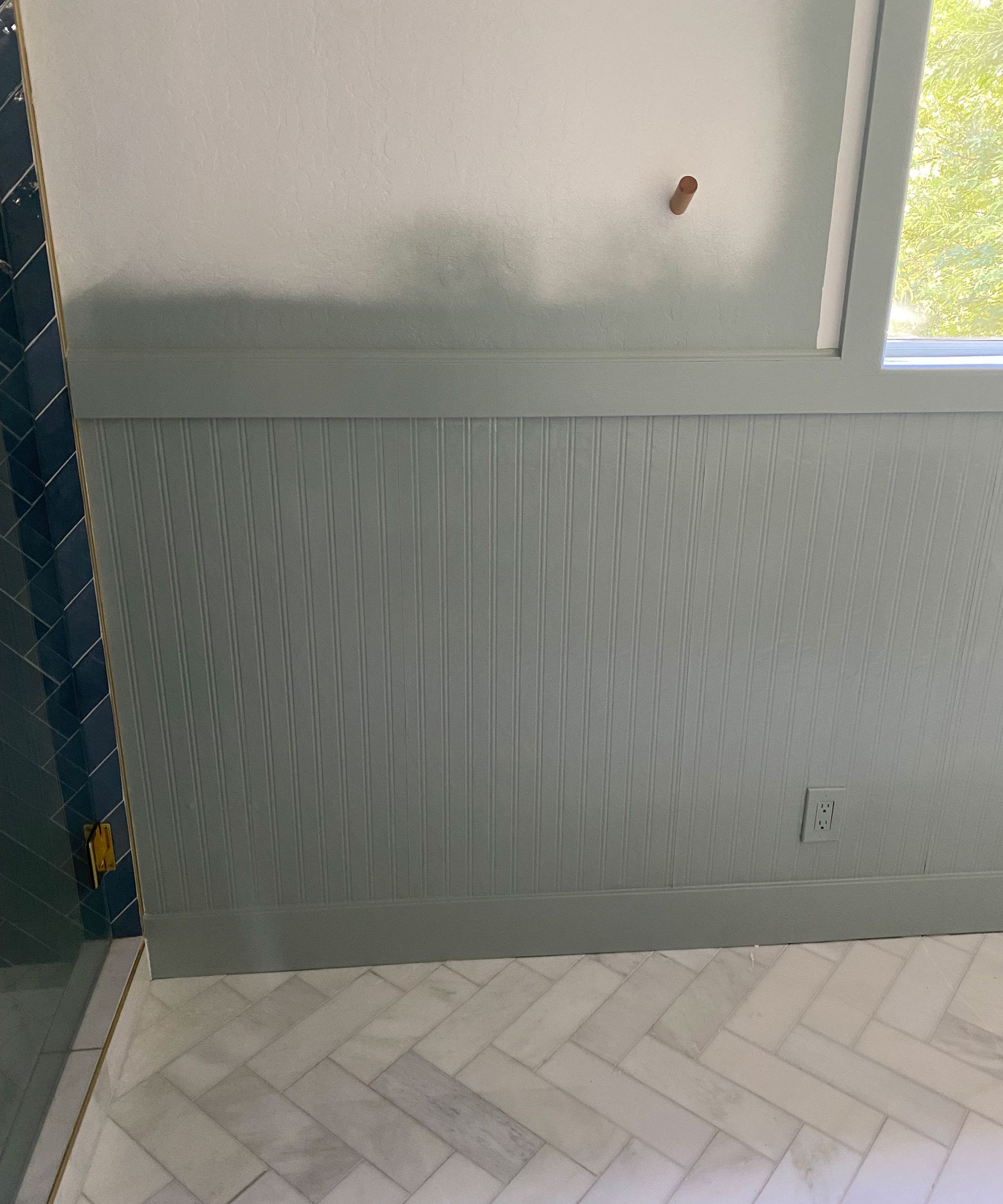 Once all of the beadboard wallpaper was installed I installed a 1x4 above it and cove molding to make it a little more sophisticated. Above the trim I installed a gorgeous colorful fig leaf vine wallpaper. This was a traditional paper requiring wallpaper paste.
Another advantage using the beadboard wallpaper is it being paintable! I chose "Nature's Gift" by Behr for that and all of the trim and doors in the space. I chose to spray but using a paint roller would also work just fine here as well.
The finishing touches are the art and the vintage brass hooks and vintage rug.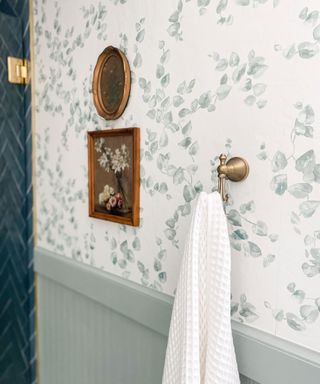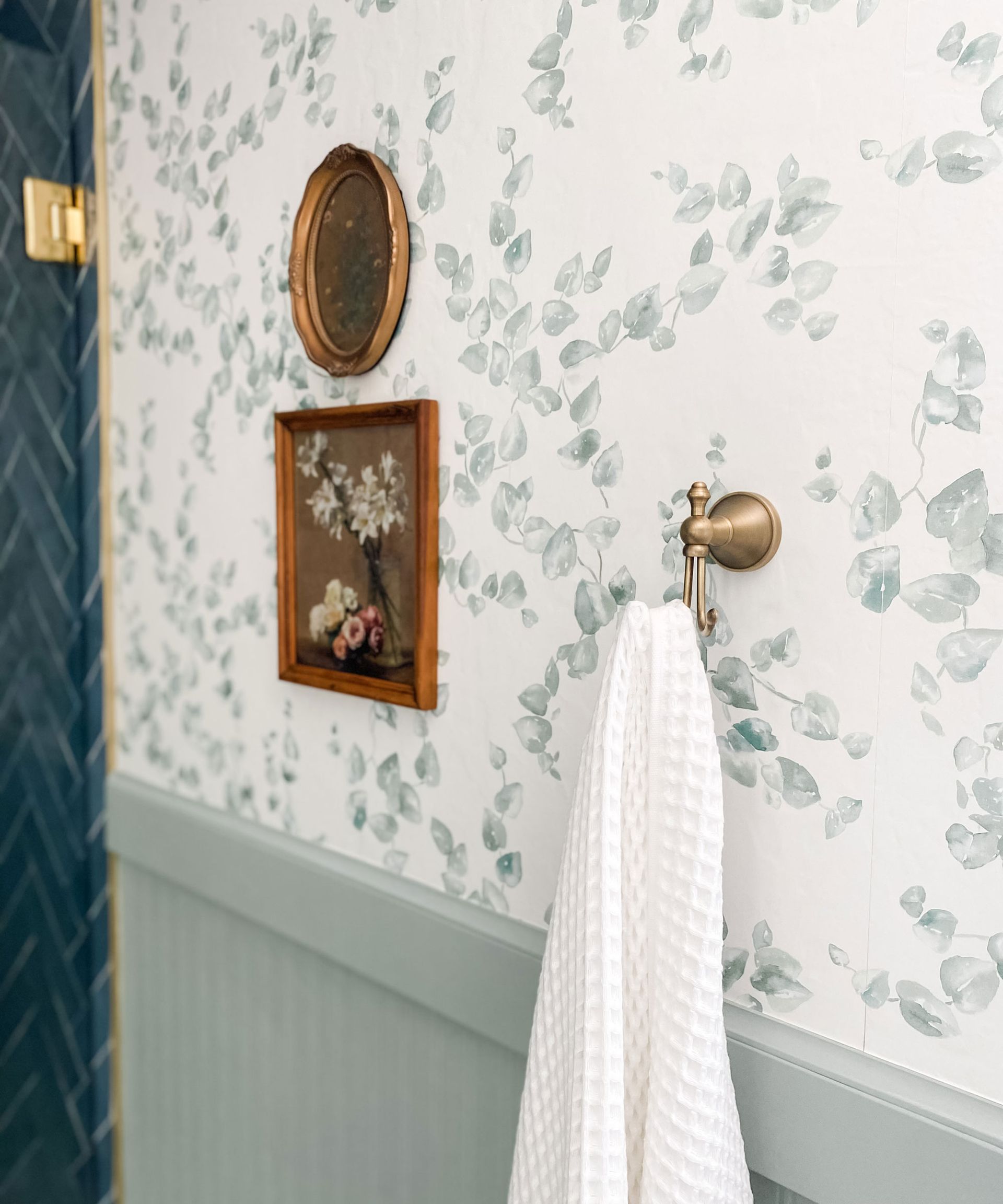 The results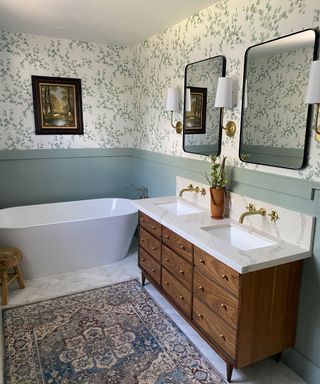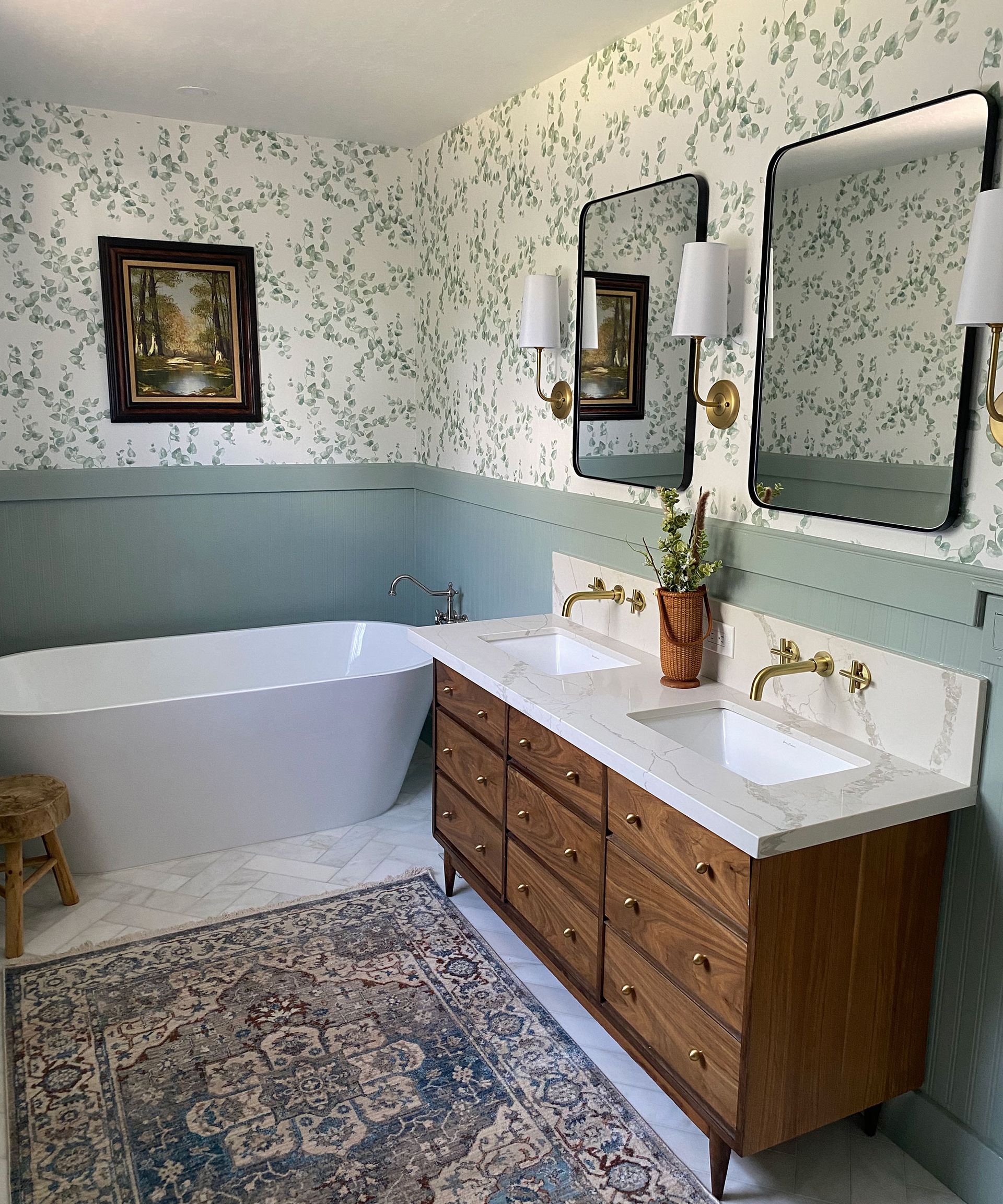 I love this colorful room. By keeping the floors and vanity neutral I was able to add bold color to the shower and complement it with the green from the wall treatment and vine wallpaper.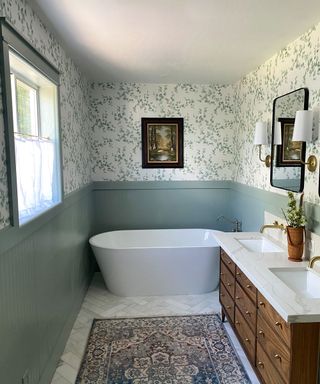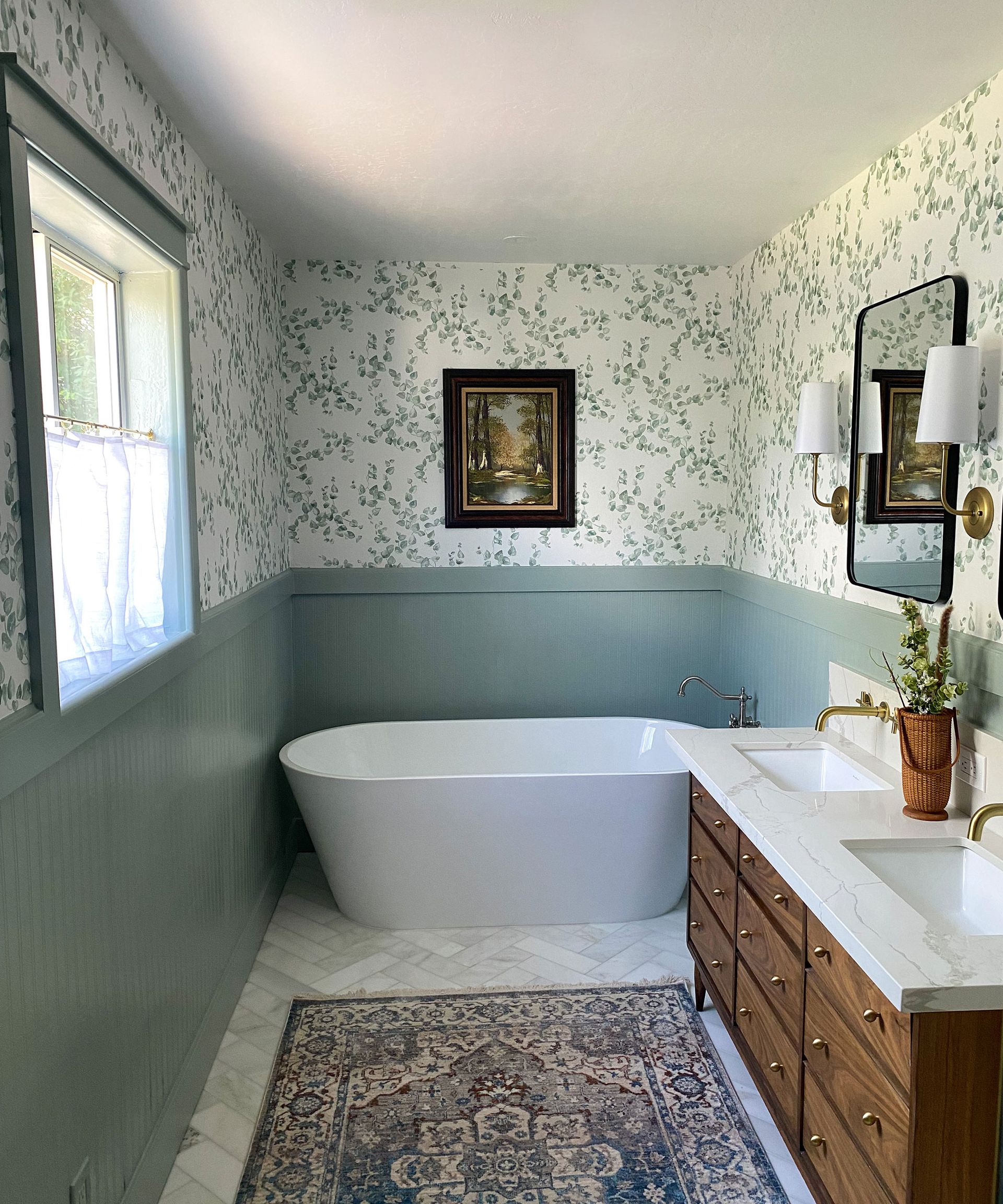 I feel like I achieved the jewel box look I was going for in here…what do you think? Would you ever use beadboard wallpaper?
Project cost breakdown:
Labor (plumbing, electrical, tile) $7500
Plumbing fixtures $570
Shower glass $600
Vintage dresser $100
Vanity quart $1000
Bathtub $800
Lighting $210
Mirrors $200
Wallpaper $266
Trim $75
Paint $90
The cost for the entire bathroom renovation came in at $11,511 but we compared to what we could have paid had we not decided to DIY the majority of the work!