In the market for the best laptop stand you can buy? As nice as it would be to have the perfect home office setup, the reality for most of us is that working from home often just includes copious amounts of coffee, any free surface we can find, and a laptop.
So why not make WFH just a bit more comfortable by investing in an adjustable laptop stand? From the most ergonomic to stands with built in cooling fans, we've rounded up our pick of the best...
Find more home office accessories in our buyer's guide. For home office design advice, see our dedicated feature.
What is the best laptop stand?
Why you can trust Real Homes Our expert reviewers spend hours testing and comparing products and services so you can choose the best for you. Find out more about how we test.
We think the best laptop stand you can buy is the Rain Design mStand. It's adjustable, ideal for MacBook users and it's made from sturdy aluminium. Find out more below.
How to buy the best laptop stand
Where to buy the best laptop stands
Colour
Down to personal preference mostly, many laptop stands are only available in one colour. If you're after more than standard black, opt for the Lavolta Folding Laptop Table, available in black (of course), blue or silver.
Weight
If you're going to be transporting your laptop stand around, be wary of its weight. Our lightest is the Ergonomic Aluminium Portable Cooling X-Stand.
Laptop size
Before purchasing a laptop stand, ensure your laptop fits on it. Some are only compatible with certain laptops, so be sure to check.
Adjustable?
An important feature if you want to be comfortable while you work, some laptop stands feature an adjustable rotating base and even a mouse board to ensure your eye level and laptop screen are at the right height to avoid back problems.
Material
Our choices are made of everything from metal to aluminium and steel.
The best laptop stands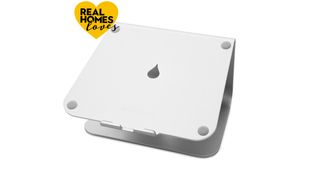 The clever patented design of this laptop stand is ultimately what gives it our top spot, but we also have to mention how good it looks, too. Made to match Apple products, it's a handsome companion for the MacBook Pro or MacBook Air. The top surface features rubber pads to keep the brushed metal outer of the laptop from getting scratched, and the 360-degree swivel base makes adjusting your position or working (or shopping, or booking a holiday) with a partner easier. The aperture at the back also allows any cables to be neatly organised, so there's no compromise on aesthetics if you keep your laptop set up at all times.
Shop more Rain Design products at Amazon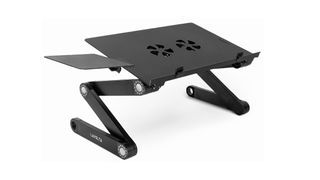 On first glance, this folding laptop stand looks rather odd with its almost anthropomorphic legs, but personally, we dig the borderline industrial design, and the practical applications for its quirky looks couldn't be more useful. This phenomenally adjustable laptop stand makes our list for precisely that reason, it can be bent and tilted any which way to suit your sitting position, adaptable to desktop, coffee-table-top or even lying down on the sofa. Whichever way you prefer to work, the in-built cooling pad is sure to be an appreciated touch.
Browse more Lavolta products at Amazon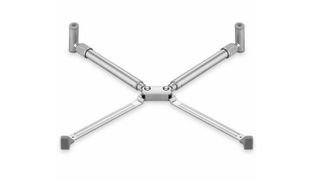 If you're in the market for a laptop stand but don't have the space to have it as a permanent desktop fixture, or simply don't like the look of having a stand out at all times, why not go for one that can be stored in a drawer until it's needed? This x-shaped laptop stand is bare-bones, but very clever and attractive in its simplicity – the open design means that lots of airflow to the bottom of the laptop is a given, and the two little rubber feet at the back create the perfect angle for typing as well as optimum eye level. It's so small and lightweight, it also has the unique distinction of being the only stand on our list you could conceivably take away with you for business travel, with its fold-flat design.
More BosVision products at Amazon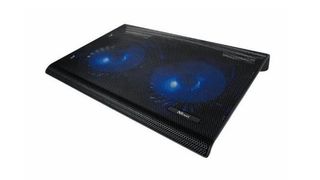 While our previous choice, the cooling x-stand, gives laptop fans room to cool off with its minimal design, there is an alternative if you want something a bit more permanent or sturdier-sounding. This Trust Azul laptop stand has a pretty straightforward solid design that holds your laptop in optimum position for comfortable use. Cleverly built into the body are dual USB-powered fans which circulate air to the bits of the laptop that need it most. It runs the risk of looking a little bulky and industrial in a home office, but its blue-lit fans are rather attractive when in use and the integrated cable storage keeps things tidy.
Find more Trust products at Amazon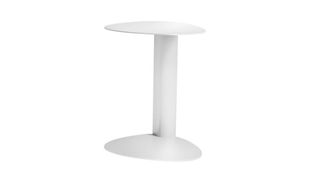 While far from the most portable option on our list, this BDI laptop desk is still a more movable improvement on the traditional computer desk. If you don't have a dedicated office space where you can keep your laptop on its stand, this standing desk-meets-accent table is a clever alternative. In powder-coated steel, it's durable enough to live outdoors as well as indoors, so if you're lucky enough to often find yourself able to work outside, this might be a more attractive idea than hauling a tabletop laptop stand about.
Browse more BDi products at Amazon
Want more office inspiration?