For such a seemingly small product, the right laptop stand can make a surprisingly big difference when it comes to our comfort and enjoyment of using our laptops. We're not talking about those beanbag-bottomed desks you work on from the sofa, but stands that permanently or semi-permanently on the desk, holding your laptop exactly where it needs to be.
These days, we know that that roughly translates to "ergonomically optimised", which in turn translates to not causing any undue stress to the neck, back or wrists, or aggravating any existing pain that lurks there from un-optimised desktops past. While some of our laptop stands are fixed at an ergonomist-approved angle to ensure your posture stays top-notch without even having to think about it, some feature adjustable angles and even swivel bases to adapt to what you find most comfortable, and even different ways of working.
If your laptop often sounds as if it's about to take off and feels alarmingly hot to the touch, especially on the bottom panel, you probably know how irritating it is to have to stop what you're doing and give it a rest, or waste time trying to figure out what the culprit is. The alternative is a laptop stand which either gives your laptop fans room to breathe with a clever cut-out design, as in the ergonomic x-stand below, or has USB-powered fans built into the body, for extra reliable cooling action without having to sacrifice any more power points – because to be honest, being tethered by cords sort of defeats the purpose of having a laptop anyway!
1. Rain Design mStand
A surprisingly gorgeous and practical addition to the desktop
Specifications
Best for: MacBook users
Colour: Silver
Weight: 1.4kg
Laptop size: MacBooks 13 - 17"
Adjustable: Rotating base
Material: Aluminium
Reasons to buy
+ Handy swivel stand + Looks very attractive
Reasons to avoid
-No longer a choice of colours
The clever patented design of this laptop stand is ultimately what gives it our top spot, but it would be remiss of us not to mention how good it looks, too. Made to match Apple products, it's a handsome companion for the MacBook Pro or MacBook Air. The top surface features rubber pads to keep the brushed metal outer of the laptop from getting scratched, and the 360-degree swivel base makes adjusting your position or working (or shopping, or booking a holiday) with a partner easier. The aperture at the back also allows any cables to be corralled neatly, so there's no compromise on aesthetics if you keep your laptop set up at all times.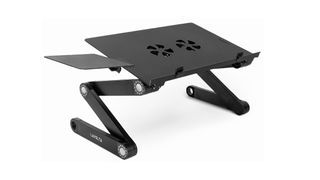 2. Lavolta Folding Laptop Table Desk Tray Stand with Mouse Board and Cooling Pad
Whether working from bed or the boardroom, this stand adjusts in a second
Specifications
Best for: Adaptable angles
Colour: Black, yellow, silver, red, blue
Weight:
Laptop size: 7 - 15"
Adjustable: Removable mouse board, adaptable auto-locking parts
Material: Metal
Reasons to buy
+ Supremely adjustable + Built in cooling pad
Reasons to avoid
- Some colours cost more
On first glance, this folding laptop stand looks rather odd with its almost anthropomorphic legs, but personally, we dig the borderline industrial design, and the practical applications for its quirky looks couldn't be more useful. This phenomenally adjustable laptop stand makes our list for precisely that reason, it can be bent and tilted any which way to suit your sitting position, adaptable to desktop, coffee-table-top or even lying down on the sofa. Whichever way you prefer to work, the in-built cooling pad is sure to be an appreciated touch.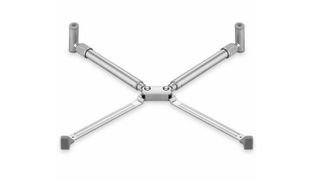 3. Ergonomic Aluminium Portable Cooling X-Stand
Supremely simple and elegantly ergonomic
Specifications
Best for: Temporary setup
Colour: Silver
Weight: 0.141kg
Laptop size: 12 - 17"
Adjustable: No
Material: Aluminium and steel
Reasons to buy
+ Can be folded away when not in use + Simple but effective cooling and optimisation
Reasons to avoid
- Can look a bit rough and ready
If you're in the market for a laptop stand but don't have the space to have it as a permanent desktop fixture, or simply don't like the look of having a stand out at all times, why not go for one that can be stored in a drawer until it's needed? This x-shaped laptop stand is bare-bones, but very clever and attractive in its simplicity – the open design means that lots of airflow to the bottom of the laptop is a given, and the two little rubber feet at the back create the perfect angle for typing as well as optimum eye level. It's so small and lightweight, it also has the unique distinction of being the only stand on our list you could conceivably take away with you for business travel, with its fold-flat design.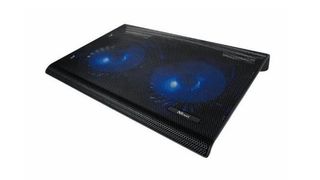 4. Trust Azul Laptop Cooling Stand with Dual Fans
Keep your cool while working or gaming with this fantastic laptop stand
Specifications
Best for: Cooling
Colour: Black
Weight: 0.475kg
Laptop size: Up to 17.3"
Adjustable: No
Material: Steel mesh
Reasons to buy
+ In-built USB-powered fans + Atmospheric blue glow
Reasons to avoid
- Not the most attractive
While our previous choice, the cooling x-stand, gives laptop fans room to cool off with its minimal design, there is an alternative if you want something a bit more permanent or sturdier-sounding. This Trust Azul laptop stand has a pretty straightforward solid design that holds your laptop in optimum position for comfortable use, but cleverly built into the body are dual USB-powered fans which circulate air to the bits of the laptop that need it most. It runs the risk of looking a little bulky and industrial in a home office, but its blue-lit fans are rather attractive when in use, the integrated cable storage keeps things tidy, and it's still the best technical solution for overworked laptops.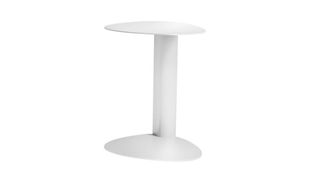 5. BDI Bink Salt Laptop Desk
A twist on the usual offerings for changeable home-workers
Specifications
Best for: Indoor-outdoor
Colour: White
Weight: 11kg
Laptop size: Any size
Adjustable: No
Material: Aluminium and steel
Reasons to buy
+ Good if you don't have a permanent setup + Non-bulky standing desk alternative
Reasons to avoid
- Not the most portable
While far from the most portable option on our list, this BDI laptop desk is still a more movable improvement on the traditional desk. If you don't have a dedicated office space where you can keep your laptop on its stand, this standing desk-meets-accent table is a clever alternative. In powder-coated steel, it's durable enough to live outdoors as well as indoors, so if you're lucky enough to often find yourself able to work outside, this might be a more attractive idea than hauling a tabletop laptop stand about – and while we're on the subject, the clean lines and all-white finish are pretty attractive too.