Having one or more coffee bar signs in your kitchen and/or entertaining area is a surefire way to serve up a stylish and sophisticated space to make and enjoy a cup of java. Whether you take yours with creamer, sugar, or neither, you can rest assured in the knowledge that everyone will know exactly where to get their caffeine fix.
The best coffee makers are a family-friendly investment that will suit all. From your AM cappuccino for the work grind to a few strong shots in your coffee and walnut cake or Tiramisu for your weekend baking, and a key ingredient in your evening espresso martinis this appliance will provide a consistent pick-me-up. So instead of hiding it in a corner, signpost your drinks dispenser in style.
Coffee bar signage will highlight your coffee maker as well as add interest to your cooking space's walls. And, in some cases, it can add an extra source of light too, if you opt for a neon fixture. So brighten up breakfast and brunch, or create a bar-like ambiance with these buys.
From budget to boujie, we've skimmed the internet to find the perfect blend of coffee bar signs, designed for all budgets. Some cost as little as a takeout coffee and others you may have to mull over a coffee before committing.
---
Coffee bar signs that'll bring a 'latte' style to your home
Why you can trust Real Homes Our expert reviewers spend hours testing and comparing products and services so you can choose the best for you. Find out more about how we test.
'The most important part of your coffee set-up would be the machine you use, the coffee you put in the hopper and the necessary skills to recreate your favourite café experience (and arguably the cup you extract your beautiful coffee into),' says Luke Powell, manager, speciality coffee EMEA, Sage.
'I'd recommend finding your favourite coffee shop that resonates with you from both a stylistic sense and the coffee they serve, fortunately these usually go hand in hand. For me, the most important thing is that these all match to create a space you're comfortable in to enjoy your daily ritual,'
'Try to find a complementary colour scheme and lean on the nuances of your various fixtures and fittings to ensure seamless integration. Outside of pre-written signage you'll be surprised at the quality and customisation that can be afforded by local sign writers but also sign writing specialists to fine tune your message and allow for a huge degree of customisation.'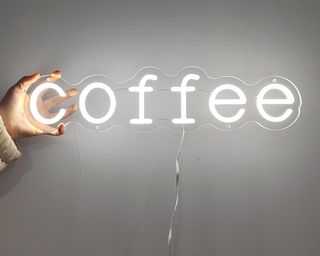 1. Seekfind's neon sign coffee shop decor
Coffee bar sign: 20" / 50cm | Color options: 10
We often lean to coffee or caffeinated drinks when we need a little pick-me-up. And more likely than not, most people's fave time to reach for a cup of joe is during the early hours of the morning. This minimalist white coffee bar signage offering from Etsy is a neon sign, but the simple non-serif text on a clear acrylic background means that it won't be blinding when you first wake up. Also available in nine other colorways, including White, Warm White, Pink, Red, Blue, Ice Blue, Green, Purple, Orange and Yellow.
---
2. TahoesLodge coffee heartbeat sign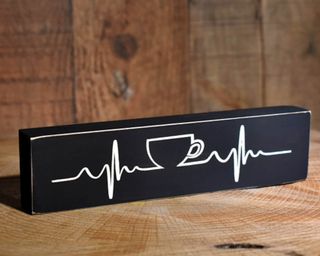 Coffee bar sign: H1.5 x D6 x W 0.75 in | Color options: 1
If you're like us and believe that coffee is life - this sign is for you. Fab for those who can't function without an espresso or Americano, this matt black pointer is a perfect piece of shelf decor for showing how much you heart the strong stuff without words.
Made from pine wood and acrylic spray, this modern sign has been handmade by an Etsy retailer so you know you'll be giving back to an independent shop owner. Plus, it's cheap too, making it one of many affordable gifts for coffee lovers (that isn't another bag of beans).
---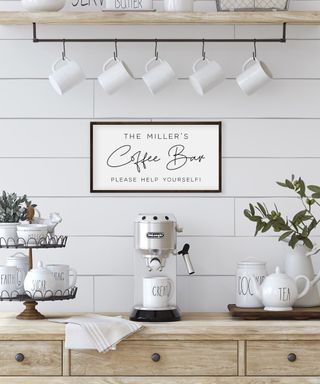 3. NestedDecor personalized coffee bar sign
Coffee bar sign: size options from H8 x W16 to H20 x W40 in | Color options: 1
Hosting out-of-town friends and family can be lots of fun, but it can be difficult to gauge what time they'll be up for breakfast, and if to knock on the guest bedroom to see if they'd like a coffee. So take the guesswork out of guest sleepovers and stick this sign below your best pod coffee machine in their room. This also works if you're looking to make a quick buck with your Airbnb rental.
---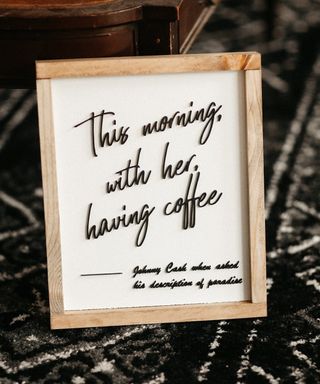 4. This morning having coffee with her, Johnny Cash, 3D coffee bar sign
Coffee table sign: W10 x H12 in | Color options: 1
Sharing a coffee with your significant other is one of life's simple pleasures, but you don't need to leave the house to enjoy this pastime. Add a little romance to your home with this quote-inspired coffee bar sign decor. Whether you care for country music or not, this sign is ideal for newlyweds and cohabitors... And also makes for an idyllic housewarming present. Alternatively, incorporate it into your boudoir alongside one of the best Nespresso machines... Because if it's good enough for George Clooney - it's good enough for us!
---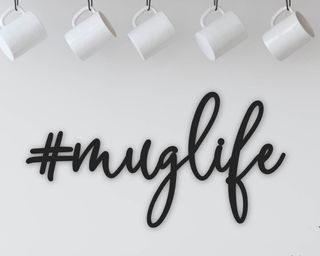 5. TheWebsterCollection #muglife coffee bar sign
Coffee bar sign: W10 x H5 in | Color options: 3
If you're guilty as charged of having your coffee in hand, while scrolling on social media - this black coffee bar sign made from Baltic Birch is suitable for you. This super Instagrammable signpost makes the perfect backdrop to take selfies with you and your BFFs while enjoying a hot coffee or cold brew. Add a modern coffee table nearby and you're all set. Stick to the wall using command strips, which you can grab from Amazon. Also available in unpainted and gold.
---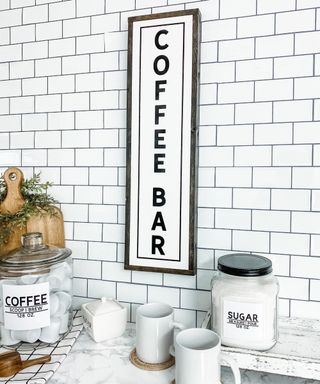 6. 2TreesStudios vertical coffee bar sign
Coffee table sign: W7 x H25 in | Color options: 5
Take your coffee bar area to new heights with this vertical coffee bar sign by Etsy seller, 2TreesStudios. Shown here with an Ebony frame, this rectangular decor is also available in dark walnut, early American, rustic grey, and chippy paint finishes. We think it'd look fab as part of a farmhouse or country kitchen scheme with your best drip coffee machine.
---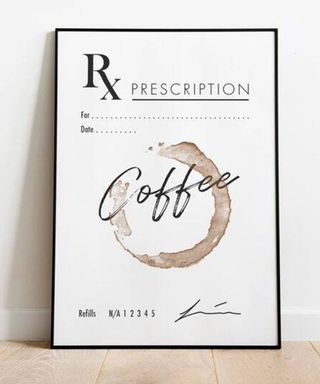 7. SimplyLaurels Rx prescription coffee bar sign
Coffee bar sign: five digital files including paper sizes A1-A5 | Color options: 1
If we were in charge of the country, we'd make sure that there was a coffee mandate for sure. If you 'prescribe' to this idea, don your walls with a fake doctor's note - complete with faux coffee cup ring stain. Ready in an instant, you won't have to wait for this item to be shipped to you. Instead, this digital PDF file can be downloaded and printed off at home Looks great in a home office with one of the
best single-serve coffee makers (so you can get to work without making a cup for anyone else!) And, if you need a regular fix, why not invest in one of the best coffee subscriptions to ensure you're not caught out without?
---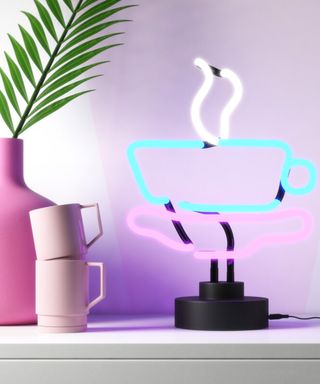 8. Hashtag Home Grigori 17'' coffee neon sign
Coffee bar sign: H17 x W12 x D6 in | Color options: 1
Gravitate towards your ground beans with this super-cute tubular glass coffee bar sign, available at Wayfair. Rather than a traditional monochrome or brown notice, this cyan blue and pink is a trendy way to add a color pop to your coffee-drinking space. Place it on your glass coffee table to see it glow on the reflective, see-through surface. It's a little on the pricey side, but worth saving up for.
---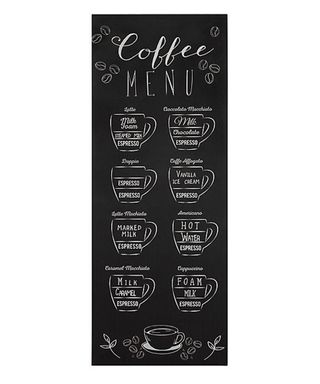 9. Stratton Home Décor "Coffee Menu" wall sign
Coffee bar sign: H31.5 x W1.25 x D11.75 in | Colors available: 1
Show off your barista skills by letting your guests choose straight off of the coffee menu. This coffee bar sign will show you how to make their favorite hot drink by demonstrating the ratio of each liquid ingredient. Convince your guests you're a coffee aficionado by investing in the best bean-to-cup coffee machine you can afford and reading up on how to make coffee like a professional (hint: use the best coffee beans...)
---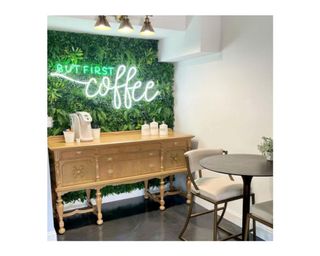 10. Custom Neon 'But First Coffee' bar sign
Coffee bar sign: W47 x H18 in| Colors available: 1
Hands up if you can't do anything before they're caffeinated? We hear you. This is the perfect shatterproof, energy-efficient, recyclable, and UV-resistant LED sign to hang in your kitchen coffee station or home bar area. Yes, even the small size blows the budget, but who can resist it, especially when paired with a faux living wall for a tropical luxe look. What's more, it comes with a 24-month warranty, an adapter, and a free neon sign mockup should you wish to customize this design or have something else in mind.
---
What is the purpose of a coffee bar sign?
'The main purpose of a coffee bar sign is to define a space and bring a sense of purpose but also to help meld this area into the overall theme of your kitchen space.' confirms Powell.
Where to put a coffee bar sign
'Sign placement is down to the space you position your machine and what is allowed by the fixtures and fittings. I'd recommend above your machine to define the space and bring attention to what I'm sure will be a moment of joy each day.' says Powell.
While Frankie Cooke, growth manager, Grind says: 'This is so dependent on the space you have available. It's important to think about where you want the warm light of the neon to feature in the room. If you have a blank wall to either hang or lean your sign against, then it will fill the space really effectively!'
What value can a coffee bar sign bring to your home?
'Every time we've opened a new Grind location, we've included at least one neon sign. They're great for giving a really cozy, intimate feel to a space. In the evenings at Grind, we dim the rest of our lights and let the warmth of our red neons fill the room.' says Cooke.
How to style a coffee bar sign
'Let the neon do the work! We always make our neons the centerpiece of a wall or window. They're so striking, so we like to keep things simple and draw attention to the message.' says Cooke.