These bedroom window ideas will prove that you really can have it all. There are so many options for filtering daylight, keeping the room cosy, and ensuring privacy. But which to choose? Well that's where we come in. Here we have pulled together all our fave bedroom window treatments to get you inspired, and of course to help you make the most practical choice for your space. 
Keep reading for plenty of bedroom window ideas to copy and don't miss our bedroom ideas hub page too for plenty more inspiration. 
1. Go for a classic look with white bedroom shutters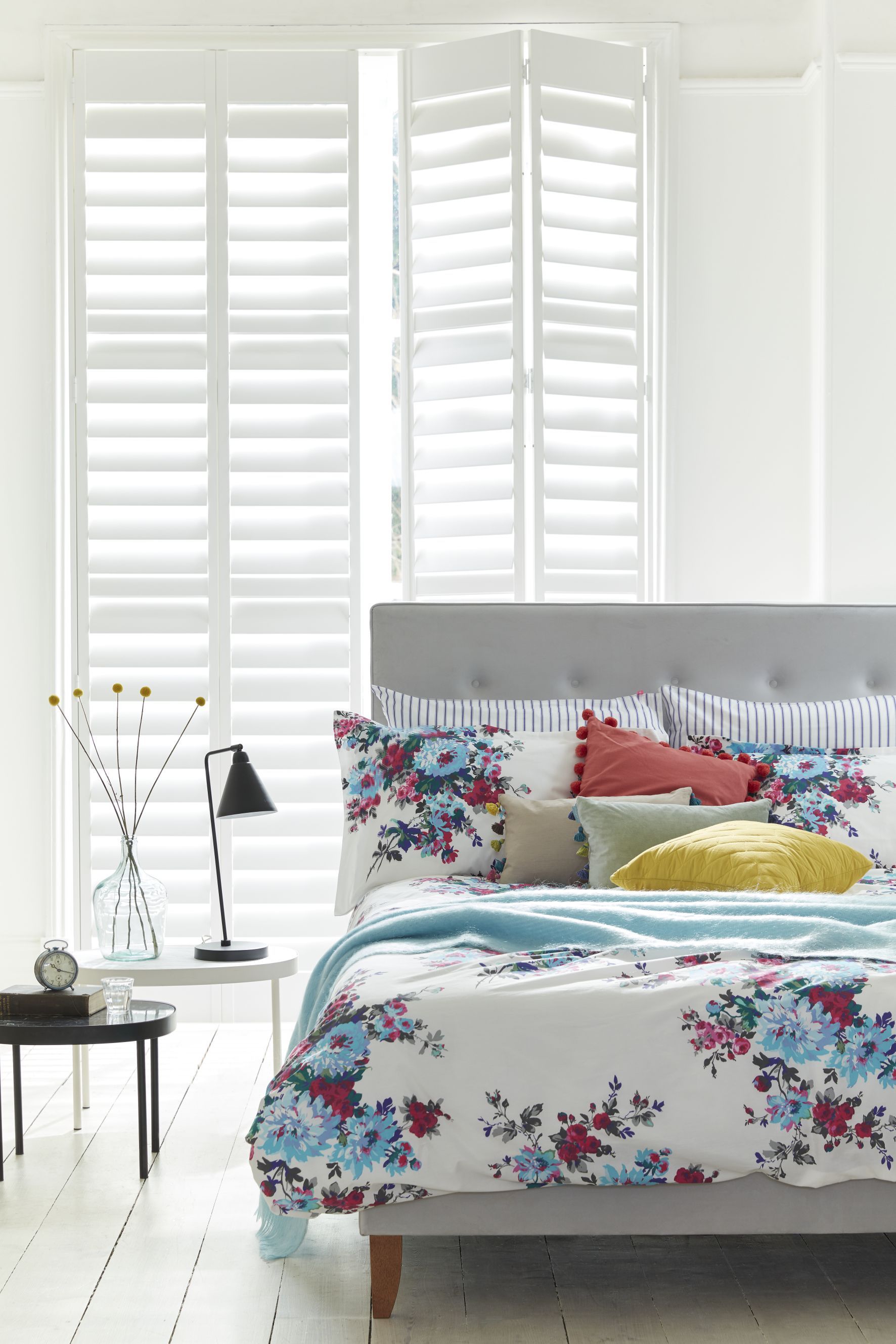 For a clean, crisp bedroom window ideas, choose pristine white shutters. These are full height, but for more flexibility, choose tier on tier, which allow you to open the top and lower sections separately, or café curtains which cover just the lower part of the window. 
Find out how to choose the best shutters for your bedroom in our guide.
2. Or add warmth with a dark bedroom shutter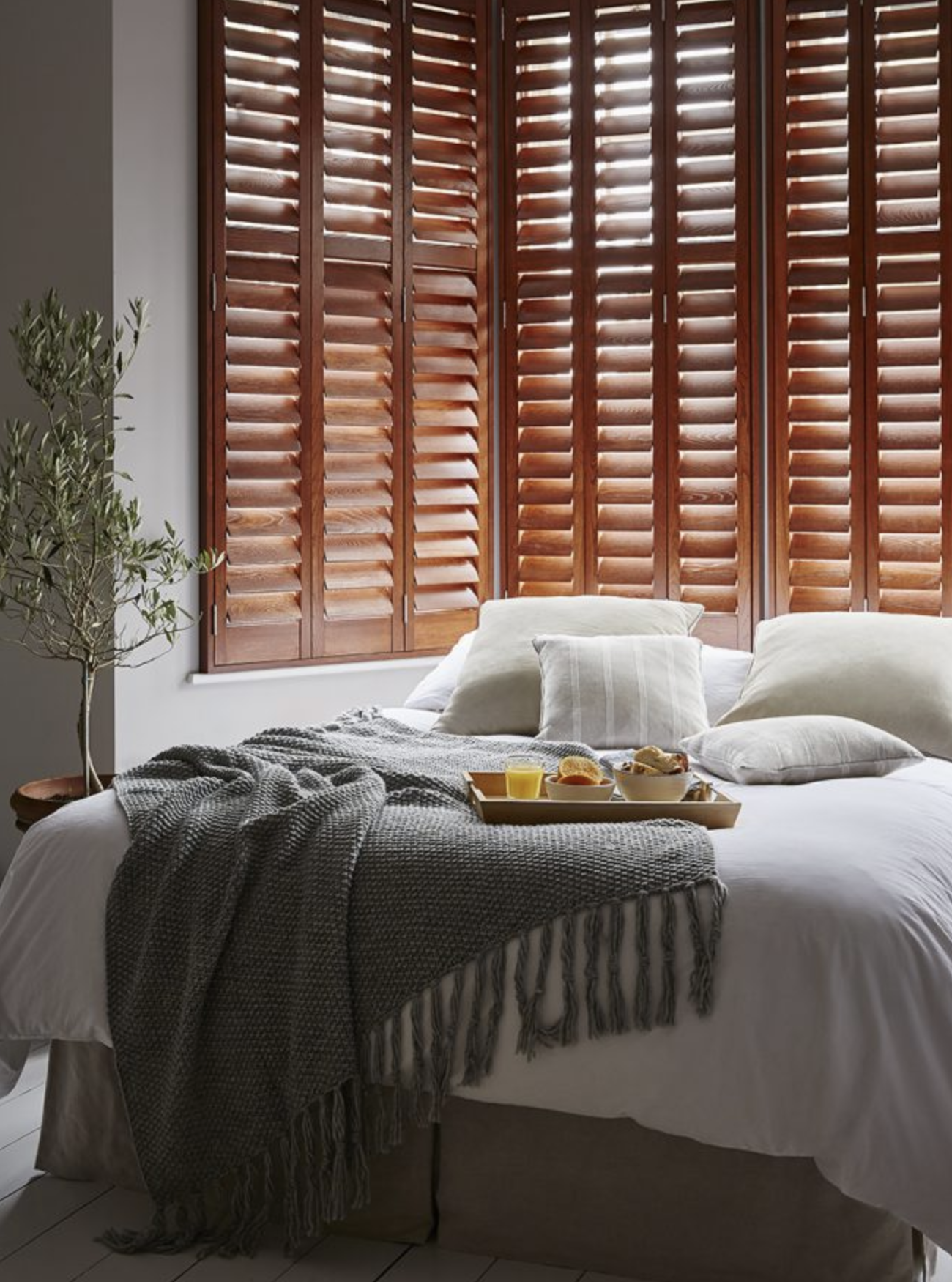 While you may be tempted to choose white (which we love), don't be fooled into thinking they will keep out the light. They might offer privacy, but darkness is another thing – and that's what makes dark-coloured shutters a good bedroom buy. We love how it adds such a natural, warm feel to this bedroom and the plain wood means you can work it in to any existing bedroom scheme you have going on.  
3. Use curtains to turn a plain room patterned – but line them for darkness
If you are a fan of a floral print then what better than this fabulous large print Fiori design? Printed on linen for a soft vintage look, these curtains can be lined with a blackout or thermal lining to keep your bedroom at peak cosiness and great for a good night's sleep too. Keep them as the focal point of the bedroom and pull out colours from the design to accessorise with. 
These are the best blackout curtains for light-sensitive sleepers.
4. Deep sleeper? Pick a light a breezy style for a dark bedroom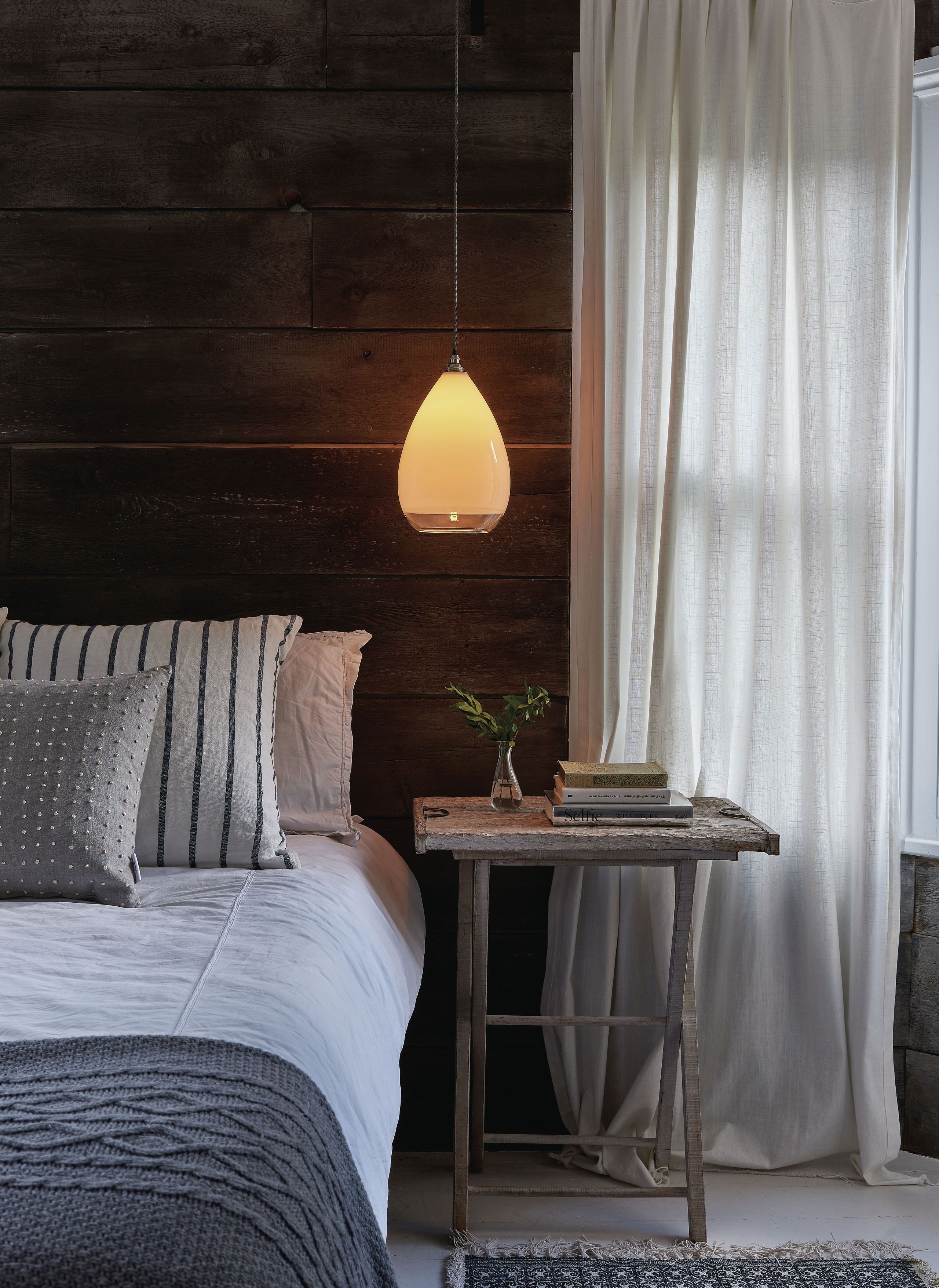 Some of us simply love the whimsical feel of linen curtains floating in the summer breeze... but more than that, if your bedroom is already dark, bulky curtains at the windows are just going to cut out even more light, even when they're open. So if you're not one to be woken early doors from the light streaming in during the summer then this pretty option is for you. H&M do a similar style - check out their 2-pack of linen curtains. 
5. Keep it simple with roller blinds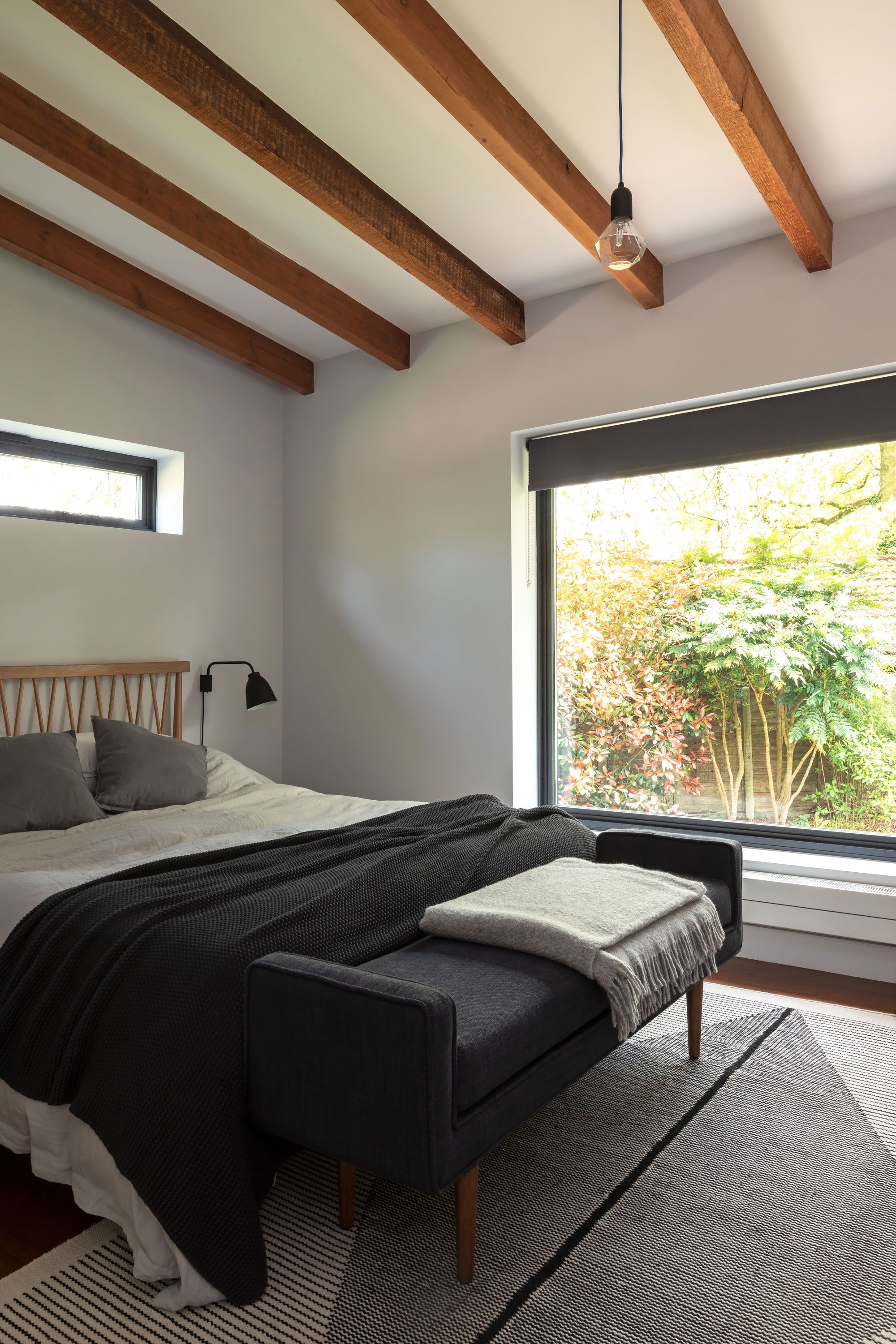 If your home is contemporary then fussy full on curtains and blinds will naturally not be your thing. Roller blinds are a great option, they're streamlined and don't impose visually on the space. Depending on the colour you choose they can be 'barely there' which is ideal if you're a modernist who wants to control the light and privacy in your bedroom – or show off a fabulous view. 
Check out our guide to choosing roller blinds for plenty more advice and ideas. 
6. Update your bedroom window by adding a new layer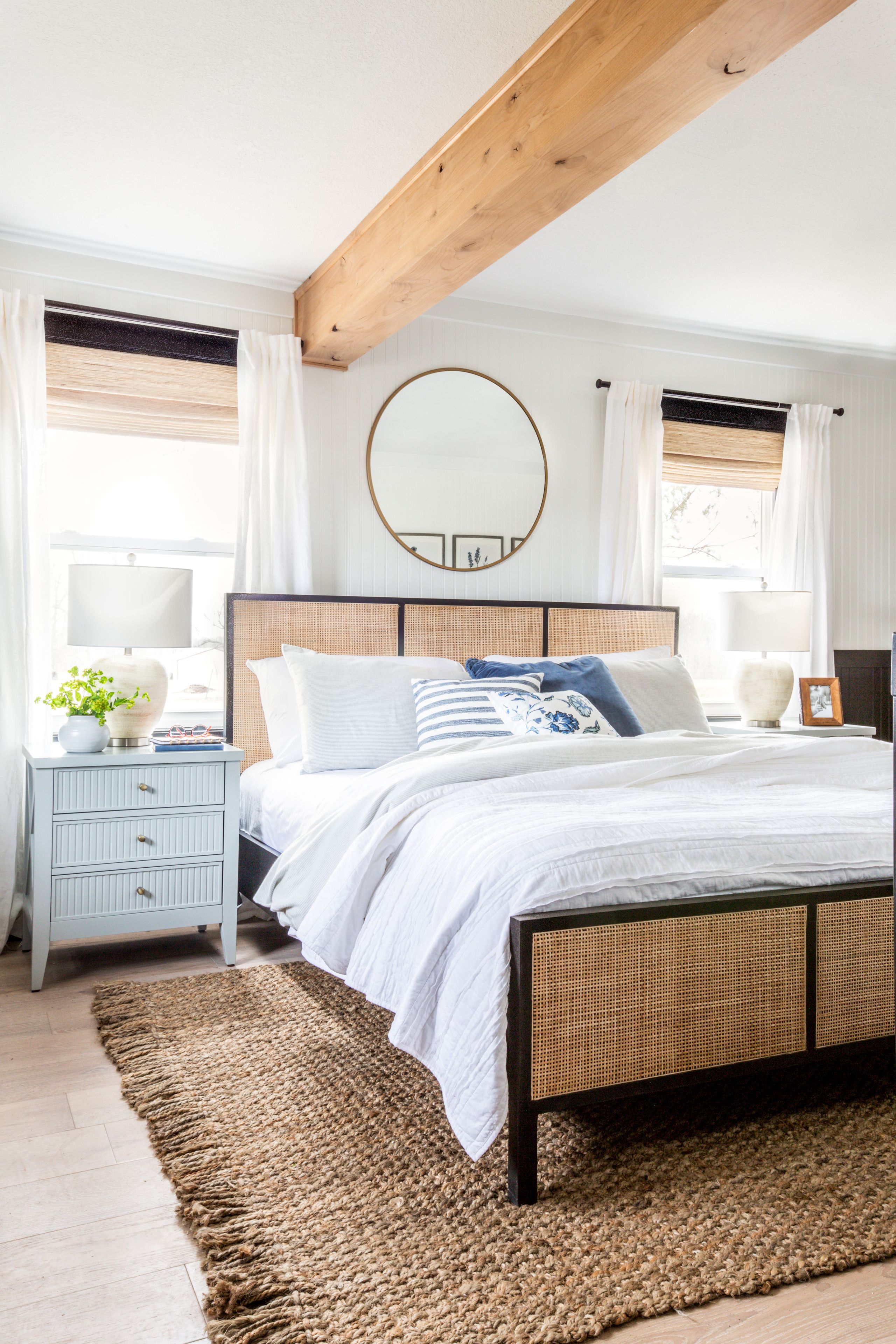 Already got blinds but fancy a change? Loving your curtains but not getting the light blocking qualities you need? Layering curtains with other window treatments, such as blinds or window film, will give you maximum daylight but privacy if you're overlooked. You needn't choose heavy curtains if you prefer a lighter look – why not layer a light cotton curtain with a heavier blackout option, such as Roman blinds, for the best of both worlds?
Our window film design gallery has lots of lovely ideas to browse – and don't miss our buyer's guide to Roman blinds for more info.
7. Add wooden accents with a light Venetian blind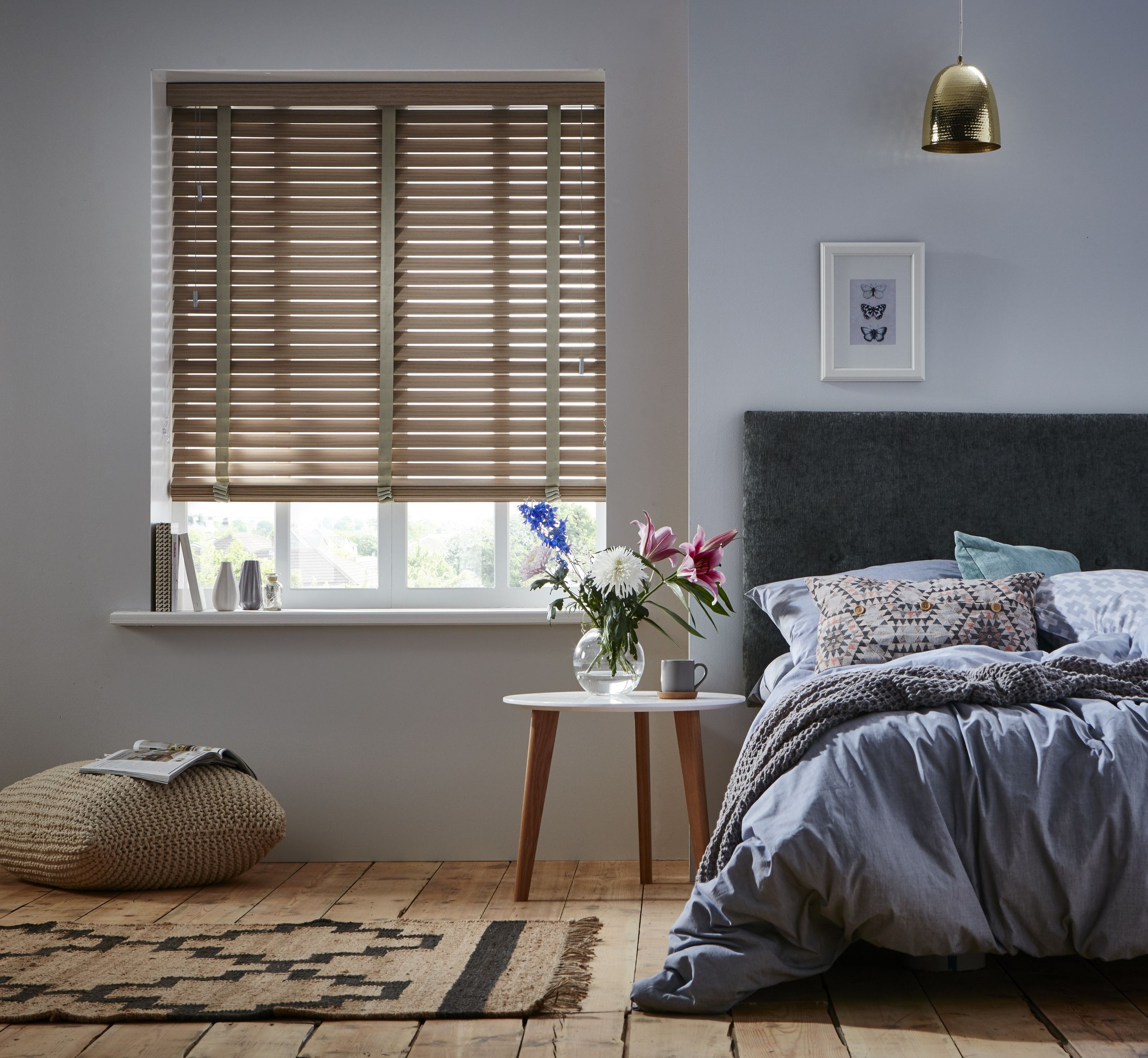 Bring a natural element to the bedroom with wooden Venetian blinds, one of the most adjustable treatments for a sunny window since the louvres can be tilted precisely to deflect glare. Wide louvres are bang on trend and create a more simple, fuss free look than the classic wooden blind. You could also choose contrast tapes for a hint of colour. 
Find out more about choosing Venetian blinds in our practical guide.
8. Add a fun bedroom shutter for children's rooms
Looking for bedroom window ideas that will suit kids' rooms? Solid shutters shut out the light, so kids get some rest even in summer when the evenings are long, but they also open up the possibilities for colour and motifs. A colour-matching service from Shutterly Fabulous ensures the shutters are the perfect shade and you can have dots in any colours you like, to match walls, furniture or favourite toys.
Check out our gallery of window treatments for children's rooms for loads more ideas.
9. Choose blinds as a super-practical bedroom window treatment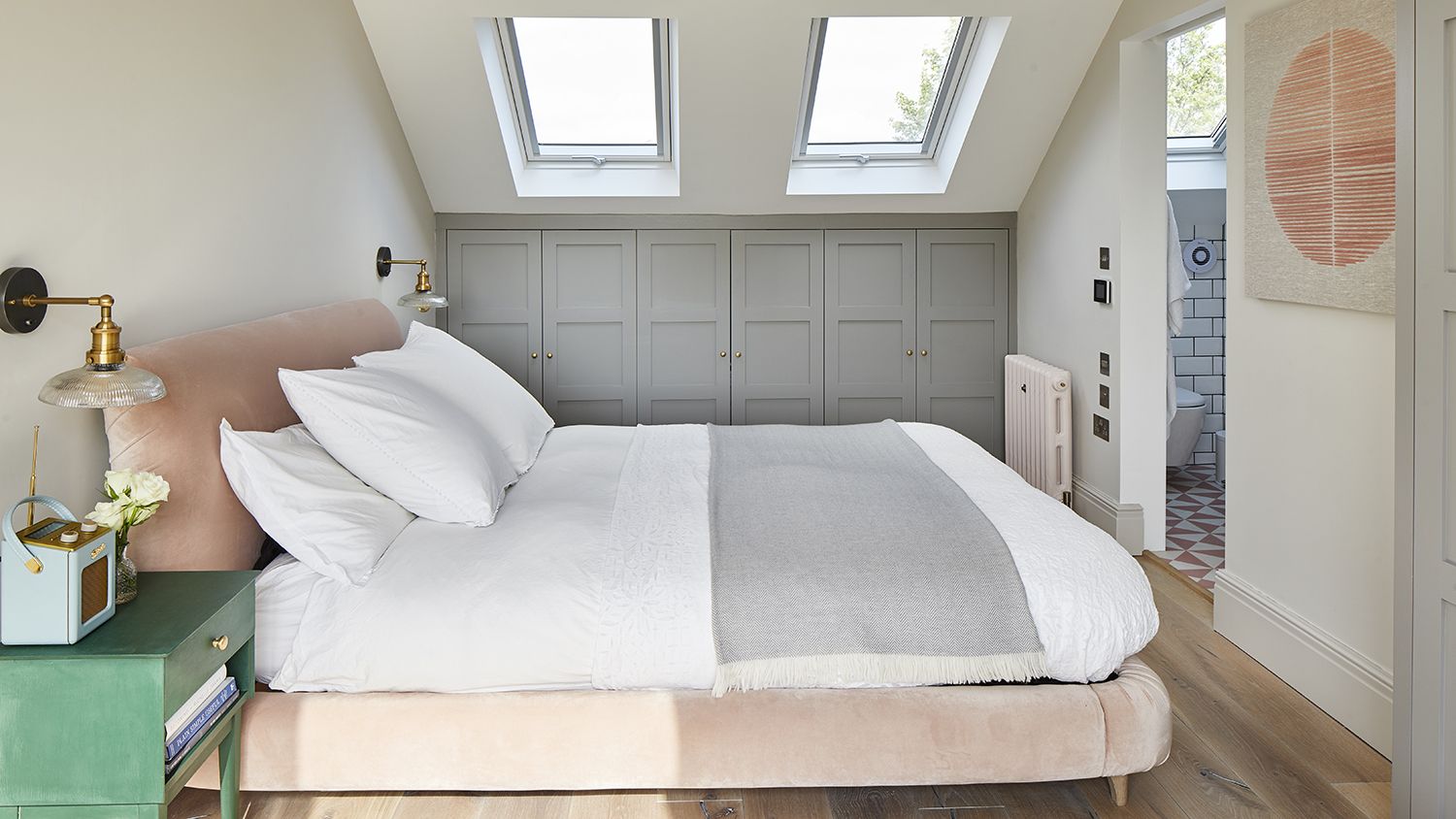 Motorised blinds are a great option for loft or hard-to-access windows such as in a loft bedroom. The PowerView system from Duette opens them remotely via Amazon Alexa and Google Assistant and is compatible with tablets and mobile devices. These Day & Night blinds combine Anthracite blackout and sheer white fabrics. You can pick up made to measure motorised blinds from Duette. 
10. Increase bedroom privacy with window film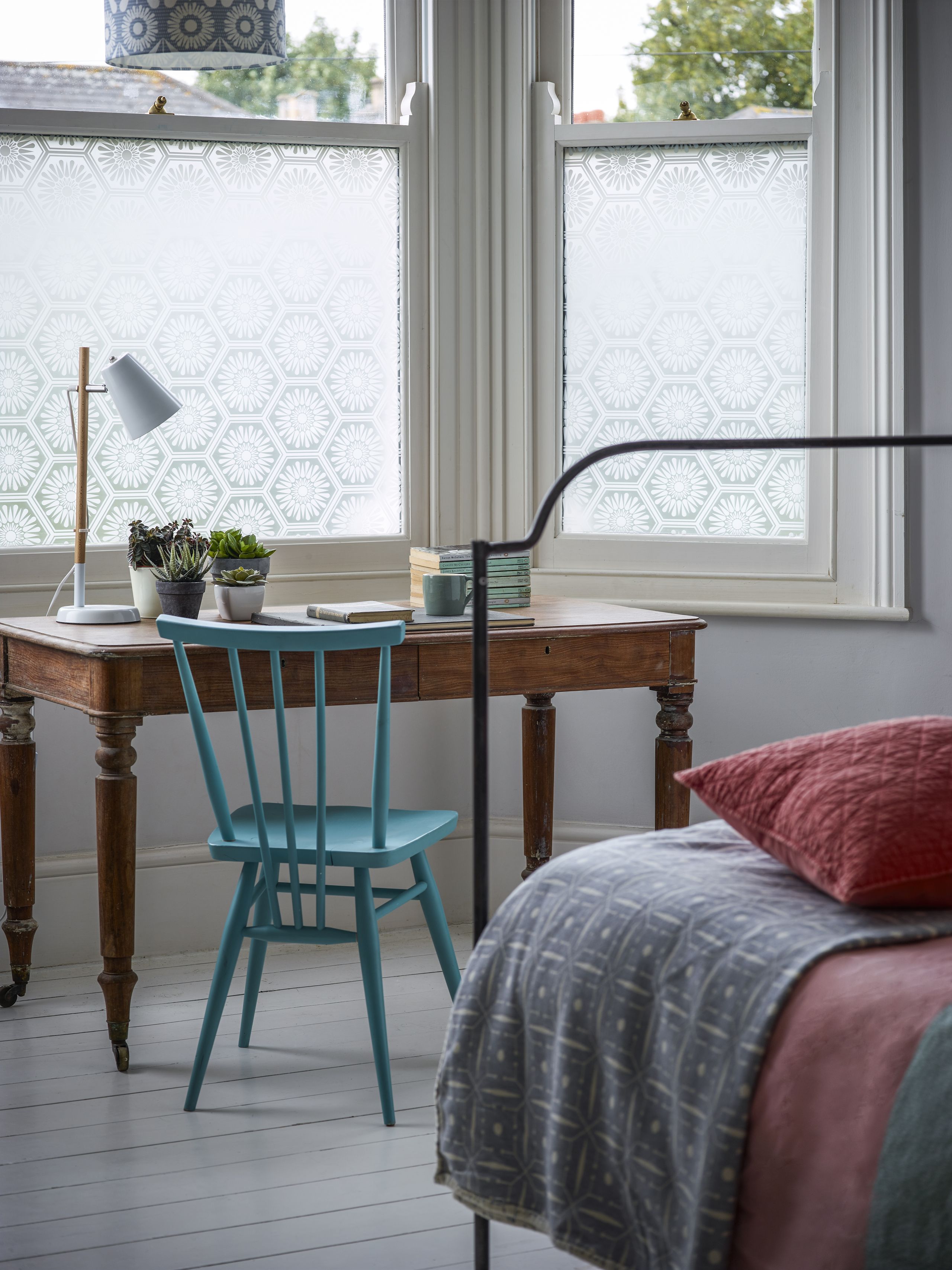 A super quick and easy bedroom window idea, window films are ideal for a ground floor bedroom that is overlooked. You can get them ready-cut to the exact measurements for your window and is easy to fit. Frosted finishes, all over patterns and motifs are available too if you want to add some texture and interest to your space as well as privacy. 
Be inspired by these window film ideas to get the best design for your bedroom.
11. Set bedroom blinds within the frame for elegance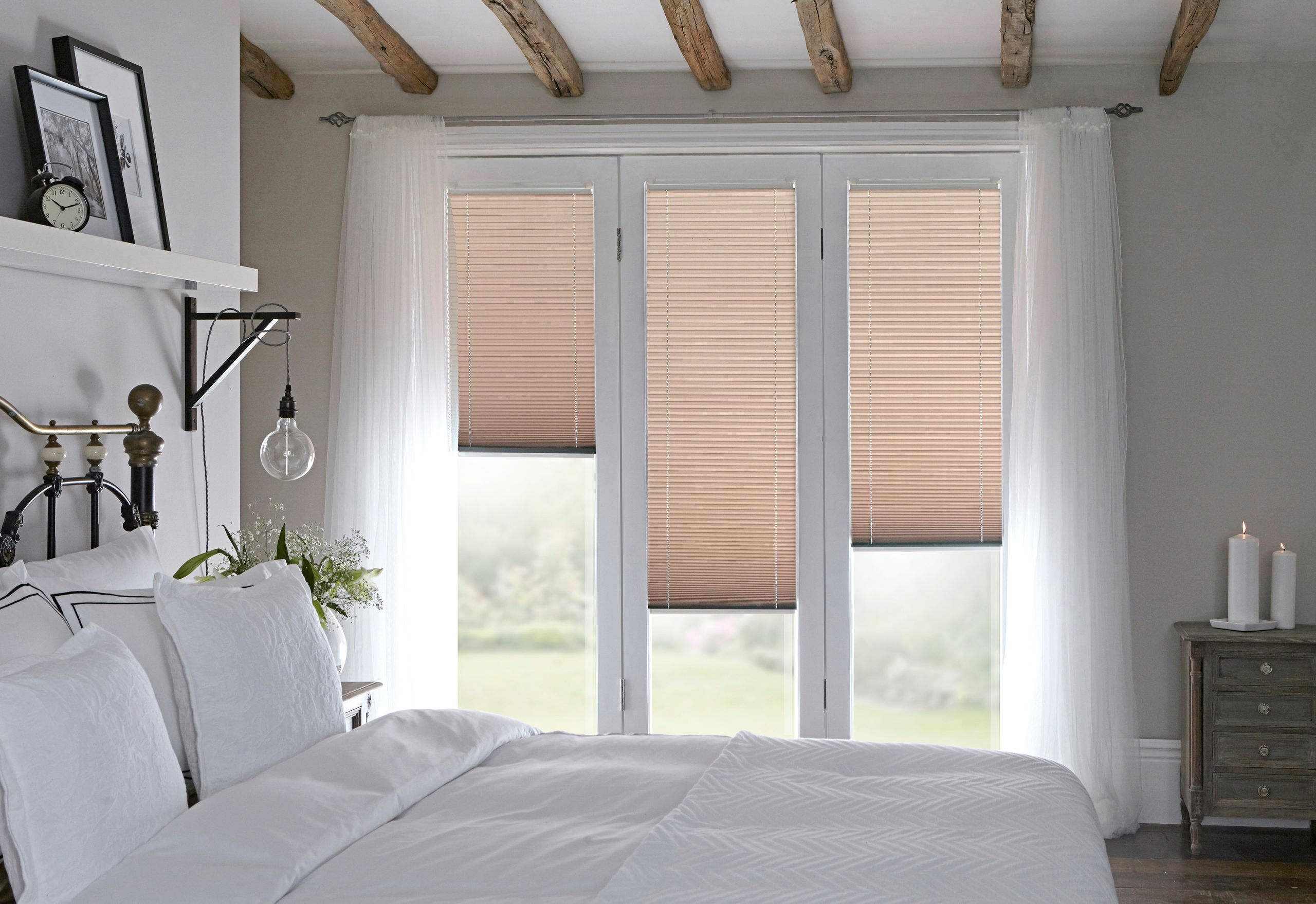 A great bedroom window idea for tall windows or French doors, are pleated blinds fit neatly within each pane for a minimal look without interrupting the frame. Team with sheer curtains hung from a pole that extends either side of the windows so they can be swept right back.
12. Match your bedroom curtains to your soft furnishings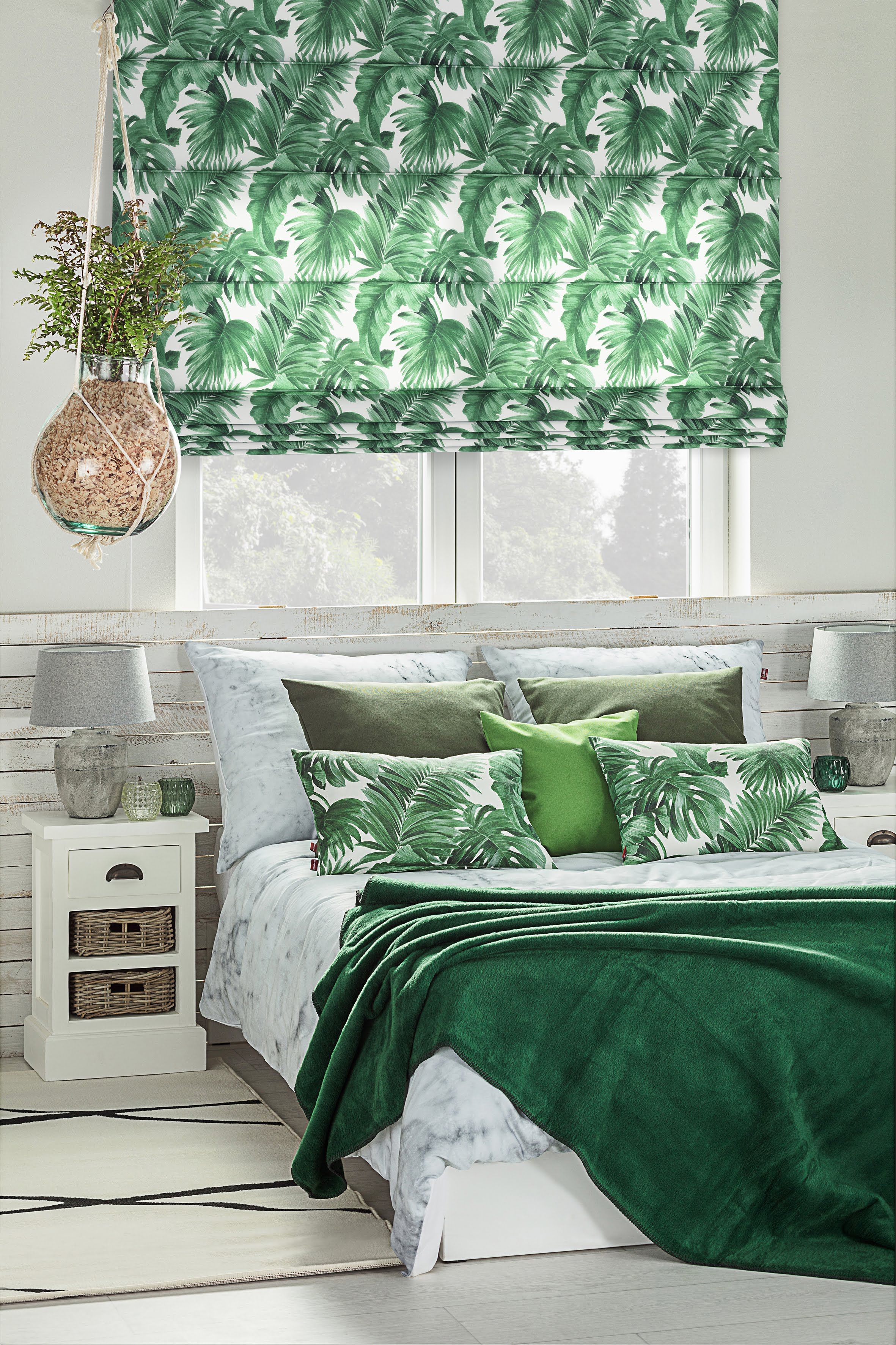 Found a fabric you love but afraid of busting the budget? Roman blinds are the answer, taking far less fabric than curtains, yet folding into decorative pleats. We love how in this bedroom they have been matched with the cushions to create a really cute cohesive look. 
Read more: