The best decking ideas will provide the perfect way to add interest and entertaining space to any outdoor space. Whatever shape or size you're working with, this flat surface will see that you spend more time in it, all year round.
However, there are different types of decking to consider as backyard ideas. From warm and natural woods to lookalike composite, eco-friendly plastic and wood-waste blends, or even paving - the possibilities are endless.
Then it is all down to how you configure your deck, including what you plant around it and how you furnish or dress it. You might also want to consider who is living in your home as elderly parents and young children will require a stable surface.
Creating different looks with stain, oils and paints can all have a lovely effect and help turn it into a convivial spot for your entire household. It is after all, down to how you want to present yours in your outdoor garden space.
1. Create a Moroccan-inspired decking idea
Vacations, especially those of the long-haul type, can be expensive. So if you want to travel to a tropical or exotic location, it can be taxing on your wallet.
And even once you've saved up, travel restrictions can play a part in postponing or cancelling plans. So why not bring the balmy vibe to your backyard?
You can echo the North African garden trend that's so popular right now by adding Moroccan style rugs, lightbulbs in primary colors and Berber-style cushions. Set it all off with tropical planting. think palms, ferns and fast-growing bamboo.
Now all you need to do is rustle up a fruity Tagine and serve with some mint tea and Baklava.
2. Use colorful accessories to contrast dark decking
Just as dark walls are trending inside, dark decking is a hot look al fresco. You can stain or paint existing wood to get this look using one of our pick of the best deck paints. A dark charcoal grey is our favorite finish.
Pair dark decking with a light wood bench and add color with bright cushions, a table runner and stand-out crockery and glassware.
Pot your plants in a vibrant colored container for extra oomph. Or keep your planting bright – fuchsias, dahlias and geraniums look particularly vibrant.
3. Add a deck chair idea to your decking area
Most of us enjoy lazing about on a hot summer's day, but when we're on vacation, there's nothing more frustrating than sun beds that've been pre-reserved with a pesky towel.
So forgo the fuss and stay at home instead. By using the money you were going to use travelling, invest in your yard with decking and a guaranteed sun trap.
A deck chair will promote that seaside vibe. Ideally pick a frame in teak – a hardwearing hardwood hat will stand up to bad weather without ageing prematurely. A tough canvas seat will last longer than anything made from cotton.
4. Add a printed outdoor rug to a decking area
Cozy and comforting, the best outdoor rugs are a textile that can add character and break up a monotonous floor space – including a large expanse of deck.
Specifically designed for outdoor use, this palm-print rug from The Rug Retailer is made from incredibly durable and stain-resistant and weatherproof polypropylene that's easy to clean too. It's the ultimate finishing touch for any garden decking idea.
Other on-trend prints to look for a Berber-style diamonds in monochrome colors and bold, big florals in the brightest shades.
5. Add an accent deck to a garden room entrance
If you don't want to fork out on a large area of decking, or only have small area to cover – consider accent decking ideas.
This small decking idea is perfect for those who don't want an all-or-nothing decked space and allows for versatility in your garden space.
Better still, if you have a garden room, it'll add a stable surface for your children or guests to enter and exit from.
6. Create a bohemian scheme with lots of texture
Free spirited and fun, a bohemian garden decking idea is for perfect for those who daren't take themselves too seriously.
So if you're a guy or gal who likes talking with friends underneath the stars or until the sun comes up - this look is for you.
Granted it gets a little cold during the late night chats, you'll want lots of layers in the form of throws and cushions on your chairs and floor space.
This pouf also acts as the perfect footrest of impromptu seating idea.
7. Create a Scandi-style beachscape
Scandinavian design has transformed our interiors for a while now, but have you thought about taking this trend outdoors? This light decking idea is playful and can be designed to suit the whole family's needs.
For a grown-up garden idea, add shade loving garden plants that thrive in sandy soils to gaze at while sitting outdoors. Cacti or succulent plants tend to do well in these conditions. Or go all-out with a sandbox idea for the kids. It'll keep them entertained for hours without expensive toys and electronic gadgets.
8. Build a cool decking idea on your front porch
Whether you want to increase the price of your property with kerb appeal, or simply want a space for your kids to enjoy - a decking idea in your porch can be a pretty investment.
Ideal for reading outside or an older child who might've forgotten their keys, this space offers shelter from the sun and rain.
It also couples up as the perfect spot for a sip or two of wine or beer and allows you to be sociable with your neighbors.
9. Create a relaxing space with a hammock design
Ready, steady, and ahhh relax. There's nothing quite like a hammock to get your dose of Vitamin D. That's once you've managed to mount it and get cozy.
Made from comfortable cotton and decorated with a grey striped print design, this hammock by Bloomingville is the perfect Boho addition to your favorite sunspot.
10. Or add some shaded protection with a cacoon
Want to provide your kids with a fun seat on a decking idea - this colorful cacoon from Cuckooland is sure to turn some heads.
Using a blend of cotton and polyester keeps the canvas soft to touch and its durable, mold, water and UV resistant outer will protect it from all the elements.
When the weather is a little drizzly, the hanging seat folds down to a manageable size to help you transport it anywhere you like; including holidays, back yards or in a bedroom.
It's also available in a double for a romantic glamping setup in the garden - but that doesn't mean you have to share!
While the Mango orange color is sold out, the fuchsia pink version gives us all the Coachella and Lollapalooza vibes.
11. Incorporate decking into an outdoor pool idea
When entering and exiting your outdoor swimming pool, you'll want a material that is highly slip-resistant, and doesn't rot or split.
Enhancing outdoor spaces, this weathered oak decking by Millboard gives the illusion of wood without the risk of splintering.
12. Or use it to deck out your front yard
If you don't have the luxury of an outdoor pool idea - don't fret. A decking idea will look just as great on a manicured front yard.
Fresh or faux, keep off the turf with a raised deck. After a particularly muddy day or sun scorching weekend, they'll be no excuse to ruin your lawn with chair legs and parasols.
13. Contrast light grey decking with pastel chairs
'Pastels are the perfect route to take outdoors, looking more dusty in the summer sun.' say Rob Abrahams and Rob Green, Co-Founders of COAT Paints.
'Why not embrace some killer pastel shades for the outside of our house with exterior paint?'
'To really max up that kerb appeal, remember to contrast the color of your masonry paint with that of your front door or other accent.'
We love the use of lemon and mint to create this balmy summer decking idea.
14. Or choose a pastel table instead
How cool and refreshing is this mint colored table? Using a scheme of pastel green and creamy vanilla is one way to a tasty exterior space.
With the stripe motif chairs and light grey decking, we're getting all the seaside vibes. Now all we need is the ice cream truck to come down the block...for the kids of course.
15. Live in an apartment? Use decking on your balcony
If you live in an apartment with a balcony, you'll know how lovely it is to sit outside and catch some rays during golden hour.
This contemporary decking idea uses dark brown wood to provide a stable seating area to enjoy a glass of vino or perhaps an alfresco lunch or dinner.
Depending on how much space you have, you may want to invest in a stylish table and chair setup to get the most out of this area.
16. Use a decking idea on a staircase
If you want to elevate your front entrance, a decking idea is one way to deliver.
Adding interest through contrasting color and texture, this white and wood staircase is one way to woo your guests (and make your neighbors jealous).

Go one further by painting your doors, banister and window fixtures. We like this green idea which aligns with nature, including the pop of palm tree pictured here.
17. Create a cheap shaded deck with landscaping materials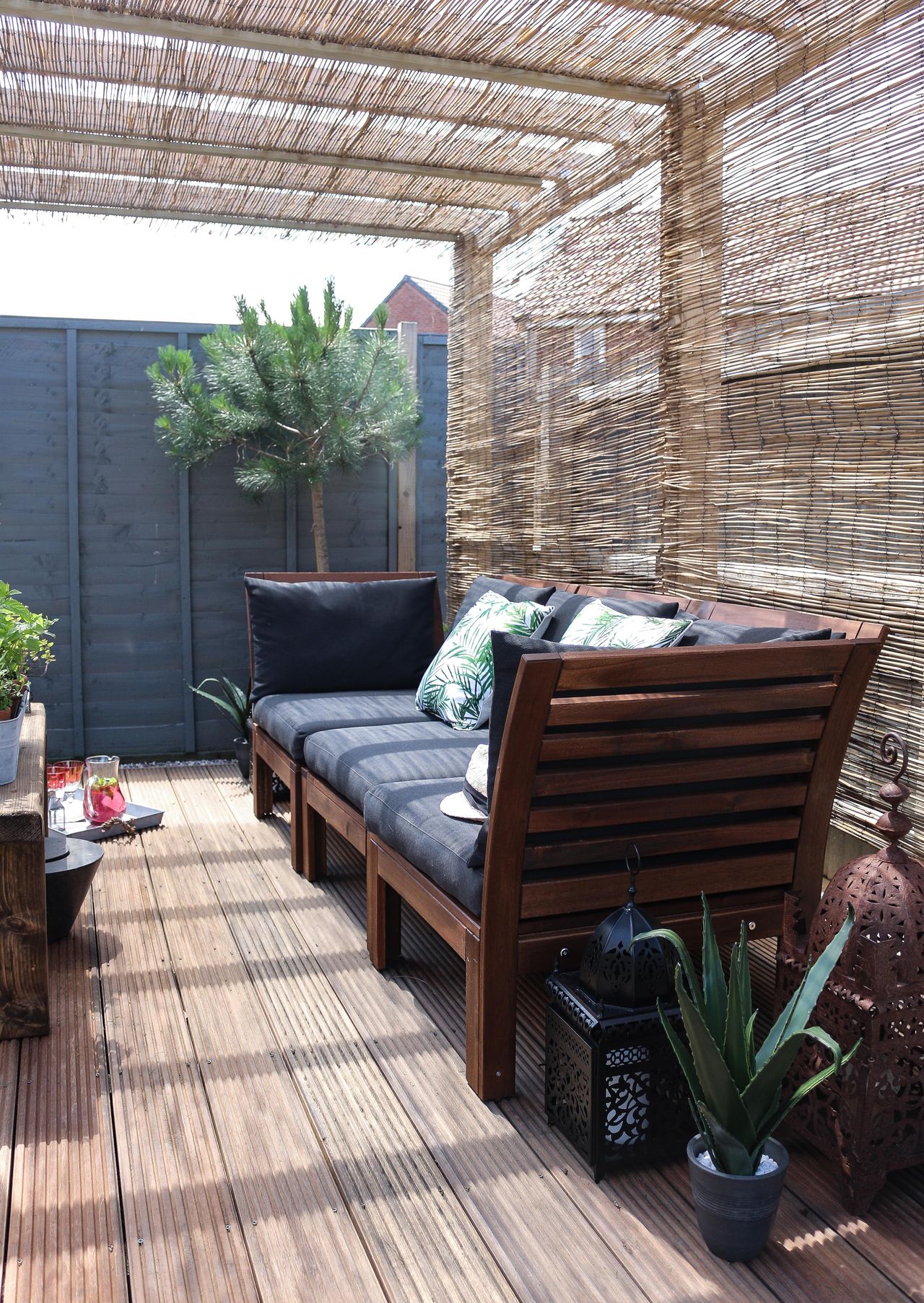 If the sun ever does shine you'll want a little shade from it, so why not make a covered pergola your garden decking idea #1?
You'll also be able to flex your green fingers and grow a few climbers along the structure to break up the space and add some greenery.
This homeowner has created a beautiful outdoor room area using an open weave seagrass along the pergola allowing just enough light to break through.
This interiors blogger – Dear Designer – has created a stunning outdoor space using dark wood decking furniture and a hand-built pergola. Don't forget to accessorize with cushions – find lots of outdoor cushions at Wayfair.
18. Frame a decked area with a pergola
A pergola doesn't have to create shade – it can just be present to create a frame in which to place (and draw attention to) garden furniture.
The garden furniture on your deck doesn't always have to be monochrome; by adding some colorful chairs you can really bring your deck area to life.
Mix and match your colors – which is a big trend right now – and you'll have the most fashionable outdoor dining space you could imagine.
It's fun, vibrant and maintenance-free, leaving you more time to sit, relax and enjoy.
19. Turn yours into the ultimate chill-out spot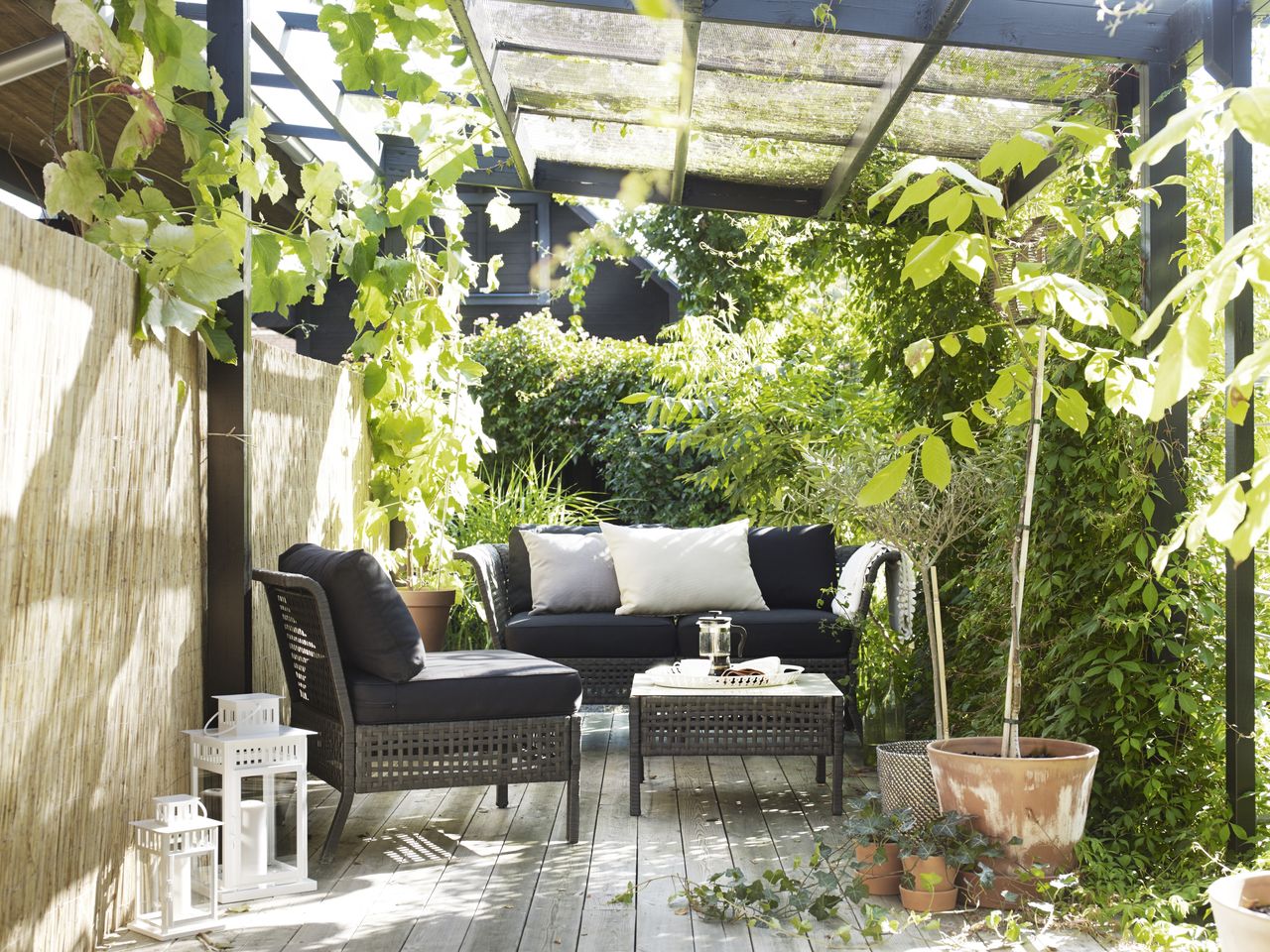 Cushioned seating, plants, lanterns and a pergola for just the right amount of dappled light and privacy, if you needed convincing, this is all the inspiration you need.
20. Create zones around your decking area with screens
Decking will automatically add definition to an outdoor space, but to carve out individual areas and any outdoor living rooms you want to include, think about adding some garden screening ideas into the mix.
Brilliant to polish off the look and to add the element of privacy from nosy neighbors too. This is especially important if you have a big garden space, or want to sunbathe.
21. Line your decking with trees (and lights)
To create next level interest and a really elevated garden area, line your decking with trees – big or small.
Choose species of the same height to add welly to this look and the uniformity will draw the eye up and down to further enhance the length of your garden.
22. Frame your favorite shed
If you're in love with your shed (it happens) then let your decking reflect that.
A fresh coat of white paint is an easy way to create a clean and contemporary finish.
So if you have that white picket fence at the front of your house, why not create the ultimate 'American dream' in your back yard too.
23. Use decking as a contrast to gravel
If you have a gravel in your garden, switch up your landscaping ideas and finishes with a decked area.
It will add interest and a new level which is ideal especially in sloped gardens to add plants and garden furniture too for lounging, of course.
24. Co-ordinate your garden furniture
When you have a large garden (lucky) it's good to add cohesion to the entire space by coordinating materials, textures and finishes.
Your decking area is a great starting point for this, so consider matching up your garden furniture to add that level of uniformity to your outdoor space.
25. Nod to natural vibes
Choosing a light and natural finish to your decking will better reflect the rest of your garden or backyard space, making your decking area the perfect viewing spot.
It's also one way to cool down a room fast during a heatwave. So you can be comfortable without splashing out on expensive AC.
26. Add levels of loveliness with lights
Add atmosphere to a decked spot in your backyard with next level lighting.
Ideal in contemporary spaces especially, use a mix of heights for more interest and to show off any planting too.
27. Use partitioned decking ideas for private dining
A covered deck needn't mean giving your deck a roof – it can just mean giving it shelter with screening.
If you love the look and feel of natural wood, then you must remember to use decking stains or decking oil – and do it regularly.
Most decks do require maintenance of some kind or another, but why not use your stain or oil to make a feature of the space?
In this garden, different colored stains have been used on the decorative wood to create a very effective look which is easy to follow through to the deck itself.
This raised decking idea features different 'room' areas within a Victorian garden and an interesting use of wood and staining to create a natural yet vibrant feel.
28. Frame with color
Make your decking pop by framing your seating area with painted fencing.
The blue is warming and brings all the med vibes to what is actually a really simple setup. One more secret... Those topiary balls ain't real... We fake our plants with blooming artificial if you're all about ease too.
29. Choose decking tiles for easy installation
If you're trying to decide between a deck and patio, you can have it both ways – by opting for decking tiles.
Easy to install (they simply click together), the Runnen deck tiles from Ikea can be arranged in an attractive pattern and come in a variety of colors.
30. Go for unpainted decking tiles for a more rustic look
For a more natural look, choose an unpainted decking tile. The Ikea tiles come in a brown stained finish that will suit most gardens and balconies.
If you then decide to paint them yourself, have a browse through the best decking paints in our guide.
31. Or use a light colored paint for a modern finish
Choose a light paint to nod to any neutral florals and garden furniture too.
This kind of color scheme is a great way to add a spacious feel that is still cozy to bigger backyards.
32. Match decking and fence colors to trick the eye
While we might not always have a Mediterranean climate, we can connect to past holidays by creating a vacation-inspired decking idea. Matching the deck paint color to that of the fencing or walls is a brilliant way to do that.
And choosing natural materials such as bamboo for furniture and accessories is just one way to create a summery vibe, while keeping colors muted can create a more sophisticated overall design.
The Argos Home 4 seater bamboo sofa set works well in a small decked spot outside the house.
33. Enclose your garden deck with planting
Using the simplest pergola construction, you can train climbing plants over a decked area to create a private space that's really well-shaded from the sun, too.
If you do this, you'll need good garden lighting for the evenings – and we'd suggest solar lighting so that the garden lights up year round without expending energy.
There are many benefits to solar lighting, but the main one is the ease of installation. Adding some solar decking lights will make the decking area functional and will help shape the deck into a fun-filled, welcoming part of the garden.
There's an abundance of styles and types available, so do your research. The more varied a selection you can install, the better the overall execution of your garden decking idea.
Just as you would use lighting indoors, consider how to layer solar lights on your deck. Add fairy lights, festoon lights and lanterns, as well as deck spots, all solar-powered like this new collection from Lights4Fun– to add layers of light.
34. Tidy your deck with good garden storage
Treat your outdoor deck area just as you would an indoor room. Clever garden storage is a must to keep everything tidy, as well as for displaying your best plants and herbs. Add some lights, and you've got the perfect practical look.
35. Build a summer house – with a deck for a porch
Considering building a garden room? While you'd need to lay a gravel base, many summer houses are built with a deck platform, which can look sophisticated and blend well with the design of the structure.
This homeowner has created a retro chic space at the bottom of her garden, making the most of the sun but providing shelter and shade from the elements when they get too much.
Lifestyle blogger Amanda from The Ana Mum Diary built a stunning summerhouse – from Waltons – and decorated it with Mid-century accessories.
36. Soften the edge of the deck with overgrown planting
Blurring the edges of a deck with planting makes it look much more established within a garden – and much prettier.
Let the deck's color complement your planting scheme too: they don't have to be bland and brown. There are myriad decking paints out there which allow you to jazz up your outdoors and splash a little personality onto your deck.
If you want sleek and sophisticated go for greys; for bold and bright try an orange; or keep it more natural and choose a subtle green. The best news is that the paint seals and nurtures the wood too.
Ronseal decking rescue paint comes in 10 different colors, smooths the rough surfaces and fills cracks, leaving your wood with long-lasting color and protection.
37. Boost greenery on a wall-to-wall deck with potted plants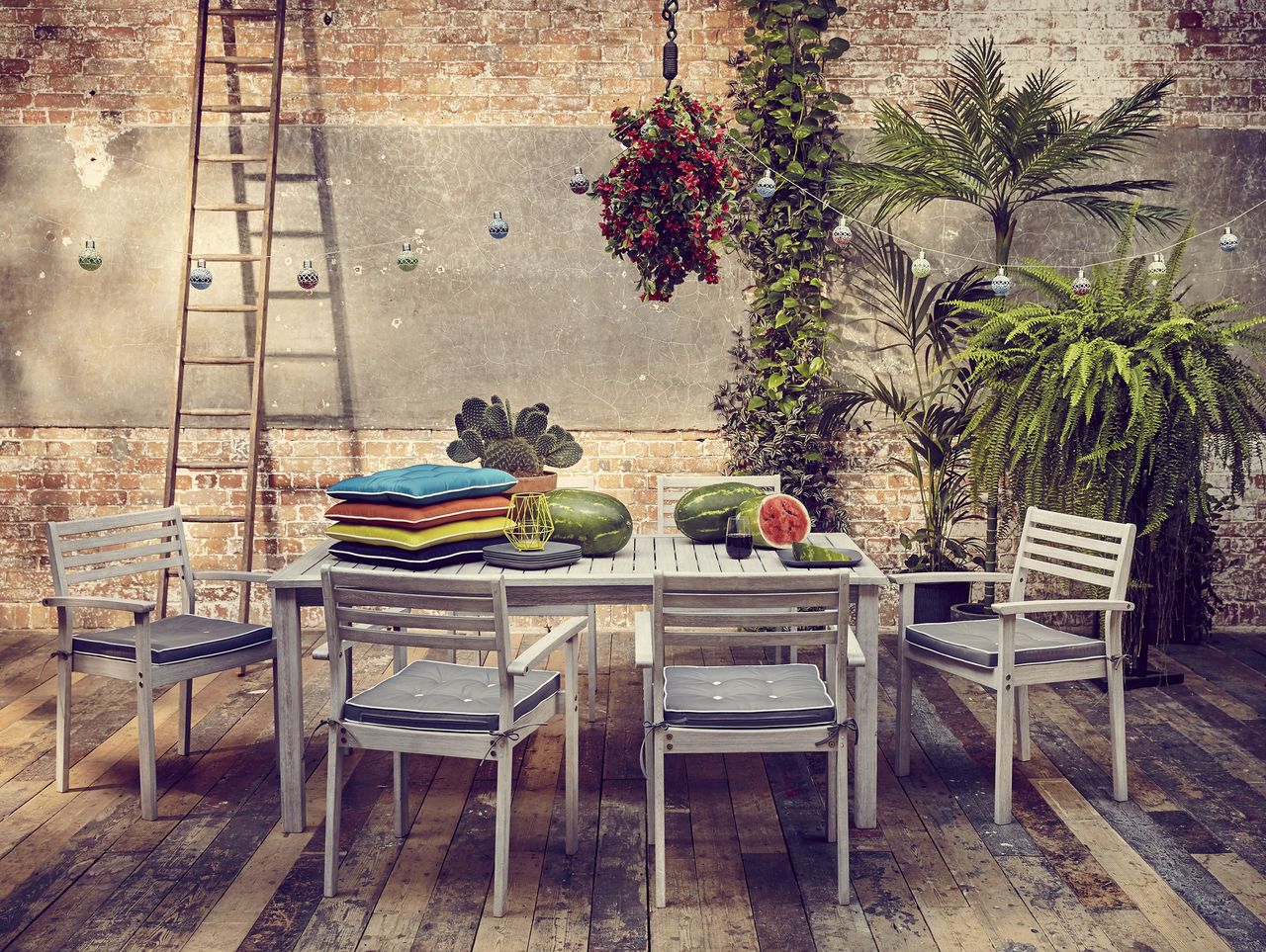 Soften the look of your wooden deck with the addition of container garden plants and foliage. Vary the height and style, and cluster your pots into groups for the best visual effect. Invest in good quality pots and don't forget your watering can.
You can always find a good selection of outdoor plants at Wyevale Garden Centres.
38. Create a covered deck – and choose the best decking materials
Decking materials come in many forms, and it's always worth researching what will work for your garden decking and for those who will be using the area.
Consider how much time and effort you want to spend on maintenance too. This beautiful decked garden room was created for BBC's Getting the Builders In and features a composite decking material, in anthracite.
Sian Astley, interior designer and builder at Moregeous Design created this raised decking idea using composite decking.
Available from retailers such as Timbertech, composite deck boards don't rot, warp or splinter, and require very little maintenance.
39. Position an outdoor cooking station nearby
Having a decked area is perfect for dining alfresco, and what do you need for that to happen?
A cooking station of course. Outdoor kitchens are all the rage and we are big fans of keeping them close-by to your hang out area too – nodding to the more convivial decking ideas around.
40. Small garden decking ideas are perfect for side returns
If space is limited but you'd still like small garden decking ideas, then let this stunning decked courtyard inspire you.
Packed with all the essentials including a bistro table and chairs, bench seating area, colorful plant pots and lights, added flair comes in the shape of the canopy. It's the perfect way to make use of an underused side return.
Blogger and interior stylist Maxine Brady has created this beautiful yet incredibly practical area at her sunny seaside home. Shop Amazon colourful plant pots, and see similar bistro sets at Wayfair.
41. Use decking to neatly surround a water feature
We love this decking idea – the style of the pond water feature and the planting is good old country garden, but the neat decked edging gives the garden a distinctly contemporary appeal that's practical, too.
42. Decking ideas for private spaces? Surround them with vertical planting
Creating a strong vertical garden around your deck will give you a private space that's still spacious.
Choose perennials that won't drop their leaves so that your decking remains secluded all year round.
43. Create bespoke decking ideas with deck lights
Decking lighting is essential to a good-looking deck at night, and we have already covered fairy lights and solar lights for an instant effect.
But there are lots of other lighting options, from traditional built-in spot lights to more unusual bespoke lighting options.
This rooftop multi-level deck has been enhanced with integrated panel lighting that accentuates the steps. Designed by dSpace Studio.
44. Decking ideas for party animals? Add a hot tub
Decking with a hot tub is a popular option, especially in climates where a swimming pool would not be practical for most of the year. There are several options for including a hot tub into a deck, but we think that a semi-covered hot tub is the best year-round option.
This decking idea with a hot tub is sheltered under a Renson Camargue Louvered Canopy by Garden House Design.
45. Choose stone lookalike decking for longevity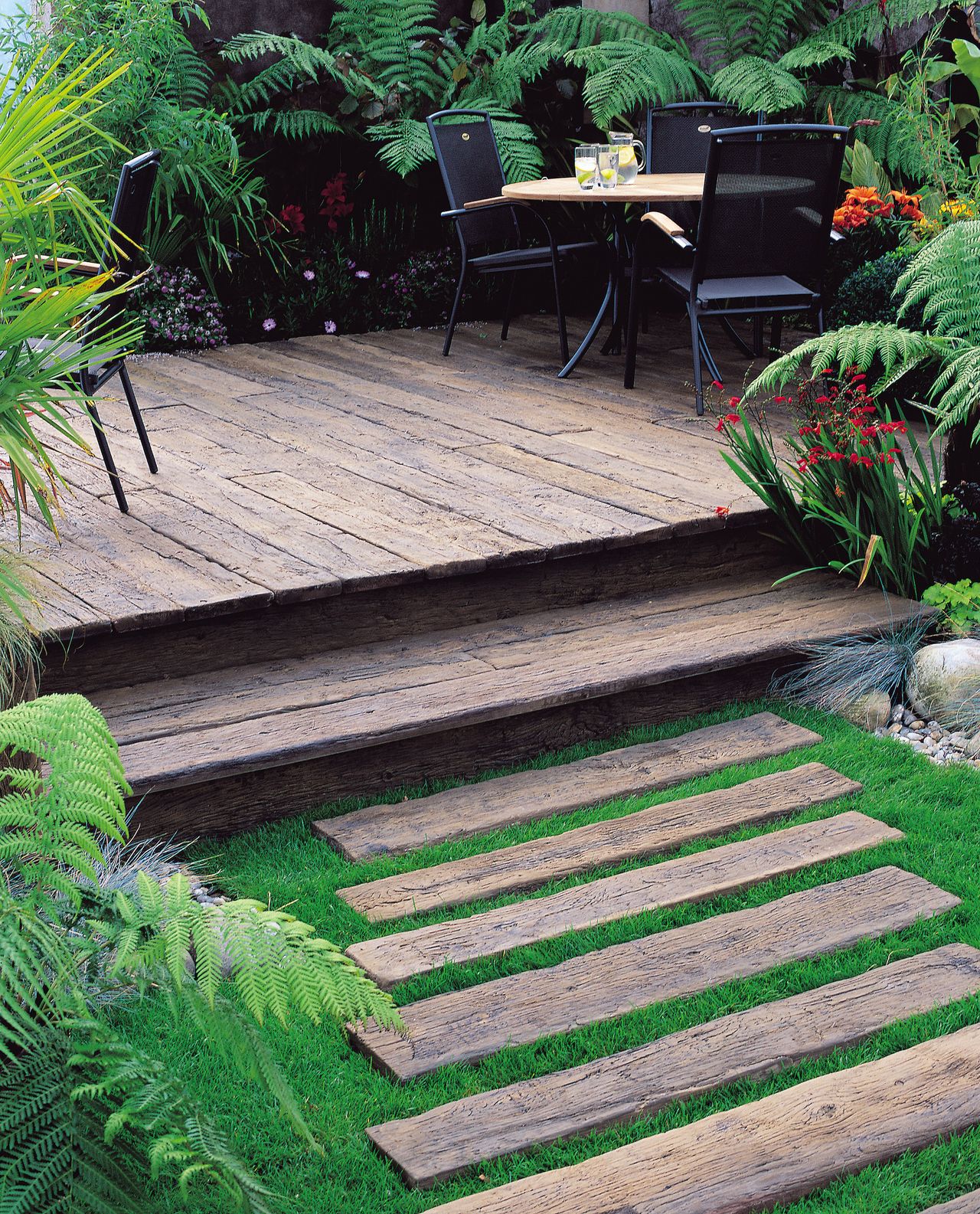 Like wood but want longevity? You can buy wood-effect decking with the durability of concrete, such as the Millboard Composite Decking Weathered Vintage from Garden House Design or Marshalls' Woodstone sleepers.
This is a good option if you are concerned that wooden decking may be too slippery or doesn't quite suit the terrain that your decking sits within.
46. Decking sun shades add contemporary style and bags of protection
Here's a garden decking idea that makes sense in a heatwave: put up a sun shade above your deck – it's both a practical addition to your outdoor space, protecting you (and the deck) from excess heat, and a stylish solution that will emphasise your dining area and create a chic boudoir look.
47. Find decking furniture that could live indoors
Looking to furnish your deck in an on trend way? Don't choose garden furniture that looks like garden furniture – choose buys that look like they could belong indoors.
Better still, choose garden furniture that mimics the style and design of your furniture indoors for a really cohesive look.
Blonde decking wood is a popular choice for contemporary garden design, but a warm shade can look just as smart. If you are going for warm wood, however, opt for light, cool-toned garden furniture – it'll give the whole look more of a 'lift'.
This deck has been furnished with The Taavi Outdoor Sofa Set from Garden House Design.
48. Combine decking lighting with heating
As the weather gets cooler, you'll likely be thinking about ways to keep your deck warm, so that you can still use it throughout autumn.
Patio heaters are not always the best looking things, but many newer electric models combine great style with great infrared heating properties.
We like how the La Hacienda patio heater from Argos sits on a table top and looks like a lamp; perfect for creating that indoor-outdoor living space vibe.
49. Need space-saving decking ideas? Install built-in seating
New slatted fencing and seating to match will turn a deck into a welcoming spot to catch the sun's rays.
Include lift-up seat tops for practical storage and soft seat pads for comfort then pile with cushions to make it an enticing place to linger.
50. Design a water feature into contemporary decking
Some decking ideas are especially suitable for modern decking designs – a minimalist water feature is one of them. Think a calm pool in a geometric shape, or a intricate waterfall.
You will also need to think about the type of decking treatment you'll be using to protect the planks from water damage – or use water-resistant composite decking, like the Havwoods composite decking used in this contemporary garden.
51. Use decking materials on walls to create a rustic feel
Love the textures that decking brings to your garden? You can face a wall with decking to continue the look – like in this garden.
If your deck faces south, it will get hot there during the summer, especially during lunchtime.
Parasols will give only limited coverage, while awnings can look at odds with the character of your home, so consider building a pergola to add shade.
Add climbing plants for all-natural, green coverage, and paint yours for a smart look.
52. Use decking to improve a sloping site
If your garden is sloping, a deck can really improve its layout and functionality, giving you different levels that can be devoted to different uses, from dining to sunbathing.
Building a deck with different levels is much more complicated than creating a flat square of decking and we'd highly recommend you call in a professional.
53. Make room for a home bar outdoors on the deck
From Gin balloons with all the garnishes to a blushing glass of rosé, nothing beats entertaining outside with a cold beverage to quench your thirst.
But rather than leaving your guests to prepare their drinks, why not create an opportunity to host in style with a bar setup?
This weatherproof teak table from Garden Trading comes with a galvanized steel trough, that can be filled with ice and drinks or flowers for a lovely display.
The central tray is removable, and the table comes with a separate teak slat to cover the trough when you've no got guests round.
54. Warm up the deck with lights and a fire pit
Making a deck suitable for all seasons is a must so that you can enjoy long evenings outdoors.
Add extra cushions to the garden furniture out on your deck and invest in a nice fire pit.
There are countless designs out there, but we really fancy the 36" Elevate Halo Fire Pit by Solus Decor: it's substantial and contemporary and just look gorgeous as part of a decking area ensemble.
55. Keep it artistic
There's no better way to elevate a decking area into a cool outdoor living space than by adorning the surrounding walls with art work.
Here, it's a lavish garden screen that's creating all the drama. See how the pattern complements the seating and even the natural lines in the surrounding foliage? Yep, that's art.
56. Use spot deck lights for elegance and atmosphere
Does anything else say charming holiday beach retreat more than spot deck lights?
Subtle (and very useful), plus they will add so much atmosphere to the dining area on the main deck itself. They also make shallow steps much safer to traverse at night.
What color should I paint my decking?
'The outside of our homes are often the poor relation to our interior decorating.', says Helen Shaw, UK Director at Benjamin Moore.
'Maintaining and refreshing your exterior woodwork not only protects the surfaces but it is a fantastic way of creating an impression, particularly if you embrace color.'
'Although the go-to paint is often a white or off white, choosing a bolder color is a great way of creating a feature, especially if you have beautiful doors or windows in your property.'
'Trends wise, we have seen a move towards darker exteriors in more urban environments.'
'Off blacks and deep greys have become very popular and are often used on all exterior woodwork making the property stand out in subtle way.'
'Blue blacks are a particularly effective shade to utilize if you like this sleek modern finish.'
How do I lay decking in my garden?
Building a deck is a great way to create an outdoor dining or seating space, or to add the landscaping you need around another garden feature.
As well as selecting an appropriate material for your deck, you'll need to think about size, location and whether you'll be installing it yourself or hiring someone to do it.
You'll also need to consider whether you want a simple ground-level feature or a more extravagant multi-level design.
What is your decking going to be used for?
It's important to consider what the deck is for as it might influence the choice of decking boards, as well as its proportions.
Does the deck need to fit plenty of outdoor seating, or just deckchairs for two? If it's an outdoor dining area, what size is the table and how many will be seated at it? Or perhaps the deck will be relaxing and eating space for lots of people?
Consider whether the deck is going to get wet other than when it rains. It might be an area where children play and so it's likely to get splashed. Perhaps it's going to be laid near a swimming pool, or maybe a hot tub will be positioned on it.
Think about family and friends, too. Does anyone who will be using the deck require an extra slip-resistant surface, or one that will be more forgiving if they do fall?
What size of deck do you require?
If your deck is home to a dining or seating area, then putting your furniture in place can help you plan the size of the deck. Remember that, as well as space for the individual furniture pieces, individuals will need room to slide dining chairs away from a table, and to stand up and move away without either chairs or people tipping off the end of the deck. Likewise, allow room for circulation to and from the area without having to step off decking.
A hot tub will need space for the tub itself but also to climb in and out comfortably from the deck, so also needs a generous area around it.
How to plan the location of the deck
Draw a scale plan of your garden, so you can consider the balance between the deck and other features, such as any lawn and borders or other planting.
Often a deck will create a patio area immediately outside the house, so location will be apparent, but you may additionally or alternatively want one in a particularly sunny or shaded spot, or in a place that enjoys the best views into or from the garden. Bear in mind that although you might like to be out of direct sunlight, very overshadowed positions will entail more deck maintenance. Think, too, about the direction of the prevailing wind to avoid building the deck in a breezy location.
Consider whether the deck is going to be overlooked by neighbours – you may want to adjust its position to create more privacy on your side of the fence and theirs.
Does your deck need to work with other garden features, such as trees or shrubs? If so, these will influence the location. Make sure these go on to your plan.
It's also important to add to the plan doors from the house, and steps and paths, so you can design the deck to work with these. Manhole covers should also be marked on to the plan as the deck will need to include a panel that retains access.
Will you need planning permission for a deck?
If you live in a house, adding decking is permitted development, so you won't need to apply for planning permission, as long as it's not more than 30cm above the ground. You'll also need to abide by the rule that together with other extensions and outbuildings, the decking doesn't cover more than 50 per cent of the garden area.
This doesn't apply to flats and maisonettes nor if there's a planning condition or article 4 direction or other restriction limiting permitted development rights. Find out more on the government's planning portal and check with your local authority if you're not sure about your own home.
A deck that requires planning permission also needs to comply with the building regulations.
What deck type do you want?
A deck can be a natural-looking surface at ground level or a raised version. It could also feature different levels.
A deck at ground level is the simplest to construct. It could be located beside the house or elsewhere in the garden. A deck by the house needs to be 150mm below the damp-proof course and should not obstruct air bricks.
A raised deck can create level areas within a sloping garden or simply be a more dominant feature within the garden. It's a bigger undertaking, if you're DIYing, or more costly, if you're calling in someone else to do the work.
Railings or panels and a handrail (also known as a balustrade) can be a finishing touch for a ground-level deck and the vertical element will make it more of a feature. You might also want to use railings to create an enclosed area with a gate fitted for access. For a raised deck, a balustrade is essential for safety.
How can decking be laid?
The classic look for a deck is to have boards laid horizontally. This looks unfussy and, depending on the finish, can have a contemporary or more rustic effect.
As an alternative, think about laying the boards diagonally across the joists. Bear in mind that if you want this finish, the joists will need to be closer together to support the boards.
More complicated designs can also be created. Think parquet-style patterns like chevrons and herringbone, squares where boards are laid horizontally then vertically, or a central pattern framed by boards around the edges. As with interior flooring, a more intricate design can make the decking decorative as well as functional.
More decking ideas
Considering railings? Bear in mind that they'll block your view of the garden beyond. If they will obscure an idyllic scene, consider a glazed balustrade. Richard Burbidge sells a wide range, from timber to glass and aluminium.
Split the levels to create visual interest and define different areas.
Hardwood or softwood? This depends on your budget, but even cheap softwood can look expensive if regularly cleaned and oiled.
Grooved boards are less slippery when wet, but dirt will sit in the grooves; smooth boards are easier to keep tidy, but slippery.
Time to make yours a masterpiece.