With Halloween on the horizon, many parents are wondering how to ensure spooky season is as fun and safe as possible in the wake of COVID-19. And we have the best trunk or treat ideas to help you do just that. While traditional door-to-door trick or treating may be out of the question for safety reasons, many parents are opting for a smaller scale or socially distanced trunk or treating with a closer knit community or friend group.
Thinking about hosting your own socially distanced trunk or treat event? Here, we've rounded up some of the most spooktacular trunk or treat ideas to ensure your littles have fun and stay safe this Halloween season. From frightful haunted houses to playful Nintendo-inspired decorating kits, these trunk or treat decorating kits will make their Halloween experience something to remember, even if it's a little bit different.
Looking for more Halloween inspiration? Check out our hub.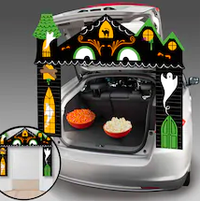 Halloween Haunted House Trunk Decorating Kit | Was $24.99, now $12.99
Currently on sale for 50 percent off at Michaels, this haunted house decorating kit is a great option for anyone looking for something that packs down and can be stored without taking up much space. The black-and-orange design is easy to assemble, instantly transforming your trunk into a spooky haunted house.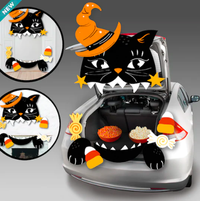 Halloween Black Cat Trunk Decorating Kit | Was $24.99, now $12.99
Black cats get a bad reputation but this black cat trunk decorating kit is both sweet and spooky. The oversized cat motif hangs atop your trunk door, turning the trunk into one large cat mouth that littles can dig into for sweets. The simple design makes it super easy to assemble and disassemble and store for next year.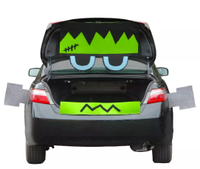 Frankenstein Halloween Tricky Trunk Decor | Currently $44.99
Looking for something a little more spooky? Inspired by the classic Mary Shelley novel, this Frankenstein's Monster trunk decorating kit is both spooky and extremely easy to assemble thanks to its easy-place magnets and suction cups. The polyester fabric also promises to stay in place all night—even if the weather doesn't cooperate.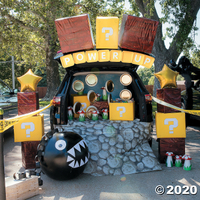 Super Mario Trunk-or-Treat Decorating Kit | Currently $199.99
While it might come with a slightly more premium price tag, this Super Mario decorating kit is sure to put a smile on everyone's face. Featuring stars, gold coins, and chain-chomps, this playful kit brings the world of Super Mario to life.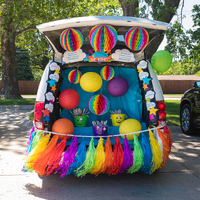 Be Kind Trunk-or-Treat Decorating Kit | Currently $39.99
To say that this year has been packed with trying times would be an understatement—and this 'be kind' trunk or treat decorating kit acknowledges just that. If you're not in the mood for even more spooks (because let's be honest, this year has been scary enough), this rainbow-hued kit is packed with uplifting messages and motivational quotes to help foster positivity.
Keep reading:
Looking for something a little more refined to help get you in the mood for the Halloween season? Be sure to check out our roundup of the best Halloween decorations that are chic, not spooky.
Fall in love with our fall decor ideas
Want more help keeping kids content? Check out our playroom ideas