Whether renovating your entire kitchen or making a few small but effective upgrades, knowing the cost of quartz countertops will help define your budget ahead of making your final decision on the finish of your space.
Like when choosing any kitchen worktop material, there is a lot to think about. From durability and maintenance to, of course, achieving your desired look. However, you may find that narrowing down your options by budget is easier, because there is considerable variation in price between some countertop materials.
Quartz is a man-made composite material. It blends natural minerals with resin and the result is a non-porous, highly durable material that is easy to clean. The best countertops for a kitchen will give you good value for money, which is to say they will look great, not require too much maintenance, and, most importantly, last a long time. So, how much do quartz countertops cost and how do they compare, value-wise, to other materials? Here's what the experts say.
How much do quartz countertops cost?
We spoke to Michele Rodriguez-Wise, Co-Founder of Interior Design Studio L'una Design, who specialise in kitchen design. Rodriguez-Wise tells that the average cost of a quartz worktop, including installation, tends to range from £50 to £100 per square foot. 'This means that even a modest-sized countertop – say 54 square feet – could cost somewhere between £2,700 and £5,400.'
Of course, the exact price will depend on the size and type of quartz countertop you go for, as well as on the finish, including any extra detailing. Fortunately, you won't have to pay extra for sealing as quartz doesn't need it, unlike natural stone.
In fact, this is one of the biggest advantages of a quartz worktop: it doesn't need any regular maintenance like waxing or sealing, so your total maintenance cost will be zero. Learning how to clean quartz countertops boils down to: wetting a microfiber cloth and wiping down your countertop. Maybe adding some washing-up liquid for tougher stains. Done.
Is quartz cheaper than granite?
Actually, there's not much difference these days. Rodriquez-Wise says that 'a quartz countertop is actually quite similar in price to a granite worktop, it's just people like the look of quartz more than granite.'
Traditionally, quartz was a bit more expensive than granite, and, as Oliver Webb, Director at Cullifords, points out, this can still be the case with 'some traditional granites that would probably come out a little cheaper than quartz, such as Luna Pearl or Rosa Beta.' It all comes down to aesthetics here, so less desirable patterns and colours of granite may give you a cheaper worktop.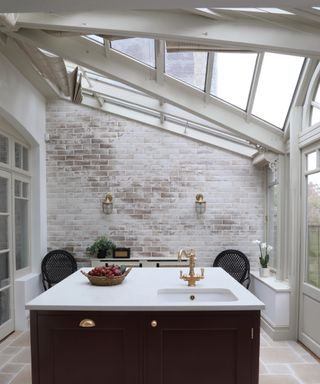 How can I save on the cost my quartz countertop?
Webb has a useful tip for those who want to get a nice quartz countertop for a bit less than the regular price range: look for end-of-line slabs as they 'sell at quite a discount.' This will work especially well 'if you need an offcut or have a small kitchen.' The best way to find an end-of-line offcut slab is by simply asking the manufacturer what they have.
Other than taking advantage of this tip, you can save by going for an overall cheaper range of quartz. Your countertop will still be good quality and durable, but It may not look as high-end, especially if you like a stone effect.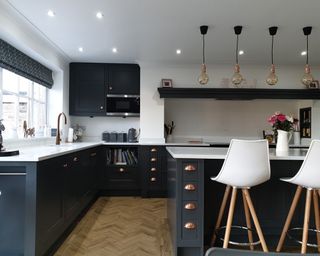 What is the downside of quartz countertops?
You may find that a quartz countertop isn't quite as durable against heat damage as natural stone options, although with proper use you shouldn't see much of a difference. Rodriguez-Wise advises to 'make sure you're not putting any hot pots or pans straight onto a quartz worktop, or to be honest any worktop for that matter. Not only can it cause discolouration but in the worst-case scenario it can actually crack.'
The other downside is the high cost of higher-end quartz worktops, although that's not unique to quartz. At the end of the day, 'although good worktops can be expensive, they actually frame the kitchen and are the crowning glory when chosen well!'
Finally, at the lower end, quartz countertops can look a bit less appealing than natural stone, with a characteristic sheen that gives away their man-made origin. This is no longer the case for higher-end quartz, though, which nowadays looks as good as natural stone.
Are quartz countertops cheaper than concrete?
Polished concrete is an increasingly popular man-made worktop option and rivals quartz for its cool look that can really elevate modern kitchen ideas. But which option is more cost-effective?
The answer is quartz. Izzy Taylor-Wood, director at Woody's Concrete Company, quotes us the following typical price comparison: 'Quartz starts at around £400 per m2 with the most popular finishes, such as Calacatta, around £550-£650 per m2 from a top-end supplier. Woody's Concrete is generally £700 per m2 upwards.'
With the considerable difference in price, quartz can seem like a no-brainer, although if you want something very special and bespoke, concrete is worth looking into. Taylor-Wood explains that while both materials 'offer an excellent level of strength and durability', concrete is best if you want something unique: 'the process of creating polished concrete worktops is entirely by hand and the colour can be customised with a tailored blend of pigments to create a colour that is entirely one-of-a-kind, similar to colour matching paint.'
By comparison, most quartz suppliers 'will provide their customers with a standard range of colours to choose from.'
Only you know what you really want from your worktop. If you want the best ratio of quality to price, and don't want to think too much about choosing yours, then quartz countertops are hard to beat. If you prefer a natural material, granite will offer you a similar price range. If you want something completely bespoke and more unusual, then concrete is well worth a thought.