As with all restoration projects, always replace like with like. We carried out the repair using lime plaster, which is the material most often found in older houses. If you haven't used lime plaster before, you could buy a ready mixed product rather than mix your own with sand and lime putty. Try your local builder's merchant for materials.
Lime plaster is ideal for DIY enthusiasts; it goes off slowly so there is neither the rush nor the panic that can strike when using modern plaster, which sets much more quickly. And if it gets too firm before you've finished you can always spray it with a mister to make it workable again. Bear in mind that lime is caustic so wear work gloves and goggles and protect exposed skin.
You will need…
Brush
Water spray
Ready mixed lime plaster or sand and lime putty and animal hair
Mixing board
Plasterer's hawk
Gauging trowel
Sacking or plastic sheeting
Gloves and goggles
Subscribe to Period Living magazine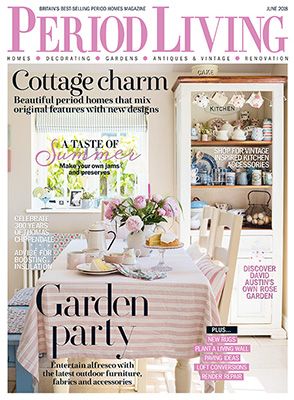 Get the best period home inspiration, ideas and advice straight to your door every month with a subscription to Period Living magazine
1. Prepare area to plaster: Use a stiff paintbrush to clean away dust and all the old bits of broken plaster. Get into crevices to make sure you have a good sound base for the new plaster.
Holding a dustpan underneath with your other hand to collect debris cuts down on mess and will reduce time spent clearing up afterwards.
2. Dampen down the wall: The adjacent area must be really dampened before the new plaster is applied or the existing plaster will suck moisture from the mix and make it dry too quickly.
Use a hand sprayer with a fine mister. Wet the areas several times before – the water must soak into the bricks and plaster and not just be sloshed on.
3. Mix ingredients for plaster: For convenience, or if you are a plastering novice, buy a drum of ready-mixed lime plaster. This will keep indefinitely providing the contents are left with a covering of liquid, and are kept in an airtight container away from frost. If making your own, mix three parts sharp sand to one part lime putty.
4. Work the mix thoroughly: Knock up the plaster on a piece of board. For large quantities use a shovel. For smaller amounts a gauging trowel will suffice. Chop, then turn the mixture until it becomes soft and malleable. It shouldn't be necessary to add additional water – the mix just needs to be thoroughly worked.
5. Reinforce mix with animal hair: Take a handful of animal hair and tease it into the mortar, turning and chopping the mix again until it is thoroughly incorporated into the plaster. The hair will reinforce the mix and help to prevent it cracking. Mix only what you will need for this job, as plaster containing hair will not store as well as plaster alone.
6. Apply the first coat of plaster: For ease of use put some plaster on to a hawk. I find a plasterer's trowel too unwieldy for small hands and use a gauging trowel. Push some plaster into the damaged area. To avoid 'slump', it's best to apply in two or three layers. There's no need to smooth the surface as a rough finish is a better 'key' for the next coat.
7. Smooth over the finish: After the final coat has been applied, leave a while to firm up before smoothing the finish – try to do this when it is too wet and it will just pull away with the trowel. For a good finish, keep the trowel clean. You could improvise with tools too; an old kitchen knife might create a neat edge, for example.
8. Leave plaster to cure: Lime plaster must be allowed to cure slowly. Leave it for a week or so, especially in hot weather. Cover with sacking, or tape plastic sheeting over the new plaster to stop it drying out too quickly. If working in an unheated building when frost is imminent, postpone plastering and wait for less cold weather for good results.