There's a lot more to laundry room design than you'd think.
When figuring out how to design a laundry room, It's important to know both what to do, and what not to do, so your laundry room layout is top-notch.
Gwen Whiting, co-founder of The Laundress says, 'a laundry room is a work space - a space that serves as a function to do a task well. Just like other important rooms, like a kitchen or living room, you should be considering your lifestyle and how you can maximize the function to best support that through the design of these areas.'
'While the machines generally get the most focus and real estate, I think what is most overlooked is the work area for the supporting tasks that require the most consideration. Storage, sorting, hanging, ironing, folding, stain removing, and hand-washing,' explains Gwen Whiting, co-founder of The Laundress.
5 laundry room design mistakes to avoid
At the same time, says Whiting, there's always room to put some fun in your function, no matter what size space you're working with. 'Whether you're working with a small space, or you have the luxury of designing from a clean slate, with some thoughtful details everyone should be able to elevate their laundry experience,' she says.
To help you figure out the best design for your space, we've listed out some common laundry room mistakes to avoid, plus some helpful tips from a panel of experts.
1. Poor lighting in your laundry room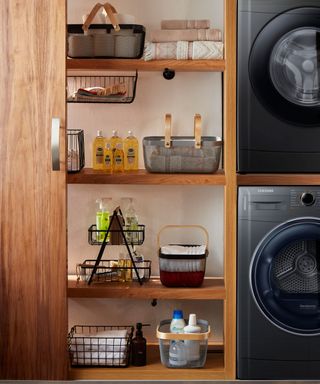 During the planning phase, one of the biggest things to consider is lighting in your laundry space. Dim lighting can mean you can't spot clothing stains that need treating, washing machine symbols and sorting your laundry loads.
Helen White, Interior Designer and Co-Founder of Houseof.com explains more, 'Laundry rooms can often be cramped and tight on space but it is a space which needs a lot of light - especially when sorting your lights and darks. When it comes to lighting this space you need a smaller fitting which packs a punch.'
Here are her top expert tips for lighting a laundry room effectively:
Under cabinet lighting: 'If you don't have a high ceiling and have cupboards which restrict the use of ceiling lights use undercounter lights to support your lighting scheme. Recessed LED strips can be purchased and fit easily with no mess or fuss - they just stick on!'
Overhead lighting: 'As this is a space where tasks are carried out and you need a lot of light you need good access to overhead lighting. Avoid spotlights as these create shadows and dark spots and instead opt for a row of pendants which shine directly downwards and can be positioned above head height. Choose something which doesn't have an enclosed bulb so that it lights the whole room. '
Wall lights: 'If you don't have access to ceiling lights or only have space for one fitting choose to use wall lights to support your lighting scheme and give an extra glow. Wall lights can be installed over counter tops to give you more access to light when working or ironing.'
Low ceilings: 'Laundry rooms are often small and tight spaces and if your space has low ceilings then opt for a flush light instead of a pendant ceiling light. Fitting a flush light doesn't mean that it has to be boring, you can add drama to your ceiling using modern flush lights. Look for a light with multiple bulbs to ensure you are getting the most out of your lighting scheme.'

2. There's not enough storage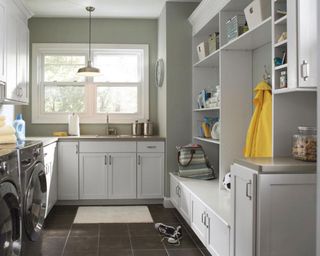 It's what every homeowner craves, more space... but there are tons of ways to make the most of laundry room's storage capacity.
Whiting explains what to include in your laundry room to make use of your space effectively:
Use wall storage: 'Have space to wall mount items like drying racks and ironing boards, of have a nook or closet to tuck them into
Keep a surface clear: 'When absolutely possible have room for counterspace or at least a shelf, to use a stain, finishing and folding surface.'
Add shelving: 'Shelves are key for products, but a cabinet can do too.'
'Plan for hanging/drying space to fit your lifestyle. For example, I airdry many items that can hang so I have a wall mounting hanging rack as a mainstay. I also have a hanging arm mounted to dry shirts, pants and dresses, which also is useful for ironing too.'

3. Not utilizing the space properly
Let's be frank many laundry rooms are often on the small side, but if you plan where the essentials will go, you'll be able to utilize the space to its fullest. This could be including enough electrical plugs or plenty of shelving to store your bits and pieces.
The Laundress's Gwen Whiting shares her laundry room design checklist:
'Choose a washing machine size that fits without overwhelming the space. Think about whether you want to fit your machines side by side or double stacked.'
'Make the space above a side by side machine useful , i.e. Shelves you can reach or hanging space.'
'If you can have a deep sink or can fit a sink space, that's optimal.'
'Plan a nook for wastepaper basket.'
'Plan where you can fit a hamper.'
'I also love a laundry area that can fit a workspace, whether it is another work zone, craft area, or desk nook and file storage.'
'Always make room for one junk drawer!'
4. The space isn't multifunctional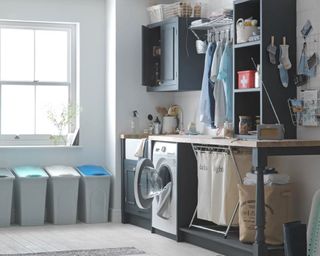 Laundry rooms needn't just be for laundry. The best laundry spaces have room to store cleaning supplies, a boot room and so much more.
Whiting explains, 'My laundry room is my household utility zone – my recycling sorters were designed to live in my laundry area. I also use this space for my packing/shipping supplies I also keep my household tools in this space And I have a utility closet to keep my vacuum, and other household cleaning tools along with my steamer and ironing board in it.'
Amy Hillary, Interiors Content Creator at Wallsauce.com adds, 'Often placed near a door, a laundry room is a great place for a mudroom as well. Include a fitted storage bench next to your washing machines so you have somewhere to put and take off your shoes. If you are struggling for space, stack your drier and washer.'
'And if you have a pooch, why not try and fit in a dog shower as well? This is a great place to wash soiled items before placing them into the laundry machine. It's also handy for washing down muddy boots as well.'
5. There's no style incorporated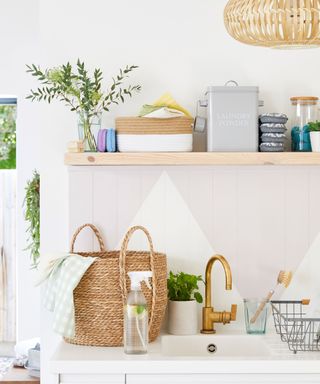 Style mightn't seem like an essential design must-have but making your laundry room an enjoyable space to be will actually encourage you to spend more time in it. That laundry mountain won't look so challenging if you've made your laundry room your own.
Co-Founder of Wicklewood, Rosie Axford says, 'Don't make your laundry room an afterthought, instead have fun with this space, however small. These rooms are great rooms to experiment and play around with, as they're small – so you don't have to spend a small fortune on them, and you're usually the only one in it, so it doesn't matter if it doesn't turn out quite as expected.'
'Get creative with a fun wallpaper, which can transform a small room into a lively space. And remember to try to think style and substance – opt for colorful seagrass baskets to keep things tidy, neat and organized and to help keep work surface free for folding.'
How can I make my laundry room more functional?
For optimal laundry room functionality, choose bespoke cabinets to integrate appliances and keep your essentials neatly stored away.
Opt for a mix of storage units to form a dedicated area for each. Full-length cupboards are always a sophisticated option, whilst wall hooks and shelves are an effortless way to store coats and shoes.
'Look towards using full-height cabinets to create a place for a washing machine and tumble dryer to place on top of one another – This way you're not taking up two spots of floor space. Or try a laundry basket cabinet which maximises your storage space – You'll no longer need to cart an armful of laundry down the stairs,' explains Tom Howley, Design Director at Tom Howley.
'Let your walls share the workload. A mixture of concealed cabinets to hide laundry and floating shelves to store everyday items such as wash detergent or even a dog lead and treats.'
Howley says that a 'mix of concealed cabinets, drawers and pull-out shelves let you designate specific spaces to store laundry products, keep laundry baskets out of the way and properly fold clean clothes.'
Chris Spink, founder of Hush Kitchens advises: 'Choose materials which are hard-wearing and easy to clean. A large deep sink is a must and consider incorporating a tap with a hand spray as well, as it's invaluable for rinsing muddy vegetables or even the dog's paws!'
Do laundry rooms add value to a home?
As the engine room of any home, a laundry room is on most people's wish-lists. Realtor and author Jason Gelios says laundry rooms are 'one of the best storage rooms that add value' with 'first-floor laundry rooms with additional storage cabinets or it's own closet is a huge selling feature.'
Chris Dance, Director and Head Designer at InHouse Inspired Room Design tends to agree: 'functional spaces are certainly something that house hunters are after in 2022, but they're also looking for an extra dose of style.'