Take inspiration from Mediterranean gardens to ignite that irresistible summer holiday look all year round. Not only does this style of gardening beautifully convey casual elegance, but it is actually becoming more of a necessity due to the effects of climate change.
Extended hot, dry summers can affect the plants that we grow, so making our gardens more resistant to drought is actually becoming crucial. Thankfully, a Mediterranean garden is a look we can lust over. And with this style of outdoor space, you can have fun and experiment with a few different plants too. Combining brights with different textures, heights and more will make for a layered experience in your outdoor space.
So, whether you're creating just a little corner that conjures up that holiday feeling, or if you're transforming a larger area, our guide can help get you started.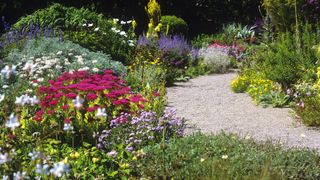 What is a Mediterranean garden style?
Mediterranean gardens are all about laid-back outdoor living: lingering over alfresco meals with friends and family, taking a refreshing siesta, and enlivening the senses with intoxicating scents and vibrant colours.
To recreate this style you need to include relaxed, informal spaces brimming with scented, textural combinations, and rustic detailing.
It takes some thought and planning to create that artless, weathered atmosphere, with both structure and planting working together to set the scene.
It is also one of the most practical small garden ideas, dispensing with the task of maintaining a lawn and instead using gravel or paving as hard landscaping for the basis of the design, softened with ground cover and an assortment of containers.
What plants grow in a Mediterranean garden?
We spoke with Mr William Mitchell Owner of Sutton Manor Nursery who recommends 'When creating your own Mediterranean garden at home, trees are the easiest way to achieve this. Low-maintenance, UK weather-proof, and most importantly pleasing to the eye, they are numerous plants to choose from. If you've always wanted to grow fruit in your garden, then Citrus Trees are a great choice. Citrus trees are a lovely way to add luscious greenery, a pop of colour and delicious scents to your garden, and once in bloom, you will feel like you are sitting in your favourite holiday spot rather than your own garden.
When it comes to caring for your Citrus Tree, between the months of April and October, most citrus trees will be fine outside, however, as winter approaches, you can use a fleece cover for extra protection or move plant pots into a sheltered greenhouse or conservatory.'
One of the brightest, yet still more simple garden ideas around, we've more information on planting up and creating your Mediterranean garden below.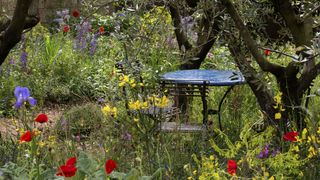 Design elements of Mediterranean gardens
Characteristics of a provincial style are informal and rustic – an aged farmhouse look with natural stone paving and limewashed walls.
More from Period Living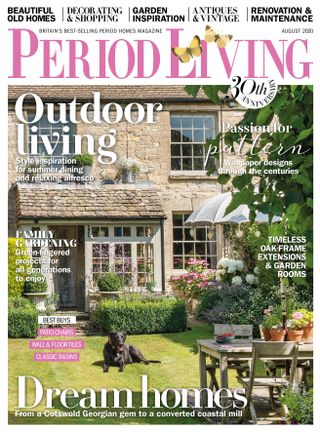 Period Living is the UK's best-selling period homes magazine. Get inspiration, ideas and advice straight to your door every month with a subscription.
Gravel and stone - most Mediterranean gardens centre on gravel and warm-toned paving, although terraced levels using stone walls with lawns and clipped forms are also common. See below for how to create a gravel garden.
Climbers scrambling freely over walls, dappled shade from vine-clad rustic pergolas, and terracotta pots filled with zingy flowers all contribute to the mood. For container ideas try Pots & Pithoi or the Cretan Pot Shop, and see our advice on container gardening for more potted plant ideas.
Plants are selected for fragrance, colour, year-long interest, drought tolerance and ease of care. Classic choices include:
olives
citrus
agave
lavender
herbs
pelargoniums
bougainvillea
Herb garden: a beginner's guide to planting, growing and harvesting.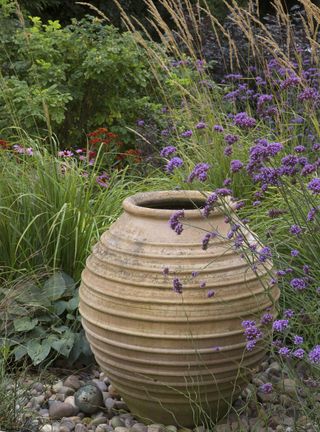 Architectural plants are used to add height and drama, such as palms, cypress and yuccas.
Water features, although not essential, are a lovely way to add sound, shimmer and to break up the dry landscape.
Consider also incorporating mosaics among paving, vertically on steps or walls, or adding colour on decorative birdbaths, fountains or containers. This can also help to create a Moroccan gardens vibe.
For the colour palette, think of the cool blues of the sea, sun-kissed warm earth tones, aged patinas, white-washed walls and splashes of reds or hot pink, backed by soft greys and silver.
Many coastal gardens lend themselves to Mediterranean landscaping, as do areas around swimming pools, with blue tones to match the water contrasted with sunny yellows or orange.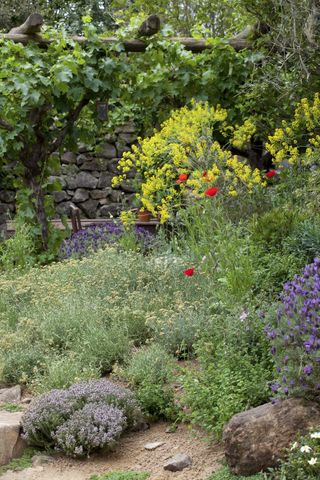 How to prepare and maintain Mediterranean gardens
Prepare the ground by cultivating deeply, adding in some grit and organic matter to accommodate the free-draining plants.
Mediterranean plants have evolved to enjoy long, sunny days, where excellent light quality is key, so avoid planting in the shade of large trees.
They prefer free-draining ground, so don't plant them on a site that is waterlogged in winter, and they generally prefer nutrient-poor soil, so avoid feeding the soil.
A south-facing site that enjoys sun all day, even in winter, away from frosty cold air, is ideal.
Plant Mediterranean plants in spring as the soil warms up to avoid root rot after wet, cold winters.
Raised beds are useful to increase drainage.
Plant immature, small specimens as they will be more resilient and adapt as they grow.
Before planting, soak the plants in a bucket of water until bubbles rise to the surface.
Select the right plant for the right place; consider the soil and aspect. Plants that are given as close as possible their native living conditions fare best.
With the vagaries of the British weather, include plants that stand up to the heat and also cope with the cold and wet, too, such as birch, berberis, geraniums, miscanthus, sedum and daylilies.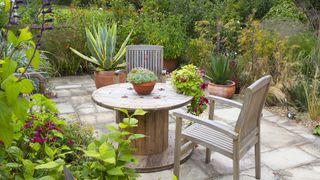 Thoroughly water in plants for the first season and then once established they will be more drought resistant.
Planting 'en masse' to cover the ground prevents the soil from being washed away, keeps weeds down and retains humidity in the soil as a reservoir for periods of drought.
Mulching with pebbles or gravel will reflect the heat and light, keeping roots moist and cool, as well as suppressing the weeds even further.
Additional well-composed green mulches applied each year will keep roots protected and fertilise the plants.
Keep an eye on the health of the plants: if they seems a bit stressed from the heat give them a good watering, and keep on top of pests.
Don't be afraid to prune and clip rosemary, lavender and cistus after flowering; they can become leggy and woody very quickly, and an annual trim will prolong their lifespan.
Remove leaves that have collected in shrubs during the winter as these will harbour damp.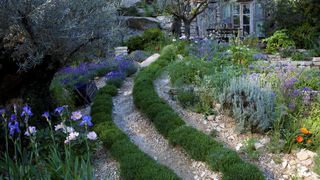 Add Mediterranean trees to your garden
Trees are the backbone of any garden scheme, adding height, structure and shade from the high summer sun. Bear in mind the mature size potential of any trees that you plant – they look small now but in a few years could overwhelm your garden if not correctly sized.
It's also important to avoid positioning larger trees too close to the house, as roots can cause structural issues.
Here are some great ideas for Mediterranean trees:
Olive trees are a classic choice, a symbol of peace, and may bear fruit if the conditions are right. They need a sheltered, sunny spot and can be grown in containers and overwintered inside. Combine well with lavender, nepeta and cistus.
Mimosa are quick-growing trees that need a sheltered spot and prefer neutral to acid soil. They flower in spring.
Cypress trees are widespread across Tuscany and add sculptural elegance to Mediterranean gardens, forming tall, thin points. Position one either side of a gate or doorway, or use them to line paths. They need full sun and well-drained soil.
Palms will evoke a holiday mood like no other plant. Certain varieties have adapted better to UK weather than others, with some able to cope with temperatures as low as -15°C – try Trachycarpus fortunei.
Potted citrus trees add a real sunshine flavour to Mediterranean gardens, but will need overwintering indoors, and will do better in the south.
Bay trees are evergreen shrubs that can be clipped into structural shapes. Plant in containers or the ground and reap the benefts of their fragrant leaves in cooking.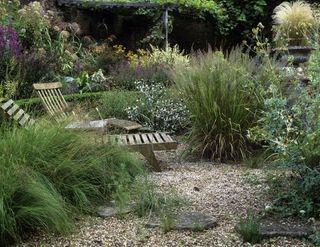 How to create a gravel garden
A gravel garden is a practical option and low maintenance with no lawn to mow. Select a sunny, well-drained and weed-free area; although any soil type is possible, a sandy or gravelly soil works best.
To avoid plants self-seeding, place landscape fabric over the soil and cut crosses to insert the plants, then add a layer of gravel between 5 to 8cm thick.
The best grave is available in a wide range of colours and sizes, so select a colour that works with other hard surfaces and structures in the garden. Local gravels are generally cheaper.
Be vigilant with weeding in the first few years until the plants are large enough to suppress them. Self-seeding plants will pop up and give the garden a natural look; if they are a bit too promiscuous simply remove some. Good plant choices include herbs, erigeron, stipa, euphorbia and nepeta.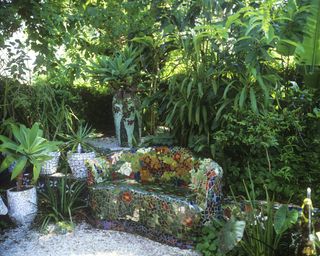 Best Mediterranean plants for your garden
As a general indicator of the best drought tolerant plants, grey-green and silver leaves reflect the sun's rays, conserving moisture in the plant. Silver-leafed plants may succumb to wet, cold winters, but many are easy to propagate and will grow quickly for summer displays.
Other indicators of drought tolerance include if the plant has small narrow leaves as they transpire less water, and a reflective, glaucous, waxy coating also indicates an adaptation to survive in hot, dry environments.
Many drought-tolerant plants form communities of plants that will thrive in the same conditions.
Try some of these plants for a Mediterranean garden scheme:
Artemisia is a hardy, woody-stemmed perennial, ideal for a rock garden and works well when massed with nepeta and erysimum.
Agapanthus will flower abundantly throughout summer and makes a striking edging plant when planted en masse. It is also versatile for use in containers, gravel gardens and borders.
Ceanothus needs a sheltered spot, such as against a wall, is salt tolerant, and comes in a range of clear blue to violet hues, which are accentuated when underplanted with lime green euphorbia.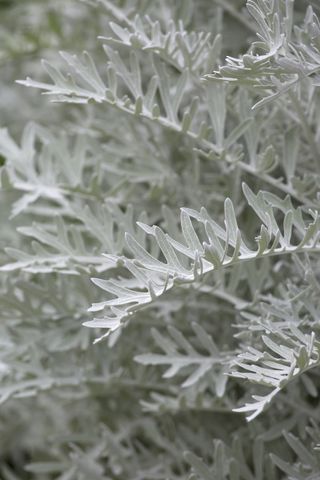 Oleanders bring a real sense of the Mediterranean planted in pots on the patio or in a courtyard, with their scented blooms in pink, red or white.
Bougainvillea with its bright pink blooms will transport you to the Riviera. There are also ranges from white, cream, orange to red to choose from. Plant bougainvillea in containers so these can be brought in under glass in winter.
Callistemon are usually red, but the neon 'Hot Pink' is a wonderful choice for containers. The spring bottlebrush flowers will also attract bees and butterflies to your garden.
Bearded irises are native to the Mediterranean, drought tolerant, and come in a rainbow choice of tones. Plant in swathes, mixed with salvias, phlox, lilies and campanulas for a pretty combination.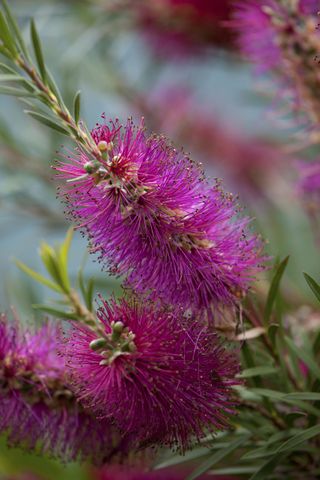 Euphorbia are adaptable and useful for foliage tones from acid yellow, lime green to reddish bracts, and can endure the harshest of weather.
Hemerocallis, or daylilies, are useful perennials with tough, strappy leaves and showy flowers. They are low care and drought tolerant.
Kniphofia, or red hot pokers, make striking architectural statements among grasses and perennials and have a range of warm-toned colours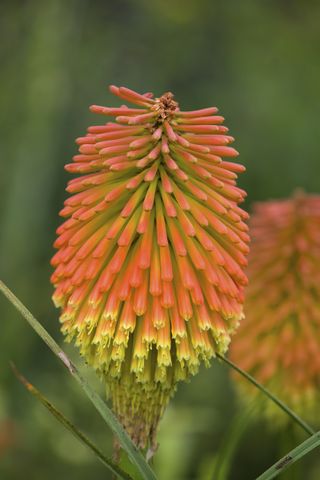 Head for the med!