Building a deck is a great way to create an outdoor dining or seating space, or to add the landscaping you need around another garden feature. As well as selecting an appropriate material for your deck, you'll need to think about size, location and whether you'll be installing it yourself or hiring someone to do it. You'll also need to consider whether you want a simple ground-level feature or a more extravagant multi-level design. Follow our guide and design the best decking space for your garden.
Designing a deck as part of a bigger garden design project? Find out how to plan, design and cost your garden transformation.
What is your decking going to be used for?
It's important to consider what the deck is for as it might influence the choice of decking boards, as well as its proportions. Does the deck need to fit plenty of outdoor seating, or just deckchairs for two? If it's an outdoor dining area, what size is the table and how many will be seated at it? Or perhaps the deck will be relaxing and eating space for lots of people?
You can use both our decking design ideas and decking ideas for small gardens for inspiration.
Consider whether the deck is going to get wet other than when it rains. It might be an area where children play and so it's likely to get splashed. Perhaps it's going to be laid near a swimming pool, or maybe a hot tub will be positioned on it.
Think about family and friends, too. Does anyone who will be using the deck require an extra slip-resistant surface, or one that will be more forgiving if they do fall? Select the best decking materials (our guide can help with this) according to the uses of the deck and your household's needs.
What size of deck do you require?
If your deck is home to a dining or seating area, then putting your furniture in place can help you plan the size of the deck. Remember that, as well as space for the individual furniture pieces, individuals will need room to slide dining chairs away from a table, and to stand up and move away without either chairs or people tipping off the end of the deck. Likewise, allow room for circulation to and from the area without having to step off decking.
A hot tub will need space for the tub itself but also to climb in and out comfortably from the deck, so also needs a generous area around it.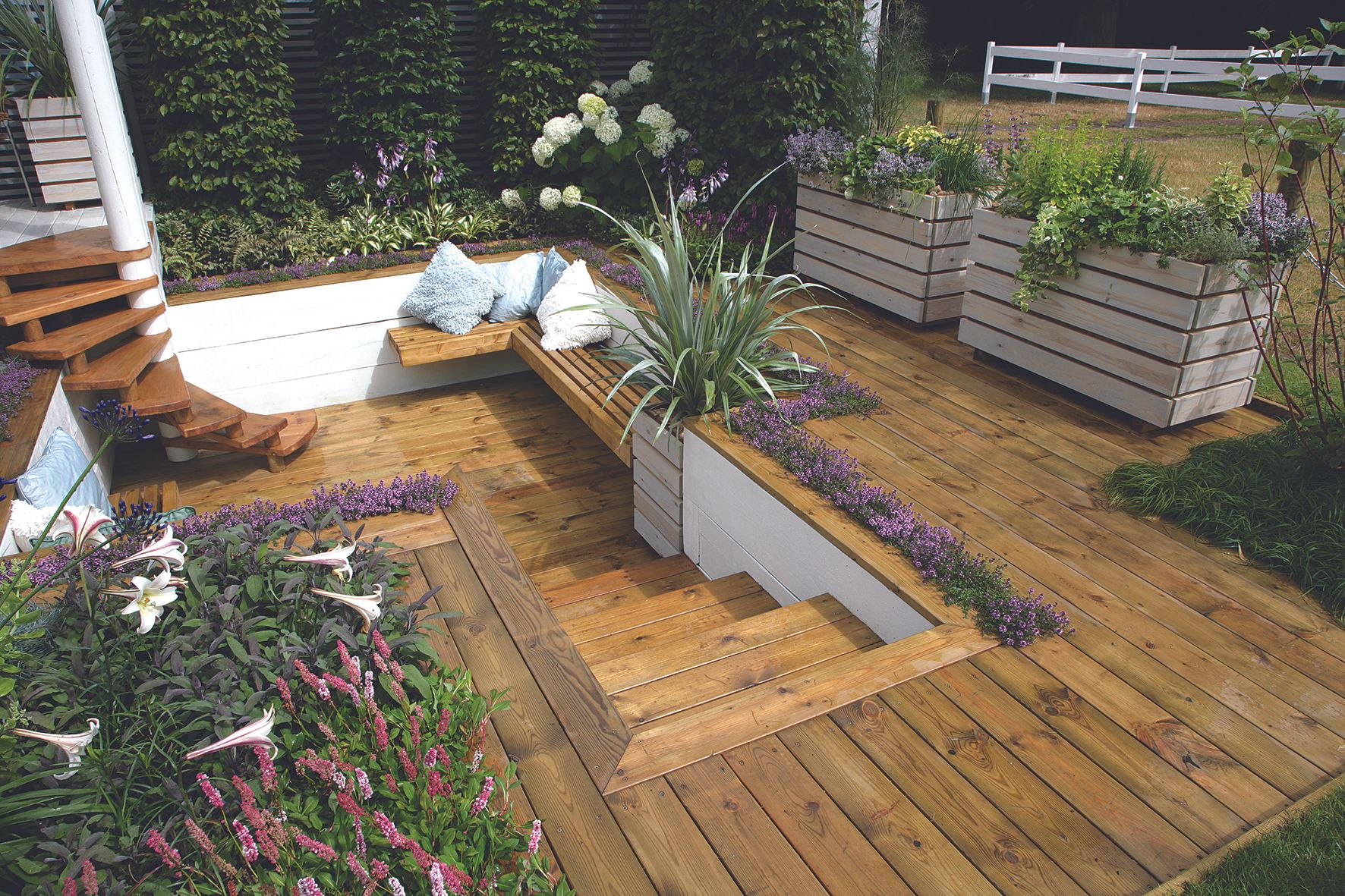 Plan the location of the deck
Draw a scale plan of your garden, so you can consider the balance between the deck and other features, such as any lawn and borders or other planting.
Often a deck will create a patio area immediately outside the house, so location will be apparent, but you may additionally or alternatively want one in a particularly sunny or shaded spot, or in a place that enjoys the best views into or from the garden. Bear in mind that although you might like to be out of direct sunlight, very overshadowed positions will entail more deck maintenance. Think, too, about the direction of the prevailing wind to avoid building the deck in a breezy location.
Find out how to create the perfect patio.
Consider whether the deck is going to be overlooked by neighbours – you may want to adjust its position to create more privacy on your side of the fence and theirs.
Does your deck need to work with other garden features, such as trees or shrubs? If so, these will influence the location. Make sure these go on to your plan.
It's also important to add to the plan doors from the house, and steps and paths, so you can design the deck to work with these. Manhole covers should also be marked on to the plan as the deck will need to include a panel that retains access.
Will you need planning permission for a deck?
If you live in a house, adding decking is permitted development, so you won't need to apply for planning permission, as long as it's not more than 30cm above the ground. You'll also need to abide by the rule that together with other extensions and outbuildings, the decking doesn't cover more than 50 per cent of the garden area.
This doesn't apply to flats and maisonettes nor if there's a planning condition or article 4 direction or other restriction limiting permitted development rights. Find out more on the government's planning portal and check with your local authority if you're not sure about your own home.
A deck that requires planning permission also needs to comply with the building regulations.
What deck type do you want?
A deck can be a natural-looking surface at ground level or a raised version. It could also feature different levels.
A deck at ground level is the simplest to construct. It could be located beside the house or elsewhere in the garden. A deck by the house needs to be 150mm below the damp-proof course and should not obstruct air bricks.
Follow our guide to installing decking.
A raised deck can create level areas within a sloping garden or simply be a more dominant feature within the garden. It's a bigger undertaking, if you're DIYing, or more costly, if you're calling in someone else to do the work.
Railings or panels and a handrail (also known as a balustrade) can be a finishing touch for a ground-level deck and the vertical element will make it more of a feature. You might also want to use railings to create an enclosed area with a gate fitted for access. For a raised deck, a balustrade is essential for safety.
How can decking be laid?
The classic look for a deck is to have boards laid horizontally. This looks unfussy and, depending on the finish, can have a contemporary or more rustic effect.
As an alternative, think about laying the boards diagonally across the joists. Bear in mind that if you want this finish, the joists will need to be closer together to support the boards.
More complicated designs can also be created. Think parquet-style patterns like chevrons and herringbone, squares where boards are laid horizontally then vertically, or a central pattern framed by boards around the edges. As with interior flooring, a more intricate design can make the decking decorative as well as functional.
Looking for more garden inspiration?