Own beautiful copperware? Whether you have just one treasured utensil or a whole set of pans, knowing how to clean copper is a must or that gorgeous warm glow will be lost.
A highly prized material with exceptional heat conducting properties, copper is a little more high-maintenance than stainless steel and other materials used for making cookware. Copper oxidizes over time, causing a dark tarnish to form on the surface of the metal; don't worry, though – the tarnish is easily removed and doesn't affect the performance of your copper in any way.
The good news is that you don't have to use any expensive cleaning supplies to keep this reddish brown metal looking its best. In fact, you may have some all-natural cleaners already in your kitchen cupboards... and even in your fruit bowl!
How to clean copper
All of the methods below assume you have copper that is 'sealed'. A clear sealant will help reduce tarnishing to some extent. On the other hand, if your copper product is 'raw', then you could cause further damage by treating it with the below acidic cleaning methods, so make sure it is sealed before proceeding. If in doubt, seek professional advice.
1. Clean copper with salt and vinegar
Mix a tablespoon of table salt into a cup of distilled white vinegar; dip a cloth into the mixture and rub off the tarnish with a microfiber cleaning cloth. Alternatively, fill the kitchen sink with the mixture (you'll need more of it, of course) and hot water and soak your copper pans in it for half and hour. The tarnish will dissolve; afterwards, just rinse and dry.
2. Use baking soda
Using baking soda can remove stains and tarnish from all types of metal, and copper is no exception. Simply sprinkle a little baking soda onto a damp cloth and work it into the tarnish. Rub off and rinse.
3. Try cleaning copper with ketchup
Check out this TikTok hack for grossly satisfying results!
The acidic profile of ketchup makes it a surprisingly effective cleaning agent, and it's especially effective on tarnish and burnt-on food. Cover the area of the pan that needs to be cleaned with ketchup and let sit for half an hour. Then, rinse off with warm water and dry.
No need to waste premium tomato sauce either – this Amazon Happy Belly branded condiment is under a dollar!
4. Use lemon and salt
Lemon is also very effective at dissolving tarnish and restoring the natural shine of copper. To clean with lemon, simply slice the fruit in half, sprinkle a little salt on the sliced surface, and rub the lemon all over the tarnished area – you don't even need a cloth! Simply rinse and dry afterwards.
Together with Hedley & Bennett, TikTok chef, and influencer, Bradley Skies (aka @sad_papi) shows you how to clean pans using citrus. With over 37 million views on his own food-based channel, he certainly knows a thing or two about keeping your best saucepan sets spik and span.
5. Use cola to clean copper
As well as being a popular carbonated beverage, coke can be used to clean copper. As a child, you may have already tried to shine up an old penny, and so when it comes to adulting, you can use this hack on your best pots and pans too.
The main 'magic' ingredient is phosphoric acid which is a known rust remover, so it makes sense that Coca-Cola can do what it does. Though if you want to use a budget cola brand, it will remove the green and restore the sheen just as well.
Above, Sophie Stein shows you how to clean with soda, without ruining the patina.
7. Give copper a rinse over with dish soap
For mild superficial blemishes, consider using dish soap to clean copper. You'll want to avoid using anything that could scratch the material, so put down that wire brush or metal scrubber (even if it feels soft).
Here, TikToker Katie Ragsdale demonstrates how to clean a kitchen sink made from copper using Gain washing-up liquid and Bar Keeper's Friend Cleanser – both available on Amazon.
8. Mix cream of tartar and lemon juice
If you're the master of whipping up a meringue, you're bound to have this in your baking arsenal. While it's used to help stiffen egg whites, when mixed with lemon juice concentrate, it can clean copper too.
Simply create a paste to the same consistency @cleansnob did, let it sit on the affected surface for a while, then wipe away with paper towel.
9. Polish your copper regularly with specialist products
Copper rewards regular cleaning and polishing; it's much easier to keep it in good condition by giving it a regular polish rather than waiting until tarnish has accumulated.
You can just polish your copper with a soft microfiber cloth after washing, or you can use a dedicated copper polish that will remove stains and keep the metal in good condition. Wright's Copper Cream (available on Amazon) has thousands of 4-star reviews.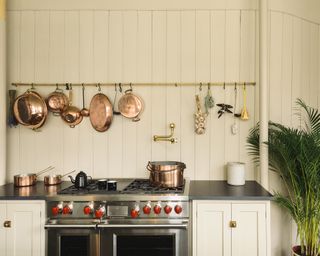 Cleaning copper that has not been sealed
'Although most of our products are sold as raw copper some have an applied patina with a high-grade polyurethane clear coat.' says Danielle Fannin, owner of The Metal Peddlar, whose company makes handcrafted copper range hoods, hanging copper pot racks, and other decor items.
'This clear coat lacquer protects your piece from tarnishing further and from damaging the patina. Care and maintenance is very simple and easy with this finish. Some simple dos and don'ts will protect it for many many years.'
Here is their guide on what you should use, as well as what to avoid when cleaning copper:
Do dust lightly with a soft cloth only – do not apply furniture polish.
Do use warm soapy water on a soft cloth to remove food splashes and fingerprints. A mild detergent, such as Dawn, will be sufficient. Buff with a clean and dry soft cloth.
Do not use abrasive scourers or sponges.
Do not use kitchen or bathroom cleaning products, such as Mean Green, Mr. Muscle etc. These will damage the surface. Avoid acidic or ammonia-based cleaners – commercial or homemade – that might "eat through" the protection and ruin your beautiful patina.