Knowing how to clean a waffle maker means I'm the "it girl" when it comes to weekend breakfast dates at home. I've got pics to prove I can whip up a social media-worthy stack! But what I don't understand is how something that makes fluffy deliciousness can get so messy.
I get why people invest in a good waffle maker, though — the pros def outweigh the cons. Making waffles in a machine ensures they're quick to bake, they look extra AF when stacked (better than pancakes IMO), and even better: the batter costs cents to make. So why would you get dressed and pay way over the odds if you can prep these babies at home on a budget?
Small kitchen appliances like these allow you to dupe those damn-expensive dishes you see on Instagram. So it's worth knowing how to maintain this appliance so you can keep on brunching baby girl.
Good to know
Time: Less than 1 hour (including 30-minute cool-down time)
Difficulty: Easy
Helpful hints: We used the Cuisinart waffle maker to demonstrate how to clean a waffle maker. We appreciate some appliances are made differently, and this particular model comes with removable plates. Always consult your instruction manual or contact your manufacturer if you're unsure.
Here's what you'll need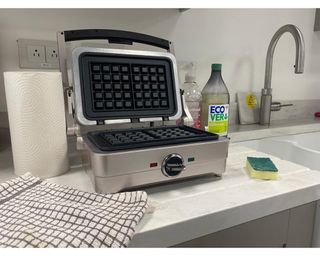 How to clean a waffle maker
Step 1: Unplug your machine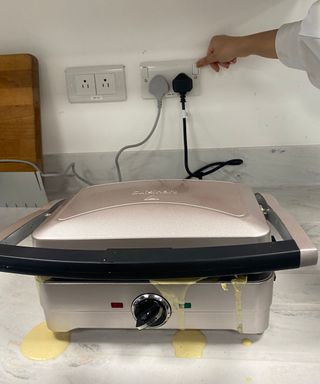 Once you've finished cooking your waffles, turn the temperature control to the OFF position and unplug the power cord. FYI, you'll want to wait about half an hour for your machine to cool down completely as the appliance can reach up to 410 degrees Fahrenheit!
Take this time to enjoy your waffles. We whipped up some mix from scratch, topping our fluffy cakes with agave syrup and fresh berries. All in the name of demonstrating a truly authentic cleaning experience, kids.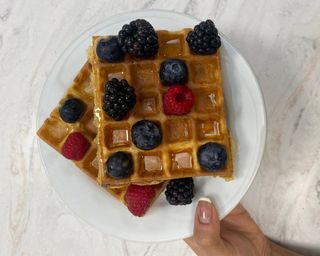 Step 2: Clean your countertops
If like me, you overfilled your waffle maker (whoops!), it'd make sense to clean your countertops. For this, you can use a paper towel and a multi-purpose cleaner. Dispose of the used paper towel in your trash can.
Step 3: (Carefully) remove the excess food debris
Now, since most waffle makers are made with non-stick plates, avoid using a metal spatula or anything abrasive to scrape off any crusted-on batter. I used a heatproof silicone/rubber spatula, but you'd be safe using a wooden spoon, too. Another no-no is a metal scourer... don't do it.
Step 4: Pop the plates out of the waffle maker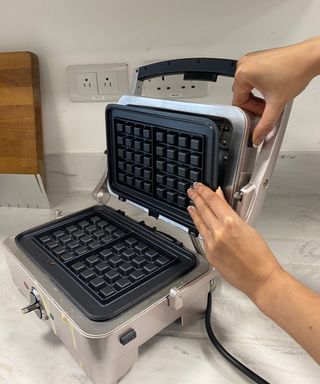 With the Cuisinart Waffle Maker, the release buttons are located on the right-hand side of the machine. Search for where they are on your machine and gently lift them off.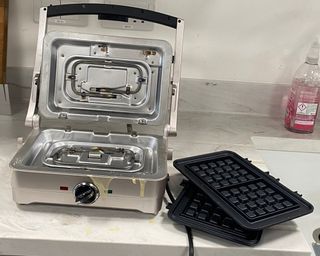 Step 5: Hand wash or pop your plates in the dishwasher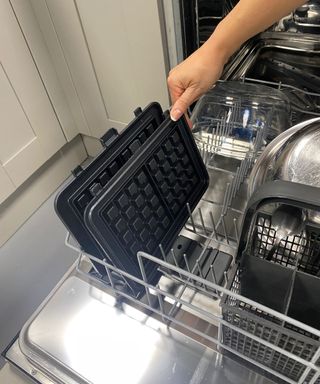 Cleaning your waffle plates will depend on what material they're made from. In most cases, you can pop them in your dishwasher on a normal wash cycle.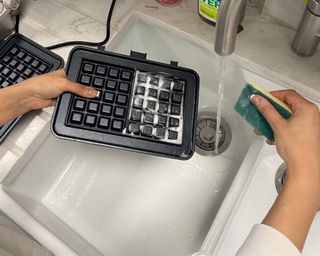 But, if for whatever reason the brand advises against this, I like to hand wash them in the sink with a little Method or Ecover dish soap and warm water. I've said it before and I'll say it again: I'm a huge fan of using an eco-friendly, plant-based product when it comes to cleaning any useful kitchen gadgets.
Top tip: A cotton swab will remove any tiny bits of debris.
Step 6: Dry your plates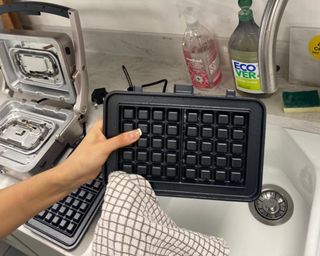 Use a dishcloth to dry your plates, getting into all those square-shaped crevices.
Step 7: Give the exterior a wipe-down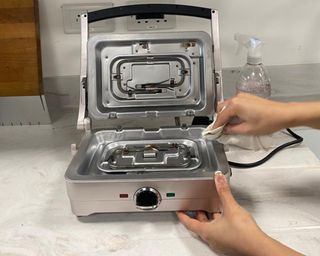 The purpose of wiping down the outside of your waffle maker is two-fold. You want to remove any remaining crispy or crusty bits you may have missed, and get rid of bacteria, too. To clean the housing and control panel, simply wipe with a clean, damp cloth. I like to complete my cleaning sequence by spritzing a little anti-bacterial spray on the outside and wiping the excess off with a paper towel for the final cherry on top.
FAQs
How do you clean a waffle iron without removable plates?
An easy and eco-friendly route to take to clean a waffle maker where the cooking plates don't come out is to create a thick paste using baking soda and water. Apply it to the metal inserts, leave it on for a few hours, and then wipe it down with a damp dishcloth.
Can I clean a waffle maker with vinegar?
Yes, it's cheap and eco-friendly, too. Soaking cotton swabs in vinegar and cleaning in between the squares is effective and dare we say, super satisfying, too.
Meet our experts
Hey, I'm Christina, one of the ecommerce editors at Real Homes. I own the Cuisinart waffle maker that we used to lay out this step-by-step guide for you. As well as making waffles, it also has a set of pancake plates to make McDonald's style hotcakes (drenched in syrup of course), and you can even recreate some other breakfast items (including sausage) on it too. Clean-up is an absolute breeze, IMO.