Wondering how to clean a house for a new baby? Becoming a new parent is a wonderful but challenging time, and one of the first things to go is our usual routines, with cleaning the house at the top of the list. However, keeping the house clean for a new baby is not just worthwhile from a hygiene and safety point of view, we can absolutely guarantee that it contributes to the good mental health of the new mum – and dad.
5 quick tips to make a nursery easier to clean
1. Pick a wipeable paint or wallpaper for the walls – over the next couple of years they'll get covered in all manner of stuff.
2. Don't buy a cot or cot bed with an intricate design. Straight lines and reachable parts are much easier to keep clean.
3. Make sure everything from lampshades to upholstery in the baby's room are wipeable. We mean it.
4. Invest in a changing table that's got built-in storage for everything from wipes to nappies. Neater, and safer for the baby because you don't have to step away.
5. Buy patterned bedding: it won't show stains so easily, which will lower your stress levels.
We're not going to tell you to clean up while the baby naps (that's when we think you should be lying down rather than scouring). So, recognise that you can't do it all and tackle these essential jobs*; and if you've got the energy, you can tackle cleaning the main areas: the kitchen, bathroom and living room being the most important. We've tried to stick to chemical-free cleaning solutions to make it safer for your baby. Or better still, get one of your many well wishers to tackle them for you, when they say, 'Is there anything I can do?'.
Find out more about cleaning advice, hacks and buys on our dedicated hub page. If you're planning for your baby's arrival, don't miss our guide to designing a nursery.
1. Declutter like Marie Kondo before the new baby arrives
Why you can trust Real Homes Our expert reviewers spend hours testing and comparing products and services so you can choose the best for you. Find out more about how we test.
Less clutter = less cleaning, so it really is using that time before the baby (while you have that surge of nesting energy) to declutter the house. Don't just get rid or store away of things you don't need, think about what's difficult or usually takes time to clean, and consider whether any of your current furnishings might be unsafe with a baby about – an obvious one is that beautiful but slippy rug you always trip on when you walk across it; not something you want out when there's a baby in your arms. Use our guide to how to declutter and tidy up like Marie Kondo if you need help being brutal.
2. Learn to fold baby's clothes like Marie Kondo
While we're on the subject, it's also worth finding out how to fold clothes like Marie Kondo – you'll find it a useful tool when you're trying to find that particular baby grow or change of top for yourself but are doing so with a baby in your arms. This technique puts every item of clothing you own on show to make life easier.
3. Banish new baby smells (the bad ones)
1) Open windows. Fresh air can only benefit your baby, as long as they're warm enough, and as long as nothing can get in through the window (thinking next door's cat).
2) Combat the stinky smells surrounding the changing table by keeping it clean (more on that below).
3) By simply filling an old jam or marmalade jar halfway with baking/bicarbonate of soda from the cupboard and placing it on a shelf of the changing table, you're left with a natural, child-friendly deodoriser that'll diffuse some of the odours. Find more ways to use bicarbonate of soda to clean your home.
4) Add house plants to every room: they'll help keep the air healthy.
5) Place a few chunks of charcoal into the bottom of your nappy bin, to help soak up some of the nasty smell.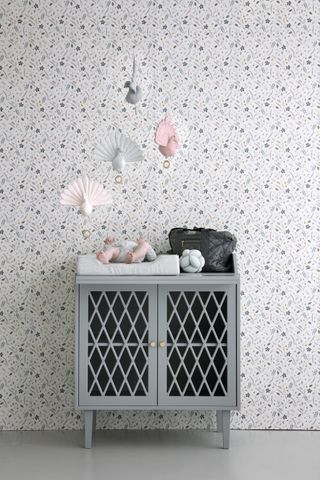 4. Use baby wipes to clean (but choose eco-friendly ones)
Baby wipes will soon become the best friend of any new parent and a heralded household item – their uses are unparalleled. In terms of cleanliness, baby wipes are perfect not just for the baby's bottom, but for tackling muck on the changing table, on the baby carrier, push chair, high chair, your own clothes, and then around the house. They'll quickly get rid of dust and cobwebs. They can reach into all the nooks and crannies of your home and are a time-saver when trying to balance a new parenting routine. Use your leftover wipes for a quick wipe down at the end of the day. And, in the quest to be eco-friendly, choose wipes that will bio-degrade.
5. Clean sippy cups with vinegar
Sippy cups and baby bottles can often fall victim to getting smelly. Although your baby bottle steriliser should see off the smell of sour milk, once they progress to sippy cups, you might no longer be using one. And if the dishwasher won't shift it, you might need to take more drastic action. One neat trick is to soak the sippy cup – and the lid in particular – in white vinegar and warm water (an equal mix will do). Then drain it out and run the cup or bottle through the dishwasher's hot cycle as usual. For more ways to use vinegar to clean your home, see our guide.
6. Clean baby bottle brushes in the dishwasher, too
Your dishwasher needn't just be for baby bottles and your own crockery and pots and pans – you can use it to keep your baby's cleaning equipment, such as bottle brushes, clean, too. This goes for anything else that's dishwasher-safe if not traditionally cleaned in a dishwasher: think teething toys, plastic bibs... and anything else they come into contact with. Find more weird ways to use a dishwasher to clean your home quickly in our guide.
7. Know how to clean a baby's mattress
Babies' mattresses get covered in everything imaginable (and worse), so knowing how to keep your baby's bed clean is a must. First, invest in a waterproof mattress protector; ensure you have the best baby mattress to cope with the stains it'll endure (our pick is the Eve baby mattress); and then get your cleaning know-how lined up. Use our guides to help you:
8. Remove food stains from baby's clothes with lemon
Why is it that baby grows and bibs are often white? Okay, we know it's a gender-neutral colour that's a safe buy for expectant parents but, come on, it's so easily ruined by stains from milk, posit and solids, when they move on to them. The good news is that you can brighten your baby's whites by a) washing them first and then b) soaking them in five litres of cold water with the juice of one lemon. Leave them to soak for an hour. Put them on a spin cycle to remove excess water afterwards. See more clever laundry hacks to get stains out of your baby's clothes (and yours, especially on tops around the shoulder area – new parents, you know what we mean). And don't miss our tips on more ways to clean your home with lemons.
9. Get your toddler involved in cleaning
It's well documented that cleaning is good for mental health, and this extends to kids, too. So, if you're having to keep your eyes on your new baby and older toddlers too, get your toddler to help out with the cleaning, even if it's just wiping down their own high chair or the table after they've eaten. It will make them feel like they're helping with the new baby and give them a sense of accomplishment. We are, of course, that they might make more mess than they clean up while they're doing it...
Find clever hacks for cleaning kids' rooms in our guide.
10. Put a catch-all basket at the top and bottom of the stairs
You can't carry everything you need for a new baby with one hand, unless the baby's strapped on to you in its baby carrier as you go around the house. So having a basket of items to go up, and another of items to come down, means that you can easily carry lots of little must-haves up or down as you go. Better still, your other half might notice they need taking up or bringing down and do it for you...
*Thanks to 247 Blinds for some of these tips.
More baby-related must haves: