If you're researching the cost to tile a bathroom, this guide will give you a good idea of what your options are – and whether you should try doing the job yourself, or hire a professional.
There is a myriad of bathroom tile ideas to choose from, and tiling is by far the most hygienic material for bathrooms, but they don't come cheap. And while the final cost in your case will depend on the exact type of tile you choose, there are several general estimates that will help you budget for your budget renovation correctly.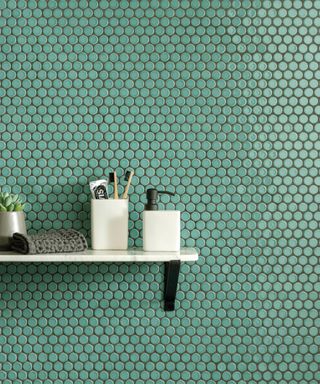 Cost to tile a bathroom yourself: the tiles
According to Checkatrade, the average cost to fully tile the walls and floors in a bathroom renovation is £700 – £800. However, the real cost will depend on several factors and can be as low as £500 or over £1,000. You will need to factor in both the cost of the tile itself and the tools you will need.
Some bathroom tile is sold by square metre and costs anywhere between £10 and £150. Ceramic tiles are the cheapest, while glass tiles are the most expensive. Some types of tile are sold by piece – this usually applies to intricate designs with scalloped edges or mosaic designs that are sold by square sheets to make them easier to lay. These more complex designs will be more expensive – £20-£30 per 200-300mm piece.
When working out how many tiles you'll need, it's recommended to add an extra 10 per cent to allow for mistakes and wastage if you are tiling an unusually shaped bathroom.
Cost to tile a bathroom: the tools
Now that you've worked out the cost of your tile, you'll need to add the following tools (all can be bought from Amazon):
A tile cutter will cost around £40, tile nippers around £15, and then the grout and adhesive cost will depend on the size of your bathroom, but expect to pay about a further £50.
Cost to tile a bathroom professionally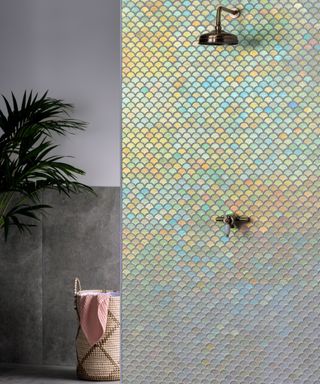 If you'd rather hire a professional, the cost will depend on a) the cost the tiler charges per square metre, and b) the cost of their labour per hour. The price per square metre will depend not only on the quality of the tile, but also on its size and difficulty of installation. Smaller tiles are more difficult to work with, and take longer to install, so be prepared to pay more for them. On average, though, tilers will charge £20-40 per square metre of tile installed.
As for hourly rates, these depend on where you are. The national average is £19, while the London average is closer to £35.* Some tilers will agree to a day rate of £150-200, with you providing the tile yourself.
The shape of your bathroom will also affect the final cost of tiling it: the more a tiler has to cut into the tile in order to accommodate unusual architectural features (say, arches), the more expensive the job will be. It's always best to get at least three quotes from different tradespeople, providing them with as much information as you can.
How much does it cost to retile a small bathroom?
For a small bathroom of around 6 to 14 square metres, you should expect to pay anywhere from £500 to £1150. This will, of course, depend on the type of floor tile or wall tile used, the size of the tiles, and the skill of the tradesperson.
You also need to know how much your tradesperson will charge you for removing old tile (if you're not doing that yourself) and whether there are any other costs. One complication to watch for is a water-damaged tile substrate (also known as water ingress), which will need to be fixed before the new tile can be laid.
Fixing water leaks behind tiles can cost as much as another £1,000 on top of the retiling, so you need to be aware of this problem before you budget. Tiles that are falling off the walls are a good indication of this issue.
Is it worth retiling a bathroom yourself?
If you're hesitating between hiring a professional tiler and DIYing your bathroom retiling project, you need to factor in one very important element: time. Learning how to tile and how to grout tile isn't that hard. But do you have the patience and the ability to do the job consistently? Tiling expert John Geraghty tells us that 'bathroom retiling is a relatively straightforward job if you have some basic DIY skills. If you are planning to retile a bathroom yourself, then you need to make sure that you have sufficient time on your hands, as it can be a very time-consuming job.'
'If you do not have the time, the skills or the tools for tiling, then you are best hiring a professional tiler who will ensure the job is done quickly and efficiently with no fuss or mess.'
You need to bear in mind that it will take a professional tiler around 3-4 days to complete the job. If you don't have much experience tiling, it could take twice, or three times longer. During this time, you won't be able to use your shower/bath, so you need to be prepared.
Information and comments provided by tiling expert, John Geraghty at MyJobQuote