Whether you're renovating a house, transforming the exterior of your home or just maintaining a period property conscientiously, follow our tips to keep your home in good condition.
How to inspect your home's exterior
Spotting potential problems need not be difficult – a casual glance may reveal a slipped roof tile or peeling paint. Even so, at least once a year, it is important to probe a bit deeper by giving your home a full 'MOT'.
Battered by the wind, drenched by the rain and baked by the sun, the exterior elements of a building form its protective skin. This needs to be kept in good repair otherwise damp and decay will ensue. As well as preventing damage, a little TLC is hugely beneficial because it saves money, avoids wasteful replacement, and will mean the building stays warmer and is more comfortable.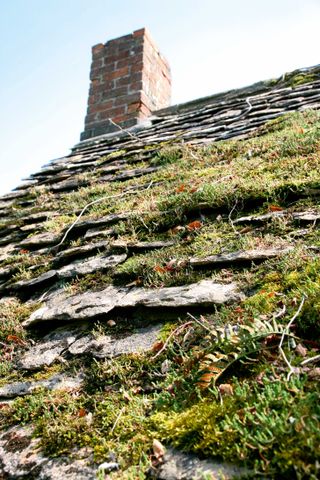 Regular seasonal maintenance is vital and should combine inspecting your home and sprucing it up by doing jobs like clearing gutters and redecorating.
If there are underlying problems and you have real concerns, it could be worth employing a surveyor to do this for you. They will produce a report that will highlight any issues and give you guidance on the repairs needed and the likely costs.
Although it may seem like an expensive chore, if something is wrong do get it fixed promptly as delaying repairs invariably makes matters worse. In addition, if you are selling your home, the problems are likely to put off potential buyers.
Checking the roof
Start your inspection by looking at the roof and chimneys. Broken tiles or slates on the ground are a sign that all may not be well. Binoculars make it easier to spot failures; if practical, ask to go into your neighbour's garden to view your home from there.
Where there is access to a loft space, look at the underside of the roof for evidence of leaks or damage to the roof covering and around chimney stacks.
Problems tend to occur where the metal flashings and mortar fillets at the junctions with chimneys and parapets have deteriorated, or pointing has failed on the chimney stack.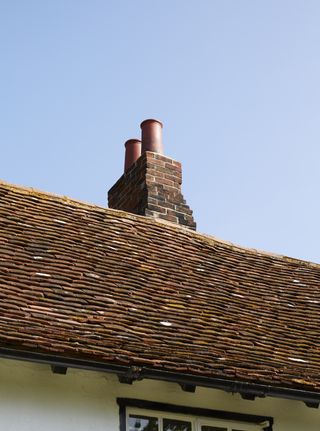 Inspecting gutters, downpipes and drains
Although unpleasant, it is worth doing at least part of the inspection with the aid of an umbrella during heavy rain. This will reveal water leaking or spilling from gutters or from downpipes and gullies that may be overflowing because they are blocked.
Other common problems are cracked gutters or downpipes and gutter junctions where bolts have rusted – these are sometimes found on the ground.
If you feel confident to, use a ladder to gain access to gutters and clear leaves and other debris while you are there. It is worth pouring water from a bucket along gutters and into downpipes to check that it flows away properly.
Check all drains, both rainwater and foul water. Lift inspection covers and gratings to look for blockages and, if necessary, use a set of rods to make sure all is clear.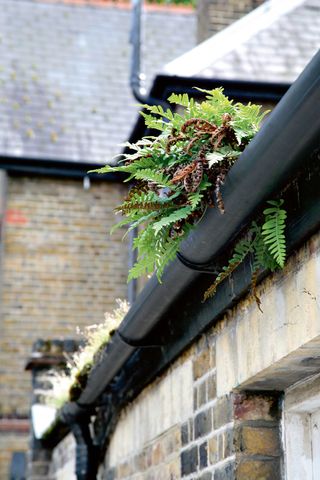 Looking for damage to external walls
Around the base of the building, note areas where puddles are forming, soil levels are high or banked against walls, and where shrubs or trees may be causing damage. Clear all air bricks with a stick to maintain ventilation under suspended floors.
When it comes to the walls, look for loose or damaged brick or stonework, noting cracks or places where moisture is collecting. Pay particular attention to any modern cement-based pointing or renders that have been applied. These can trap moisture and cause damage. Where there is failure it may be necessary to replace these with a traditional lime material.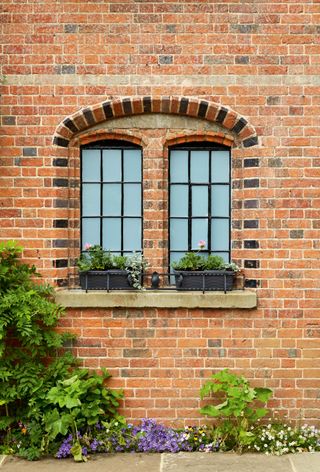 Dealing with rot on joinery and windows
Any joinery around the exterior of the house, including windows, doors, facias and barge boards, must not be forgotten. Look for cracked or rotten wood, ensure that painted joinery is not flaking and check the putty around window panes.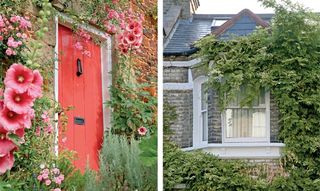 Planning maintenance work
When you have finished your inspection, plan what needs to be done. Problems involving moisture, or dangerous structural issues, are the first priority and it is important always to treat the underlying problem rather than the symptoms.
Not everything will have to be tackled at the same time, although it often makes economic sense to combine jobs that require scaffolding, such as roof work and the painting of walls. So that maintenance does not become a burden, plan a schedule so that each year a different area of work is done.
Remember that prevention is always better than cure. In some cases it might be sensible to provide a temporary solution rather than let a problem escalate. For example, where water is running down the face of a building, plastic rainwater goods may provide a short-term solution until more appropriate cast iron gutters and downpipes can be fitted.
If you are concerned about any structural defects you have discovered or other maintenance issues, consult a surveyor, structural engineer or reputable contractor.
Tips for exterior repairs
Seek help: Think about your own safety and that of others. Take special care when using ladders and always have someone who can help you.
Protect yourself: Do wear gloves and other protective equipment or clothing, especially when clearing out drains or gutters.
Avoid replacement: Attempt to repair rather than replace damaged parts of the original fabric of the building, so as much as possible is retained. For example, a good joiner will be able to cut out rotten sections from a window or door and piece in new timber.
Don't use quick fixes, such as spray-on foams, sealants, coatings, mastics and water repellents, or cement-based products, because they may trap moisture and are difficult to remove later.
Don't overestimate your capabilities: If you are at all unsure, employ a professional surveyor who understands the age and type of building you have and use a good builder to carry out work unless you are totally confident to do it.
Deal with damp: Don't forget that wet walls are cold walls so deal with damp problems promptly.
Images from Shutterstock
More home maintenance tips: