When Vanessa Taylor, November's DIY competition winner, sent her entry in for her super chic DIY coffee table, there was no doubt about it deserving some recognition. And though it's never too much of a surprise, IKEA has struck the DIY world once again with an innovative take on a very unexpected coffee table piece.
Based in a small quiet village in East Hertfordshire, UK, Taylor of @_myhomeinspo_ tells us she had been looking for a coffee table to fit around the seating area of their kitchen since three years prior when they initially moved in. She soon gave up after a lack of inspiration.
Not long after, she happened to find a chic pick while scrolling through Instagram. However, there was a catch, and they all came in way beyond budget (around $400). And so, as most DIYs start, Taylor wisely decided to take matters into her own hands.
The DIY story
"Being quite creative myself and a pro at flat packs, I decided to panel four rooms in our home and became quite confident in DIY," notes Taylor, sharing that by this point, she had joined the online interior design community — which we all know is full of inspiration.
"I had originally planned to make the base from singular pieces of curved molding, and then saw an IKEA hack on Instagram where they had used the RÖDEBY armrest tray to wrap around the base to make small side tables."
This was Taylor's eureka moment, meaning that her DIY process would be much simpler and less time-consuming. We're here for that!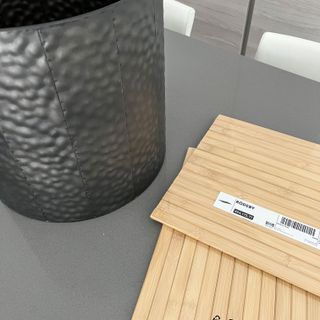 "Plus, because it was a low table being a coffee table I wouldn't need to cut any of it to make it lower," says Taylor. All she had to take care of was buying a round circular tabletop and something to wrap the wood panels around to the base of the coffee table.
The DIY process
All the materials needed:
Taylor actually found the base in the flower pot section of Homesense (the Target of the UK), if you can believe it.
"It was the exact size that I needed and I turned it upside down to use the base of the pot to stick the table top to and wrapped around the IKEA RÖDEBY wood panels to the plant pot," she says. In total it took Taylor four days. This is the step-by-step:
Step 1: Securing the RÖDEBY wood panels
"Day 1: I stuck the RÖDEBY wood panels around the base (1.5 packs) and I left it to dry for 24 hours to make sure the glue was set well."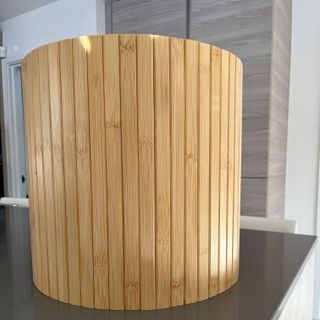 Step 2: Painting it all white
"Day 2: Painted the base in two coats of Dulux Egyptian cotton satin furniture paint. I didn't need to prime."
Step 3: Attaching the base to the coffee table top
"Day 3: I marked the middle of the tabletop underside and stuck the base of plant pot onto marked area and left it for 24 hours to dry."
Step 4: Adding the final touches
"Day 4: I painted three thin coats with a foam roller for a smooth finish."
And just like that, Taylor had a stunning, bright white, custom-made fluted coffee table. The end result is what dream are made of.
Our DIYer's thoughts
This took Taylor four days but she says it was so easy yet so transformative for the space. It added another splash of white to the monochrome core aesthetic of the living room and also brought a dose of function. "We can now put our drinks and food on it, which is so much more convenient," she says. "Having made it myself, it's exactly the style and size that is perfect for that area. I painted it the same color as the paneling sections already in the kitchen, so it matches the room perfectly." Shes now considering making a side table for the bedroom in the same style.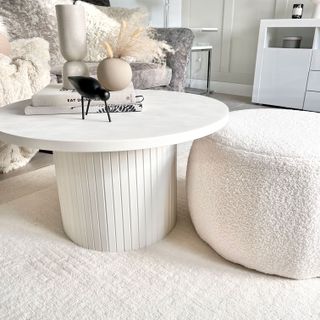 "I love anything interior design, and it's so rewarding to use and look at something that I've made with my own hands — this is not the end!"
With zero cutting involved, hardly any serious DIY skills/scary materials needed, and coming in at less than $100, we approve.
I am married with two small children and a dog. We bought our forever home years years ago and have been making it our home ever since.
It was a new build property and had plan white walls throughout, so I've been enjoying injecting some warmth and personally into it. I absolutely love DIY projects and making a house a home!
Since starting my Instagram account in lockdown, I've found some great inspiration and DIY ideas that have given me the confidence to try them out myself.