This is a DIY that anyone (literally anyone:) can do! Do you have access to a thrift store and paint? Then let's get started!
We've all seen the beautiful aged pottery that is all the rage in the home decor scene right now. I love it just as much as the next home decor aficionado, however, I was not about to pay $80 for an aged pottery piece that I knew I could recreate myself...
Yep, this is a simple DIY project that requires minimal tools, cash and energy. It's just a really nice chance to get creative and to add your own personal touch to your space too, be that your coffee table like I've done, a hallway cabinet or home office.
Materials you'll need:
Thrifted vases
Spray paint
Plaster of paris
Baking soda
Garden dirt
Chalk paint
Paint brush
Latex gloves
What I started with: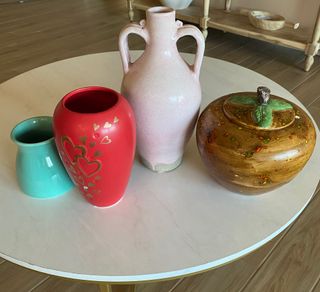 The first step is to go shopping! I found some great pieces while shopping in my local thrift store. You are looking for size and shape, and NOT color or design. Bonus points if you can find a piece with handles! My favorite piece ended up being a ceramic crock water dispenser.
Of course you can do this with old vases that you're just not into anymore. The best DIY vase ideas come out of being a little resourceful which will also cost you even less money!
DIY vases: how to
All the versions of duped vases I made started with a coat of paint and the next four DIY vase ideas can be easily replicated with the tools and materials listed above.
1. Spray paint and a little dirt (really)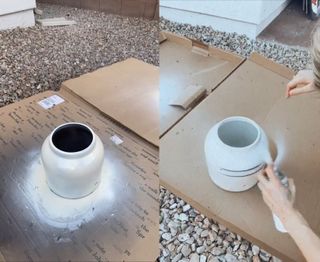 For the ceramic crock I removed the base and spigot and spray painted the body with a white spray paint.
When that was dry I mixed a neutral paint I had on hand with plaster of paris and a little bit of regular ol' dirt – seriously – mixed that well, and applied it to the crock with a cheap paint brush.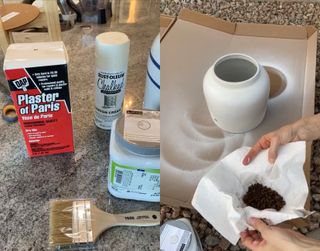 That's it for that one! The plaster of paris and dirt give it that rough and worn look that is so popular right now.
My favorite way to use this vase is to add long, large stems to its wide mouth opening. It's a cute way to decorate a coffee table but would work well anywhere in the home.
2. Matte black chalk paint mixed with baking soda
The next piece had a lid that I discarded. I love the shape of this small piece and wanted to create something that looked very rustic.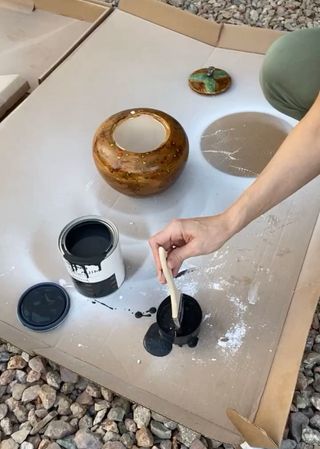 I used matte black chalk paint mixed with baking soda to add character to this one. After it was completely dry I gave it a light sanding.
3. Spray paint and plaster of paris
Now for the one with handles! This shape is extremely popular with big brands such as Pottery Barn and West Elm and usually comes with a hefty price tag.
I started by spray painting it with a beige spray paint.
Once that was dry, I mixed plaster of paris with water to create a thick paste.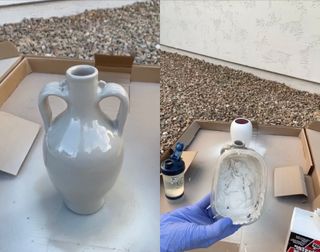 Top tip: You'll want to put on plastic gloves for this next part.
I used my hands to rub the mixture all over the vase. I let the mixture settle and partially dry on the piece and then began rubbing it off in areas to create interest and like its finish had been worn away by time.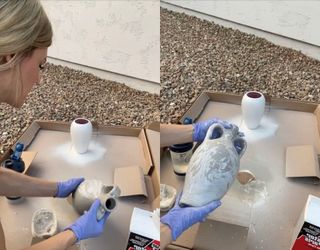 4. Spray paint and added rustic texture
The last piece was very similar. I covered up the bright red and gold hearts with white spray paint and when dry, rubbed a thicker plaster of paris paste all over and let it dry completely.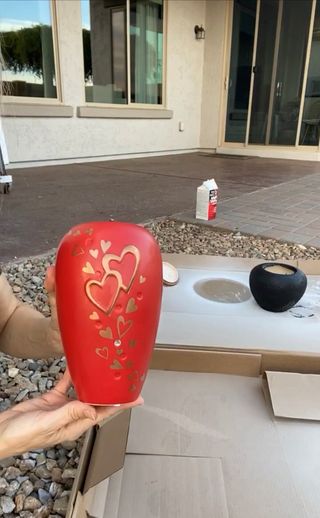 This was probably the most rustic piece of the foursome. It has a chalky, uneven appearance that makes it look hundreds of years old.
The results: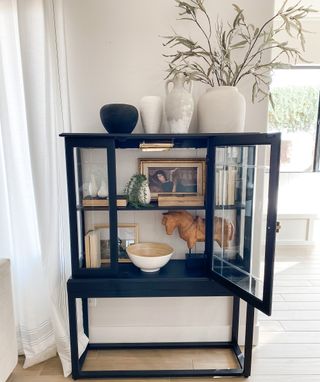 The possibilities are endless with these designer duped vases. So many colors to test and finishes to try and now you know exactly what to look for when thrift shopping.
Remember that ugly color and wacky design doesn't matter when you're covering it with paint! And the best part: no one will ever know that they're not designer!
DIY vases cost
Thrifted vases: $10
Spray paint: $10
Chalk paint: $12
Plaster of paris: $8
Paint brush: $2
Baking soda, gloves, containers: free
Total: $42