If you are renovating, you might at some point want to know how much to budget for carpet fitting costs. Carpet is one of the most budget-friendly flooring options out there and has other benefits. Carpeted floors are warmer than hard ones, and carpet offers you an unparalleled range of textures and colours to play with.
There are so many types of carpet out there that it can be difficult to choose. Whether you want to know how to lay carpet yourself or are hiring a professional, a good way to start narrowing down your options is by working out the cost to install carpet. Then you can see what budget you have for the carpet itself, which will vary considerably depending on the type you choose. Here are the figures to guide your choice.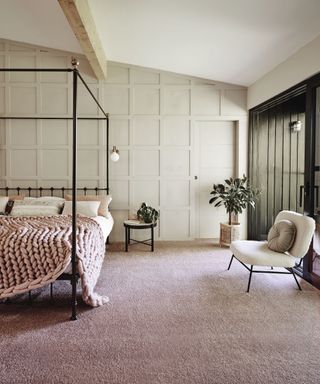 How much does carpet cost?
Before working out fitting costs, it helps to know how much the carpet itself will cost. Chris Harvey, Interiors Expert at Stelrad, gives his estimates for different carpet ranges:
A budget carpet is on average £5 per square metre
A mid-range carpet is on average around £20 per square metre
A luxury carpet on average is around £40 per square metre.
Budget options are generally made from polypropylene or polyester, while luxury options are made from 100% wool or, in some cases, a wool-and-silk mix. Mid-range options will typically offer you a mix of synthetic and natural fibres – this is a good thing for most homes, as you're getting a combination of the luxurious look and feel of a natural carpet with the hardwearing quality of synthetics.
There are 13.37 square metres in a 12x12 room, and Harvey advises to 'purchase 14 square metres worth of carpet for ease. Therefore a budget carpet would cost £70, a mid-range carpet £280 and a luxury carpet would cost £560. The labor cost (or fitting cost) will be on average around £3.50 to £5 per meter square laid but there will most likely be a minimum charge of around £40.'
There is more on this below.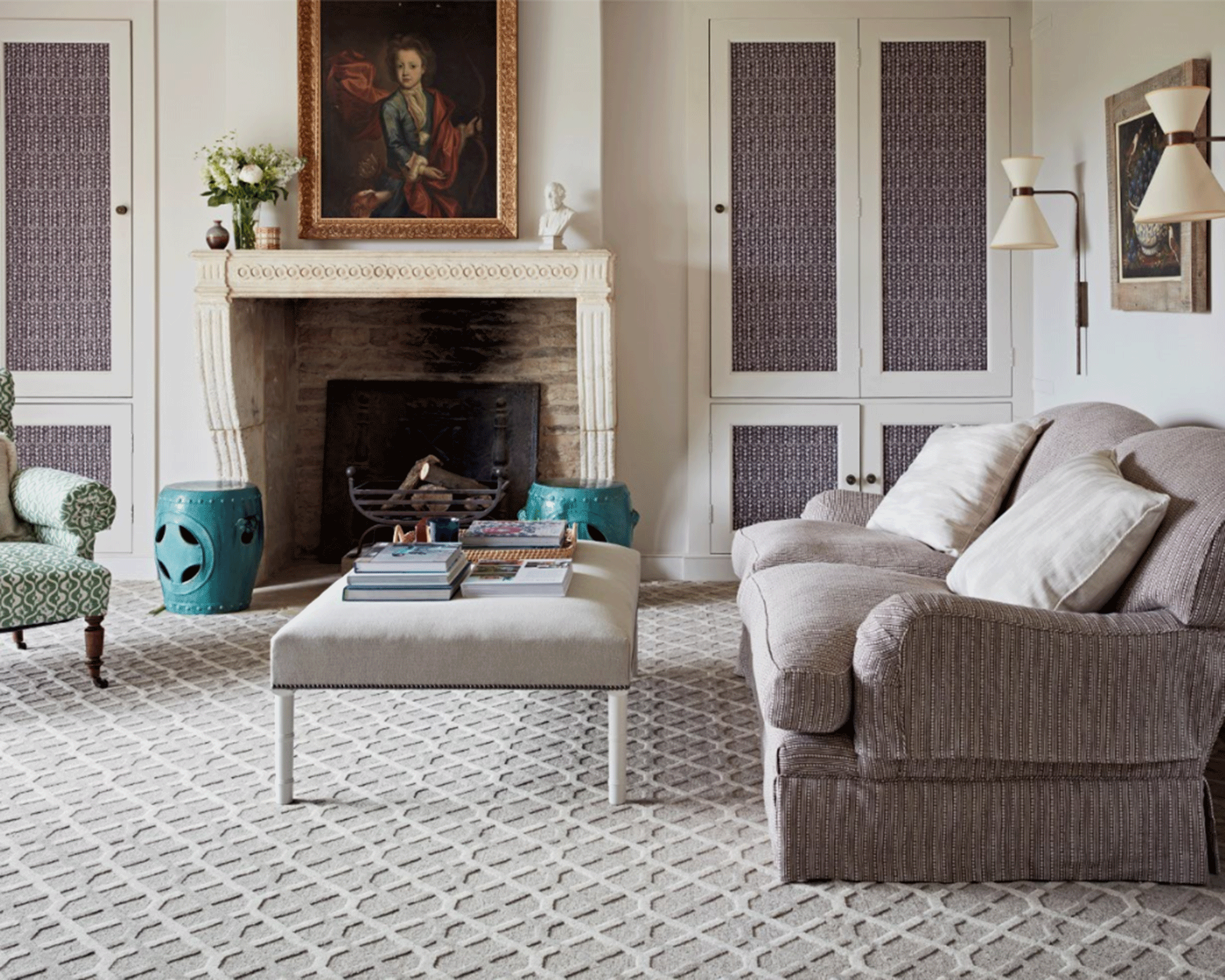 How much does carpet fitting cost?
Carpet fitting costs will vary depending on the size and complexity of the jobs, but generally prepare to pay £60–120 for the carpet fitter's labour. A small square room is the easiest to carpet so will be at the lower end of this price spectrum, while stairs are the most time-consuming and difficult to do, so will be the most expensive to carpet.
Your carpet fitter may also charge you extra for moving any furniture in the room if you don't want to do it yourself, removing old carpet, and disposing of off-cuts after they're done. These additional costs will not be huge – think in the region of an additional £50.
The good news for anyone hiring a professional carpet fitter is that they're often able to buy the carpet you want at trade prices, which will bring the overall cost of your carpeting job down. You may then find that even with the additional labour costs, you're not paying much more than you would if you installed the carpet yourself.
How much does it cost to replace carpet?
As Johanna Constantinou, brand and communications director at Tapi, tells us, 'If you are getting new flooring installed, many people will need their existing old carpet replacing. The cost for uplifting and removing your old carpet and underlay varies depending on how much old flooring needs to be removed and how easy it is to remove. For a 4x4 room, JUST the carpet would cost around £112 as a starting point, this is without underlay, etc.'
Is carpet underlay necessary?
Yes. 'Underlay is just as important as the flooring itself. As well as adding extra comfort underfoot, it helps to insulate the room, reduces noise from stompy feet, acts as a shock absorber, and improves the lifespan of the flooring. Thick underlay can also help to smooth out minor imperfections in an uneven subfloor, creating a level surface on which to lay your new flooring.'
The cost of carpet underlay is between £4 and £10 per square metre, and it is advisable to go with the best option you can afford because the quality of your underlay will directly impact your carpet's longevity.
What's the cost for laying carpet down stairs?
On average, it will cost £80–120 to fit a carpet down a straight flight of stairs; if your staircase has turns or is an unusual shape, expect to pay more.
Is it cheaper to install carpet yourself?
Yes, generally it is, as you will be saving on the carpet fitter's labour fee. However, the question you should be asking yourself is whether DIY installing a carpet is worth your time, and whether you have sufficient DIY skill to do it. Carpet installation is not a beginner DIY task: it can involve old floor removal, subfloor and threshold installation, and tacking and stretching for an even finish.
Professionals generally don't recommend installing carpet yourself, but if you do decide to do it, Chris Harvey recommends taking advantage of the wealth of information available in 'YouTube videos and blogs online which have detailed instructions on how to install your own carpet at home which should make the experience easier and overall cheaper.'
Carpet vs. vinyl flooring: which is cheaper?
In terms of vinyl flooring versus carpet in the UK, Harvey says that 'sheets of vinyl flooring are a lot quicker to install than laying vinyl tiles or planks. This is because more surface area is being covered at once similar to laying a carpet. The average price a tradesperson will charge for laying vinyl flooring is between £15–£20 per hour so can be considerably cheaper than the cost of a tradesman to lay a carpet.'
The cost, of course, also depends 'on where you're purchasing your flooring from and the quality of the product. The tradesmen's cost is cheaper for vinyl flooring to be laid, however, the cost of the vinyl flooring could be considerably more expensive than some carpets. Overall, it depends on the quality and look you're going for to determine if carpet or vinyl flooring is the cheaper option.'
Finally, vinyl flooring needs a level subfloor. Carpet is a bit more forgiving, so vinyl can end up costing much less in total as there may be less prep work involved.