Most mattresses come with a cover. Whether you bought yourself a brand new bed (exciting!) or moved into a new place with one provided, it's more than likely your mattress came wrapped in a protective cover. It might be the fixed kind you can't remove, or maybe your landlord put a mattress protector in place. Either way, there should be some sort of layer between your bottom sheet and your bed — if not I can list plenty of reasons to buy a mattress protector.
But can you wash a mattress cover? Over time spills from your morning coffee, sweat (gross ik), and general build-up of bacteria will mean your mattress cover can get grimy. Fake tan girls, you can't say you don't see the faint orange stain seeping through from your sheets every time you change them? The short answer is yes.
Whether your mattress cover is non-removable, padded, or made of plastic, it's important to keep it clean. Here's everything you need to know about whether you can wash your mattress cover, and how, according to an expert.
Can you wash a mattress cover?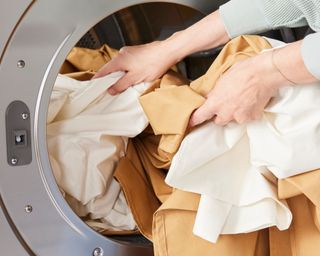 Don't take it from me, certified House Cleaning Technician (HCT) and mattress consultant at mattressive.com Hugo Guerrero, confirms "it's highly advisable to wash a mattress cover as it collects sweat and bacteria overnight. It can also trap dust and collect dead skin should your fitted sheet move out of place. However, the washing process will differ depending on the type and material of the mattress cover."
Typically memory foam and hybrid mattresses will come with a fixed mattress cover that keeps the layers in place. And while you can't simply bung this one in the machine, you can still keep it clean. To do so Guerrero suggests to "remove your bedding, and sprinkle baking soda generously on the mattress cover." If you're feeling a little ~extra~ you can add an essential oil too. Let this soak on the bed for as long as possible, and then vacuum the residue with your fave handheld vac. Enjoy a clean and fresh mattress, easy.
Need some advice on which baking soda to use? We always recommend Arm & Hammer's Pure Baking Soda which you can pick up from Amazon.
Can you wash a mattress cover in the washing machine?
If your mattress cover is removable, you can wash it by machine. The expert we spoke with (Guerrero) recommends "always check the label on the mattress cover, as most have instructions on the right temperature, spin speed, and how to dry.
For example, most cotton mattress covers labels recommend 104 degrees Fahrenheit. And a 1200 rpm spin speed." If your machine has a hygiene setting, choosing a high temperature is always best to kill germs and tackle bacteria, especially on dirty items like mattress covers.
For a waterproof mattress cover, or one made from plastic, Guerrero suggests "putting it in the machine on a delicate setting, and using bleach-free detergent only". Bleach can damage the waterproof layer. Similarly "tumble dry on a low setting to avoid head damage to the plastic/vinyl."
If you have a padded mattress cover, like a topper or quilted protector, you should always check the washing instructions first.