So what exactly is cottagecore? It's a word we have seen bouncing around the internet this summer, and since we love to be in the know about these niche trends, we did some digging to find out what it's all about and how to 'get' this popular look. 
In short it would seem cottagecore is an aesthetic that started life on social media. It's all very wholesome, pastoral and based around rural life. Type in #cottagecore on Instagram and your page will be filled with soft pastel colours, floaty dresses, quaint cottage interiors and a bit of Animal Crossing thrown in there too. 
So we have taken influence from this aesthetic movement and come up with five ways to get the cottagecore look in your home. Think cluttered (in a good way), super cosy and just a little bit kitsch... 
Once you have done getting your cottagecore hit, make sure you check out our cottage kitchen ideas feature for loads more inspiration. 
1. Pick a subtle colour palette for your kitchen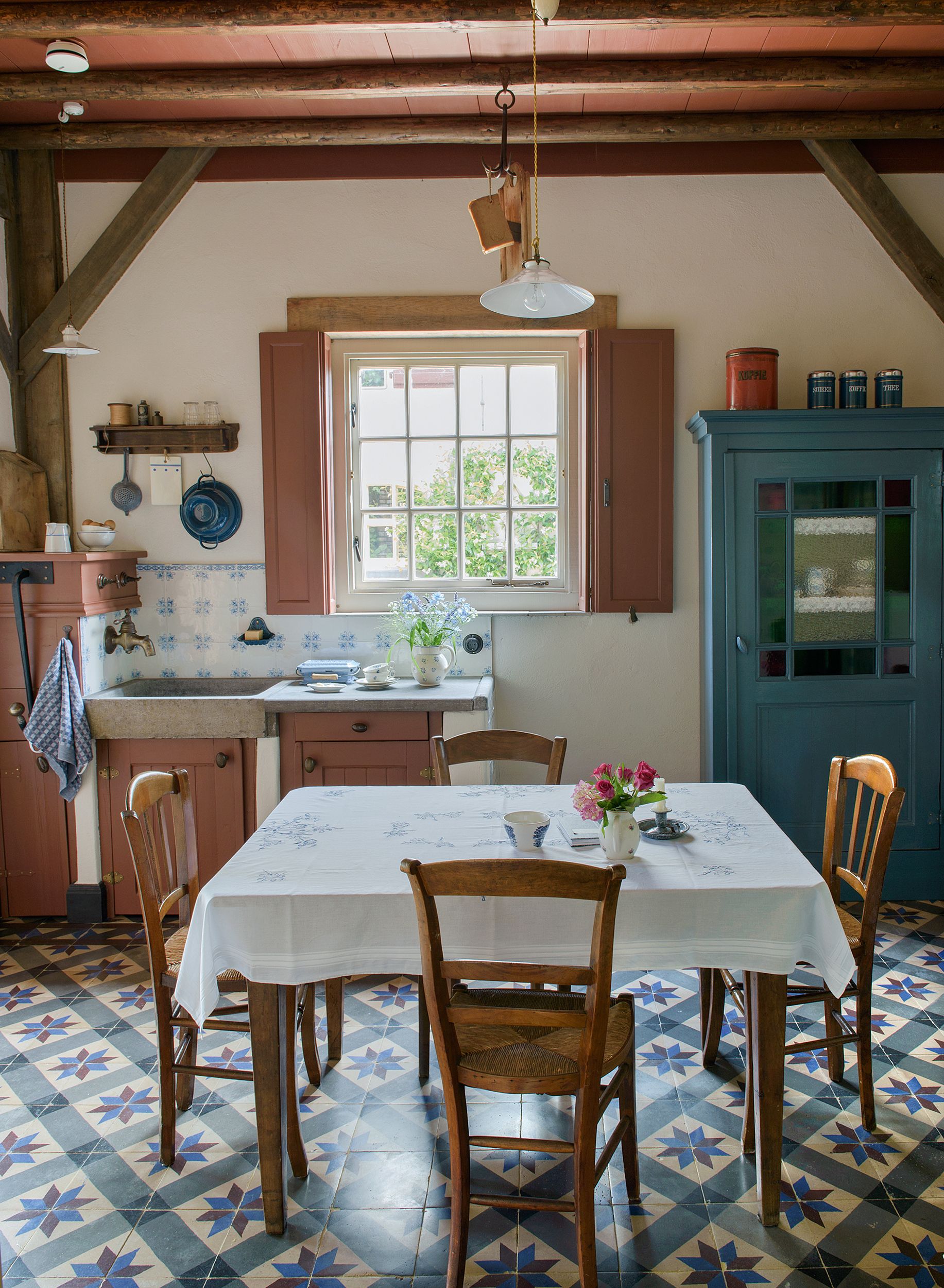 You'll notice a theme here, cottagecore is all about the neutrals, you can experiment with colour,  just make sure it's quite muted and natural. This teal blue is perfect, and we love how it's in lots of different elements of the room – the cabinet, the splashback tiles and the floor. You could paint furniture in your kitchen as a starting point for your new colour scheme and can even tile a splashback with new tiles yourself, just check out our guide.
2. Create a reading nook 
Old books are another thing we saw a lot of in our cottagecore research, the more weathered the better. And this little reading nook fits the aesthetic perfectly, the delicate window, lavender cushions and of course a yellowing book. If you aren't blessed with a window seat you could create the look by popping an old armchair (check out eBay for some gems) under a window and styling with a throw and some pastel cushions. 
For more reading nook ideas check out our feature. 
3. Style up your clutter
Clutter is no bad thing when it comes to cottagecore interiors, in fact the more stuff on show the better. No of course we aren't talking just any old stuff, clutter still has to be curated and each piece has to fit with the vibe. Have a rummage through charity shops and junk shops to find quirky, one off pieces that could sit on open shelves – anything chintz is good, vintage glass and patterned china will work too.
If you need more shelving ideas to get you inspired we have a whole feature for you to peruse. 
4. Keep the bedroom soft and neutral 
When it comes to creating a bedroom with cottagecore aesthetic, the softer the better. Layer up lots of slubby textures too and keep everything looking very lived in. You can get some of that 'clutter' we talked about in on the bedside table in the form of a bud vase with a sprig of lavender, again some nice books and a candle to add to that soft glow. 
For more bedroom ideas head to our feature. 
5. Create a cottagecore aesthetic in your garden
Nature is a big part of cottagecore, so bring some of that whimsical, natural vibe into your garden. Cottage gardens are supposed to look a bit haphazard, neglected even, so when planting let everything grow naturally and weave around each other. Throw down wild flower seeds in every empty space and stick to plants that have soft, pastel blooms – you'll be taking Instagrams of you lying in a wild flower meadow in no time.
For more tips on how to create a cottage garden head to our guide – and find more cottage garden ideas in our gallery. 
Read more: