For the aesthetically driven, the desire to find best duvet cover can kick off a massive search to find the perfect design that captures the look you're trying to create in your bedroom. It's the most visible piece of bedding, and thus makes a major impact on your bedroom's style.
We particularly love using duvet covers for being easy to care for and wash, as well as the ability to swap out as the seasons, or our taste change. They also protect your duvet, which doesn't need to be cleaned as frequently, which overall can help manage allergies, comfort, and keep your bedroom cleaner.
To help you create the perfect cloud bed of your dreams, first, we sleep-tested the best duvet inserts before rounding up the best covers to complement them. Every pick on our list is great in its own right, but we've also called out where each particularly shines, whether it'll add warmth to your bed, save you money, or contribute to your goal of creating an eco-friendly space.
Scroll on for our top picks, and if you want to invest even more in your bed, check out our guide to the best mattress.
Best duvet covers 2022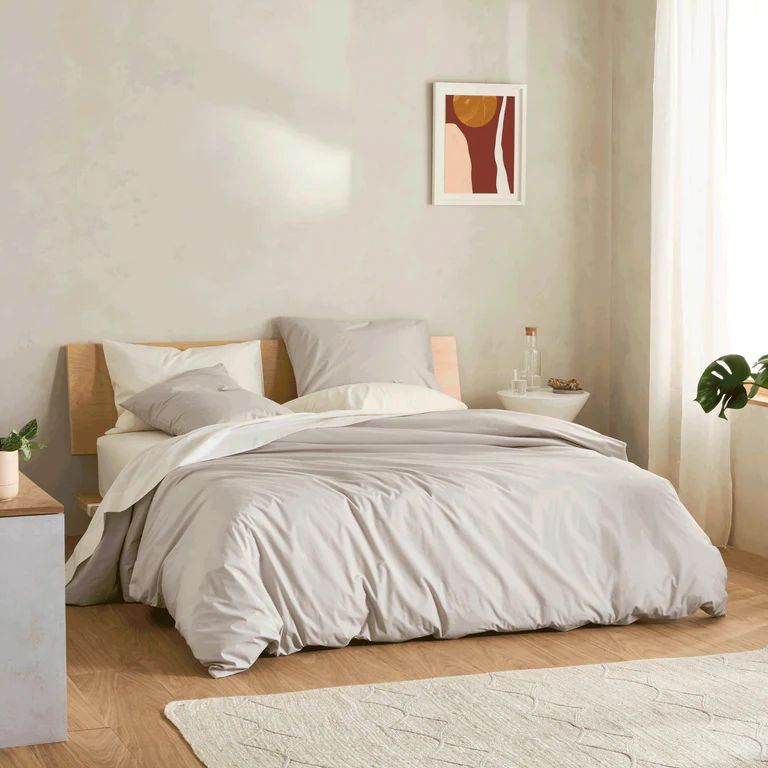 1. Brooklinen Luxe Duvet Cover
Best duvet cover overall
Sizes: Twin, full/queen, king, California king
Colors: 11
Material: OEKO-TEX Long Staple Cotton
Closure Type: Buttons
RRP: $149–$189
+ Soft, buttery feel
+ Sturdy, durable fabric
+ Lightweight
+ Stylish
- Can look wrinkled after wash
- Buttons can come unlatched
Matching our favorite bed sheets, this is a no-brainer choice for topping your bed. Stick to neutrals, or opt for one of the limited edition colors and prints for extra pizzazz. The sateen fabric has a subtle sheen that will give your bed a polished look. The material is deliciously soft and stays breathable, while also being a suitable year-round choice. Ties loop to your duvet insert, and enlarged button closures make securing the duvet a bit easier, except if you kick around in bed, as we found the buttons can come undone.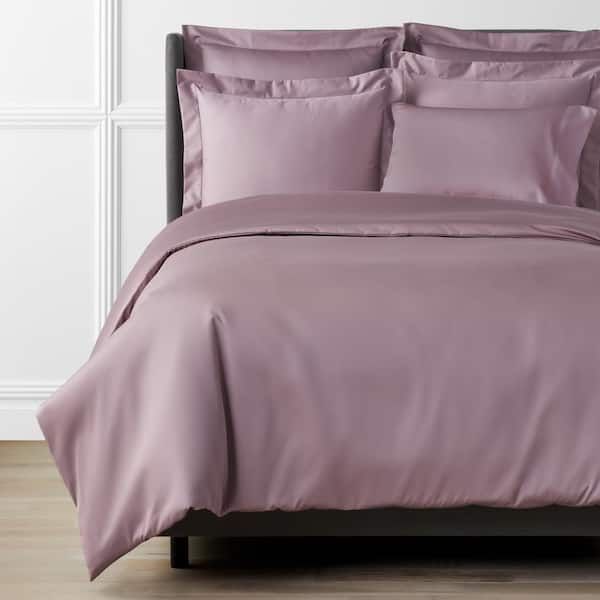 (opens in new tab)
2. Legends Hotel Wrinkle-Free Sateen
Best wrinkle-free duvet cover
Sizes: Twin, full, queen, king
Colors: 23
Material: long-staple Supima® cotton
Closure Type: Buttons
RRP: $109–$289
+ Soft, silky feel
+ Doesn't wrinkle
+ Lots of colors and prints
+ Can be monogrammed for an extra fee
- May pill/get linty
The Company's Store "Wrinkle-Free" Sateen Duvet cover is one of the few covers that resists wrinkles, from both daily use and fresh from the wash. Made of Supima cotton, grown in the US, the final result is a silky, smooth sateen with a soft 450-thread count construction. It's available in tons of colors, and in seasonal prints that can be mixed and matched, as everything is sold separately. Our bed always looks crisp and put together, though out of the packaging, some lines from where it was tightly folded could be seen, but loosened in the wash. We've also noticed that the fabric can get a little linty, observing a slight fuzz layer, with another reviewer noting pet hair clung to her duvet. The responsive customer service – they comment on every posted review – suggest Bounce Pet Hair and Lint to keep that from happening.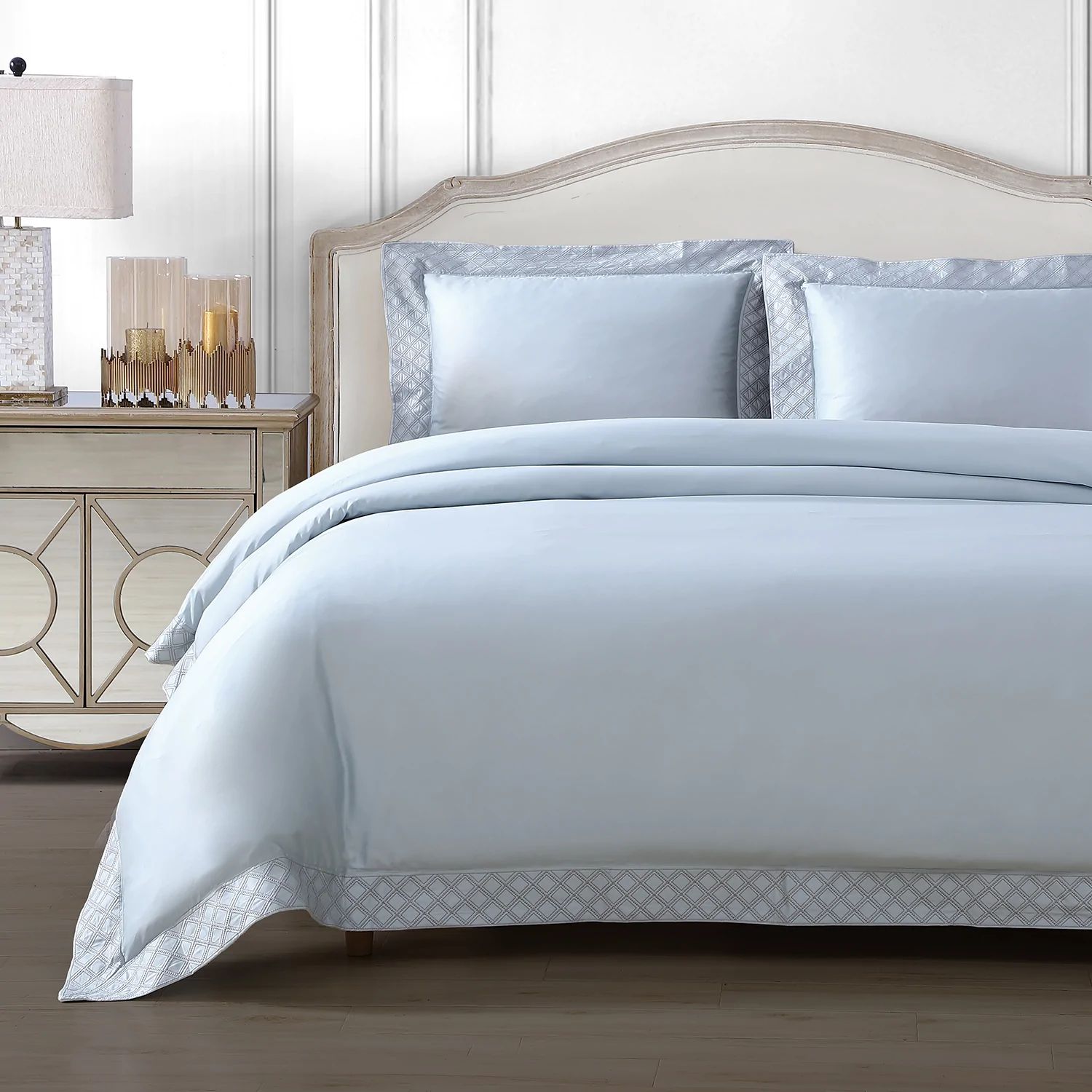 (opens in new tab)
3. Pure Parima Hotel Collection Hira Sateen Set
An elegant duvet cover with a hint of detail
Sizes: Full/queen, king/California king
Colors: 9
Material: OEKO-TEX Egyptian cotton
Closure Type: Zipper
RRP: $250–$275
+ Includes shams
+ Beautiful border embroidery
+ Lightweight
- Oversized flange on shams is floppy
- No twin size
For an immediate luxe upgrade, from the giftable packaging and unboxing to the overall fuss-free zipper closure, Pure Parima is a name you'll want to remember. Specializing in Egyptian cotton that has been certified, it's soft and breathable and feels incredibly high-end. The end result of the spinning process is extra-long staple fibers that are stronger and smoother than another cotton. The beautiful embroidery with a boxy diamond design has a 3.5" flange is incredibly striking. However, the flange on the accompanying shams was kind of floppy and didn't sit straight. They're oversized, so I'm curious if my pillows were not plump enough to stand out. Also, the border is one-sided, so I had to muster a new folding method, that's different from how I typically fold over my duvet to showcase the border at the top of my bed. Regardless, my guest bedroom is now forever upgraded with this luxe, inviting set.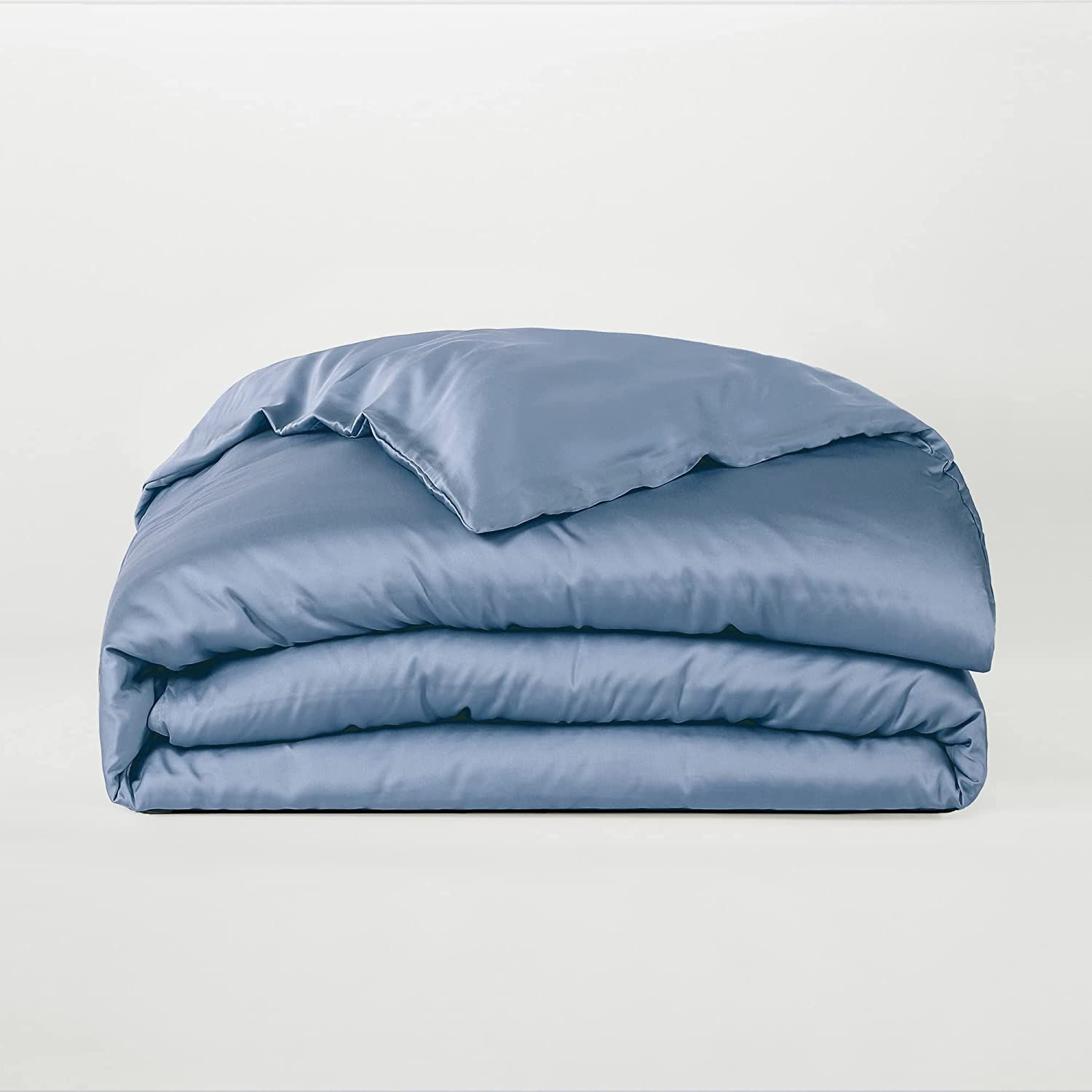 (opens in new tab)
4. Sijo AiryWeight Eucalyptus Duvet Cover
Best cooling duvet cover
Sizes: Twin, full/queen, king/California king
Colors: 6
Material: OEKO-TEX tencel lyocell
Closure Type: Buttons
RRP: $105–$155
+ Soft, silky feel
+ Cool to the touch
+ Bacteria-resistant and antimicrobial
+ Corner ties have snaps to stay in place
- Limited color options
If you're prone to sleeping hot, we'll let you in on our favorite cooling fabric: tencel lyocell, aka eucalyptus. Sijo's duvet cover has a stunning luster and a silky, smooth finish that sleeps cool. The fabric is also naturally moisture-wicking as well as antibacterial, antimicrobial, and hypoallergenic. It's also particularly gentle on skin and hair. This duvet is literally beauty-sleep in a bedspread. It's easy to care for too: launders beautifully and has smart snaps at the corner ties that will keep your insert secure.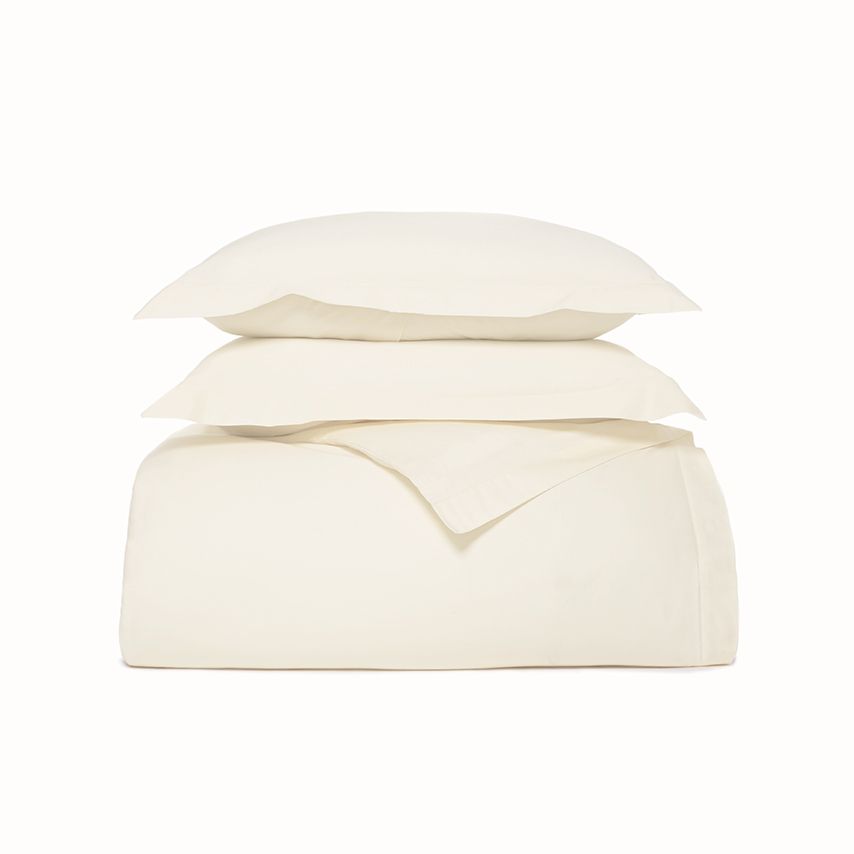 5. Boll & Branch Signature Hemmed Duvet Set
Best organic duvet cover
Sizes: Full/queen, king/California king
Colors: 7
Material: Organic cotton
Closure Type: Zipper
RRP: $328–$358
+ Soft, buttery feel
+ High, quality long-staple organic cotton
+ Simple and decorative options available
- No twin size
- Duvet may shrink down after first few washes
- Wrinkles
All of Boll & Branch's offerings are organic, so nothing is off-limits if you're looking for a brand that aligns with your ethics. They work with family-owned farms and factories to ensure traceability, and use independent organizations to certify their fabrics as GOTS Certified Organic Cotton and STANDARD 100 by OEKO-TEX. While you can opt for the signature sateen offering, you can elevate the look further with decorative details like color blocking, embroidery, or eyelet trim. Boll & Branch's sateen gets softer with use and has a zipper on the duvet and shams to ensure your insert stays in place. The duvet comes slightly oversized, and it is perfectly normal for the duvet to shrink slightly during the wash and dry cycles since no chemical sizing agents (like formaldehyde) were used to pre-shrink the final product. It's also prone to wrinkling, which is common on any pure cotton product.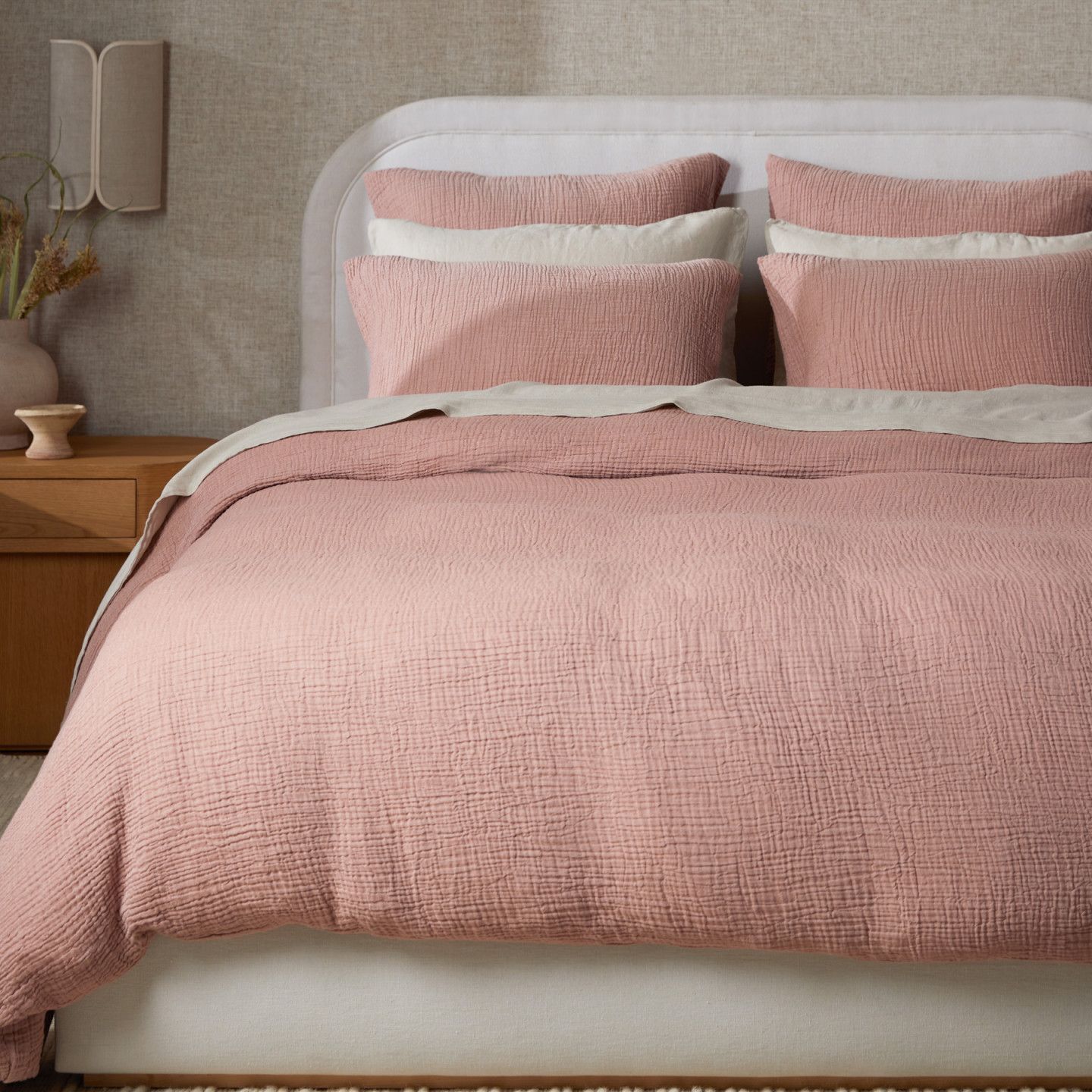 6. Parachute Cloud Cotton Duvet Cover Set
Best textured duvet cover
Sizes: Full/queen, king/California king
Colors: 3
Material: Long staple Turkish cotton
Closure Type: Buttons
RRP: $279–$309
+ Soft, and airy
+ Lightweight
- Limited color options
- Can snag
Texture immediately adds immense dimension to your bed, and we love the look and feel of Parachute's signature Cloud Cotton. It has a four-ply gauze fabrication made of 100% long-staple Turkish cotton for a fluffy look that's so soft to the touch. If you find yourself wanting to literally wrap yourself in the material, there is a coordinating robe option. Perhaps keep pets and any sharp objects away, however, because the delicate material is prone to snag. The duvet cover comes in moss, clay, and ivory, but it's also available in more colorways as a quilt, so we're curious as to why the limited color offerings for the duvet. The duvet has twill ties to attach to your insert. The matching shams have a tailored look with a neat envelope-style closure.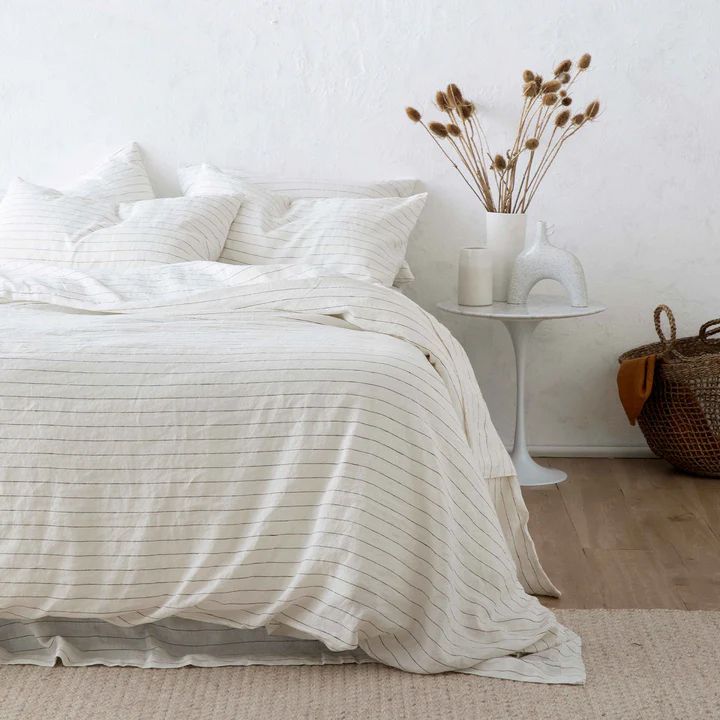 7. Cultiver Linen Duvet Cover Set
Best linen duvet cover
Sizes: Twin, queen, king, California king
Colors: 18
Material: European flax
Closure Type: Buttons
RRP: $250–$375
+ Soft enough to use straight out of the packaging
+ Tons of colors, and a piped border design offering
+ Sustainably made in Australia
- Sheds a bit and produces lots of lint
- Can fade when exposed to sunlight for long periods of time
Along the same lines of our favorite linen sheets, we'd coordinate with the matching duvet. Lightweight and breathable, Cultiver takes its comfort factor to the next level by pre-washing all its linen with natural enzymes to speed up the softening process and a mid-weight 165 GSM that makes it comfortable all year long. Plus, Cultiver's linen duvet is made with eco-friendly flax crops. Of course, this duvet cover looks just as good as it feels. Since linen wrinkles, and the relaxed look is part of its appeal, you won't have to worry about ironing this cover whenever you wash it. With a large selection of colors, this cover has a shade for just about everyone and a design with piping for a tailored look. A buttoned closure gives this cover an effortless edge.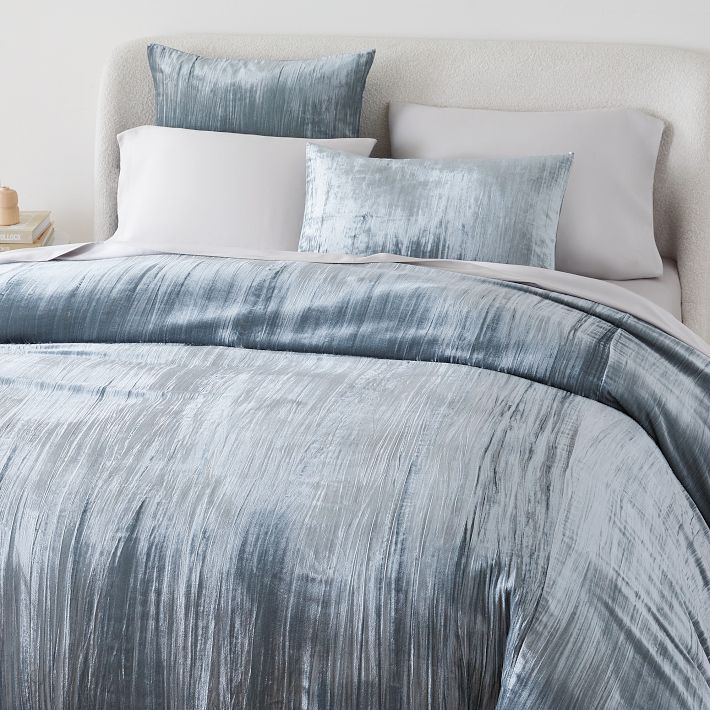 (opens in new tab)
8. West Elm Crinkle Velvet Duvet Cover
Best velvet duvet cover
Sizes: Twin, full/queen, king/California king
Colors: 11
Material: Viscose/nylon, cotton
Closure Type: Buttons
RRP: $210–$320
+ Illustrious velvet
+ Option to buy as set or individually
+ Fair Trade Certified
- Seasonal
- Dry Clean Only
As we start thinking about cozier weather, there's little more luxurious than a velvet bedspread. The crushed velvet feels decidedly decadent, in a range of colors from a wintery white to rich gemtones. While the outer shines in its velvety glory, the bottom layer uses comfy cotton to keep you from overheating. Not only does this duvet look gorgeous, it's ethically created in a Fair Trade Certified factory as well as STANDARD 100 by OEKO-TEX® Certified. Though to maintain the crinkle look, you will need to skip the washing machine and take to your dry cleaners.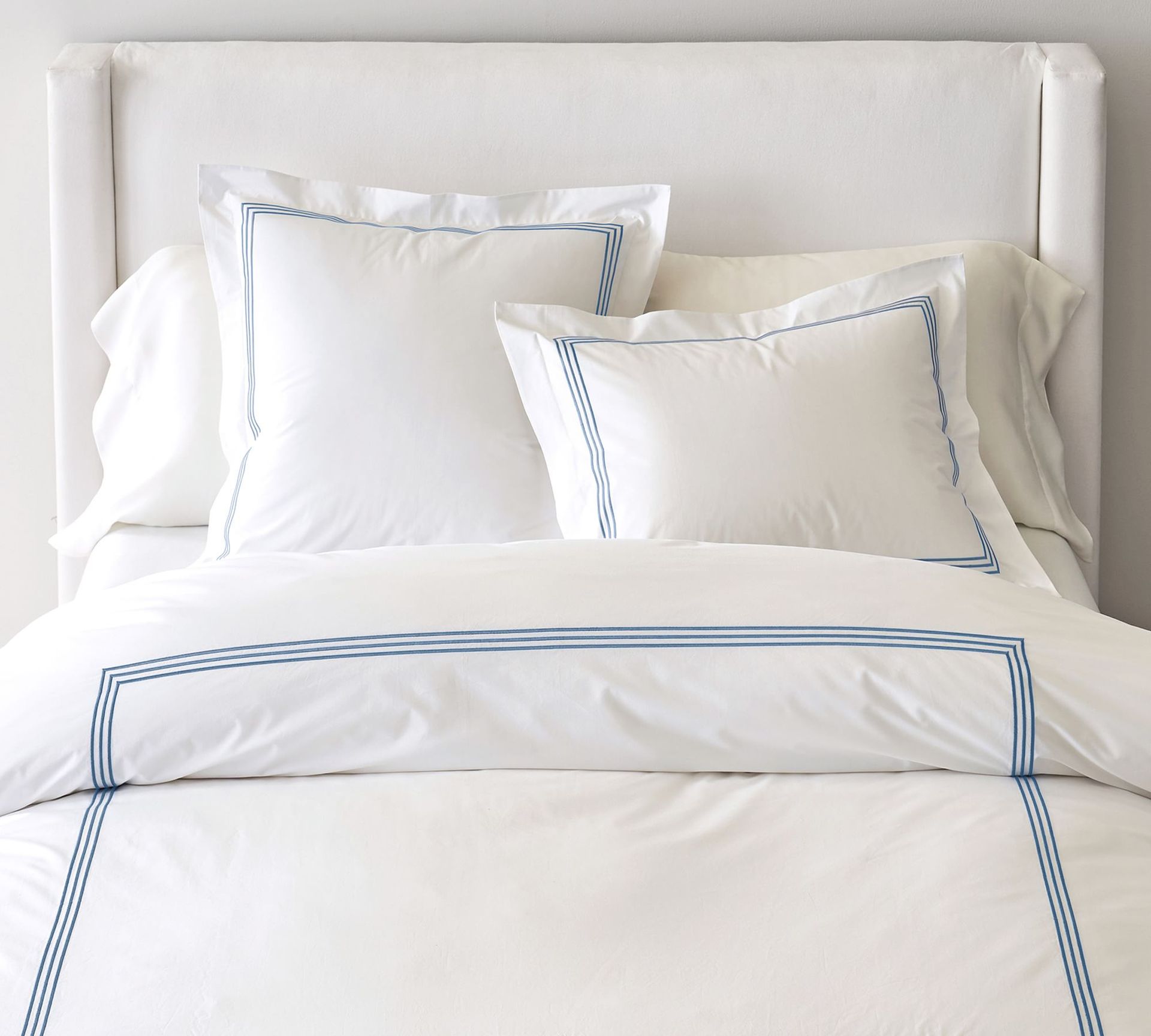 (opens in new tab)
9. Pottery Barn Grand Organic Percale Duvet Cover
Best hotel-style duvet cover
Sizes: Full/queen, king/California king
Colors: 9
Material: OEKO-TEX 100% organic cotton percale.
Closure Type: Buttons
RRP: $149–$179
+ Crisp, cool organic cotton
+ Sturdy, durable fabric
+ Stylish
- No twin size
- Wrinkles
Turn your bedroom into the 5-star resort you've been dreaming about, but on your own accord with one of nine embroidery colors to choose from with a crisp white organic percale. The triple lines of satin-stitched embroidery are an elegant detail. Plus it can be monogramed to further customize your bedding.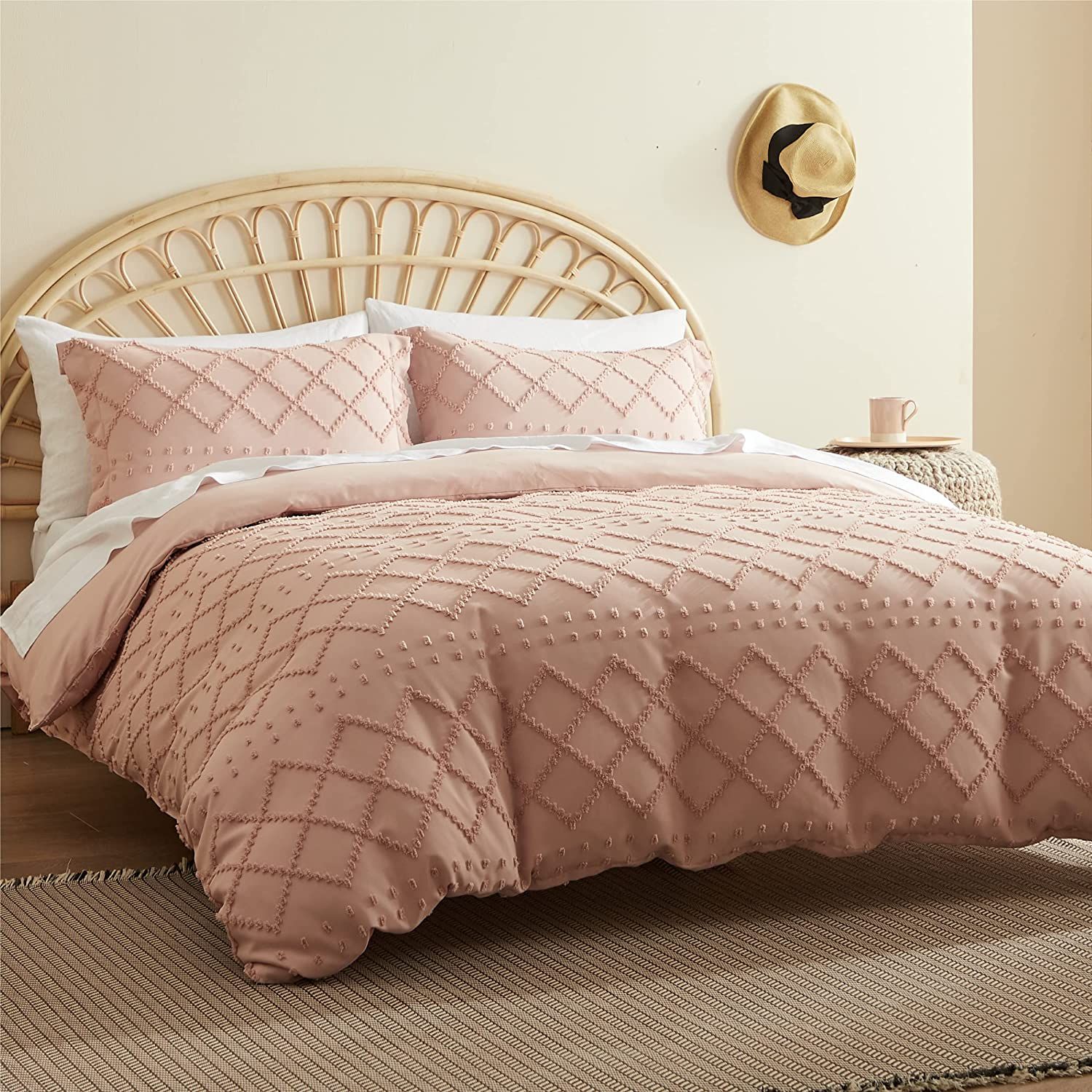 10. Bedsure Boho Bedding Duvet Set
Best boho duvet cover
Sizes: Twin, queen, king
Colors: 11
Material: Microfiber
Closure Type: Zipper
RRP: $40–$52
+ Stylish and aesthetic
+ Tufted design adds a nice texture
+ Doesn't wrinkle
- Pills
- Material is thin and not particularly soft
Affordability and style are not mutually exclusive when you bring Bedsure's Boho bedding to the mix. The geometric tufted design adds a visual pop to your bed, and it's available in 11
colors to best fit your desired color scheme. The microfiber fabric is also pretty easy to care for, as it's machine washable and doesn't wrinkle. It has ties throughout the duvet to keep inserts in place, and the easy zipper design ensures your duvet insert will never spill out. Now, reviewers mentioned it pills over time and the material is quite thin, some noting that the top part isn't as soft as they expected, so it may not last for the long haul, but this could be good budget bedding for a dorm or guest space.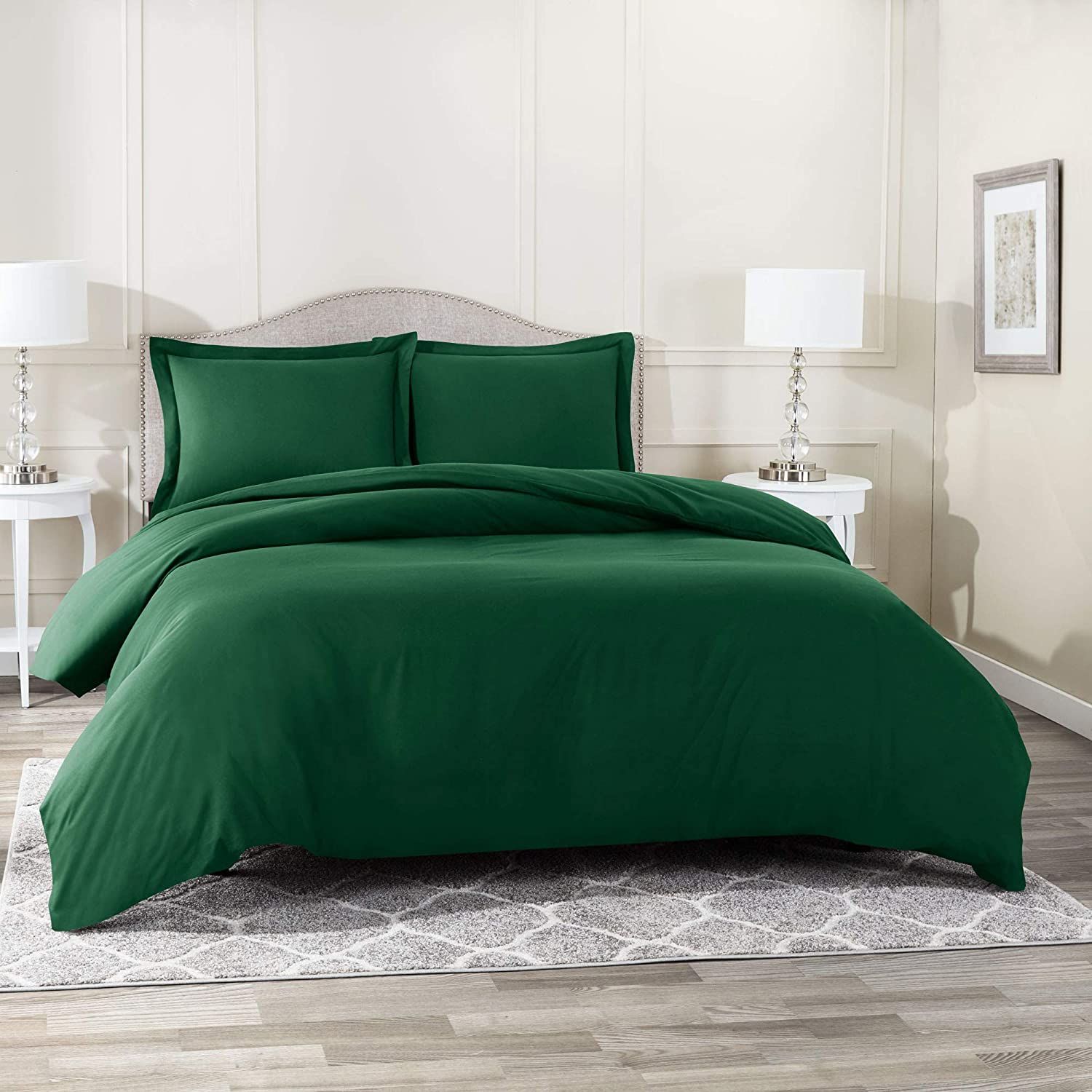 11. Nestl Bedding Duvet Cover 3 Piece Set
Best duvet cover on a budget
Sizes: Twin, full, queen, king, California king
Colors: 45
Material: Microfiber
Closure Type: Buttons
RRP: $$36.99–$45.99
+ Affordable
+ Lightweight and breathable
+ Cool to the touch
+ Includes shams
- Will need to be replaced sooner
It's no wonder why this layer has over 55,000 5-star reviews on Amazon, 4.4/5 rating, and an "Amazon's Choice" badge. The Nestl Bedding's hotel collection (opens in new tab) is the perfect intersection of quality and affordability, made with a high-quality microfiber fabric that's brushed on both sides. The microfiber material is also lightweight, breathable, and cool to the touch, but still perfectly cozy. Nestl Bedding claims its duvet cover is fade, shrink, wrinkle, and odor-resistant. Not to mention, it's available in nearly every color under the sun, and comes with two coordinating pillow shams to give your bed a complete look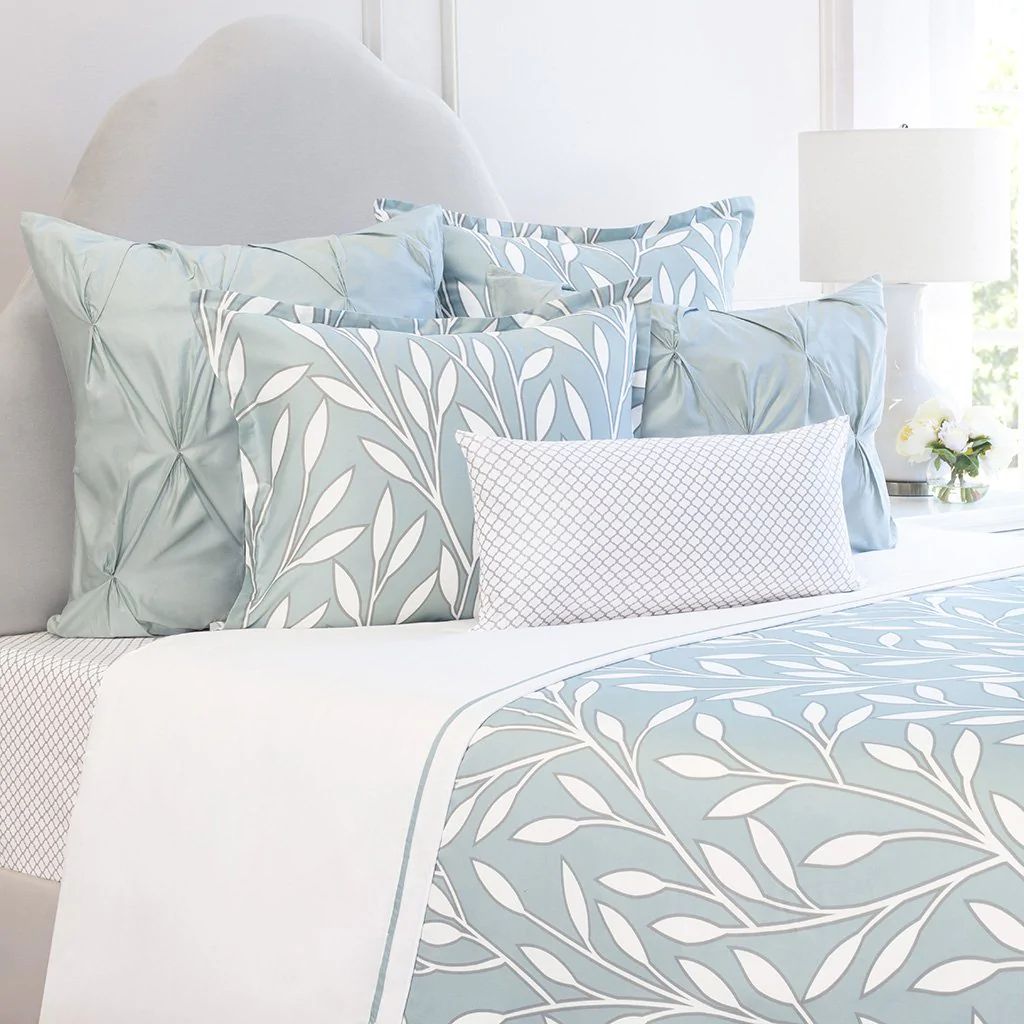 (opens in new tab)
12. Crane & Canopy Nova Duvet
It's actually easy to make the bed with this duvet cover
Sizes: Twin, full/queen, king/California king
Colors: Tons
Material: Long staple cotton
Closure Type: Zipper
RRP: $119–$199
+ Two-tone design mimics top sheet
+ Zipper placement is easy to reach in the center of the duvet
+ Tons of colors and prints
+ Also available in a classic duvet style
- Some prints feel a little dated
Crane & Canopy's proprietary Nova design solves two issues people tend to have with making the bed. It's easier than ever to put on, with corner ties that stay secure and a zipper enclosure tucked away here in the middle of the bed, making it easy to take on and off. For those who also prefer skipping out on the top sheet, the two-tone design mimics a sheet with a pretty coordinating hem detail, that makes your bed look put together with minimal effort. In fact, Crane & Canopy claims its Nova duvet cover can create a perfectly made bed in 80 percent less time. It's available in a large selection of prints and colors to match your decor, but note the selection skews more traditional than modern.
How to choose a duvet cover
With so many brands, materials, and price point to choose from, finding the right duvet cover for your lifestyle can be easier said than done.
Fabric: The average person spends about a third of their life in bed, so the last thing you want to do is spend all that precious time with scratchy sheets. But not only does a fabric impact the overall feel of your duvet cover, but it also contributes to how warm your bed feels.
Lightweight fabrics like linen are perfect for warm sleepers, while heavier materials such as flannel or cashmere will make your bed extra toasty. Looking for a fabric you can enjoy year-round? Try percale or sateen. While both materials are made with cotton, percale is generally known for being crisp and breathable whereas sateen has a buttery-soft feel and sheeny finish.
Certifications: How your duvet cover is made is just as important as its materials. When shopping for your duvet cover, it's important to look for special certifications. For example, allergy-prone people should look for a hypoallergenic duvet cover. If you're on the hunt for a sustainable style, keep your eye out for pieces that are fair trade, REACH-compliant, and OEKO-TEKcertified.
Closure: No matter how clean you keep your bed, everyone will have to wash their duvet cover. Before you purchase a duvet cover, ask yourself how easy it is to take on and off. Is the insert hole large enough to fit your duvet? Do you prefer a zip or button closure? And, most important, are there four ties at the corners to keep your duvet in place? Once you answer these questions, you're yet another step closer to finding your dream duvet cover.

Care: Most duvet covers are machine washable, but once you add on embroidery, embellishments, or specialty fabrics, note these may be dry clean only. And while it's not uncommon for your cotton duvet covers to come wrinkly out of the wash, we've found the best hack to get wrinkles out of the duvet cover, and it even doesn't require an iron.
When to replace your duvet cover
As the saying goes, nothing lasts forever – and your duvet cover is no exception. While a duvet cover can help prolong the life of your blanket, it's not immune to wear and tear. We recommend replacing your duvet every five years. While you're at it, why not get a new duvet cover to match? That said, duvet covers don't have expiration date. If your duvet cover has obvious wear and tear before the five-year mark, it's in your best interest to replace it before it's on its last legs. Don't worry: when the time comes to replace your duvet cover, you have some great options waiting to be added to your e-cart.