This is your lazy-girl guide to upgrading your bedroom so it looks Instagram-worthy and feels even better when you crawl into bed for the night. Remember how nice that hotel you stayed at was? Or how lovely it was visiting your friend who only invests in luxury linens? Our point: Great bedding is a game-changer. You can ask any design or sleep expert and they'll tell you duvet covers are a worthwhile addition to your bedroom.
We do understand that recreating that a five-star hotel look and feel at home can seem spendy. Egyptian cotton and high thread counts cost a lot, don't they? Thankfully, you don't have to overspend for the best duvet sets. In fact, there are plenty of covers in a range of materials that work for all budgets. It's all about finding the right set for you.
We've tried them all, so you don't have to. Our team members (who have varying design styles and sleep preferences) have all slept under these options. After testing, we found the prettiest duvet covers — from percale to linen — to upgrade your bed in an instant.
While you're in the market for fresh bedding, why not get a new duvet too? Take a look at our best duvets buying guide.
Best duvet covers 2023
Why you can trust Real Homes Our expert reviewers spend hours testing and comparing products and services so you can choose the best for you. Find out more about how we test.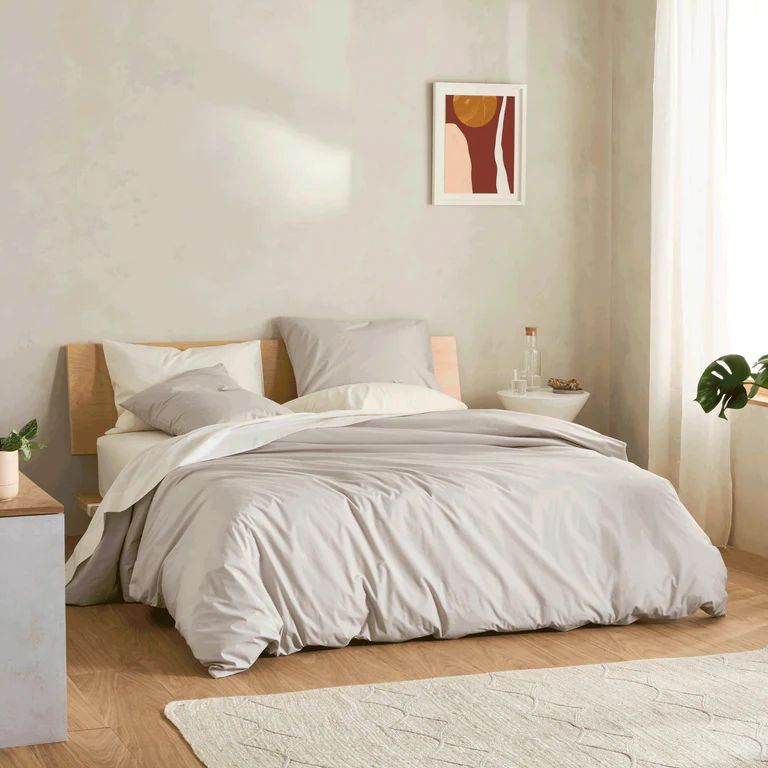 1. Brooklinen Luxe Duvet Cover
Our favorite duvet cover
Material: 100% long staple cotton
Sizes: Twin, full/queen, king, California king
OEKO-TEX or GOTS certified: Yes
+ Soft, buttery feel
+ Stylish and durable
- Needs ironing after washing
Matching our favorite bed sheets, this is a no-brainer choice for topping your bed. Stick to neutrals or opt for one of the limited edition colors and prints for extra pizzazz. The sateen fabric has a subtle sheen that will give your bed a polished look. The material is deliciously soft and stays breathable, while also being a suitable year-round choice.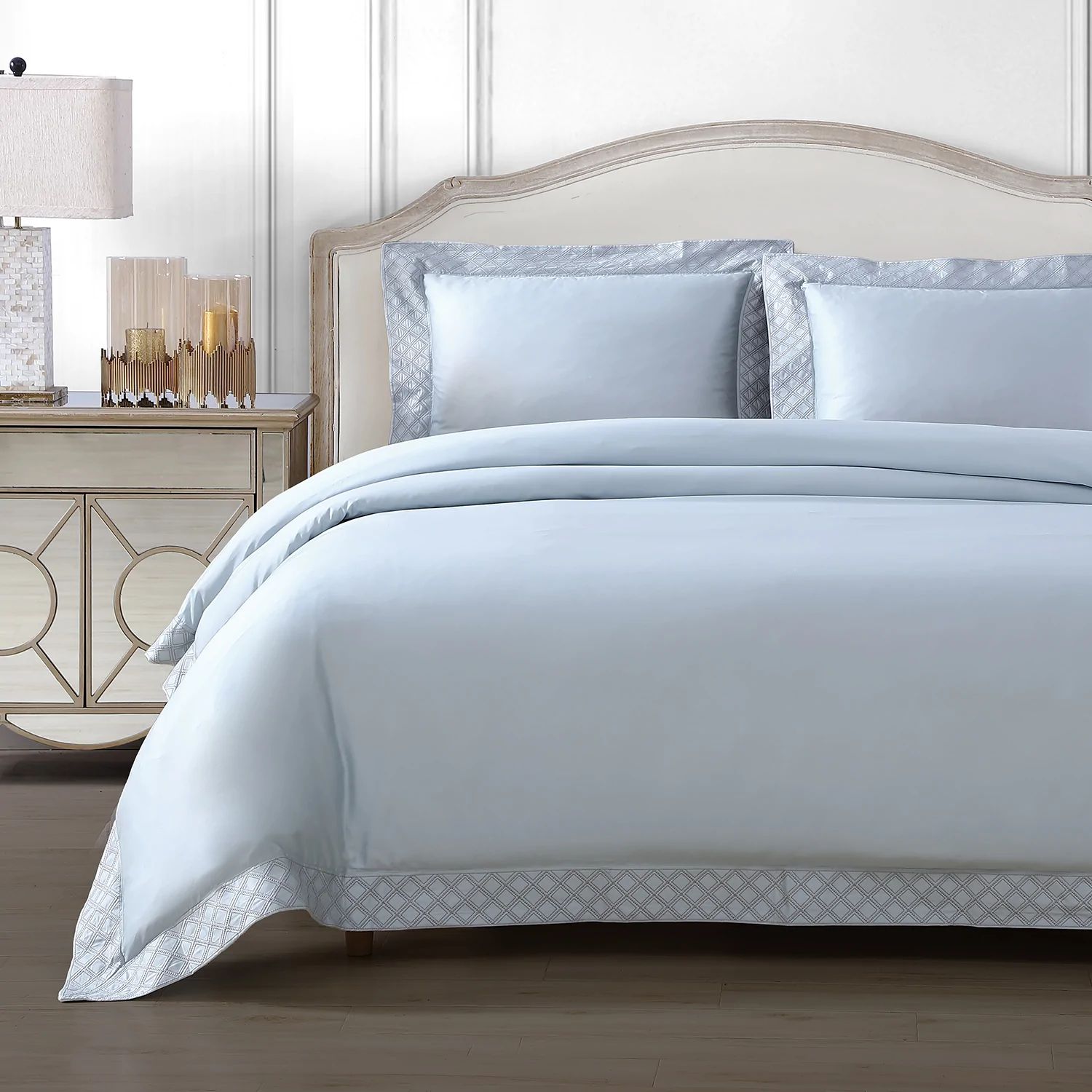 (opens in new tab)
2. Pure Parima Hotel Collection Hira Sateen Set
Best Egyptian cotton duvet cover
Material: Egyptian cotton
Sizes: Full/queen, king/California king
OEKO-TEX or GOTS certified: Yes
+ Includes shams
+ Beautiful border embroidery
- More expensive
For an immediate luxe upgrade, Pure Parima is a name you'll want to remember. From the giftable packaging to the unboxing to the overall fuss-free zipper closure, it's a top-tier pick. Specializing in certified Egyptian cotton, the brand has created a soft and breathable cover that feels incredibly high-end. Our reviewer's guest bedroom is now forever upgraded with this inviting set fit with a pretty embroidered border.
3. Boll & Branch Signature Hemmed Duvet Set
Best organic duvet cover
Material: 100% organic cotton
Sizes: Full/queen, king/California king
OEKO-TEX or GOTS certified: Yes
+ Soft, buttery feel
+ High, quality long-staple organic cotton
- Quite expensive
All of Boll & Branch's offerings are organic, so nothing is off-limits if you're looking for a brand that aligns with your ethics. While you can opt for the signature sateen offering, you can elevate the look further with decorative details like color-blocking prints, embroidery, or an eyelet trim. What we really love is that this sateen gets EVEN softer after washing and has a zipper to ensure your insert stays in place.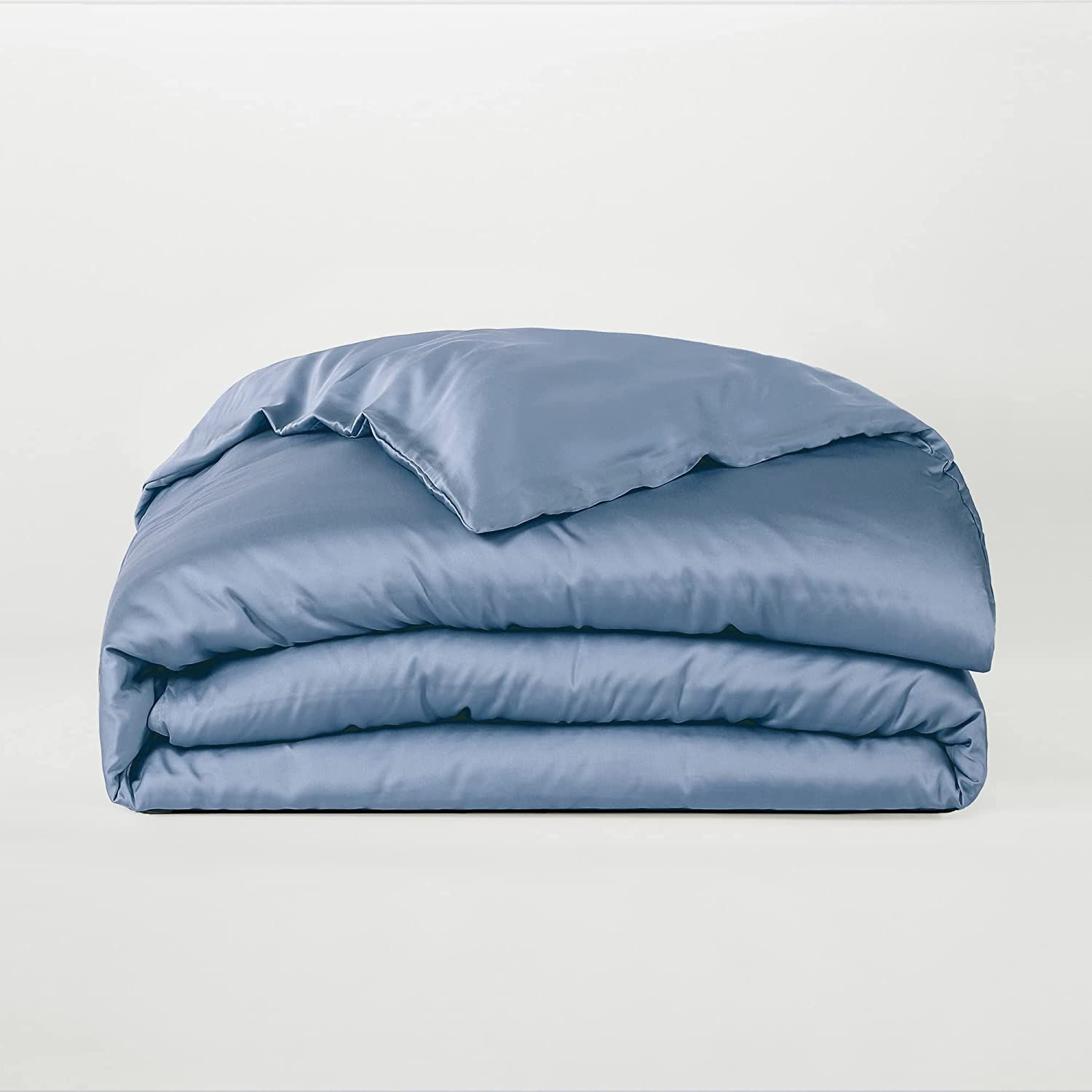 (opens in new tab)
4. Sijo AiryWeight Eucalyptus Duvet Cover
Best eco-friendly duvet cover
Material: Tencel lyocell (eucalyptus)
Sizes: Twin, full/queen, king/California king
OEKO-TEX or GOTS certified: Yes

+ Great eco-credentials
+ Cool to the touch
- Limited color options
If you're prone to sleeping hot, we'll let you in on one of our favorite eco-friendly fabrics: Tencel lyocell, aka eucalyptus. Sijo's duvet cover has a stunning luster and a silky, smooth finish that sleeps cool. The fabric is also naturally moisture-wicking as well as antibacterial, antimicrobial, and hypoallergenic — literally beauty-sleep in a bedspread. It launders beautifully, too.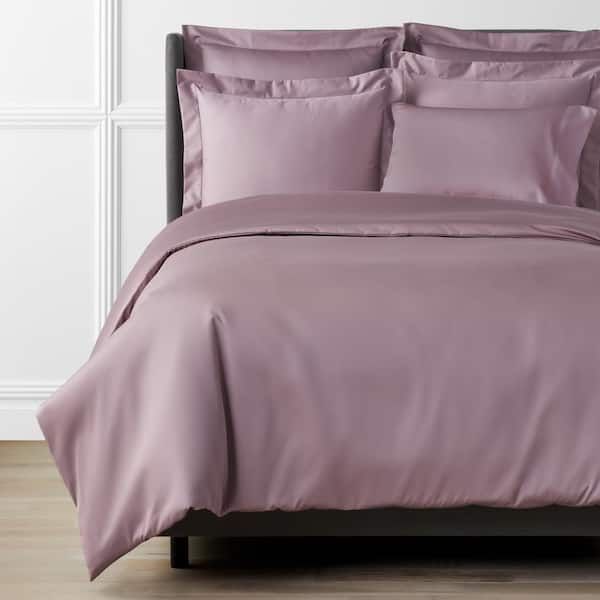 (opens in new tab)
5. Legends Hotel Wrinkle-Free Sateen
Best wrinkle-free duvet cover
Material: Long-staple Supima cotton
Sizes: Twin, full, queen, king
OEKO-TEX or GOTS certified: Yes
+ Soft, silky feel
+ Lots of colors and prints
- More expensive
The Company's Store "Wrinkle-Free" Sateen Duvet cover is one of the few covers that resists crinkling, from both daily use and fresh from the wash. It's available in tons of colors and in seasonal prints that can be mixed and matched, as everything is sold separately. Our bed always looks crisp and put together, though it is more of an investment.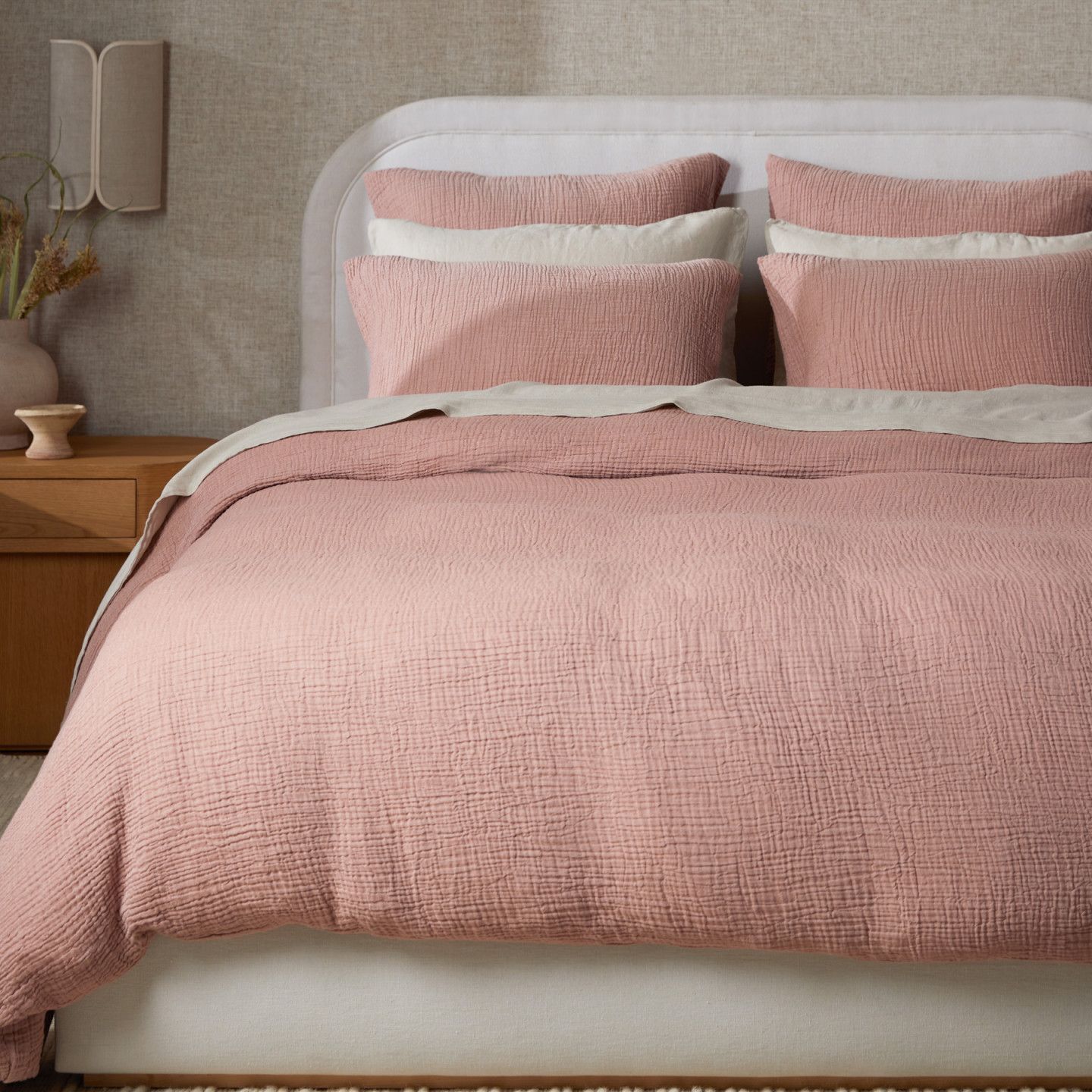 6. Parachute Cloud Cotton Duvet Cover Set
Best textured duvet cover
Material: 100% Turkish cotton
Sizes: Full/queen, king/California king
OEKO-TEX or GOTS certified: Yes
+ Soft and airy
+ Subtly stylish
- Prone to snag
Texture immediately adds dimension to your bed, and we love the look and feel of Parachute's signature Cloud Cotton. This pink is to die for. It has a four-ply gauze fabrication for a fluffy look that's so soft to the touch — duvet days are a must! Keep pets and any sharp objects away from the bedding, however, because the delicate material is prone to snagging.
7. Piglet in Bed Luna Stripe Bedtime Bundle
Best linen bedding set
Material: 100% linen
Sizes: Double, king, super king
OEKO-TEX or GOTS certified: Yes
+ Classic and striped
+ Easy to care for linen
- An investment
This Piglet in Bed duvet cover is the one I just can't get enough of. I reach for it more than the rest of my bedding sets, which is no surprise given great quality linen sheets can do wonders for your sleep. Slip into these striped sheets and you'll be off to dreamland in no time — I know I was! It washed great and gets softer every time, too. More so, I love the look of these sheets. Classic, timeless, and totally worth the spend.
(opens in new tab)
8. West Elm Crinkle Velvet Duvet Cover
Best velvet duvet cover
Material: Viscose/nylon, cotton
Sizes: Twin, full/queen, king/California king
OEKO-TEX or GOTS certified: Yes
+ Cozy and chic
+ Option to buy as set or individually
- Dry clean only
When it's the kind of weather that makes you want to get cozy stat, there's nothing more luxurious than a velvet bedspread. This one comes in a range of colors from wintery white to rich green. While the outer shines in its velvety glory, the bottom layer is made of comfy cotton to keep you warm but overheated. Though to maintain the crinkle look, you will need to skip the washing machine and take it to your dry cleaners.
9. The White Company Essentials Bed linen
The best white duvet covers
Material: 100% pre-washed hemp
Sizes: Single, double, king, super king
OEKO-TEX or GOTS certified: Yes
+ Classic and chic
+ Affordable luxury
- Only one color option
Nothing says affordable luxury more than white Egyptian cotton sheets that won't cost you a fortune. Often assumed to be the most expensive on the market, The White Company offers its Essentials Egyptian Cotton range at a super affordable price. They're finely crafted from 200 thread count cotton and feel crisp to the touch, talk about hotel standard. These are sheets fit for a queen.
---
Real Homes reviews process
Slept under by more than one member of our team, these duvet covers have been tested by different sleepers with different needs — from those who overheat to those who find themselves in need of additional heat. Used for several nights, and where possible, during a variety of weather conditions, we've got a good idea of which duvet works best in each season. We've put them in the washing machine more than once, and dried, tumble dried, and stored away to mimic everyday use. This is an updated guide, and some bedding sets have remained in their place as top-rated picks, but you might want to check back to see how long they last.
Here are some comments from the team, about the duvet covers they reviewed as best:
Jaclyn, our previous sleep editor and now ecommerce editor at Homes & Gardens, knows her stuff when it comes to great bedding. She's tested some of the best mattress, duvets, comforters, and more. When it comes to duvet covers, she's tried, tested, and recommended only the best. Her favorite?
The Brooklinen bedding set (opens in new tab), of course.
Louise is our go-to for sleep content. She's tested plenty of bedding sets and loves the Piglet in bed linen set (opens in new tab) since it's suitable for all year round. "My bedroom needed a little something extra since it's relatively plain with not a lot of decor (yet). The subtle stripes add an element of interest without overdoing it. Oh, and I'm just obsessed with how soft the linen is, not like some other scratchy sheets I've come across."
How to choose a duvet cover
Choosing the best duvet cover and bedding sets for you is essential to getting a great night's sleep, and for your bedroom to look beautiful. Before buying your next fresh set, it's important to consider a few things:
Material
It's worth noting that the best material for bedding is often considered a matter of personal opinion. We spoke with experts at Soak&Sleep (opens in new tab) who suggested that your usual temperature at night is a good starting point for figuring out what kind of fabric will suit you and determining what kind of maintenance you want to deal with.
To help find what fabric is best for you, here's a breakdown of the best material options to choose from:
Linen: a good choice for hot sleepers, linen has a loose weave that releases heat and moisture as you sleep. The slubby texture means it doesn't feel cold to the touch either, making it a great material to last you all year round. Plus, the nature of linen means it often doesn't need ironing.
Cotton percale: Woven with one thread over, one thread under, percale has a cool, crisp quality that is perfect for summer months. Percale is often used on hotel beds and is usually the closest to that of a luxury boutique feel.
Washed or brushed cotton: Considered the softest bedding material, washed or brushed cotton is perfect for keeping you cosy during cold nights. Washed cotton goes through a pre-washed process that helps it avoid that "fresh out of the packet" stiffness. Brushed cotton, on the other hand, is when the bedding is treated with a coating that gives it a soft, brushed feel.
Egyptian cotton: Luxurious by name and luxurious by feel, Egyptian cotton bedding is known for adding opulence to any bed. Fabrics made from Egyptian cotton tend to be softer, finer, and longer lasting than other cotton variants, due to a tighter, stronger weave. So there's no surprise it usually sits at a higher price point.
Bamboo or hemp: Heralded as eco-friendly alternatives to cotton, the manufacturing process of bamboo and hemp fabrics makes them great sustainable options. Less structured than cotton or linen, they will fall around contours and cling to the corners of your bed.
How to care for your bedding
Changing, washing, drying, putting it on, and storing it away, there's a certain way to do things if you want your bedding to last. We can't save poor quality duvets from coming out creased or bobbled in the wash, but if you invest in the best there are a few ways to keep your duvet looking its best:
Wash weekly: ideally more for pillow cases, but we know most people don't have time to do that.
Follow the label: Don't stray from the washing instructions. Most bedding can be washed on your washer's medium temperature setting, though you can wash lower if you use a good laundry disinfectant. A hot wash or above is best for killing bacteria, though.
Allow to dry fully: Never put damp bedding away. Air well or tumble dry until fully dry.
When is the best time to replace a duvet cover?
As the saying goes, nothing lasts forever, and your duvet cover is no exception. While a duvet cover can help prolong the life of your blanket, it's not immune to wear and tear. We recommend replacing your duvet every five years. While you're at it, why not get a new duvet cover to match? That said, duvet covers don't have expiration date. If your duvet cover has obvious wear and tear before the five-year mark, it's in your best interest to replace it before it's on its last legs.
What is Oeko-Tex certification?
Oeko-Tex certification guarantees that no harmful toxins and chemicals were used during the manufacturing process. It is recommended that you choose bedding from manufacturers that hold standard Oeko-Tex certification, especially for anyone who suffers from sensitive skin or allergies.
What brand is best for bedding?
If you want a round-up of all the best places to shop for sleep products then our guide to the best bedding brands will point you in the right direction.