What are you up to this weekend? How about making a DIY headboard? Why? It's likely that your bed is the focal point of your bedroom, so apart from a never-ending pile of pillows, some funky bedding and a couple of throws, what else can you do to jazz it up? Hello, DIY headboards.
The humble headboard can completely transform your room, should you choose to make it a bit of a statement. So if you are decorating your bedroom on a budget or just want to create something that's unique to your space, we've rounded up some super quick and easy DIY headboard ideas to help you get the look you want without spending a ton of money...
And for more bedroom ideas head over to our full gallery.
1. Make a stylish headboard with cushions
Try and ignore the cute dog for sec, and take a look at that DIY headboard. For this super easy DIY project, just pick two or three large square cushions and attach some small brass rings (curtains rings work well) to the top two corners. Then, using the size of your chosen cushions as a guide, mark out where you need to place the nails or screws that will hold up the cushions. Hammer some large brass nails (or use screws if you prefer), hang the cushions and you're done.
Take a tour of the rest of this gorgeous log cabin (there are more dog pics over there, too).
2. How to make a fabric headboard
Maybe you have been left with a cumbersome leather headboard that, no matter what lovely things you do to your room, the gross brown leather block behind your bed always seems to be the focus?
A really easy DIY headboard idea is to cover up your existing one with a fabric of your choice. All you will need is a length of fabric that will cover your headboard and a staple gun. Lay the fabric flat on the floor, then remove the headboard and lay it over the fabric. Get someone to help you stretch the fabric over the front of your headboard and then secure it with a staple gun to the back. It doesn't matter if it looks a bit messy at the back of the headboard because no one will ever see it.
3. Use a rug to create a DIY headboard
This is literally the easiest DIY headboard idea ever, simply hang a rug or a piece of wall art above your bed. This works best if the rug is the same size or slightly bigger than the bed. This is also a great tip if you are renting as you can use command strips to secure a wall-hanging above your bed.
Check our feature of decorating ideas for renters for more inspiration.
4. Paint a DIY headboard on the wall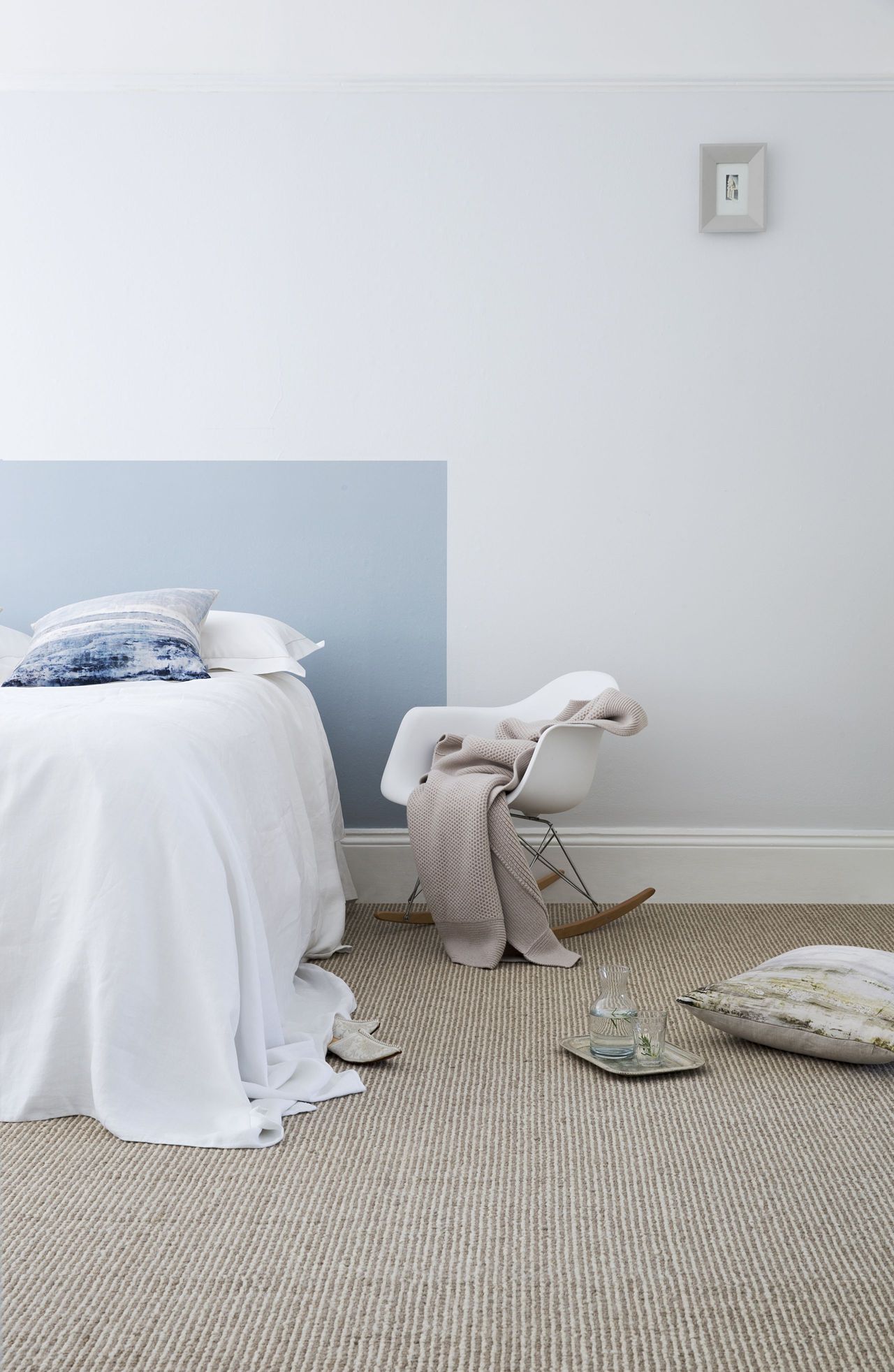 The cheapest alternative to a real headboard; all you need for this quick DIY headboard project is some paint, a brush (or roller) and some masking tape.
Start by using tape to mark out a rectangle around the top of your bed. Then, take your color of choice and start painting, being careful to keep within the lines of the masking tape. Let the paint dry, giving it another coat if it needs one, and then peel away the masking tape.
5. Or create a DIY headboard with wallpaper
If you want to add more pattern to your room, creating a headboard from wallpaper is a really easy tip, and since you will only need one roll, it's also really inexpensive (or you can go for that stand-out designer wallpaper you can only justify one roll of). Just measure out the size you want your headboard to be by drawing an outline around your bed with a ruler and a pencil. Then just hang your wallpaper as you usually would.
Not sure where to start with how to wallpaper? Head over to our step-by-step guide.
6. Make a DIY headboard in wood
If you are a fan of the industrial, unfinished look, this is a really great headboard DIY idea. Just head down to your local DIY store and look out for a nice piece of chip board that is slightly larger than the size of your bed. You can then either drill it to your wall, or, if you are renting, slide it down the back of your bed. We also love the idea of adding some bedside tables using upright wooden crates.
7. Paint a DIY headboard on MDF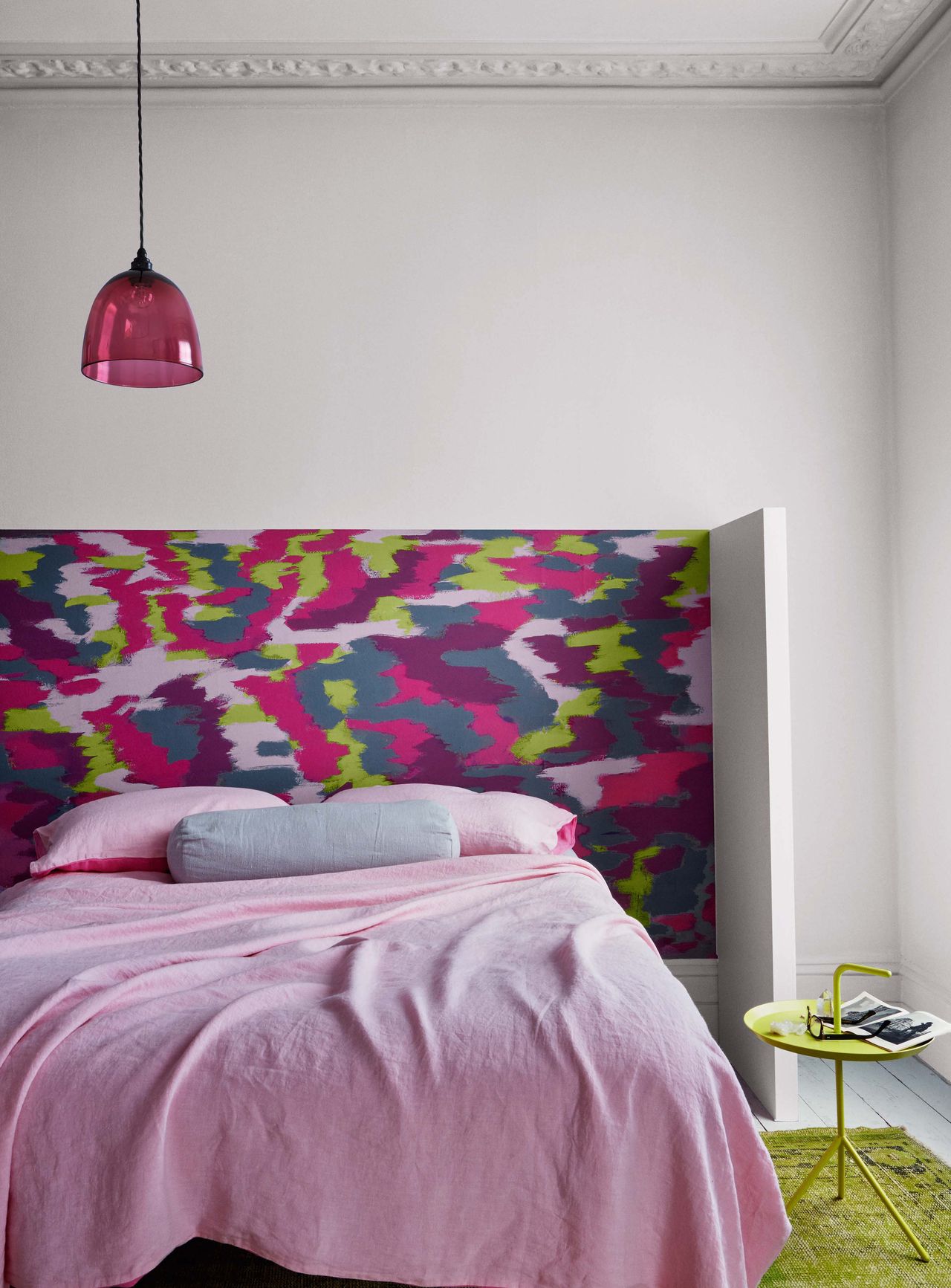 You could, of course, paint that chipboard (or, better still MDF) DIY headboard to suit your room. You could go with an all over wash of color or use some masking tape to create some geometric shapes, or you could paint your headboard in chalk paint and get creative, drawing on your own designs (just make sure to varnish it to prevent smudging).
8. Make a DIY headboard with storage
See, we said we'd come up with a practical headboard for you. So, why not adapt some open shelves to create a DIY headboard with storage? Simply place the shelving behind your bed, choosing a simple unit's that's the same width – or slightly wider than – your bed. Of course, this one is an Ikea buy, rather than one of our many favorite Ikea hacks. Or, you could just check out the rest of our storage headboards and paint one to suit your scheme. Easy.
9. Or make a headboard out of shoe storage
Of course, this wonderful headboard idea also came from the geniuses over at Ikea. It's created using the much-loved Trones shoe cabinet and then lined with LED strip lights to give the bedroom a lovely glow. Use the units to store your books, spare bedding, your PJ collection or even clothes if you are really tight on closet storage.
10. Create a DIY headboard using floorboards
This DIY headboard idea is a bit more hands on, and it takes a but more time and patience than just slapping up a square of paint around your bed. But any DIY novice could still get some great results.
Start by sourcing your floorboards – we love the rustic look of reclaimed floorboards – so have a look on eBay or dig around reclamation yards. You could also buy new floorboards or planks of timber. You will then need three or four pieces of batten, sizes dependent on how large your headboard will be. Then, simply cut everything to size, fix the battens to the wall to create a frame, and either screw or hammer the floorboards to the battens. For a double bed, we'd put a central vertical batten into the framing, too, to create a solid base.
11. Take your headboard onto the ceiling
Take the rustic look even further by bringing those boards up onto the ceiling. It creates almost like a canopy or a treehouse feel to the bedroom and works so well with all the lovely wooden textures going on in the rest of the room. Pick a low platform bed to sit underneath so you really get the full effect and hang plants from above to really add to that natural, rustic vibe
12. Upcycle a second hand find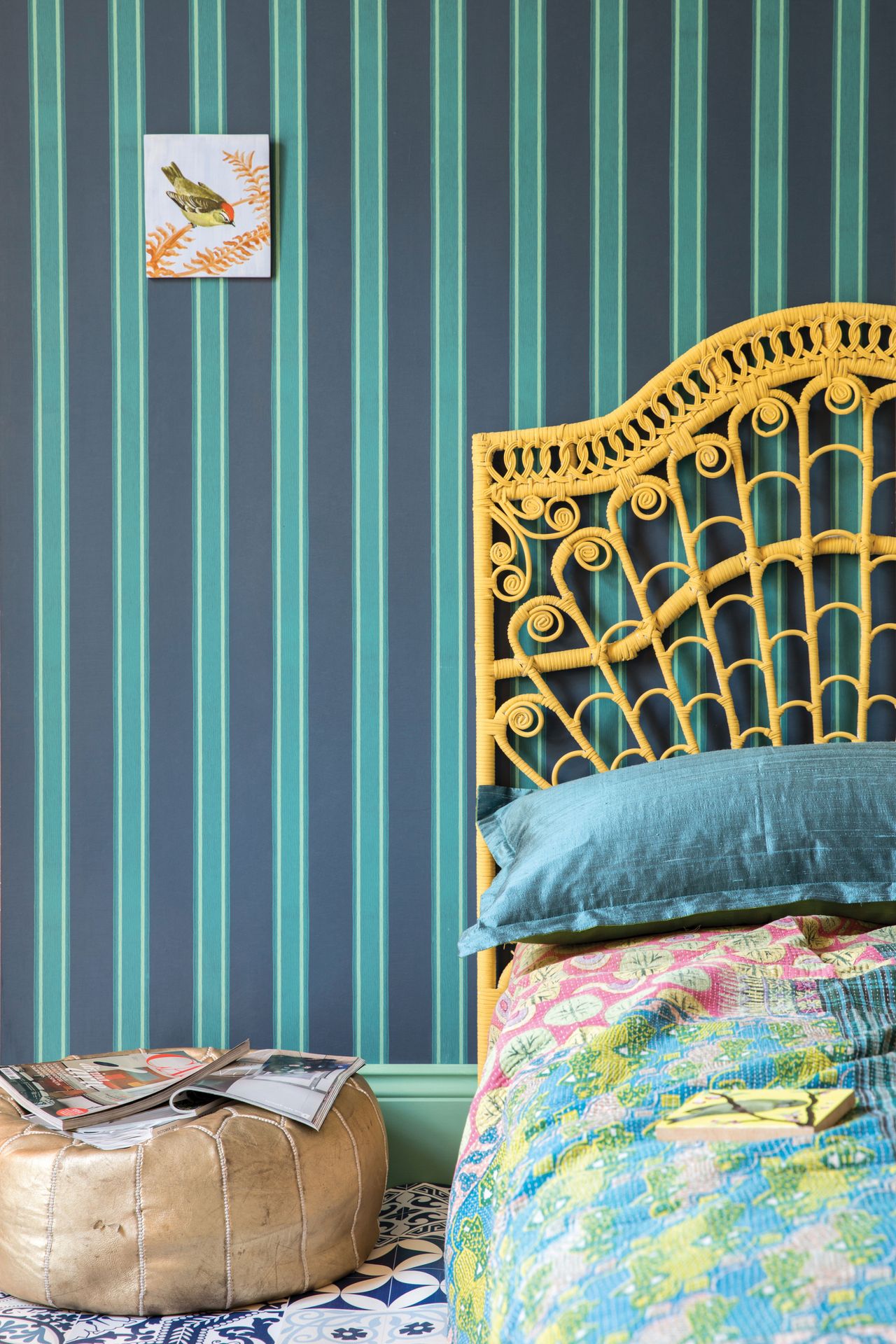 Been lusting after one of those 1960s/70s style rattan headboards and happened upon one at a boot fair for half the price of the shops? If it's seen better days, the smart money is on spray painting it to suit your bedroom's scheme. Black looks gorgeous against contemporary or boho room schemes; white is pretty in country-style or French-style bedrooms; but for a colorful bedroom, choosing a bold, primary shade is a win-win. We love how this one looks.
13. Use doors to makeshift a headboard
We love love love this idea from the bloggers over on Vintage Society Co. .Look out for some old wooden doors on eBay or reclamation yards, they don't need to match, or even be the same size. You can secure them in place behind your bed using a drill.
If you find a gorgeous-looking door but it's painted in a not so gorgeous color, don't worry you can just follow our guide to how to strip paint from wood. Or alternatively, you could always copy this headboard DIY idea, but paint your doors to make it more of a statement. For that you are going to need our guide to painting wooden doors.
14. DIY a headboard with paint and tape
Measure and draw out the headboard border. Use the tape measure, weighted string and spirit level to ensure you create straight lines. Our top tip? It's a good idea to play around with ideas on a piece of paper first to perfect your design before you start drawing on the wall.
Mark the border of your design with masking tape. Low-tack tape is the best option here to ensure it doesn't damage the paint when you remove it from the wall. Seal the tape by painting it with the background color and then allow to dry.
Mark the design you want to create for your headboard with masking tape. Simple diagonal stripes have been used here, but you can create any design you want. Seal it by painting over the area in your background color. Allow to dry.
Paint your wall and headboard area with your chosen colour (blue here) and allow to dry. Peel off masking tape and hey presto, a unique headboard that takes up no extra space in your room!
15. Create a patterned headboard with boards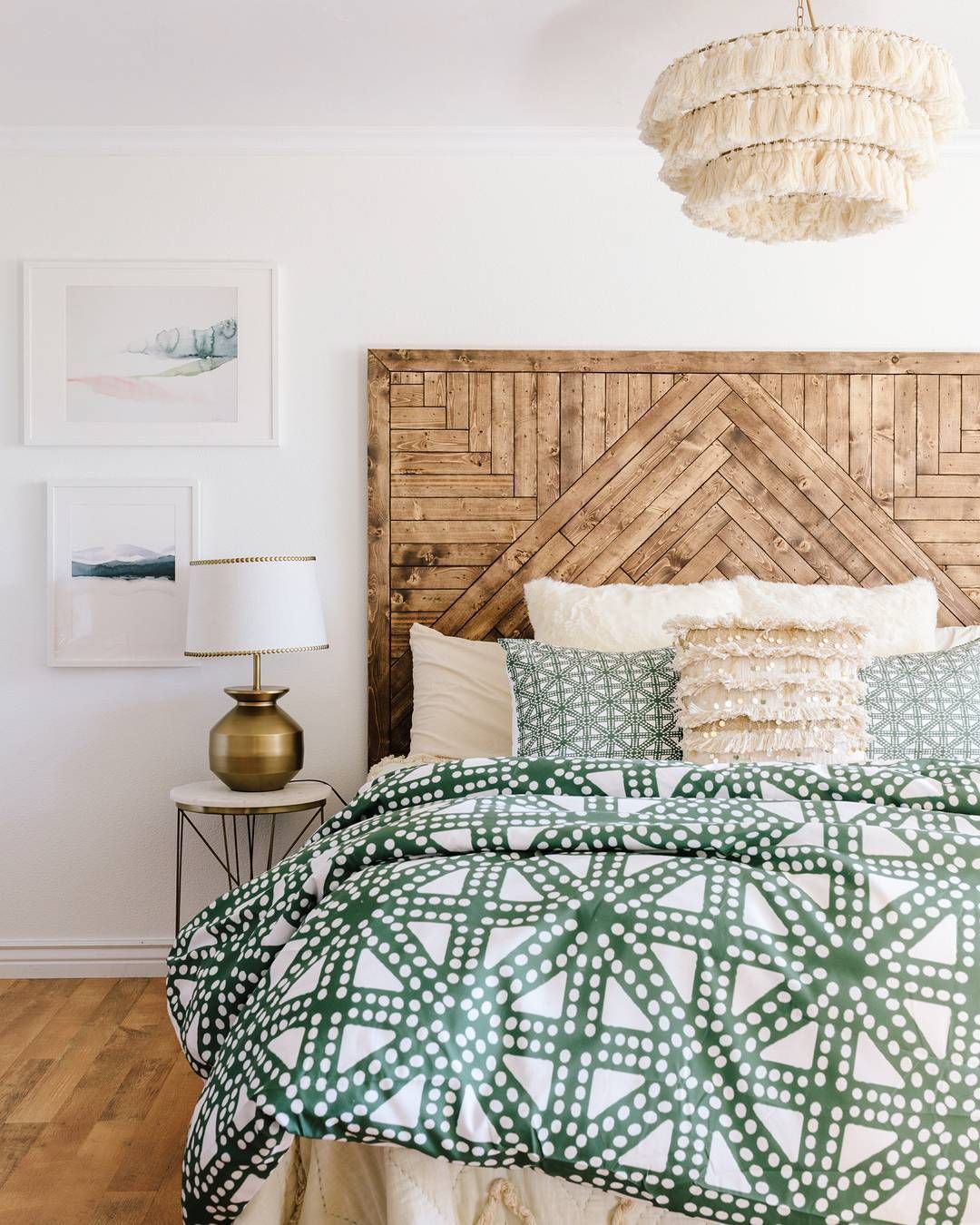 This might look complicated, but this DIY headboard would be super easy to recreate using plywood as the base and cut boards to create your pattern. Plan your design (we love the chevron look if you after something simple) cut your boards to size and you can secure them in place just with wood glue.
What can you use instead of a headboard?
There are plenty of things you can use instead of a store-bought headboard. Use paint to create the shape of a headboard, hang wallpaper where a headboard would normally go, or secure a rug behind your bed instead. You could replace your headboard with floating shelves to display books and houseplants or create a gallery wall to give your space some texture and interest.
What wood is best for making a headboard?
If you are making a wooden headboard from scratch, plywood is a good option if you are on a budget and plan to paint it or cover it. If you don't intend to cover your headboard and want to leave the wood bare, pine or any hardwood in fact, would be a better choice.
How much does it cost to make a headboard?
The cost to make a headboard will vary on depending what type of headboard you are making. For example, if you want to create a 'headboard' using just paint that could cost you under $20 but if you want to DIY a wooden headboard you'd be looking at around $100 for the materials (that wouldn't include the cost of power tools of you need those for your project). To reupholster a headboard, or DIY an upholstered headboard, this would be between $100-$150 depending on the size of your bed and your choice of fabric.