If you're researching the cost to install carpet in your home, you've come to the right place. Carpet remains one of the most popular flooring options – it's soft and warm underfoot, and the choice of textures, patterns, and colors is huge, giving you even more flexibility than with most hard flooring types.
Naturally, there are different types to choose from, and they all have their different price points which instantly impacts this home improvement project's cost. Installing carpet DIY will naturally save on the cost compared to hiring a professional, however, there is more to consider. We go into further detail with help from industry experts.
Cost to install carpet per square foot
According to Adam Graham, a Construction Industry Analyst at Fixr.com, the average cost to install carpet per square foot is '$7 and $12 per square foot, including both the material and the installation.'
Do bear in mind that this is the average and that some types of carpet will cost significantly less or more to install depending on the material, finish, and specific manufacturer. Ben Hyman, the Co-Founder and CEO of Revival Rugs, gives a starting estimate of $2 per square foot, explaining that the final cost 'depends on a variety of factors such as the quality of the carpet, softness, thickness, density, and pile height. Those figures also include the cost of labor. If you want to save money, I'd suggest installing it yourself.'
Real-wool and cotton mix carpet will always be the more expensive option, while the cheapest carpet will be made from nylon, polypropylene, and other synthetic fibers. Don't automatically assume that the most expensive option is the longest-wearing. In fact, you may find that for a high-traffic area like a hallway, a wool and nylon mix may offer you better resilience.
In general, though, you get what you pay for with carpet. If you have the budget, avoid the cheapest options as they will need to be replaced sooner.
How much does it cost to install carpet in a 12x12 room?
According to Graham, 'the average cost to install carpet in a 140 square foot room ranges between $980 and $1,680, with an average of $1,220 (nylon), a lower average cost of $670 (olefin), and a higher average cost of $1,870 (wool).' Again, these costs include labor, so DIY installation will reduce the cost – how much you'll save will depend on your location and how much installers charge in your area.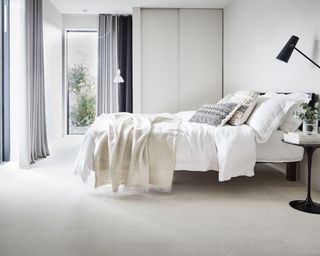 Is it cheaper to install carpet yourself?
Yes. According to Graham, 'DIY carpet installation may save you on costs such as in-home measuring (usually covered in installation costs or separately for around $50), old floor removal (around $280 on average), and moving heavy furniture ($50-$100 is necessary).'
The question you'll also have to ask yourself, however, is whether installing carpet yourself is worth it. Carpet is a tricky flooring type install, and Graham does not recommend doing the work yourself – 'a lot of prep work is involved in laying carpet including to the subfloor, possible threshold installation, and tacking and stretching to avoid wrinkles.'
You may consider doing it if you are a very experienced DIYer, but it's quite different to laying hard floor planks, so you may save yourself a lot of trouble by just going for professional carpet installation.
If you do DIY, Chris Harvey, Interiors Expert at Stelrad, recommends taking advantage of the wealth of information available in 'YouTube videos and blogs online which have detailed instructions on how to install your own carpet at home which should make the experience easier and overall cheaper.'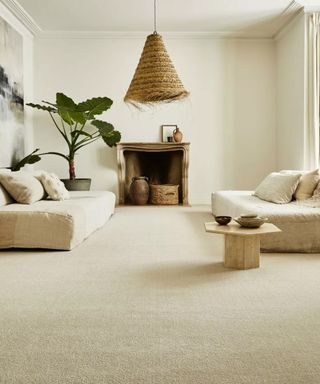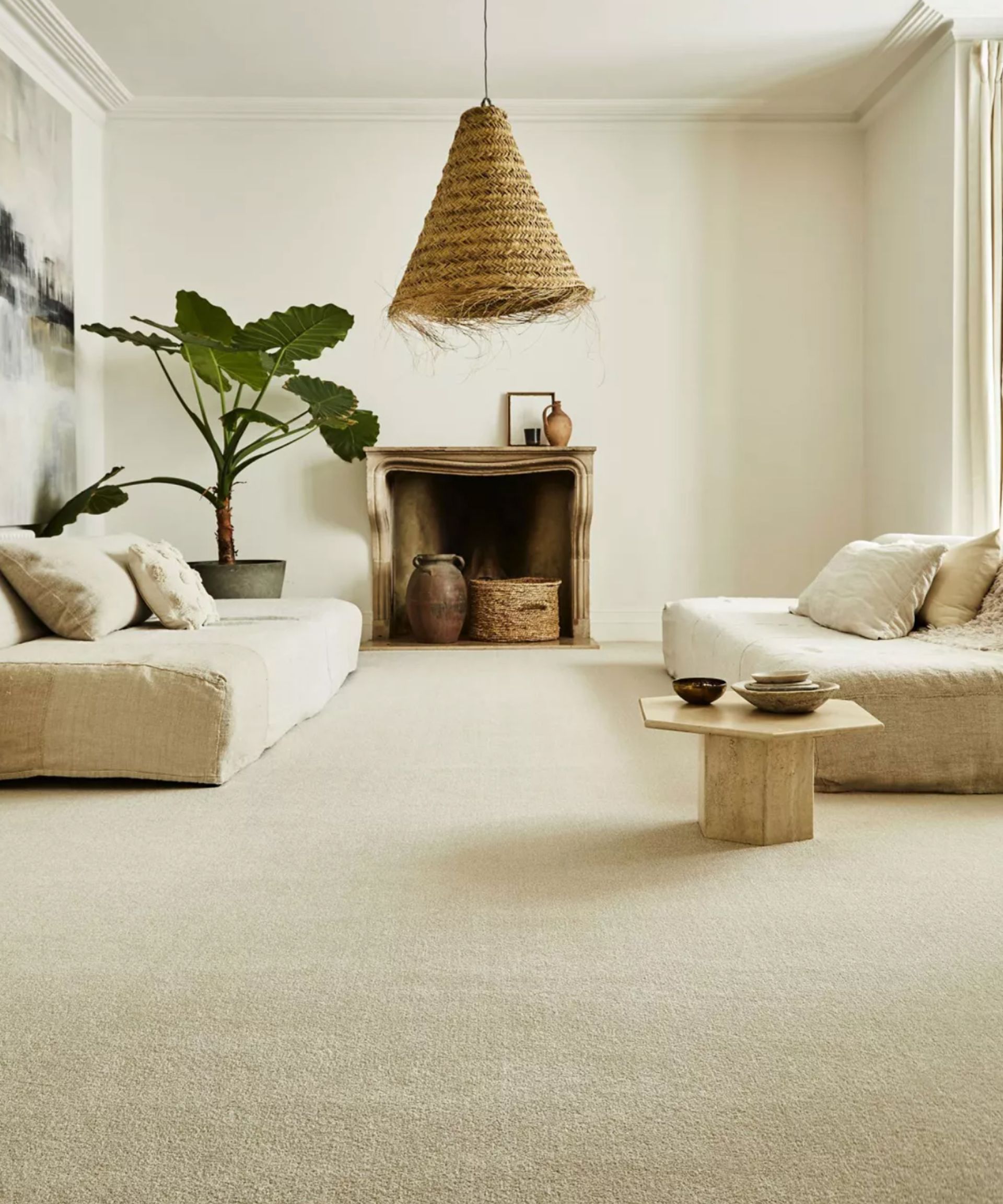 Which is cheaper to install, carpet or vinyl flooring?
The best vinyl flooring has a similar price range to carpet – between $2 to $14 per square foot. The average cost to install vinyl flooring for a 140 square foot room is $280 - 1,960 including both labor and materials, according to Graham.
The edge vinyl has over carpet is in the very real possibility to save money by installing vinyl yourself – it's much easier to do than trying to do the same with carpet flooring. Ralph Severson, owner of Flooring Masters, points out that 'anyone can install peel and stick tiles', which already are a very cheap flooring option. By contrast, 'if a homeowner decides to rent or borrow a knee kicker, and install carpet themselves, without expert help, they are running the risk of the carpet bunching later on.'
Vinyl tile also will require less regular cleaning than carpet, which will require one of the best carpet cleaners to get truly clean.
It's worth bearing in mind, though, that if you're going for luxury vinyl tile that imitates wood, you'll end up paying as much as high-end carpet, so if you value softness and warmth above how easy to clean your floor is, you may still want to go with carpet.