Looking for ways to make your garden fun and safe for the kids? Look no further with our guide to everything from garden design features to choosing plants and activities to enjoy as family.
The main thing to bear in mind is that different age groups will have different priorities and requirements. With very young children, safety is the first consideration, so you will be thinking about enclosures, inflatable pools, and making sure that the plants in your garden will not harm your inquisitive toddler if she or he decides to touch or taste them. With older children, you can start exploring fun, challenging activities and games, and learning about plants and wildlife - and sustainability. We have rounded up all the different ways you can make your garden an exciting and safe area for your children.
Provide enclosed spaces for young children
Very young children will do best playing in managed, enclosed garden activity features, such as inflatable pools and netted trampolines. Lightweight and easily stored away, they can be easily removed when the weather gets cooler – or when the kids get older and are able to safely enjoy a proper water feature, or even a swimming pool.
Make outdoor dining fun and safe with melamine
Melamine is beloved by many fans of retro-style kitchens – but it's also very useful for making outdoor dining child-friendly. With a wide variety of fun prints and colours, and its durability, a melamine set is just perfect for a summer picnic with the little ones.
Install an activity centre
Let your kids enjoy the outdoors to the maximum with an activity centre. If you are a competent DIYer, you can easily build one yourself with wooden planks, boxes, and ropes, but there are also plenty of options for buying an activity centre or climbing frame.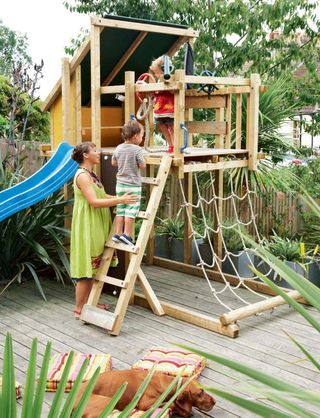 Create a shaded, secluded spot for rest and play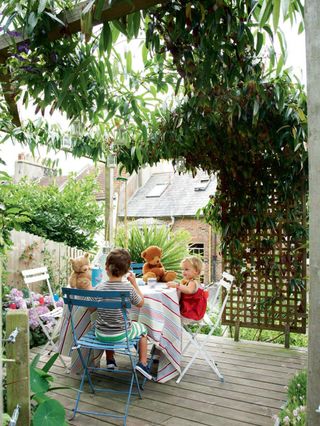 Small children tire easily, do it's a good idea to have a designated area with plenty of seating for a garden game and a snack. Providing plenty of shade is a must, especially during the summer months. Think trellises or fences, and climbing plants, for creating a living canopy. A raised decking area will work – great for bare feet, and less slippery than patio paving.
Encourage gardening and plant knowledge
Many children love getting involved with what their parents are doing in the garden, so make gardening inclusive and manageable by providing your child with their own, personalised kit for planting and watering. It needn't be too fancy – a couple of crates and a bucket will do – but having their own, personalised gardening paraphernalia is sure to delight and fascinate.
Choose plants carefully
Choosing plants in a garden where children will be playing comes with two main considerations. The first one is safety: avoid plants that are poisonous or are known skin irritants. Common garden favourites to steer clear of are lily of the valley, daffodils, and foxgloves. Less common varieties to steer clear of are daphne, which has poisonous berries, and Euphorbia , because its stems ooze white sap that is an irritant.
On the other hand, encourage plants that are safe and fun for your children to pick, such as strawberry and tomato. Lawn-side plants need to be resilient to withstand being trampled by feet and footballs – Crocosmia, Escallonia, Elaeagnus, Euonymus, Choisya and ornamental grasses are pretty tough.
Encourage wildlife into your garden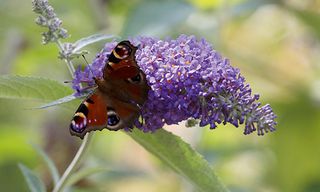 Help make time spent outdoors educational, as well as fun, by creating a wildlife-friendly garden. Watching birds and insects, and learning about them, can provide hours of fun – and is good for the environment! Bird feeders, bird houses, and bee hotels will make even more of an impact, and why not make one with your kids over the weekend?
Read more: