Wow, I enjoyed writing this Roomba i7+ review (it's a hard life). The main USP of the Roomba i7+ has to be its Clean Base. Guzzling up to 30 robot bin empties, the Clean Base means you don't have to think about vacuuming for weeks at a time. Truly game-changing! But is it any good at actual cleaning? We tested the Roomba i7+ for six weeks, paying particular attention to set-up ease, manoeuvrability and cleaning prowess.
I've tested a wide selection of the best vacuum cleaners on carpet, parquet, tiles, stairs and upholstery, and challenged them with mud, fluff, light debris and pet hair to give you the lowdown on how efficiently they'll do the job, how easy they are to use, and how much space they'll take up in your cupboard. Read on to see how the Roomba i7+ rates.
For all our robot vacuum cleaner top picks, see our buyer's guide. Looking for something slightly more easy on the wallet? Check out our vacuum cleaner deals page for all the best affordable options right now.
Roomba i7+ at a glance
Why you can trust Real Homes Our expert reviewers spend hours testing and comparing products and services so you can choose the best for you. Find out more about how we test.
About our review and our reviewer
Linda Clayton has been writing about homes and interiors for nearly 20 years, working for publications such as The Guardian, The Telegraph, Homes & Gardens, Country Homes & Interiors, Real Homes, Ideal Home, Livingetc and House Beautiful. Linda specialises in writing about mattresses, kitchens and appliances, such as vacuum cleaners, which she gives a real-life review in her own (rather busy) home.
Find her on Twitter at @lindaclayton and @lindaclaytonwrites on Insta.
Best for: getting on with your life
Type: robot
Noise level (dB): Not available (but it seemed loud to me)
Battery life: 75-90 mins
Weight: 3.8kg
Recharge time: 1.5hrs
Smart features: voice control, App control, virtual walls
Who will the Roomba i7+ suit?
Time-starved, cash-rich pet owners, without too many stairs in their home.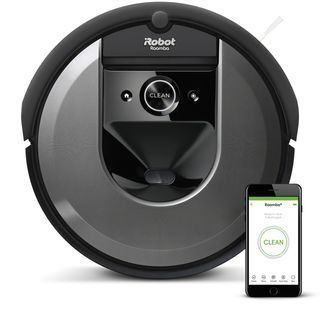 What is the Roomba i7+ like to use
Set-up is refreshingly easy; if you can download an app (specifically, the iRobot Home app for Android and iOS) and know your home Wi-Fi password, you're golden. It took less than two minutes to go from plugging the Clean Base into the wall, and the Roomba i7+ making its first foray down the hallway. To turn it on you just press a large button on top of the robot, or use the app on your smartphone or device. You can also pair it with Alexa or Google Assistant if you prefer to shout orders at your staff.
Finding its way around
The room-mapping tech is properly clever. Kids scattered cookie crumbs on the floor again? Just select the room in question on your app and the Roomba i7+ will take care of everything (except reprimanding the kids). It works by mapping your home's floor plan on the first few cleaning runs. Once the maps are ready on the app, you can create boundaries and name each room – upstairs and downstairs (no, it can't climb them but luckily it's not too heavy) then use the maps to decide which rooms need cleaning.
I set it up to do all rooms automatically once a day, while I was on the school run. Then, if necessary, used the map facility to re-do any particularly messy floors while I put the kids to bed. It took about an hour to do the ground floor (four rooms plus hallway), and 10 minutes to do a single 4m x 4m room. One particularly savvy feature is the Virtual Wall barrier, a small black box (included, alongside two batteries) that can create a virtual wall. Switch it to Straight Line to keep the Roomba i7+ from wandering into an unused room, or Halo to cast an arched barrier around items like a pet's water bowl.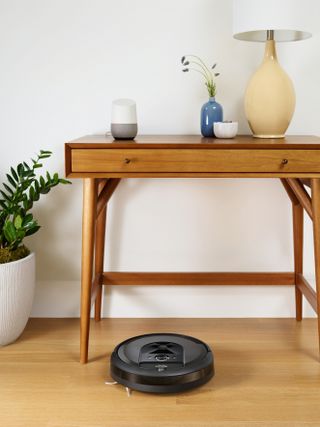 How well does the Roomba i7+ tackle different floor types
We have pretty much all possible flooring types in our home, specifically; vinyl tiles, ceramic tiles, encaustic tiles, solid wood, concrete (the rough and ready subfloor sort, not the posh polished type, sadly), laminate, carpet and numerous rugs. The Roomba i7+ tackled all easily, moving from one to the other with a determined gait. It even attempted to mount the 3cm high fireplace hearth on one of its first runs – sending me a message (I was out, out) to say it was stuck, poor thing. It must have learned its lesson though, because there was no repeat rescue SOS. The only serious fail was the big Ikea shag-pile rug in the living room, which it would skirt around, bumping into the edge repeatedly but never conquering. Consequently only a quarter of the living room was ever cleaned – mainly underneath the sofas.
How well does the Roomba i7+ clean?
Considering we are renovating so the whole house is under a thick layer of continuously falling dust at all times, the Roomba i7+ performed extremely well. It has sensors to recognize areas that need more attention, and I noticed it would spend a lot more time methodically tracking back and forth until the main threshold areas (where the builders trekked in and out) were clean. The rubber rollers work well – I tested it on patches of flour, lentils and pet hair (Tess, our black Sprocker spaniel was no match for the Roomba i7+). And the rather wimpy looking Edge-Sweeping brush captured everything right up to the skirting. Corners were less successful. Its round shape just doesn't allow the brushes to get right into the crux of corners. Also, while there wasn't any noticeable difference in cleaning results on the different floor surfaces, the Roomba i7+ really didn't like feathers stuck in carpet. They stayed stuck until I plucked them up.
Is the Clean Base worth the extra expense?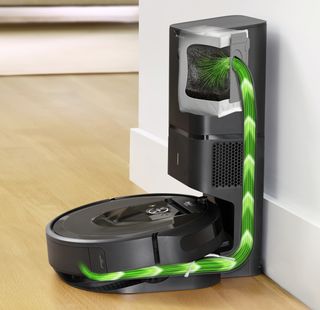 You can buy the Roomba i7 without the Clean Base (which is denoted by the +), but why would you (besides the £300 saving that is)? The Clean Base hosts a regular paper vacuum bag, of similar size to one you'd find in a cylinder vacuum cleaner. The Roomba i7+ docks onto the base, which is also a charger, and with a massive suction sound (not dissimilar to the loo on a plane), discharges its load. It will return to Base to empty during the cleaning process if necessary and the Mother Bag can take about 30 loads. I got through two bags in six weeks but we are living in exceptionally dirty times…
Cleaning and maintenance of the Roomba i7+
Twice, the Roomba i7+ sent a mayday message to say the bin couldn't empty. First time, the internal waste bin was rammed with what looked like damp cement but was, more likely, a build up of brick dust and rubble. Oops. Luckily the on-board waste container is removable and can be cleaned under the tap. The filter can also be replaced, and the rollers washed, too. All without consulting the Manual - it was intuitive to take apart and then restore order. The second time, one of the girls' springy keychains was stuck in the rollers, which took seconds to sort (but served as a reminder to check the floors for blockage fodder in future). The only real flaw on the cleaning front is that it's not a cat – i.e. it can't clean itself. This sleek machine may look smart but its shiny black façade did show the dust and regularly needed a wipe down (probably not nearly as frequently in a DIY-free home though).
Manoeuvrability of the Roomba i7+
While it can admirably navigate reasonable floor level differences – we've got a 2cm step into the cloakroom at the moment – the Roomba i7+ won't attempt to fling itself Lemming-style down the stairs. Thankfully. No children were hurt in the testing of this robot, either. It did ram their feet but not enough to cause pain and, frankly, it was their own fault for trying to make it change direction. Nor were pets under attack, both dogs did vacate the room fairly smartish whenever the Roomba i7+ entered. I was also impressed at how well it circled around bar stools and chair legs, getting in tight to all the food crumbs under the table/island. In fact, the shag-pile was the only thing that beat this determined little bot. I'd seriously consider getting shot of the rug if I was ever given the green light to get a Roomba i7+ for keeps. The rug is far less useful.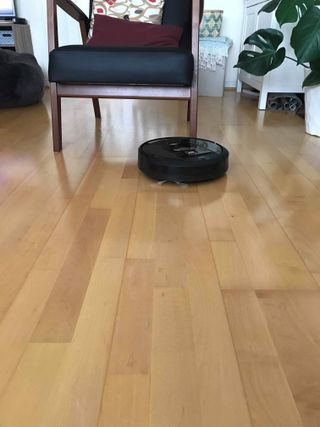 How does the Roomba i7+ rate online?
The Roomba i7+'s reviews are pretty impressive online, with Amazon customers rating it 4.1 out of five (181 reviews). Most of the negative comments referred to difficulties with mapping. The only trouble I had on that score was when I decided to move the Clean Base (because its socket was moved by our electrician!) and it couldn't find its way home again. I just restored it to Factory Settings then reconnected to my Wi-Fi.
How does the Roomba i7+ rate against similar vacuum cleaners?
The closest comparison match in terms of performance, tech and agility is the Dyson 360 Eye. Except the Dyson doesn't have a Clean Base and, with a meager 0.3-litre dust capacity, needs emptying frequently. I'm out.
MORE VACUUM REVIEWS: