Want to find out whether the Vax Blade 2 Max is the vacuum cleaner for you and your home? Then our review is what you need.
I tested a wide selection of vacuum cleaners on carpet, parquet, tiles, stairs and upholstery, and challenged them with mud, fluff, light debris and pet hair to give you the lowdown on how efficiently they'll do the job, how easy they are to use, and how much space they'll take up in your cupboard.
Looking for more information? Browse our round up of the best vacuum cleaners.
VAX Blade 2 Max at a glance
Why you can trust Real Homes Our expert reviewers spend hours testing and comparing products and services so you can choose the best for you. Find out more about how we test.
Type: cordless hand stick upright
Bag or bagless: bagless
Suction: effective
Noise: listen to music on earphones rather than speaker
Easy storage: small cupboard? No problem.
VAX Blade 2 Max specifications
Voltage: 40V
Cable length: Not applicable
Dimensions: 115cm high x 24cm wide x 18cm deep
Weight: 3.1kg (hand stick); 2kg (handheld)
Noise: Vax don't test for this at the moment
Energy rating: there aren't any energy ratings developed for cordless vacuums
Container capacity: 0.6 litres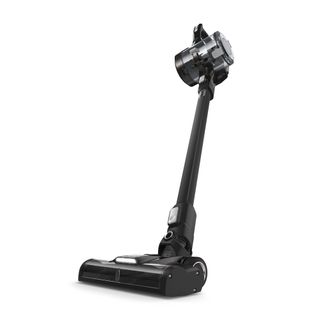 Who will the Vax Blade 2 Max suit?
Upright vac lovers who don't want the hassle of switching sockets and trailing cords.
What is the Vax Blade 2 Max like to use?
It may be slim, but the Vax Blade 2 Max packs power, and tackled dust, dirt and hair all round my home.
Hard flooring, carpet and stairs
Whether it's used on hard flooring or carpet, the Vax Blade 2 Max isn't fazed. Moving from one surface to another didn't require any adjustment other than pressing the switch for the powered head brushbar for carpet. Using the machine on my landing carpet left it looking brand new – which was a bit of a feat as it's certainly far from that.
Stairs are also a breeze with the Vax Blade 2 Max because it's so easy to position on each one and you can get right to the edges.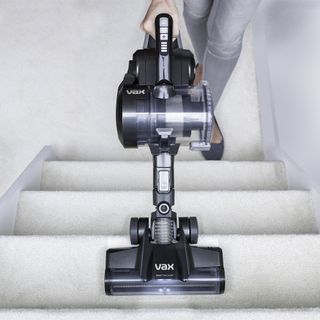 Attachments
The Vax Blade 2 Max comes with a dusting brush that cleans surfaces like blinds or shelves, and a crevice tool. The model I tested came with the cordless pro kit, which includes a flexible crevice tool (handy for getting into awkward gaps that dirt doesn't seem to have any trouble finding its way into).
It also gives you a textile tool for upholstery, a dirt tool that clips on to the textile tool, and which has bristles for stuff that's decided to stick around rather than merely scatter itself across a surface, and a stretch hose. The latter helped me reach a dusty bookshelf top without climbing on a chair.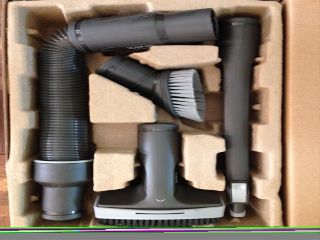 Power and debris removal
The Vax Blade 2 Max dealt with the mud dropped by my caked walking shoes on to a tiled floor with no problems, and vacuuming light debris was simple and quick. The machine didn't blow this out of the way – it just picked up thoroughly.
There's a boost button on the handle if you need more suction on a really dirty area – although I didn't find this was needed even for a lot of mud. Not having to adjust suction power from surface to surface proved a timesaver in going round the house.
Container emptying
It took me a few moments to get the knack of removing the dust container, but this was only a first-time issue. After that, removing it and putting it back was fine. Opening the container over the bin needed a committed push on the button but the contents then fell into the bin without trouble.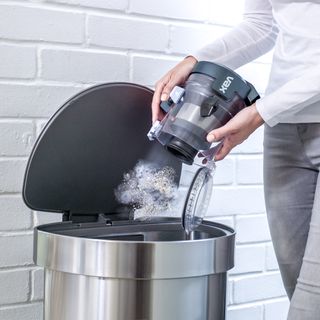 Handy features
The LED lights on the head aren't style without substance. I found these showed up bits on the carpet beautifully, avoiding the 'I thought I cleaned that bit' moments when you have to go back because you've missed stuff.
Swapping from hand stick to handheld was super easy, too, which speeded up the chores.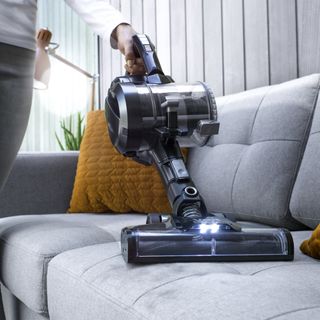 Storing
Don't want to sacrifice cupboard space to a bulky vac? The Vax Blade 2 Max is your friend – especially as it's a two-in-one with stick and handheld in one compact design. There's a wall mount so you're hanging, not propping.
Manoeuvrability
Forgetting about cable and plugs was a boon, and carrying up and down the stairs didn't involve engaging core muscles to save my back when lifting. The head of the machine is also easy to move around furniture and underneath it.
Time before recharging
The Vax Blade 2 Max runs for 45 minutes on one charge. Use the boost button, however, and it promises 12 minutes of this from one full charge. In reality, you'd be switching the boost on and off throughout a vacuuming session.
As the machine was such a hard worker without the boost button, this wasn't an issue in my testing. The initial charge time is given as three hours, but it was actually ready to go in a little less time.
How does it rate online?
The nearly 1,500 reviewers on the Vax site give an overall verdict of 4.5 stars with 1,000 people giving the full five and just 38 awarding one star. Acclaimed are its effectiveness, back-saving lightness, and pet hair capabilities.
The drawbacks for the online critics? It's still too heavy for some, and the fact that the weight is at the top of the machine bothered others.
Buyers on Amazon were mostly split between five and four-star ratings – although there aren't many reviewers as yet. Here, fans praise the Vax Blade 2 Max for doing its job with efficiency, and the useful tools. The size of the container was noted as insufficiently generous.
How does it rate against similar vacuum cleaners?
There are a lot of models to choose from in the cordless upright category, so you might feel spoiled for choice. However, the Vax Blade 2 Max distinguishes itself with a price that's lower than many combined with great results.
See how it fared against the Dyson V11 and Shark DuoClean Powered Lift-Away True Pet Anti Hair Wrap AZ910UKT in our shoppable video below.
About our review – and our reviewer:
Sarah Warwick has specialised in homes and interiors for over 20 years. She was Executive Editor of Ideal Home magazine, and has written for nationals, magazines and websites including Real Homes, Homebuilding & Renovating, Grand Designs, Homes & Gardens, Houzz, The Guardian, House Beautiful and Country Homes & Interiors.
She put the vacuums through their paces all round the house, on all sorts of dirt and debris, and a variety of flooring and surfaces.
Read more: