People were once content with going to their local pizzeria to find that authentic wood-fired pizza, but when restaurants closed during lockdown we saw a massive rise in the sales of the best pizza ovens. The Gozney Roccbox is no exception. In fact, it's amassed a cult following of home pizzaiolos in recent years, so I was very excited to give it a try in this Gozney Roccbox review.
The Roccbox costs £499/$499 when you buy it online, so it's a real investment. That said, it's not a significant departure from the cost of other top pizza ovens from the likes of Ooni. But, is it better? For a start, the Gozney Roccbox has a charming (and utilitarian) design that comes with a strap for lifting it into the boot of the car, perfect for camping trips and summer holidays. It also has a silicone exterior that doesn't get too hot to touch, even when the pizza oven cavity is well over 200 degrees centigrade.
We tested it several times over the course of a month or so using pizza-obsessed pre-teens as our taste judges.
Roccbox unboxing and set-up
Why you can trust Real Homes Our expert reviewers spend hours testing and comparing products and services so you can choose the best for you. Find out more about how we test.
All of the Roccbox components come in a single box and it's (just about) shiftable by one person. Design is one of the Roccbox's great strengths, and the kit is well packaged and efficiently engineered. On first impression, the individual elements are sturdy, well produced and neatly presented.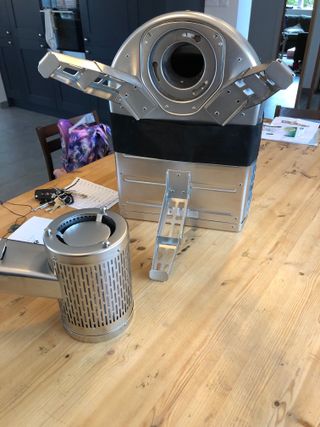 The first thing you notice is also one of Roccbox's bigger attractions – you get a hopper for a wood-fired oven but also a gas burner so it can be converted into a gas pizza oven should you feel the need. Real flexibility and, even better, easy to interchange. They simply lock onto the underside of the oven with a simple bayonet-style fitting.
From initial unboxing to getting it ready to fire with wood took no longer than 10 minutes.
Kids = excited and not yet getting even remotely hungry.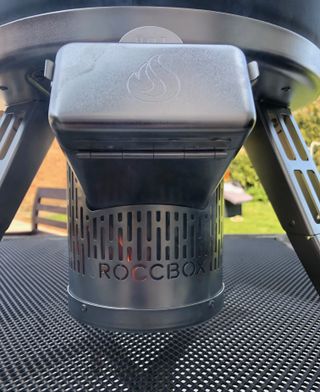 Firing up the Roccbox: ease of use and portability
The Roccbox comes with a carry-strap which fits around the oven like a belt. I didn't fully trust it but as the legs fold in and the Roccbox is relatively light, it's still easy to transport. We plonked it on one of our outside dining tables and, in true dad fashion, completely ignored the instruction to only put kiln-dried hardwood into the hopper, using scraps from a recent house renovation.
First firing was, as a result, not entirely successful. We live in a valley and enjoy a brisk northern breeze onto the patio – and that day was one of those days. A few finger-length chunks of old softwood and a firelighter proved no match for our breeze and it must have taken 15 minutes or so to get the fire going with any degree of certainty. I'm a woodburner owner so know my way around building a fire – but the Roccbox held little truck for my skills.
Eventually, however, we had consistent fire. The temperature display on the side is clear and colour coded, showing that the Roccbox needed to get to 300˚C to really produce the kind of pizza you're dreaming of.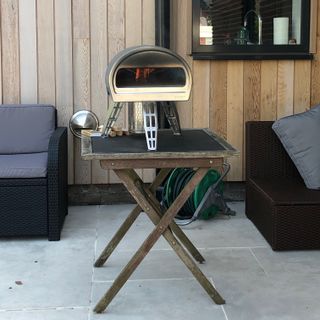 Our first attempt to get up to temperature was unsuccessful, thanks to, I reckon, the softwood we used and that stiff Northerly. It stayed consistently at around 200˚C. For the next go, we bought in some specific pizza oven-friendly wood chunks – a mix of oak and applewood (available from eBay in a bag which costs around £10 for a bag lasting at least a dozen firings). This helped with getting the temperature up more quickly, but our pesky breeze meant that we still struggled to see temperatures above 220˚C, despite our best efforts.
We spoke to Roccbox about this and it was clear that you need a still, calm area to achieve the kind of temperatures that Roccbox works best at.
Kids = getting a trifle peckish. Dad = under pressure.
What are the pizzas like?
Simply, pizzas made in this oven taste way better than shop or standard delivery alternatives, and just as good as the artisanal pizzas you'll find from vendors with their own pizza oven. The two main secrets to the slightly charred, bubbling, thin crusty pizza your mouth is watering to right now are a) a very high temperature and b) a thin, reactive dough.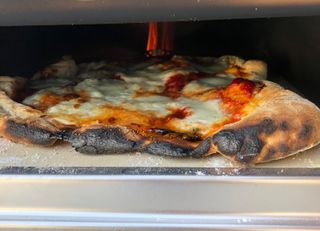 On the former, even getting the oven up to 200˚C produced far better results than I would have had from simply chucking a pizza stone in a regular gas oven; the dough bubbled and charred nicely at the edges and the mozzarella had the slightly burnt, bubbled skin too.
Even at the relatively low temperatures I achieved, the pizza was delicious – at 300˚C+ it must be heaven for pizza fans. The pizzas cooked in around five minutes – at 300˚C they claim to cook in around a minute.
Kids = full. And agree 'it's the best pizza ever!'. Dad = off the hook.
How does the Roccbox score on looks?
Roccbox is very much marketed to the design conscious, and it certainly hits the mark. It doesn't have the faux-Mediterranean stylings of home-built ovens, and the (completely safe) outer casing comes in grey or green colour options. It's a great-looking piece of kit, and the good design is just as much about the engineering, too. Simply put, you won't find something that looks cooler on the patio.
Value for money
At £499 this costs a lot of dough and is a long-term investment – particularly given the additional cost of the type of wood that the Roccbox deserves. Over 10 summers' worth of pizza partying, it more than pays off, but you'll need to be serious pizza fans to make sense of it economically. It's a touch cheaper than other options and a smarter design, too.
The Roccbox pizza oven: a summary
If you can make sure you've got the patience and positioning to overcome any worries on getting the oven up to temperature, this oven produces perfect pizzas on demand. Because the oven burns so high, it needs very little maintenance (everything is effectively incinerated) so this is a fun piece of kit that take your patio weekends up to another level. It's not just for pizza either – use it as you would an oven to create an outdoor kitchen for summer parties.
Invest in a stand mixer to make dough production easy – the Roccbox is really only as good as your willingness to work with it, and produce perfect dough. In other words, it can't be topped.
See more on al fresco entertaining: