There's a lot of talk these days around getting the 'best night's sleep', but are we really doing all we can to ensure that this becomes an everyday reality?
The first step is making sure your bed is as comfortable as possible, from sourcing breathable and super soft bedding to finding the best mattress to make sure your body is supported in all the right ways.
Gone are the days of piecing together the best bedding from multiple retailers, you can now buy everything you need in one place, with Eve among a roster of sleep specialists offering all you need for a restful night's sleep with just one online checkout.
Having won multiple industry awards for its original Eve mattress, the sleep brand has expanded its product range to include all the essential components necessary for a comfortable bed. But do they measure up? We put the range to the test to find out.
Eve bedding: reviewed and rated
We have included a mini-review of everything we have slept in/on/under below. Each is rated out of five stars too, with the average being the star rating we have arrived at for the brand as a whole. We start with the various bedding options first including pillows, duvets, and mattress toppers.
If you know you need a new mattress, jump straight to the Eve mattresses section to see the full range – or take a look at our round-up of the best eve mattress deals.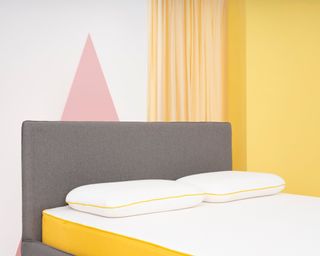 Designed as an extension of your mattress, the Eve memory foam pillow offers all the benefits of memory foam while addressing its more commonly cited drawbacks, such as overheating.
The hypoallergenic foam and antimicrobial 'UltraFresh' finish allows you to benefit from its comforting and muscle-aligning properties.
Users mostly rate it as excellent and 'like sleeping on a cloud'; others say it's too firm, but in our experience, memory foam pillows do feel firmer than any other pillow type, and take a little getting used to (we'd rate it medium to firm).
Once you've adjusted, though – if you can, not all our sleepers could get used to the initial firm feeling – you may never want to go back to traditional fillings, whether natural or synthetic. Either way, there's a 30-day trial, so you can send it straight back if you don't get on with it.
What else? The cover's durable jersey fabric is knitted, which makes it feel like it has a lot of give, and it's super soft, too.
For memory foam fans, it might take some getting used to as it's far flatter than your average memory foam pillow, which is why we've rated it as best for back sleepers.
The cover can be removed and washed at 40°C, and it's hypoallergenic, making it a great choice for allergy sufferers.
Real Homes Rated: 4/5 stars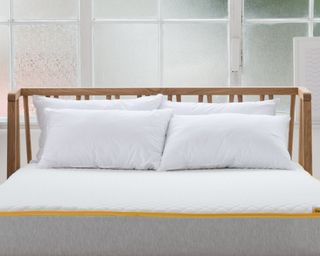 On first impressions you think 'this pillow is too flimsy' but then you rest your head on it and your opinion is instantly altered to 'this feels so comforting and squidgy, while surprisingly supportive'. It's hard to describe but I'll try, when your head is placed on the pillow you feel a level of support for sure but what you really notice is the plumpness of the pillow around your cheeks (if on your side) or ears (if sleeping on your back).
The snuggle pillow is ideal for front and back sleepers or those who simply like a pillow to hug and use as a comforter.
Thanks to its blend of hollow fibre filling, the Snuggle pillow feels like sleeping on feathers, ideal if you wish to avoid any animal products. The malleable hollow fibres allow a generous amount of bounce, yet the pillow retains its shape, unlike a real feather pillow which can require plumping. Hence why it's the ideal sleep accessory to cuddle up with. It's also easy to get your pillow into the optimum shape by simply pulling the hollow fibres apart to instantly make it more squidgy.
I once had the pleasure of meeting a bonafide pillow guru, seriously – this person was responsible for sourcing pillows for famous 5 star London hotels. So they knew their stuff! The expert in question revealed to me a simple trick, to test a pillow is to hold it out on your arm to ensure it doesn't 'flop' in half. The middle should retain some shape to balance the ends - otherwise there's not enough support. So I did the test with the Eve pillow and it passed with flying colours.
This comfy pillow is machine washable, in temperatures up to 40 degrees. Ideal for those who like to give their pillows a semi-regular wash to maintain hygiene standards.
I personally still prefer a firmer pillow but this Snuggle pillow has changed my perspective on the softer side of design.
Real Homes Rated: 4.5/5 stars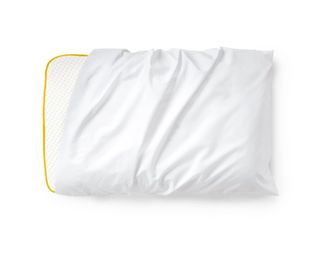 As far as pillow protectors go this option certainly isn't cheap, but then it is made from fabric developed by scientists for NASA. That level of expertise comes with a price, but is it worth it?
The specialist temperature balancing pillow protector is said to store warmth given out by your head overnight and release it when you need it. In terms of testing that is the case, all I can say is I've not woken with an unpleasant sweaty hairline after a hot night's sleep - so it must be working?!
What is it like to sleep on? The design has a zip fastening, as opposed to an envelope folding end to ensure the pillow is perfectly fitted inside, and don't be afraid that a spacesuit-style fabric is any different to that of a regular fabric; it simply has a slightly cool feeling to the touch but you don't feel that once your pillowcase is over the top.
Also don't think it's too high tech to care for easily, it washes well and retains all the qualities that make it the premium pillow protector that it is.
Real Homes Rated: 4.5/5 stars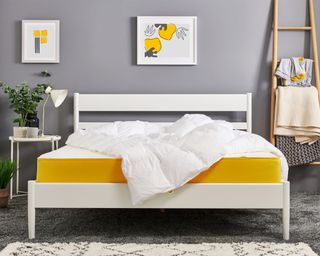 If you're looking for an eco-friendly synthetic duvet, then look no further. This Eve Light Eco duvet is padded out with a clever filling made from recycled plastic bottles. This lightweight duvet still has all of the fluffiness you'd expect from a feather and down duvet, only it's focused on doing its bit for the planet. The feather-free filling is better for animals and allergies, plus its 100% cotton cover is super breathable so your skin can breathe easy at night, no matter how hot it is outside.
This duvet is exactly what you expect from the title, it's ultra-light but thoroughly effective for providing a sense of comfort for when you can't go to sleep without a duvet, but don't want to feel too hot.
Extremely light in weight, this duvet offers a 4.5 tog rating, one of the lightest options available in the world of duvets, and is aimed at keeping things cool between the sheets. Of course, with this thickness, it does take some time for your body heat to warm things up, so it's not ideal for those seeking instant warmth.
You can choose to wash this duvet at 40 degrees, provided you have a washing machine with a drum big enough for the job - but although it is light, it is still a large piece of bedding that might be best left to the professionals.
Real Homes Rated: 3.5/5 stars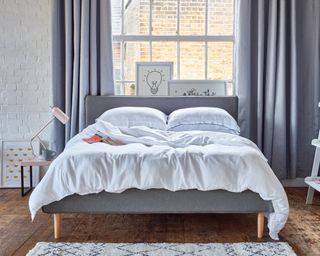 Eve's linen and bamboo mix duvet set feels super soft to the touch, even after two months of washing, which at one 30 degrees machine cycle a week equates to 8 washes during our testing period.
Crisp yet comfortable, the 54% linen and 46% bamboo is the perfect blend to deliver hotel-worthy luxury, yet remain easy to care for.
Even better are the small details, like the label on the flat sheet that tells you which side is the short side. A super simple yet highly helpful design feature that eliminates one of life's minor annoyances, and makes an everyday task like making the bed just that little bit easier.
Real Homes Rated: 4.5/5 stars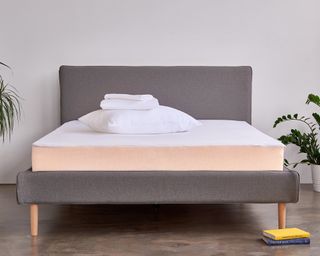 This mattress protector is honestly one of the best I've ever slept on. The specialist temperature balancing mattress protector is said to store your overnight body heat and release it when you need it.
As someone whose sleep is only ever disturbed by changes in body temperature, I've found this invaluable for my freshly made bed. It can't be a coincidence that since I've been sleeping with this on my bed - for three months now - I've not suffered a restless night's sleep due to overheating.
This mattress protector isn't cushioning, instead, its purpose is to protect the top layer of the mattress from sweat and dead skin cells (sorry, but it's true.)
Made of the same fabric as the Eve Temperature Regulating Pillow Protector, the mattress protector has a slightly cool feeling to the touch, but you don't feel that once your fitted sheet is over the top.
It also washes well and retains the qualities that make it a premium mattress protector.
Real Homes Rated: 4.5/5 stars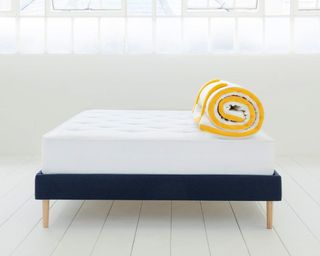 The aim of a good mattress topper is to make you feel like you're sleeping on a new mattress, and it's therefore the perfect solution if your mattress is in need of replacing but you're not in a position to invest just yet. As such, Eve's topper could well be the remedy to improve your sleep and buy you a few more years out of your mattress.
Firm and supportive, it's made using the same foam found in the original Eve mattress – a formula that is 30 times more breathable than old-school memory foam – and that's designed to keep your body comfortably cool as you sleep.
The design features wide straps on either end, which are adjustable to make sure it fits your mattress base snuggly – so there's no movement while it's doing its job on the top.
The cover on this mattress topper is a knitted soft polyester blend that is allergy friendly and free of any harmful chemicals, all to ensure the best sleep environment possible. And to make care super easy, you can keep simply unzip the top layer and pop it in a 40 degree wash to keep it fresh.
As with most mattress toppers, it's worth pointing out that that extra layer of depth will mean your regular fitted sheets may no longer fit, so you will need to invest in some deep fit options to accommodate the extra mattress height.
Check out our full Eve mattress topper review for all of the detail.
Real Homes Rated: 5/5 stars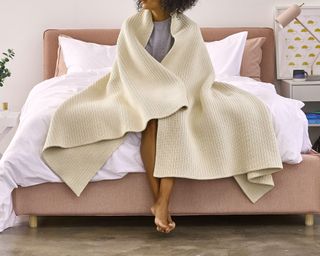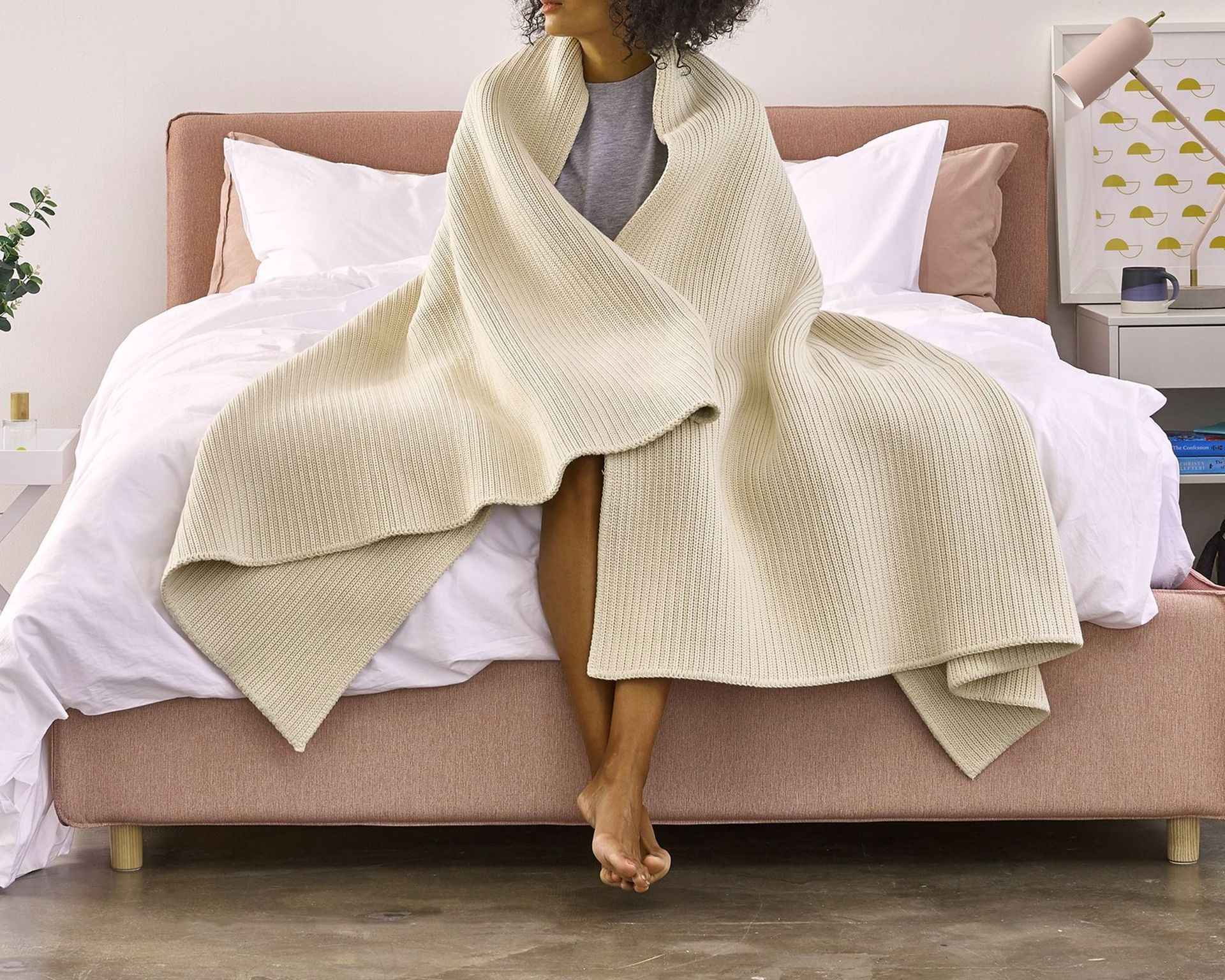 If you've been put off investing in a weighted blanket because of their looks, then you may be impressed by Eve's more traditional-style offering.
Like most of Eve's range, when it came to designing this bedding-of-the-moment, the brand decided to keep things simple. There is one size and weight of weighted balnket available, and instead of opting for glass beads and quilted polyester, it went for a cream ribbed-cotton number that I for one am very happy to have on my bed.
However, what you gain in good looks you do sacrifice slightly in terms of performance. The thick ribbed-knit looks great, but it does mean this blanket doesn't drape as well as many of its quilted glass-bead counterparts, which means you lose out on some of that all-over hugging sensation.
You still get a decent 7kg of weight with this blanket, which I definitely felt helped me sleep more soundly, but it wasn't quite as satisfying to drape around your shoulders as some of the very best weighted blankets we've tested, and when it wrinkles the thick fabric means areas of weight are removed from your body completely, so it didn't offer the all-over swaddling sensation that is a large part of a weighted blanket's appeal.
Is this blanket still worth it because it looks good and offers a good amount of sensory pressure to help you sleep more soundly? Depending on how you balance the scales of aesthetics and performance - and how large your budget is, because this option certainly isn't cheap - then, in our opinion it could well be.
Real Homes Rated: 4/5 stars
Eve mattresses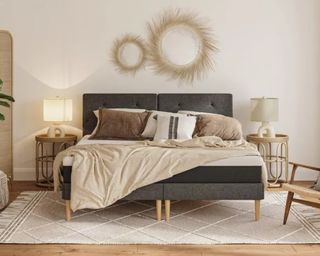 It's not every day we say that a mattress suits every kind of sleeper, but the Emma Original Hybrid mattress lives up to this bold claim. You'll especially love it if you're a side sleeper – though it's also extremely comfortable for front and back sleepers, too.
As a hybrid, the Original Hybrid has a combination of memory foam and springs, but the former isn't overwhelming: in fact, it has the pleasant feel of a traditional pocket-sprung mattress, perfect for anyone who's undecided on a foam mattress. It's pretty firm, which we found helped with aches and pains and supported key pressure points. This is thanks to a new-generation aerated foam, called Airgocell that also aids cooling and breathability – something missing in regular memory foams.
The Original Hybrid didn't quite live up to the Emma Original on motion transfer, thanks probably to the latter's all-foam construction. However, this is only really an issue if you and your partner are at very different bodyweights – or night-time schedules.
Fillings
Alongside the top-secret Airgocell formula, this mattress also comprises of memory foam, which moulds to your body's contour; 'cold foam', which helps stabilise the springs below; the aforementioned springs, which offer targeted support; and a base foam later, which stabilises and adds height.
What do you get for your money?
An impressive 200-night sleep trial, plus a 10-year guarantee.
Real Homes Rated 4.5/5 stars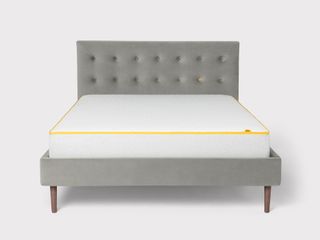 A premium mattress, the eve Premium Hybrid mattress is one to consider if you're looking for next generation, firm pressure relief. It's perfect for those who like/need firm support – great if you have a bad back or achy hips.
This is one of the deepest mattresses in our guide, which was the very first thing we noticed about it and is good for hoisting yourself out of bed every morning. The mattress is FIRM so this may take a bit of adjusting if you've moved on from a softer mattress.
For motion transfer you barely notice your sleeping companion is there. And for sinkage into the mattress you can except the same level of support across the entire surface.
Fillings?
There are no less than four layers of foam, including the new Floatfoam layer, before you hit springs. There are 1,500 of these individually wrapped, and more importantly, targeted to all those pressure points. There's a non-slip case at the bottom, too, to keep it all neatly in place. And, it has a top cover which can be zipped off for washing. It's even antibacterial and antimicrobial, which is reassuring.
What do you get for your money?
A 10 year guarantee; free returns after 100 days and excellent, speedy delivery.
Real Homes Rated 4/5 stars – read our full eve Premium Hybrid mattress review
A cut above your regular blow-up mattress, the Sleep Away mattress offers guests an 8cm layer of substantial foam to bed down on and transforms into a compact roll when not in use with a handy zipper that ensures it doesn't come unrolled, plus a carry handle if you want to take it out on location. Glamping anyone?
Once unfurled Eve says you should give it 30 minutes to plump up to full volume - far better than half an hour spent inflating a blow-up mattress with a foot pump - although when we tried it we found it was ready to use pretty much instantly.
Inside the sleeping surface is just a simple block of foam (we were kind of expecting some hidden springs) but we tested it overnight and found it was perfectly comfortable for a few nights' sleep, although it is worth noting that without any spring support heavier sleepers will compress the foam more, so may end up sleeping closer to the ground.
The removable grey cover with Eve's distinctive yellow highlights has a nice textural feel and makes things look and feel a lot less basic, plus it can be removed and washed at up at 40 degrees. It was also simple to roll the bedding up, and zip up the fastener so it stays rolled - although potentially you might save more space by keeping it flat and sliding it under a bed when not in use.
Overall it's a useful option to have to hand for sleepovers and impromptu overnight stays.
Real Homes Rated: 4.5/5 stars
---
About this review and our reviewer
About my sleep
To relate to my review it's important to know a little about me and my sleep patterns to work out how my experience might compare to your own. For starters, I am a late 30-something female (not willing to admit I'm nearly 40) of average weight and height. Why is this important to know? Size has an impact on how a mattress might feel to each individual – determining the levels of firmness and support needed by different body types.
I've always had the ability to sleep soundly for a solid 8 hours, without anything disturbing me – until this last year when I've found overheating at night frequently waking me, but only to levels of stick-your-leg-out-the-bed-hot. Hence why I've been keen to try the latest tech to maintain a stable body temperature while asleep to prevent this becoming more of a problem, and so far (touch wood) it's been working.
My sleep stats:
Sleep position: I'm a Flexi-sleeper (made up that phrase) I sometimes sleep on my side, other times on my back
Insomnia: no, and if woken I can go back to sleep with ease
Sleep problems: overheating in recent years
Average sleep time: minimum 8 hours