Brook + Wilde bedding is certainly an investment, but if you're interested in buying the best bedding available then, just like us, you'll be eager to know if the luxury price tag pays off.
One of the key questions you might be asking is what's the difference between basic bedding and the very best? Well, without wishing to be brusque, the answer is simple: a fair few hundred quid.
We tested Brook & Wilde's top-end Hungarian goose-down duvet, pillow, mattress protector, and bedlinen set to see what the fuss is all about. You'll be spending in excess of £1,000 for this collection, so what exactly do you get for the money?
First, the context
For many years I've been used to the sort of bedding that I'd suspect most people buy. Our go-to bedding is duvets in the sub £100 range, usually Silentnight or similar. Duvet covers are bought for aesthetics and usually cost, again, sub £100. Mattress protectors get very little attention whatsoever and are usually bought at the cheapest price. Pillows are slightly different; I'm a head-and-neck-achey kind of sleeper so have invested various sums over the years and currently use a Simba hybrid pillow.
So could I really be convinced to spend nearly 10x our usual budget on bedding? Brook + Wilde's mattresses are top performers in the Real Homes' best mattress guide, so I was interested to see if the bedding achieved the same standards. Read on to find out my verdict.
Brook + Wilde bedding: reviewed and rated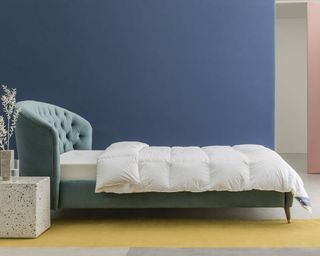 What do you want out of a duvet? Having endured a variable selection of duvets over the years - from cheap supermarket versions bought in a hurry to ones where a greater investment usually pays back - there are a few things to consider.
Temperature control
Firstly, temperature control. That works in two ways, firstly you need a duvet that feels like it provides enough insulative performance to keep you warm on a cold winter's night, and secondly one that's breathable enough to feel light in summer.
A duvet's insulative quality is measured by the tog rating, typically 13.5 for winter and a lighter sub-5 rating for summer. That means two duvets, of course. But tog ratings alone aren't the end of the story. The tog is measured on a flat surface and not in real-life scenarios, so to keep warm and snug you need to combine the tog with the ability of the duvet to wrap itself around you. That's why you never feel massively cosy in cheaper duvets which tend to be polyester-filled and suffer from bounceback. Don't forget, too, that to maintain a pleasant body temperature (and avoid night sweats) the best duvets are moisture-wicking and breathable - which is all down to the air circulation.
Hungarian goose down
With all that in mind, Hungarian goose-down fillings are widely considered to be the best, offering significantly more air circulation than polyester and other synthetics. While people can worry about goose down being allergenic, the science says it's actually that down tends to attract dust/house mites which in turn set you off sneezing. The way that top-end goose-down duvets deal with this is a high-quality, tightly weaved casing.
Goose-down can also come with ethical concerns. To help you rest easier, Brook + Wilde's down and feathers are never sourced from live animals, are not associated with animals used in the foie gras industry, and are all retraceable back to the rearing area. Their products have also been awarded the Downpass Certificate which monitors that ethical standards are met.
Weight, drape and comfort
On all counts, the Brook & Wilde Marlowe Goose Down Duvet we tested hit the spot. I was particularly impressed with its feeling of weight and ability to drape while at the same time feeling comfortable and airy. It felt very smooth and silky and the 10.5 tog rating didn't underperform despite some cold nights. Even in the early June heat, it felt comfortable and light.
Real Homes Rated: 5/5 stars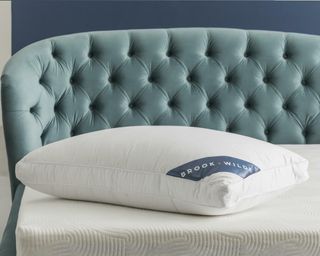 To match with the duvet, we also tested out Brook & Wild's Marlowe Goose Down pillow.
The battle of the pillows has a new champion
As previously mentioned, I'm slightly obsessed by pillows, having tried every available type over the years both singularly and in combination. My current go-to choice is the Simba hybrid pillow which is currently ranked as one of the best pillows available to buy by the Real Homes team. I've found its flexibility (you can add or remove the memory foam cubes easily) very useful in finding a comfortable balance between firmness and receptiveness to the impact of my head crashing to the pillow after a long day.
The perfect combination
However, after a month with the firm version of the Marlowe pillow (there's also a medium-density option available), I'm hooked. It is by some distance the most comfortable pillow I've ever slept on. It has a perfect combination of support and cushioning - it really is the most enjoyable and relaxing pillow to crash down onto. It deflates beautifully on impact, with no bounceback but also a remarkable softness that the Simba can't match. It's a whole lot pricier for sure, but if you're willing to invest in a good night's sleep, it's the answer to my personal search for the world's best pillow.
Real Homes Rated: 5/5 stars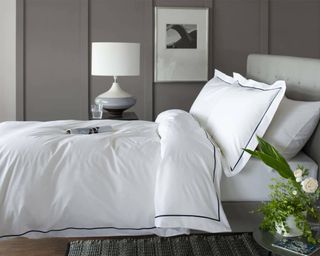 Unpicking cotton quality
To understand the appeal of Brook & Wilde's bedding - and to rank bedding quality in general - it's important to understand the impact of the cotton used and how it's measured. This is because the quality of the cotton has a direct impact on how it feels to the touch - the highest quality cotton feels so smooth it's almost silky.
The feel of the cotton bedlinen is influenced by two factors: the thread count - this means the number of threads across both width and length per square inch - and the type of cotton, which is usually based on the length of the fibre. The longer the fibre, the smoother the touch. 'Combed' cotton refers to the process of combing out the shorter fibres. Most standard linens use fairly short weave cotton. Egyptian cotton has an extra-long weave. So high-quality long-weave cotton, at a high thread count: that's what you're after.
For context, your basic-quality supermarket sets tend to have a thread count of around 180-200. That can feel a bit rough to the touch, and you'll be able to see gaps between the threads.
Liquid-smooth cotton sateen with an 800 thread count
We tested the Sandringham bed linen set from Brook + Wilde which includes a duvet cover and two Oxford pillowcases. The set has an 800 thread count and is made from combed cotton sateen. Sateen is effectively cotton that has been soaked and sealed, giving a smoother touch than regular cotton. The result is a liquid-smooth light touch and an appearance somewhere between matte and shine. The experience is definitely luxurious and reminiscent of boutique hotel quality.
The details
Both duvet cover and pillowcases are trimmed with an embroidered border in a choice of four colour options; navy, blush pink, silver and teal. The coordinating 800 thread count Chatwsworth fitted sheet and extra pillowcases are available to buy separately.
The duvet cover has a French tail, which is an extra flap at the foot of the cover designed to tuck under the mattress and keep the duvet in position. I could see the appeal of this but equally, I prefer to untuck and wrestle with duvets where possible and as a result, the French tail was left flapping around a bit. I'm not sure I thought it was such a big benefit.
Boutique hotel quality linen that improves with washing
That said, this was a duvet cover that won on two main criteria. Firstly, it felt brilliant. There's a clear and tangible difference in experience between this bed linen and anything else I've ever slept in and it did recall some of the (admittedly very rare) nights in luxury hotels. Secondly, and more importantly, it felt just as good, if not better, after several washes. It's clearly exceptionally well made, resilient and feels wonderful - it's difficult to imagine how it could be beaten in the best bedding stakes.
Real Homes Rated: 5/5 stars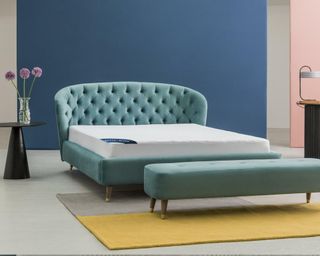 Comfortable cushioning
Brook & Wilde's Kensington mattress protector was soft to the touch thanks to its cotton percale cover and quite unlike any protector I've tried thanks to its hollow-fibre filling. It added real cushioning to the top of the mattress.
Easy to fit
Another key factor for me in assessing the best mattress protectors on the market is how easy it is to fit, and on this front, the Brook +Wilde protector performed well thanks to its elasticated skirt.
It's hard to get too excited about mattress protectors, but it was noticeably a step up from the standard.
Real Homes Rated: 5/5 stars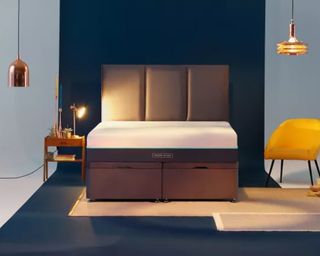 Three options of firmness
So, the first thing you need to know about the Brook & Wilde Elite mattress is that you can choose the firmness. This may not sound revolutionary, but in the one-size-fits-all memory foam industry, it's as rare as hen's teeth. In fact, we can't think of another company in this sector that allows for the reality that everybody is different.
I tested the firm option in this Brook + Wilde Elite Firm Mattress review, but you can also read our team's verdict on the medium option here: Brook + Wilde Elite Medium Mattress review. If you prefer a gentler sleeping surface then the mattress also comes in a soft tension too.
Eight layers of hybrid technology
Now to the detail. This is a hybrid mattress, which means that it combines modern memory foam with pocket spring technology. Memory foam shapes the mattress to your body position for a mix of comfort and support, while springs help to add bounce with extra resilience.
Modern mattress companies tend to use the number and complexity of layers as a point of competitive advantage, and the Elite from Brook + Wilde competes well on this front. The Elite has eight layers, consisting of (from the bottom):
A non-slip base
Support base (for underneath the springs)
1,000 large springs (for bounce)
'Wave' support form (to help with the shaping)
2,500 mini springs
High density foam top layer
Mattress protector
Washable cover
Most mattresses don't offer the second layer of springs, and as a result the Elite - especially in the firm build - tends to offer a little bit more push back and bounce than other mattresses. Generally speaking, the smaller the springs higher up the mattress, the more you'll feel support and more alignment to your body shape. Smaller springs will also more evenly distribute your weight across the mattress.
One of the Elite's other points of difference is its use of a wave design on the memory foam layers (as opposed to a level foam) which is designed to provide extra depth in the upper areas of the mattress – meaning the upper spine and shoulders should be aligned more naturally with the rest of the body. Additionally, the open cell structure of the memory foam top layer is designed to help regulate body temperature.
Our verdict
A mattress is one of the most important things you'll buy for your house - and is definitely an investment piece. You'll be hoping to get at least five years of service from it, and as a result, want to make sure it's right. In our opinion, the slightly higher price of the Elite mattress from Brooks + Wilde is justified by its exceptional build quality and innovative features. And as someone who far prefers a firm sleeping surface, I think the ability to tweak the firmness of your mattress construction is a clever idea.
The Elite feels particularly supportive around the neck and shoulders which works well. I'd been concerned that the Elite firm might feel like sleeping on a patio, but there was sufficient support, shape and cushioning to feel encompassed and at ease.
In general, I've woken up having enjoyed deeper and more restful sleep as a result of this mattress – heat regulation is a strong point, and it feels like a long-lasting, luxury mattress choice. The best part of £1,000 might feel like a lot of money, but at roughly 50p per night's sleep (for five years' use) it's a very sound investment.
Real Homes Rated: 5/5 stars
The overall verdict: Is Brook + Wilde bedding worth the money
Depending on your bed size you're likely to be spending well in excess of £1,000 on bedding to buy the Marlowe Hungarian goose-down pillow and duvet, the Sandringham bed linen set and the Kensington mattress protector from Brook & Wilde. Not to mention the cost of the mattress itself if you opt for the Brook +Wilde Elite.
It's not difficult to spend more on bedding - up to 3-4 times the price in fact at some very exclusive brands - but it's a lot easier to spend a lot less. So is it worth it?
It depends on your approach to the quality of the eight hours you get each night.
Simply put, I have never experienced comfort in bed as experienced with this range. A good quality sleep and a relaxing sleep experience is increasingly important to me, and, for this reviewer, being well-rested is linked to being more effective at work and an overall better quality of life.
The feeling of top-end luxury bedding is worth the investment, and in my opinion - as long as you're not looking for a vegan option - this Brook & Wilde range is as good as it gets.
About this review and our reviewer
About my sleep
In order to understand how my review relates to you, you need to know a bit about me - it affects the experience of the mattress. I'm in my mid-40s, 6ft, and 11 and a half stone - depending on the balance of the number of fish and chip meals I've eaten vs how many times I run each week. I have to sleep with a mattress over my ears for some weird reason and sleep on my side or stomach.
My sleep stats:
Sleep position: stomach/side
Insomnia: nope
Sleep problems: occasionally get too hot, very sensitive to noise and light
Average sleep time: 7 hours
Partially exacerbated by working from home in a variety of positions, I endure occasional shoulder, neck and lower back pain and as a result need extra firmness in a mattress. My partner suffers with lower back pain thanks to a childhood skiing accident - handy, really, because it means we're both equally attuned to the benefits of a firm mattress.