If you're in the market for the best mattress, you're blessed with a lot of choice. The mattress industry has been transformed over the past five years with direct online sales, innovative delivery concepts (mattress in a box, anyone?) and at-home trialling. The days of bouncing around in a bed store on a Saturday morning feel like they're from a bygone age. The purpose of this review is to help you identify whether the Brook + Wilde Elite Mattress in an extra firm tension is something for you to consider.
We've been testing it for a couple of months since its launch in October 2020. It's available to buy exclusively from the Brook + Wilde website with a starting price of £899, but before you do, it's well worth scrolling down this page to see what we thought about it.
Don't worry: there will be plenty of other opportunities to check out with it later, along with opting for your desired mattress size and comfort feels (tension) if you want to explore other options.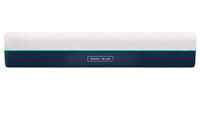 Brook + Wilde | 40 per cent off the Elite mattress
With eight layers of mattress luxury, the Elite mattresses is said to have more memory foam layers, more springs and more quality than any other 'bed in a box' in the UK. We know it's good – really good, to be honest – because we've slept on it. This option is made to order within two to three weeks so you can opt for the correct level of firmness for you. Use code RH40 to save on a £899 minimum spend. Deal ends: unknown
Brook + Wilde Elite Mattress Specifications
Tension: Extra firm
Type: pocket sprung + foam
Sizes available: Single, double, king, super king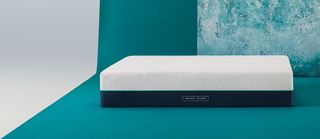 What is the Brook + Wilde Elite Mattress?
Brook + Wilde Elite Mattress is the middle/top offering from the UK-based mattress maker. It's a hybrid mattress, which means that it combines modern memory foam with pocket spring technology. Memory foam shapes the mattress to your body position for a mix of comfort and support, while springs help to add bounce with extra resilience.
One of the Elite's main selling points is its use of a wave design on the memory foam layers (as opposed to a level foam) which is designed to provide extra depth in the upper areas of the mattress – meaning the upper spine and shoulders should be aligned more naturally with the rest of the body. Additionally, the open cell structure of the memory foam top layer is designed to help regulate body temperature.
Brooks + Wilde have a unique selling point in that you can choose the firmness of your mattress at the point of order – from soft through to extra firm. We tested the extra firm. As a result of the bespoke manufacturer, delivery can take a few weeks, but that's worth it for something that really suits you.
Who are Brook + Wilde?
The UK-based Brook + Wilde are still relatively small, operating at the luxury end of the market and specialise in bespoke builds. The people behind the brand have several decades of experience working for and launching bed and mattress products.
Who will the Brook + Wilde Elite Mattress suit?
All sleepers: especially those who are struggling from backache and require extra support to help the body maintain good posture;
Those who struggle to regulate temperature: the memory foam is specially designed with a unique open cell structure to enable a higher level of moisture evaporation and breathability, helping keep the mattress cooler for longer;
Flats and homes with narrow hallways: delivered in a box and vacuum rolled so you can easily bring it into the home.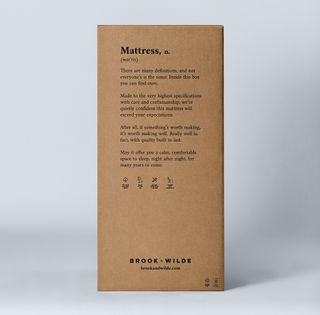 Setting up
This is, of course, a 'mattress-in-a-box' business and delivery was convenient and straightforward. Two delivery drivers delivered the box, roughly the dimensions of a 5ft person, if you can imagine that, and I was able to bring the box upstairs. The rolled-up mattress was then placed on the bed, and slowly (and carefully) de-packaged to roll out flat on the bed frame. It needed around a couple of hours to fully decompress, and was ready for use. We didn't notice any smells. In all, it was about as hassle free as you can get.
Performance tests
We ran several tests on the Brook + Wilde Elite Mattress.
Edge Support
Regardless of the size of the mattress people do tend to gravitate towards the edge. This means that one test of how good a mattress is in comparison to others is the amount of edge support it offers. Without edge support, over time you'll feel like you can roll off the edge of the mattress. The Elite offers a significant upgrade on other mattresses we've slept on, with no noticeable drop off at the edge and a consistent, level performance.
Isolation
One of the great benchmarks of a high quality modern mattress is the ability to isolate bounce. In other words, when your sleeping partner startles themselves awake in the night, you won't notice. Many readers with older spring mattresses will relate to the feeling of being on a ship as a partner tosses and turns through the night. Our tests did detect some residual movement but a significantly greater feeling of impact isolation than our older mattress. In other words, I could feel the other person moving around, but I didn't move as a result.
Heat regulation
The open cell structure of the top supporting layer on the Elite mattress is designed to allow a flow of cool air through the mattress. Of course, the temperature you experience in bed is equally a result of your duvet - heat tends to escape upwards - but we certainly didn't experience any feeling of discomfort through heat.
Support/comfort
Keeping the old mattress, it was easy to compare the difference in support and 'give' that the Elite offers.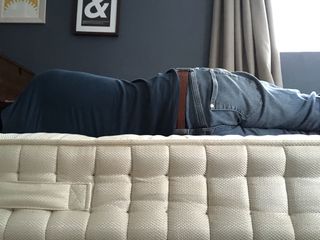 This is the existing pocket sprung mattress. Edge support remains strong, but as you can see, the left half of my body has sunk into the mattress itself. I'm 6ft tall, 11st 2 pounds (156 pounds or 70 kg) and typically a side sleeper and as you can see, the mattress has sunk significantly. It was causing backaches and pressure around the shoulders and neck area.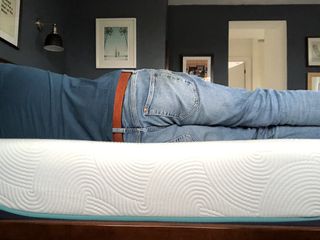 This image of me nicely shows the combination of support and give that the Elite offers. You can see a lot more of the left hand side of my body, but equally you'll note the wave shape of the upper part of the construction of the mattress and how it reacts.
Mattress fillings
Modern mattress companies tend to use the number and complexity of layers as a point of competitive advantage, and the Elite from Brook + Wilde competes well on this front. The Elite has eight layers, consisting of (from the bottom):
A non-slip base
Support base (for underneath the springs)
1,000 large springs (for bounce)
'Wave' support form (to help with the shaping)
2,500 mini springs
High density foam top layer
Mattress protector
Washable cover
Most mattresses don't offer the second layer of springs, and as a result the Elite tends to offer a little bit more push back and bounce (something you might associate with a traditional mattress). Generally speaking, the smaller the springs higher up the mattress, the more you'll feel support and more alignment to your body shape. Smaller springs will also more evenly distribute your weight across the mattress.
Real Homes Verdict: should you buy the Brook + Wilde Elite Mattress?
A mattress is one of the most important things you'll buy for your house - and is definitely an investment piece. You'll be hoping to get at least five years of service from it, and as a result, want to make sure it's right. In our opinion, the slightly higher price of the Elite from Brooks + Wilde is justified by its exceptional build quality and innovative features. The ability to choose the firmness of your mattress is a clever idea, although I suspect most buyers, choosing to buy a mattress online for the first time, might not feel confident that they know which firmness they need.
Partially exacerbated by working from home in a variety of positions, I endure occasional shoulder, neck and lower back pain and as a result need extra firmness in a mattress. My partner suffers with lower back pain thanks to a childhood ski-ing accident - handy, really, which means we're both equally attuned to the needs of a firm mattress. The Elite feels particularly supportive around the neck and shoulders which works well but does mean your pillow can be a bit lower than you might be used to. That takes some adjustment over the first few nights' sleep, but we both commented within a day or two that the Elite was a very good blend of strength and comfort. I'd been concerned that the Elite extra firm might feel like sleeping on a patio, but there was sufficient support, shape and cushioning to feel encompassed and at ease.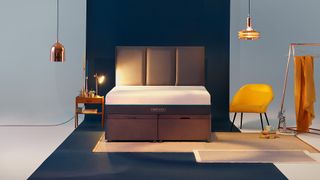 Having been used to some fairly rudimentary memory foam mattresses, I was worried that a hybrid would feel more dull than springy. The Elite managed to blend the best of both materials well – it was responsive in a way that simple memory foam mattresses aren't. Sleeps have been deep and that all-important getting-into-bed experience is very good - a great mix of support and comfort.
Two months in, the overall sleep experience has been good. I'm a front/side sleeper and have no problems, although I do think the mattress performs particularly well for people who sleep on their back – it's a very comfortable position. In general, I've woken up having enjoyed deeper and more restful sleep as a result of this mattress – heat regulation is a strong point, and it feels like a long-lasting, luxury mattress choice. The best part of £1,000 might feel like a lot of money, but at roughly 50p per night's sleep (for five years' use) it's a very sound investment.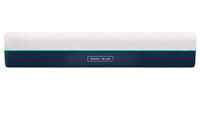 Brook + Wilde | 40 per cent off the Elite mattress
With eight layers of mattress luxury, the Elite mattresses is said to have more memory foam layers, more springs and more quality than any other 'bed in a box' in the UK. We know it's good – really good, to be honest – because we've slept on it. This option is made to order within two to three weeks so you can opt for the correct level of firmness for you. Use code ELITE40 to save on a £749 minimum spend. Deal ends: unknown
About this review – and our reviewer
Jason Orme is one of the UK's leading homes and property experts, with over 20 years' experience working in the sector. In addition to being an experienced editor, author and speaker, he builds and renovates houses privately. He built his first home at the age of 27 and continues to advise 100s of people at events on how to create their dream home.
The Brook + Wilde Elite Mattress was tested over a 60 day period before this review was written to ensure any variations in results were ironed out.