Air quality is something many people tend not to think about on a daily basis. They might be watching what they eat or drink, but the air we breathe can be one of the most polluting things to our bodies.
In fact, just three days ago, DEFRA issued yet another high pollution warning for London, meaning there were unhealthy levels of pollutants in the air.
While we can all make small steps to solve the bigger problem of air pollution individually, we can't stop the problem altogether. So what can you do to limit damage to your health from harmful pollutants?
The answer is to decrease the levels of pollution in your own home. The first step is to monitor the air quality. Luckily this handy device from AirThings that lets you do that is less than £75 on Amazon. See the deal, then read more about its use below.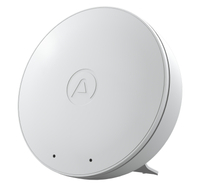 Airthings Wave Mini indoor air quality monitor | £71.64 on Amazon
So what does it do? It measures the TVOCs (more on this below) in your home and reports this information through a free app on your smartphone. You can quickly check quality by waving your hand in front of it triggering a light. A green light is good, red is bad. It also tells you the humidity and temperature of your home which you can check on the go.
The Airthings Wave Mini measures air quality in TVOCs – an indication of air pollution. After setting up the device (super simple by the way) it takes a few days to calibrate then can be used to check air quality from your smartphone, wherever you are. The screen shows a coloured circle that indicates the air quality and says 'Air quality is good' if it is good.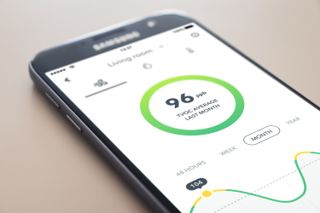 The main screen also shows the humidity of the room and the temperature. Both of these are important factors for anyone who has respiratory problems triggered by humidity (or lack of) and the temperature check can be handy for use in a baby's room. You can check the change in all of these measurements over time and start to learn what factors in your home lead to dangerous rises in any of the readings. For example, you might notice TVOC levels rise when you cook, or use certain appliances.
The app is super easy to use and monitor. And, the handy wave-triggered light on the unit itself is great for quick readings.
Why should you monitor air quality in your home?
Most homes have carbon monoxide monitors fitted as standard. These are incredibly important if you have a gas fire or boiler as a carbon monoxide leak can be fatal. Carbon monoxide kills pretty quickly, the affects of other pollutants and chemicals can be much slower so we are less likely to monitor them – yet they can still be deadly. In fact, a 2017 report by The Lancet concluded that one is six deaths is linked to pollution.
This is why air quality monitors have grown in popularity in recent years. They are simple devices that measure various chemicals with particular attention on volatile organic compounds (VOCs) – carbon-based chemicals that have been linked to exacerbating respiratory problems. They are present in many plastics, paints, cleaning products and even cosmetics.
Once installed, an air quality monitor will tell you when levels of these chemicals reach a dangerous level in your home. Basic models just alert you through a light or noise, but the smarter options are those linked to your smartphone. They can not only tell you if levels are dangerously high, but also tell you the exact TVOC unit or total volatile organic compound level.
You can then change your activities accordingly. Notice certain factors lead these measures to rise and you might want to do them less (or open a window when you do). If levels are always high, you should look at how good the ventilation is in your home and whether there are lots of materials that could be causing unusually high levels.
See more ways tech can help keep you fit and healthy: