Searching for the best bathroom scales to add to your family bathroom or en-suite? Not only for weighing your suitcases before going on holiday (we joke!), bathroom scales can do more than calculate your weight these days.
There are everything from smart scales that can connect to your smartphone via an app, to your classic mechanical scales on our list below. Choose wisely - and based on what you'll be using them for, whether that be to track weight loss weekly or for occasional use for monitoring your health.
We're firm believers that your weight should not be an indicator of your health - it's really all about how you feel and even the most slender-shaped souls can have their issues. So before you step on those scales just remember: the number that you see does not define your fitness level.
However, we do appreciate that some people might benefit from owning a set of scales in their bathroom to achieve their personal fitness goals. Plus, lots of bathroom scales can also measure body fat percentage, muscle mass, and even hydration level, too. So you needn't only invest in a pair to check your weight... Especially after indulging in holiday festivities, because who can turn down Christmas parties or summer BBQs.
Some of our smarter choices can be paired with the best fitness trackers, giving a wider picture of your health than just weight alone.
---
The best bathroom scales to measure your body stats
Why you can trust Real Homes Our expert reviewers spend hours testing and comparing products and services so you can choose the best for you. Find out more about how we test.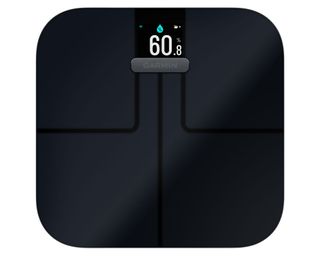 Monitoring your body composition, and looking at your weight from an aesthetics perspective isn't just for the protein shake gluggers and Arnie-wannabe types. After all, everyone wants to look good in front of the mirror right? If you've got a Garmin, sync this bathroom scale to it to get lots of insightful data including trend graphs, multiple daily weights, body fat percentage, BMI and even your skeletal muscle mass. This will ensure that you know how much subcutaneous and visceral fat you have to lose.
Sitting in style, this sleek black design features a high-resolution color display, and allows you to log 16 user profiles – fab for it you have a large family or group of friends who want to jump on the healthy bandwagon with you.
It even comes with a weather display so you know whether to work out in the sun or stay indoors in your home gym.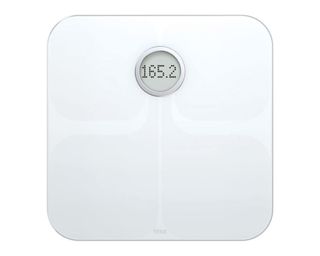 If you like your health and fitness on the high-tech side, look no further than the simple-to-use Fitbit Aria Wi-Fi Smart Scale. The Aria is easy to set up and use. It has Fitbit integration and uploads your stats automatically via Wi-Fi to build up a holistic view of your progress, not just weight, but body fat percentage and BMI, too.
It also automatically recognises up to eight users, so it's great for families all keeping an eye on their health together. It comes in your choice of black or white in order to blend with your bathroom decor, plus it's nice and compact for easy storing.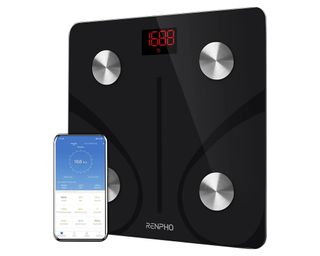 Choose the RENPHO Digital Bathroom Scales if you are searching for something smart - but you are on a budget. With more than 185,000 Amazon reviews, these scales do the job and more.
They are compatible with an app so that you can track your weight monthly with ease - or to help you reach an achievable goal - and as well as displaying your weight, they can give you figures for your BMI, muscle mass and body fat percentage. You can view your weight in stone, pounds or kilograms, and it can store the weight history of all of your family members, too.
Plus, the scales are sleek enough to slide under furniture when not in use, and they come in black or white. The best part? They are Fitbit, Apple Health, Samsung Health and Google Fit compatible. Check out our Amazon discount codes to bag the best price.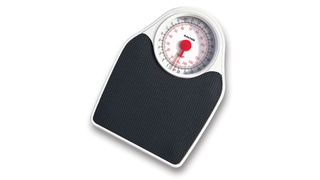 This no-frills Salter 145 (Doctor's Style Mechanical Scale) is simple and easy to read, and its classic design will look at home in any bathroom.
The textured vinyl mat and sturdy metal base keep you stable and prevent slips, even straight from the shower, and the platform is generously sized. It's very easy to use, too: simply use the dial to reset or adjust as needed. A great buy for the family bathroom, we say.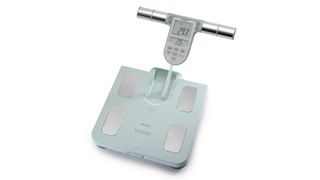 Less a scale and more an at-home body composition monitor, the Omron BF511 scales can do everything you need, and more. This model measures weight, body fat percentage, resting metabolism, skeletal muscle percentage, and visceral fat, giving a great overall impression of how efficiently your body's working.
Users who checked their readings against gym scales reported a similar level of accuracy, and all loved their simplicity, but it's worth noting that some noticed changes of results if the scales were moved onto a different surface.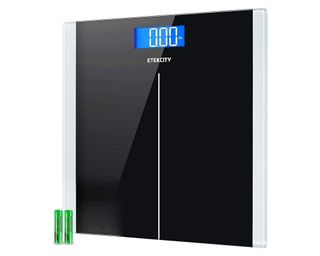 What these Etekcity scales lack in price they make up for in reliability. Simply step on these scales and they'll automatically begin to calculate your weight. Switch between stone, kilos or pounds with ease and use them in even the darkest of bathrooms thanks to a backlit LCD display.
Choose from three colourways to blend with your bathroom colour scheme and place these easy to use scales in a family bathroom for everyone to enjoy. Compact, budget-friendly and reliable, what more could you want in a pair of bathroom scales? They're bestselling on Amazon for good reason.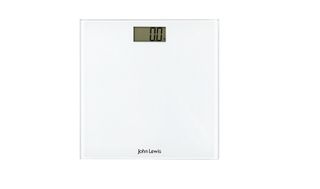 If you're in the market for a simple, hop-on-hop-off bathroom scale, these scales from John Lewis are a great buy. Choose from readings in stone, pounds or kilos and step onto the toughened glass platform for a clear result.
Buyers love how easy the LCD screen is to read, the sleek good looks of the glass, and the unfussy nature of the scales, but also noted that they might not be large enough for all users. But for the occasional weigh-in, and for the budget price, these are fab. Plus, they are nice and compact in size for smaller bathrooms or en-suites.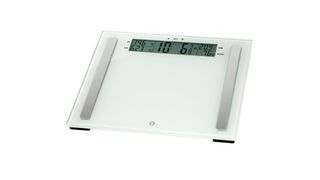 If you like the look of the John Lewis scales, but want a little more functionality for your money, try these Weight Watchers Ultimate Precision Scales out for size. As well as body weight, they measure BMI, body fat, and water, allowing you to keep a close eye on all facets of your health journey, and can remember up to four users.
If you're looking for a simple and sleek, yet informative ally in your weight loss journey, these offer a really excellent range of features for a budget-friendly price.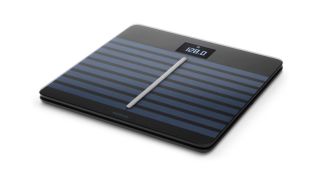 Whether you or a member of your family suffers from cardiovascular disease, you have a history of heart-related complaints in the family, or you just want to keep an eye on the old ticker, these Nokia Body Cardio Scales are a great tool to have around the house.
Using medically-accepted measurements, they accurately assess overall cardiovascular health, as well as muscle and bone mass, body fat and water percentages, and of course weight. They're a bit pricey if you're just after a regular set of bathroom scales, but for peace of mind when it comes to your heart's health, it's a winner.
Who knew the infamous phone brand known best for its classic ringtones and infamous dot-matrix snake game could help to monitor your heart.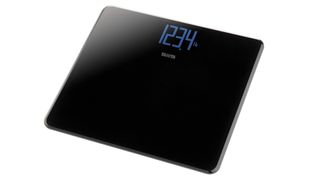 Looking for a high-capacity scale? Look no further than the Tanita HD-366. This high-capacity metric weighing scale has a maximum weight of 200kg – a considerable 20kg higher than most of the models on this list - and an extra wide platform for maximum comfort and stability, making it perfect for those at the very beginning of their health and fitness journey.
These scales look incredibly sleek, too, with a blue display and glossy black platform. The one thing to watch out for, according to reviewers, is that the UK version of this scale only weighs in kilograms, so if that's a deal breaker, consider the equally reasonable Weight Watchers Precision scale.
---
Why should you own a pair of bathroom scales?
There are a number of reasons why you might want to have a pair of digital or mechanical scales in your bathroom space, but the most obvious is for privacy and convenience. For one, you don't have to go to the mall or the doctor's to get that magic number. And that means a) you don't have to take your shoes off in a public place and b) You don't have to schedule an appointment to see the doctor which can sometimes be an intimidating experience.
If you're part of a weekly weight management club, you can also manage expectations with yourself before you are weighed at the venue.
What to consider when buying a pair of bathroom scales?
The humble bathroom scale has come on leaps and bounds in recent years, making weighing yourself simpler and more informative. Here are a few things to look out for when investing in a pair.
Are they smart enabled?
Smart home tech has brought us smart scales with Wi-Fi capabilities, for example, that link up to your fitness tracker and beam your progress to your PC. These clever little scales make it easier than ever to build up a big picture of your health, and can be a real motivator when it comes to seeing how far you've come.
Measurements
It's important to note the difference being metric and imperial weight so you don't get a shock when you step onto the scales. While Americans generally want to know how much they are in pounds, Brits tend to get on board best with either kilograms or stones. Most bathroom scales have a setting that allows you to toggle between them, but for the most accurate observation, picking a measurement and sticking to it, will provide the best results.
Health markers
While some of the lower-priced scales on our list do a lovely job of displaying your weight, others are utterly ingenious in the way they measure other indicators of health. Body fat and water percentages, BMI, muscle and bone mass, and even cardiovascular health are all assessed over the course of our feature-packed little list, offering those at risk of long-term medical conditions an easy way to keep an eye on things.
Your bathroom flooring
Ever noticed how your weight might fluctuate from room to room, or even when the scales are laid in a different spot in the bathroom? Whether your bathroom flooring is made from LVT, tile, laminate, or carpet, wonky floorboards and other variances in the level of your ground can affect what number the scale shows. Some scales come with 'feet' for uneven floors, but it's always best to step onto the scale on hard flooring preferably as carpet and soft floors can skew the data.
Your diet and your body
You'd be surprised by how intelligent the best bathroom scales can be and what they can tell you about yourself. While it doesn't have spy eyes watching what you eat, or how much drink you consume on that special occasion, it can pick up on hydration levels and how much water you're holding.
Note that carb-rich meals and sodium-rich foods tend to make you retain water, as does changes in your menstrual cycle, so don't get too hung up about the number, and if you are going to weigh yourself, it's best to do so, during the same time in the month, as women tend to weigh up to six pounds (or about half a stone) more during this time.