My guilty pleasure is taking a *much-needed* duvet day. There's no better feeling than having nothing to get up for and spending endless hours watching my fave show tucked up in bed. Add snacks to the mix and that's my dream weekend in a nutshell.
I, of course, have a super-plush duvet to keep me cozy on said lazy days. If you don't, you're going to have to get one, because these comfy comforters will have you appreciating your bed so much more. You won't have to spend too much either, because Amazon's best-selling duvet insert is currently part of the Presidents' Day sale event. The Utopia duvet insert has 36% off, making it just $27. With over 80,000 five-star reviews full of customers complimenting the quality of the duvet and how easy it is to wash, you won't regret outfitting your bed with this one.
There are plenty of bedding deals on RN, yes. But don't snooze this offer, because it won't be around when you wake up.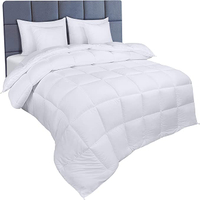 Utopia Bedding Comforter Duvet Insert| Was $41.99, Now $26.99 (save $15) at Amazon
This super popular duvet from Utopia has thousands of five-star reviews for a reason. It's cheap but still good quality and made from super soft polyester. The insert is a piece of cake to clean, too, just throw it in the washing machine!
What else to know about this duvet insert?
Tog: 10.5
Sizes: Twin, twin XL, queen, king, California king
Material: 100% microfiber
Wash: Yes
Tumble dry: Yes
I know what to look for when it comes to bedding. I've tried too many duvets, comforters, and pillows to count. Utopia is an affordable brand I rate with plenty of great options that have received tons of fantastic reviews. This all-season tog duvet insert is no exception. It's microfiber, like most of the brand's duvets, which makes it non-allergenic and easy to care for. Take a look at the reviews, they certainly speak for themselves.