Starting college soon? Congrats bestie! The dorms can be super fun and exciting to move into. But, living in such a small space can take some getting used to and there's some trial and error in creating a space that fits your vibe.
One way to ensure that your room is ultra-functional is to start with the dorm supplies that will make dorm life a lot more comfortable and feels like an extension of home.
From storage solutions to bathroom necessities, we've got all of your dorm room essentials covered with these must-have items for your space.
Pro tip: Get in touch with your roomie before moving in to split up your dorm essentials. It'll mean you only have to bring half of the big ticket items like mini-fridges, microwaves, and rugs.
Storage Essentials
When working with such a small space, storage is one of the first and most important things to consider. As far as dorm room essentials are concerned, storage pieces that are multipurpose and fit a lot are a must-have — this includes a storage ottoman, under-the-bed storage, and a utility cart. The best part? These essentials will last you long after you leave the dorm, making them even more worth it.
Storage Ottoman
Why you can trust Real Homes Our expert reviewers spend hours testing and comparing products and services so you can choose the best for you. Find out more about how we test.
Ask any college student in the dorms and they'll all agree that storage ottomans are the number one best storage for dorm rooms. These storage units allow you to hide away a variety of things, including shoes, books, accessories, and more while also providing additional seating. They also double as a step stool which you can use to climb into tall dorm beds.
Under-bed Storage
It's no secret that dorms are small and storage is ultra-tight. To maximize your space, under-bed storage is an absolute must. Whether you go for a mesh bag to store seasonal clothes and extra bedding or need an under-bed basket for all of your shoes, you can find a variety of under-bed storage options that are versatile and save you tons of space when setting up your room.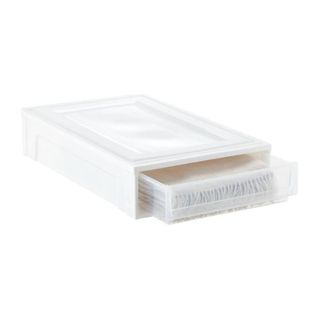 The Container Store Iris Under-bed Drawer
Utility Cart
A utility cart is one of the best storage (and decor!) investments you can make for your dorm room since they can hold a lot, take up very little space, and are super versatile so you'll likely have your cart long after you move on from dorm life. Whether you need a side table with lots of compartments for your essentials, a place to put all of your books next to your desk or want a space-saving option to hold miscellaneous items, a utility cart is totally the way to go.
Bathroom Essentials
Dorm bathrooms vary depending on the university and sometimes even the building you're in. Whether you get assigned to communal bathrooms or have the luxury of sharing with just your roommate, there are a few essentials you'll need for your dorm — this includes a shower caddy for organizing all of your toiletries and shower sandals to keep your soles clean. In addition to these necessities, you might also want to stock up on a few towels (that way you don't have to always wash your one towel) and a plush robe for when you get out of the shower.
Shower Caddy
Whether you share a shower with a roommate or are assigned to the communal bathrooms, a shower caddy is an absolute must-have for keeping all of your bathroom organizers together and organized. We love shower caddies because they ensure you never forget your toiletry essentials, come with lots and lots of pockets to keep everything neat and tidy, and don't take up a lot of space when not in use, either. Plus, there are so many different designs to choose from, so you can really find one that fits all of your needs.
Shower Sandals
Shower sandals are another must, that way you won't have to run from your dorm to the bathroom without shoes (or showering in communal bathrooms on bare feet). When shopping for shower sandals, look for options made of waterproof materials such as EVA and consider going with a slide sandal style to make it easier to slip them on and off.
Laundry and Cleaning Essentials
In addition to storage and bathroom necessities, it's important to think about laundry and cleaning essentials so you can get ahead of the mess. Obvi, having things like surface spray, rags, disinfecting wipes, and laundry detergent on hand is a must.
But, in addition to that, it's also worth considering the type of laundry bag you use and investing in a mini vacuum to make it even easier to keep things squeaky clean.
Laundry Bags and Baskets
The most important thing — aside from laundry detergent — you need for dorm laundry is a functional laundry bag or basket that you can use to take your dirty clothes to the washer and dryer with ease. We love laundry bags because they make carrying laundry super easy, but collapsible baskets also work well (especially if you need to separate your loads) and don't take up a lot of space when not in use.
Mini Vacuum
Crumbs are super annoying and seemingly show up out of nowhere. Whether you snack in your dorm or not, a mini vacuum can help you manage dust and dirt, helping to keep all the nooks and crannies in your dorm clean. And, the best part, these handheld appliances don't take up much space, either, and can even be mounted on the wall for a space-saving charging station.
Kitchen essentials
Dorm life usually comes without a kitchen, however, having a few kitchen essentials on hand can make the experience of living in a dorm (and relying on the cafeteria) a lot easier — and there are a few necessities to consider. It's worth picking up a single-serving coffee maker as well as a mini fridge to store things such as medication and perishable snacks.
Coffee Maker
On days when you're running late and don't have time to run to the cafeteria or on weekend mornings when you want to sip coffee in bed and practice some self-care, an in-dorm coffee maker is a must. Plenty of coffee makers (including Keurigs) feature single-cup designs that don't take up a ton of space, either, so you don't have to worry about not having enough room for your dorm cafe.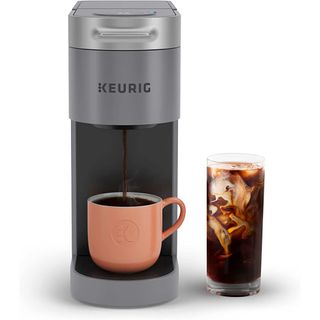 Keurig K-Slim + Iced Single Serve Coffee Maker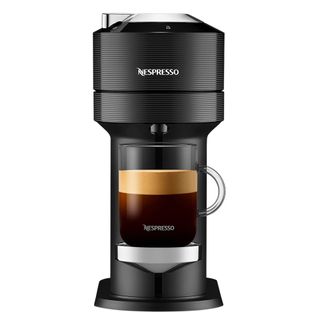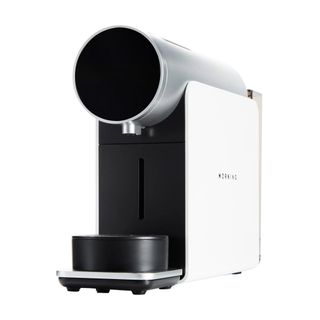 Mini Fridge
A mini fridge might feel like a dorm perk but it's actually quite essential for storing items such as milk, medication, fruit, and more. You can even use these mini refrigerators to house your skincare for a nice, cooling effect. The best part? Mini fridges come in all sorts of sizes and styles, so you can find ones that work best for the space you have.
Other Essentials
On top of these essentials, there are a few additional must-haves worth considering for functional decor. This includes a smart alarm clock with features like white noise and a sunrise lamp which makes waking up in a dark dorm so much more doable, as well as an over-the-door mirror and Command hooks so you can style your space without causing damage.