Spring is just around the corner, inspiring us to have a more thorough clean and clear out than our regular cleaning sessions. Whether you have a set routine you like to stick to or prefer to have a tidy when a new episode of your favourite podcast drops, you'll likely have a few favourite products to use.
If you're thinking about swapping some commercial cleaning products for cheaper solutions but you're not sure where to start, there are loads of options you probably have at the back of your cupboard. You can use bicarbonate of soda, lemon, vinegar and even potatoes around the house as an alternative to strongly fragranced sprays.
See also: Spring cleaning tips (without commercial products)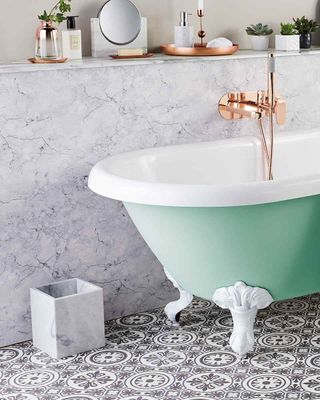 What not to clean with vinegar
However, if you're using cupboard staple vinegar, it's vital that you steer clear of natural stone or marble countertops. This is because these materials - while strong and durable - are porous, and the acidity of vinegar can gradually mark them and wear them down.
'There is a common perception that vinegar can clean everything, but it isn't the catchall ingredient that you might think it is,' says Brian Sansoni, senior vice president of communications at the American Cleaning Institute.
Vinegar will slowly cause the shine of a marble surface to fade and can cause dull white marks known as etch marks. For day-to-day cleaning, warm water on a microfibre cloth is advised.
Aside from precious marble and natural stone, it's best to avoid using vinegar on wooden furniture, metal surfaces, kitchen knives and your iron as it can damage its inner workings.
See also: How to deep clean your house this weekend
What can you clean with vinegar?
White wine vinegar or any clear or colourless vinegar can however be great for cleaning various parts of the home because it cuts through grease and grime easily. For example, you can use white vinegar to deep clean your dishwasher - just fill a dishwasher-safe tub with white vinegar and place it on the top rack of your machine.
Run a full cycle with the temperature on high to clean and disinfect. Vinegar and hot water can be used to descale a kettle or shower, and shine glasses and cutlery before a dinner party.
It's worth decanting some vinegar into a spray bottle so you only use the amount you need when using it on any mouldy surfaces in the bathroom or on your shower curtain.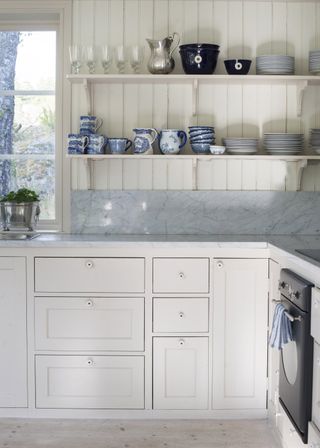 See also: 16 ways to clean your home with vinegar
In other cleaning news, we recently shared Mrs Hinch's secret weapon for cleaning the oven, and it costs just a few pounds from eBay.