When we saw the overnight oven cleaning trick on TikTok that claims to clean the oven while you sleep, we couldn't not put it to the test. These hacks aren't always as straightforward as they seem, but let's just say this was one of our more successful attempts. Because even the best ovens can get incredibly mucky over time...
When it comes to how to clean an oven, we'd usually buy an oven cleaner and some tough washing-up sponges. But for this method, you just need dish soap, baking soda, water and white vinegar, making it cheap and eco-friendly.
We tested the TikTok oven cleaning hack in our own home, and this is how it went...
Our oven glass before the TikTok oven cleaning hack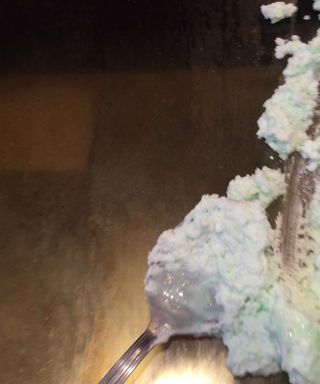 The first step was to make a smooth paste from baking soda, dish soap and water. Sounds easy, but I had to do it twice as the first one kept bubbling up like an ice cream soda.
Mix it too much and it turns into crumbs, add too much water and it rises like a soufflé. So I ended up with double the amount of paste, and used all of it.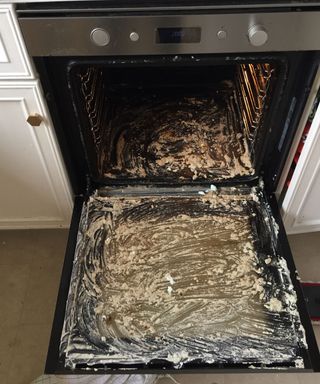 I added some water to the mixture as I spread it over the bottom of the oven and the inside of the door.
As I shut the oven and went to bed, I wasn't totally convinced.
In the morning, while having my first cup of coffee of the day, I began the task of removing all of the dried-on paste. This was messy, and not the most fun part of the oven cleaning hack.
I picked it up with my hands (with gloves on), then attacked it with paper towels, before finally wiping it with a total of three microfiber cloths. A deluge of crumbs from the mixture plus cremated fries appeared. It was like the oven-cleaning equivalent of opening Chandler from Friends' emotional door.
After a lot of wiping down, and spraying it with white vinegar to remove residue, my oven looks so much better. The best oven cleaners out there from brands like Method and Weiman will also get your oven gleaming, but you might just have all the ingredients for this hack in your kitchen cabinet.
Our oven after the TikTok cleaning hack
The bottom line is that the dreaded task of cleaning the oven was made much easier with this method. There wasn't much elbow grease involved, and, confession time –I'd never cleaned the oven since moving in to my home nine months ago.
If you used this cleaning method every month or so, I think it'd be really good at keeping on top of the grease and grime. Some crumbs from the paste did fall down between the glass in the door though, which is kind of annoying (I'll have to check out the Real Homes guide to how to clean between oven glass). And there was a LOT to hoover up at the end.
But overall, it was a success. Thanks TikTok, this oven cleaning hack is how I'll be cleaning my oven from now on.