Cleaning and tidying is truly endless. So when we first heard Lynsey Queen of Clean claim a five-minute cleaning hack is all you need, we were skeptical.
So how does it work? The idea is to pick three rooms, set a timer for five minutes in each, and see how much you can do. So, we got our best cleaning products together and gave the trick a go for a week - and it was life-changing.
Kitchen before trying the five-minute cleaning hack
Keeping mine and my boyfriend's small, rented, one-bedroom flat clean and tidy is hard. There's always one room that lets the side down, and the moment we hang up any laundry, it feels cluttered. (We don't have a dryer.)
But, and I'm not just saying this, the flat felt a lot more tidy and tranquil even on the very first day of doing the five-minute cleaning hack.
For my first five-minute tidying session, I decided to clean the kitchen. I tidied the worktops, put dishes back in the cupboards, and attempted some washing up - but the dishes took far too long.
Kitchen after the five-minute cleaning hack
I found myself filling my pockets with random items, rushing around frantically and trying to create large expanses of coffee table/windowsill/worktop to make it look less cluttered. Sometimes a room didn't look too bad, but the timer soon went off and I still had things to put away.
I took before and after shots throughout the week, and sent them to friends telling them to 'spot the difference.' Taking these 'tap to tidy' pictures was a great motivation to make the rooms look like they'd been spruced up.
I can also see how the flat has got progressively tidier as the week has gone on - the first 'before' pics look so much more chaotic. Making it into a race against the clock totally reframed how I tidy.
bathroom before
Sure, I nearly broke a mug while hastily putting away dishes, and I chucked pots and pans into the cupboard a little too haphazardly. But it was amazing how much of a difference the five-minute cleaning hack made.
It also made cleaning feel mildly addictive - a totally novel feeling. I'd think 'Oh, I didn't get a chance to take the bin out in my five minutes, I'll quickly do that now.'
With the main rooms of the flat looking tidier and calmer, bigger tasks like hoovering became much more appealing. While at work on Wednesday I was itching to get to work with my best vacuum cleaner, and to mop the kitchen floor. I know, who am I?
bathroom after
So our overall verdict on the quick cleaning hack?
Some days, it felt like a real drag, particularly now the flat was feeling so much tidier. It is a commitment, and I won't manage it every single day for much longer, but we were both really impressed with the hack, and how much more polished it made our flat look at the end of the week.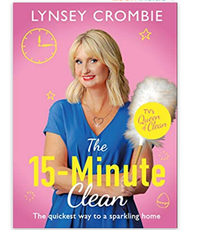 If keeping on top of cleaning currently feels like wading through treacle, get a timer on and do as much as you can in five minutes. It will likely completely change the game for you, as it did for me.
As they say, if you leave something to the last minute, it only takes a minute - and the same goes for tidying.