I will never forget my first trip to Japan. The sights, the shopping, the restaurants and bars that greeted me when I first set foot in Tokyo have continued to pull me back for more—but there's something else about Japan that I always look forward to… the high-tech toilet that more than 80 percent of Japanese households subscribe to. Part bidet, part spa day for your buns, Japanese toilets are beyond compare—and I've wanted one of my own since I first left Japan.
While toilet paper is the standard way to, ahem, wash up after using the bathroom here in North America, a bidet is actually a much more sanitary (and eco-friendly) alternative. In fact, when you think about the benefits, it's quite surprising that more American homes haven't already embraced the sanitary bathroom device.
According to a Healthline report, using a bidet can actually help avoid hemorrhoids in people of all ages, maintain better genital health, and help keep bacteria from spreading into the bathroom by way of soiled hands (sorry, it happens!)—and if I'm being honest it just feels so much cleaner down there versus using standard toilet paper.
Think about it like this: You wouldn't wipe bird droppings off your shoulder with a paper towel, would you? What about when your hands get a little messy after changing a diaper? Would you wipe off with a tissue or actually wash up with warm water?
While I certainly don't think bidets should be reserved to high-tech Japanese bathrooms or luxury hotel suites, they have historically come with a pretty steep price tag—which is the only reason I haven't bothered to install one in my place. Like many home improvement projects and investments, I just didn't see a point in doing so when I was renting. But after closing on my first house earlier this month, the Tushy Bidet is the first purchase I'm making!
After doing a bit of research on bidets in North America, I found Tushy (opens in new tab). This American-based bidet brand aims to make the buns-cleaning device as accessible as possible and I'm 100 percent on board with it. The modern bathroom brand offers a healthier, cleaner alternative to toilet paper that's both innovative and affordable with the goal of making the sanitary practice as commonplace in the US as it is in Europe, South America, or Asia—but instead of spending thousands on a brand new toilet, the bidet attachment is a cool $100.
The Tushy water bidet attachment easily fits over just about any toilet size -- all you have to do is hook the water connection cord into your toilet's existing water hose and screw the plastic attachment into your toilet seat. From there, the bidet is good to go and can be easily adjusted to your preferred temperature and water pressure. It's so easy that I sort of regret not installing one in my rental unit.
While I'd like to eventually install a high-tech (and high price tag) Japanese toilet seat bidet by Toto (opens in new tab), I love that the Tushy attachment allows me to introduce a bidet into my home (and to my hesitant partner) without having to splurge—especially after just spending a huge chunk of my savings on a down payment. In the meantime, I'm so excited to have that super-clean feeling at home without having to hop on a flight to my favorite hotel in Tokyo.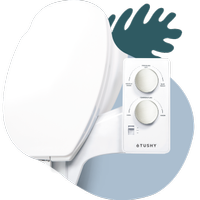 (opens in new tab)
TUSHY SpaPremium Warm Water Bidet Attachment | Was $129, now $119 (opens in new tab)
Hoping to score your own bidet attachment? The Tushy spa line includes an assortment of spa-like features -- like adjustable water temperature and intensity—and is currently on offer for $119.
Keep reading: