TikTok hacks are a dime a dozen, and admittedly I was late to the party; it wasn't until recently that I discovered the treasure trove that is Tiktok, and the one trick that opened my eyes? This refrigerator storage-saving suggestion. Seemingly, I have stocked my refrigerator wrong my entire life and didn't realize it until now.
Regardless of what refrigerator or model you have, the design is similar; upper and lower shelves, a door, and some may (or may not) include drawers. The upper shelves are for leftovers, drinks, and ready-to-eat food; the lower shelf area is ideal for ingredients slated for cooking dishes. The door happens to be the warmest part of your fridge, so it is best to store condiments, and lastly, the drawers are suitable for fruits and vegetables.
The issue? If you're like me, you're always looking for new kitchen storage ideas. Seasonal fruits such as watermelon or spaghetti squash take up excessive amounts of space, leaving little-to-room for your tomatoes or carrots; plus, if you're dealing with a compact model like I am? We have a solution.
Enter: DollarTree's storage bins.
This set includes 24 plastic bins that measure in at 11.5'x3.81' and are perfect for anyone short on space. Take me, for example, the refrigerator in my apartment is small; with only two tiny pull-out drawers on the bottom, I am maneuvering my tomatoes and cucumbers to squeeze into one drawer or another.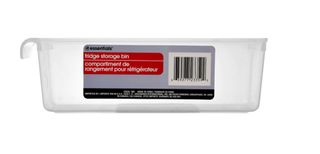 With these plastic storage bins? My problem is gone – the storage bins restore organization in my fridge and creates a system in the process.
I can stock my veggies on the left side and fruits on the other (or vice-versa), label each bin accordingly, and know when I need to head to the supermarket to refill.
Plus, the bins are narrow enough to accommodate larger items such as cucumbers or eggplant, and since I can stock one on top of the other? I free up space in the process.
Oh, and the other thing more favorable than all of this? You can restore function and order into your refrigerator for just $24. That's right: each bin comes out to $1.
Hard-pressed to find a deal better than that, right?
Of course, and that's why we recommend running (not walking) to your nearest computer and adding these storage bins into your shopping carts ASAP. It's the TikTok hack that will save your day (and refrigerators!).