Seen the Christmas tree vertical lights hack on Tiktok? 'Tis the season for impatiently untangling Christmas tree lights and hanging them on the tree — whether it be an artificial Christmas tree or a real one. I've just tried out the viral hack that is doing the rounds on social media to see which technique really is the winner: vertical or horizontal.
You might remember seeing a TikToker demonstrate how to put lights on a Christmas tree by going up and down rather than around. I put this Christmas tree vertical lights hack to the test in my own home — and I've truly been converted.
TikTok Christmas tree vertical lights hack
'Try putting your lights on vertically!' says @lizlovery in the video. She says it uses fewer lights, that it's easier to change if one set of lights goes out, and it's much easier than the traditional method.
The video has now had 14 million views, almost 2 million likes, and thousands of comments. One person wasn't so convinced, writing, 'I tried this and I hated the way the strings looked vertically 😩 I felt like I saw nothing but string and did it the old way.'
I tried this Christmas lighting idea, and it was way quicker and easier. Call me lazy, but I only covered the visible areas of the tree, and that helped make it look much brighter.
Horizontal method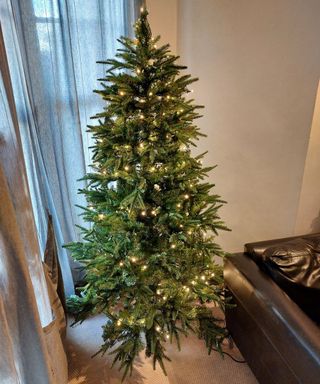 Here's my tree using the traditional horizontal Christmas tree light technique. Wrapping my lights around the tree took a lot longer, but it works perfectly well on my 6-foot artificial tree. I bought mine a while back, but there are some great faux trees on Amazon like this one from the National Tree Company Store.
However, I'll be using the vertical method from now on. It was so much more straightforward to do (I am 5'4" so flinging lights up over a tree is never the easiest or most dignified of tasks) Some years, I've had to pull out the folding step stool I purchased on Amazon. Petite girls — if you know you know!
Vertical method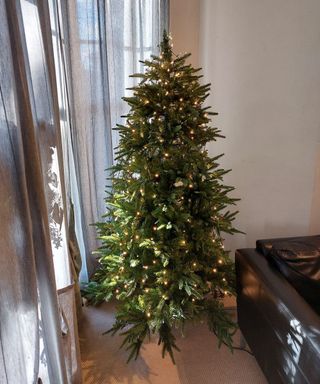 And here's the vertical version. Sure, you can see the wires more, particularly on the left-hand side, but I'm not mad about it.
I'm also hoping when it's covered in some lovely gold baubles (like this 36-piece set from Walmart), you won't notice so much. The vertical lines of lights bring the added bonus of dividing the tree up into sections, which will make it easier to make the decorations look evenly spread.
You can also get Christmas tree lights with pretty copper wires (oh hey, Amazon), and other more discreet options. Just make sure your tree follows the Christmas light safety dos and don'ts, and 100% give this trick a go.
And, with a bit of luck, no bulbs will go out!
---
Now that you've aesthetically arranged the lights on your tree, it's time to think about decorating your space. If you've found that your current inventory is looking a little dusty or damaged, it's worth reading our guide on where to buy Christmas decor, listing some of our favorite places to hunt down tree decorations, wreaths, and ornamental odds and ends.