Want to know how to put lights on a Christmas tree? This simple-sounding task can be surprisingly confounding. Do you start at the top or bottom of the tree? How many lights do you need?
Before you look into Christmas lighting ideas, learn the best techniques for putting on your lights so that they look their very best on your tree.
How to put lights on a Christmas tree in 5 easy steps
1. Check that you've got the right type of lights
This may sound obvious, but you'll be surprised by how often people get the wrong type of lights in a hurry. Wayfair 's Resident Style Advisor, Nadia McCowan Hill, explains that 'even though technically outdoor lights can be used indoors and it's usually safe to do so, very often they will be heavy duty.'
We've got all you need to know on Christmas light safety in our guide.
2. Make sure your tree is close enough to a plug
Again, this may sound obvious but can easily be forgotten in the pre-Christmas hustle and bustle, even when you're innocently picking up the best Christmas light deals... Nadia recommends that you 'check you have a nearby power source or can easily run an extension cord' before placing your tree into position.
You'll also want to position your tree in such a way that 'ideally, wires and plugs will be hidden from view, whilst still being easy enough to reach.' Finally, 'check your lights work before starting to add them to the tree.'
3. Switch them on
Switching on your lights before putting them is a very important step. As Becky Tasker, a manager at Lights4fun, explains, 'our top tip is to always switch the lights on before putting them on your tree. Not only will you be able to check everything is in working order before getting to work, but it will also help you get an even coverage of lights amongst the foliage.'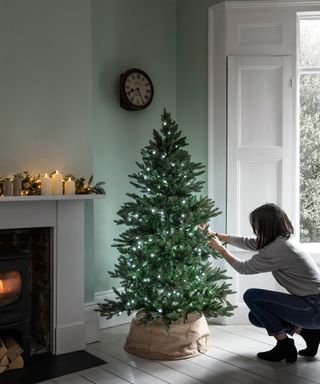 4. How to put lights on a Christmas tree: the horizontal method
This is the traditional, and still most common method for putting lights on a Christmas tree. All you need to do is wind the string of lights around the tree.
It's a simple enough task, but we recommend going a bit deeper, closer to the trunk every once in a while as you're winding the string of lights around. This will create a more natural look and will also allow you to hang baubles and other decorations on more branches of the tree. The other benefit of tucking the lights a bit close to the trunk is that you're less likely to notice the wire itself.
Nadia's top tips is to 'place the light at the tip of the branch and the wire in 'U' shape as far back as possible, which will help to keep wires as hidden from view as possible.' This technique works especially well for Christmas fairy lights, although larger, festoon lights can also be arranged in this way.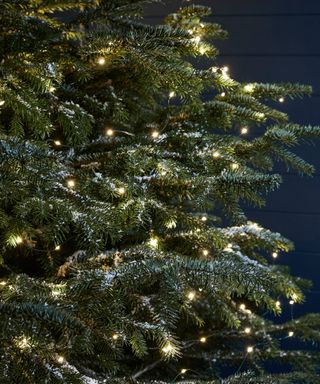 5. How to put lights on a Christmas tree: the vertical method
Some people prefer to put their lights up in vertical lines – the result is a more formal-looking lit tree that resembles the trees you see in chic hotels. It also makes hanging baubles very easy in sections between the lights.
Hanging your lights vertically is even easier than horizontally: simply stretch a line of the strings from top to bottom (or bottom to top) of the tree, then make an s-shaped bend when you want to lay the next line. Continue until all of the tree is covered.
Top tip: if using the vertical method, you will want the wire itself to look nice, as you will be able to see it. Copper wire looks the nicest for this purpose, and you can even get lights already gathered in a horsetail shape, like these from Very – you just attach them at the top and spread them out.
Do you start at the top or bottom when putting lights on a Christmas tree?
The most common answer is that it doesn't really matter, your own preference aside. However, you may find it easier to to start at the bottom if your lights are already plugged in.
Also, starting at the top will mean that you'll have more cable dangling between the plug and the tree, so you'll want to make sure the tree is positioned in a way that conceals this.
Bear in mind that you don't want the switch and/or plug to be completely inaccessible, or you won't be able to easily switch your lights on and off, although opting for the best smart Christmas lights can solve this problem.
How many lights do you need for your Christmas tree?
According to Becky, 'the golden rule is 100 bulbs or five metres of lights per two feet of Christmas tree. If you're looking to create the ultimate sparkle, double up on your fairy lights or even mix and match styles.
The number of bulbs will vary depending on the style of lights you choose, so make sure you consider the length of the lights themselves to ensure that you have enough to go all around your tree, from top to bottom!'